What maintenance tasks should I do to maintain my home each year?
The best way to care for your property investment is to do recurring upkeep of your home each year. Many of these tasks should be done during warmer months, but there are also certain precautions you should take to maintain your home throughout the winter as well.
Homeownership comes with added perks of financial independence and pride…and a neverending to-do list. When it comes to upkeep on your property, you can be sure you'll never be left without a task. To protect your property investment, it's vital you keep up with seasonal maintenance in your home.
When you're first purchasing your home, there are many numbers to juggle. From the down payment to mortgage rates, and fees on top of fees, you're probably not considering the hundreds of maintenance tasks and recurring payments you'll likely incur as a homeowner, so consider this when budgeting your home purchase, and don't forget, upkeep on your home will save you lots of cash in the long run.
The following guide to home maintenance will help you maintain a safe and kempt home for generations to come. Plus, don't forget to make sure your homeowners insurance is updated with your latest home improvements to ensure protection in the case of disaster. To compare dozens of homeowners insurance quotes at once, use Insurify, a home insurance comparison platform.
Periodic Home Maintenance
There are certain tasks homeowners should keep in mind on a weekly or monthly basis, and others that only need to be considered seasonally or annually. Keeping this checklist in mind when setting budgets and plans will help you maintain a healthy budget and home.
Monthly Maintenance
By being vigilant about a handful of easy tasks on a monthly basis, you can prevent larger problems from snowballing into costly, threatening issues. These can be thought of as simple chores, requiring few tools and little expertise.
Check Vents and Filters
HVAC systems, air filters, and dryer vents collect dust and residue over time. Some can be cleaned and put back, others must be replaced periodically. Be sure to check these systems regularly to protect against fires or clogged vents. Also, inspect your kitchen's hood filter and make sure it's clean—gunk and dirt may build up and cause problems. This should be done on a regular basis.
Check Pipes
Though it might seem like it would be obvious, sometimes leaks or busted pipes hide their damage until it's too late. Ensuring all your pipes are in good working order could save you a whole lot of money in repairs. Even the smallest leak could cause major water damage. Regular maintenance of your pipes can protect you from larger projects in the long run.
Check Batteries
Make sure your smoke alarms and carbon monoxide detectors are in good working order. Replace batteries if necessary. Most of the time, these systems will notify you with an obnoxious "beep" if their batteries are nearing death, but you can never be too careful.
Keep it Sealed
A simple inspection of grout and caulk in your bathroom can stop water damage before it starts. This could also protect against unhealthy and damaging mold and mildew damage.
Be Your Own Inspector
Even in the wintertime, it's important to do visual checks around your home. Sometimes, obvious damage goes unnoticed, like a detached gutter or damaged window screen, which could cause much damage in the long run. If you have storm windows, consider hiring a washer to keep them tidy and working well.
Wintertime Tasks
In cold weather months, you might be less inclined to keep up with home maintenance, but that shouldn't be the case. At the beginning of each cold season, you might need to shut down certain systems to ensure safety through the wintertime hibernation. At the start of and throughout winter, watch out for these pesky, common damages.
Ice, Ice, Baby
Watch out for ice dams—ridges of trapped snow and melting ice commonly found in and around gutters on rooftops. This can cause pools of water or ice to weigh down on rooftops and cause untenable damage. Stop these dams before they're even able to start.
Kick the Cold
If you discover a cold draft of air coming from a window or door, heat is likely escaping faster than you think. Not only do these drafts let your expensive heat escape, but they can also cause damage to your home. Watch out for condensation on windows and replace caulking when necessary. Shove a blanket at the bottom of a drafty door to keep warm air inside, and cold winter winds outside.
System and Vent Checks
If your basement has a sump pump to protect against flooding, be sure to check it throughout the winter. These water-collecting basins can cause leaks if gone unchecked. Cover any outdoor air-conditioning units to protect against snow and ice buildup. Plus, be sure to close any vents around your home, which will lower heating costs and prevent hot air from escaping outside.
Compare Car Insurance Quotes Instantly
Personalized quotes in 5 minutes or less
No signup required
Spring Cleaning
While winter preparation is all about closing up, spring maintenance tasks focus on cleaning, opening, and system checks.
Tuneup Time
Time for an HVAC check. Prior to turning on the air conditioner in the warmer months, you should have a professional tune-up of your HVAC to ensure it's in good working order. The same goes for your roof. Whether you noticed in the winter or not, your roof may have incurred damage during the winter. To avoid future leaks or other damage, check to make sure all shingles are intact and be sure to do so safely. It's best not to go up on your roof unless you happen to be a professional. You may be able to inspect your roofing with binoculars, but don't climb a ladder on your own.
Gutter Clean-Out
If you forgot to clean out your gutters after autumn, or if you missed a few, they might be blocking the pipes from properly collecting and draining water. A good gutter cleanup is a super important springtime task, preventing gutter-spill, freeze over, and clogging. Clean gutters will prevent a clog in the cold winter months.
Pavement Check
Cement or asphalt pavement may have sustained damage in the wintertime. Cracks caused by freezing and thawing temperatures can cause buckling of pavement, which can cause even more cracks. Repair these cracks before they grow larger.
Sprucing Up in the Summertime
Finally, you've made it through the winter and it's time for summer fun. Whether you're heading out for vacation or staying put for the season, the warmer months are a great chance to catch up on home maintenance and improvements.
Keeping Weeds in Check
It may seem insignificant, but ensuring grass and weeds are pruned effectively, especially around HVAC units, will prevent unnecessary damage to any outdoor appliances. This is a great opportunity to enhance your landscaping and maybe even plant some beautiful flowers (this may even increase the value of your property!).
Outdoor Areas
Make sure your decking is fully intact by sprucing it up with a fresh coat of sealant or stain. This is also an opportunity to repair any exposed nails or screws, and repaint baseboards. Also, check your house's siding to make sure all vinyl or wooden shingles are securely in place and free of cracks or soft spots.
Make sure your outdoor sprinkler system is in good working order and any other lawn irrigation is free of leaks from pipes or other connections. This may cause water leaks and cause bills to skyrocket.
Autumn Improvements
Fall is a time to begin closing down systems in preparation for colder weather. If you have an outdoor pool, it's time to drain and close it down. Your gutters should be cleaned out and window screens should be removed.
Water Systems
Shut off the water supply of outdoor hoses and detach exterior faucets. This will prevent freezing and other damage. Coil hoses neatly and put away for the season. This is a great opportunity to secure other items in your backyard to prevent damage in the colder months.
Chimney Cleaning
If you have a fireplace in your home, make sure it is clean before using it to cozy up your house. A yearly chimney cleaning by a professional chimney sweep can protect your home and your family and remove excess grime. Always keep a fire extinguisher by your fireplace and keep the area clean to prevent fires.
All this home maintenance can be very expensive. Homeowners insurance may be able to assist in these costs. To compare dozens of the best home insurance companies in a matter of minutes, use Insurify.
Annual Maintenance
As mentioned above, there are many tasks a homeowner should check off on a monthly or seasonal basis. Other, larger tasks only need to be done once a year or so. These chores are very important to protect your home's larger, more expensive systems against damage going unnoticed.
This broader home maintenance checklist should be taken seriously and can be done on your own or with the help and wisdom of a professional.
Clothes dryers can have dangerous lint buildup, increasing the risk of fire and lowering the efficiency of your dryer —the most energy-using appliance in your home.

Your hot water heater should be drained annually to rid the machine of sediment and other buildups that can shorten the lifespan of this expensive appliance.

Annual cleaning of your septic tank can elongate its longevity and prevent sewage buildup and leaks.
Longer-Term Projects
Certain maintenance tasks only need to be taken care of every two to five years, though frequent check-ins are never a bad idea. Most of these projects are inexpensive and can be repaired simply with DIY projects. If you let these check-ins go unchecked though, you may incur major, costly repairs impossible to do on your own, so stay on top of these home repairs.
Heating ducts are vitally important to your home's heating system. By cleaning them out every few years, you can ensure easy airflow and rid your family of any health risk posed by clogged ducts.
Replacing grout around bathtubs and showers will assist in keeping water out of other areas of your bathroom. They may get moldy overtime, so replacing this sealant can also be a much-needed cosmetic fix. This improvement can even increase water pressure in your shower head. Call a plumber or contractor for maintenance tips to not mess up complex plumbing systems.
A periodic termite inspection can prevent your home from permanent damage done by these small but mighty pests. By nipping this problem in the bud, you could save your family and bank account from serious hardship potential caused by termite damage.
Once-in-a-Generation Tasks
As your home ages, systems, paint, and interiors need more attention. Longevity is generally determined by the frequency of use of certain systems, but you may be able to increase the lifespan of them with proper upkeep and maintenance.
Keep special attention to your home's exterior. It may be time to replace or paint the shingles or vinyl siding on your home. This can be an expensive investment but can increase your home's value and keep neighbors happy with a beautiful sight.
Kitchen appliances like dishwashers, kitchen sinks, and microwaves should be replaced once a decade or so. When shopping for replacements, keep an eye out for energy-efficient models, which can save you lots of money, and do good for your environment.
Gas and electric hot water heaters should be assessed for replacement once every 10 or so years. This will likely be a costly improvement, but important for the efficiency and long-term health of your home.
Your garage door and its battery may need to be replaced every decade as well, depending on the frequency of use. Don't let this die at the wrong time, fix it before it's inconvenient.
Carbon monoxide detectors should also be replaced in this same time frame. This vitally important safety device can protect your family from the unthinkable—it's not something to be skipped!
Roofing materials can last up to thirty years and can be one of the most expensive home improvement projects you encounter in homeownership. Replacing your roofing before it's too late should be a top priority of yours as a homeowner—the damage a faulty roof can cause is much more expensive than the new roof you may be procrastinating to install.
Home Maintenance Frequently Asked Questions
Home maintenance is periodic and deliberate check-ins of the systems in and outside your home. Checking in on the status of batteries, condition, and cleanliness of everything from your HVAC system to your plumbing. Some projects can be pushed off for years, like chipping exterior paint, while others should be addressed immediately, like a leaky pipe. Letting maintenance issues mount is never a good idea, and will often lead to higher bills and more headaches if gone ignored.

You don't necessarily need to shell out major cash to get your home maintenance tasks accomplished. Many smaller projects can be done in a DIY way. With a little help from YouTube videos and the guidance of your local hardware store, you can take on many home improvement and maintenance projects on your own. Sometimes, it's important to hire a professional to ensure more high-stakes tasks are done correctly, like for plumbing or electricity projects.

Some home maintenance tasks only need to be done once or twice a year, on a seasonal, mostly weather-based basis. For example, it's important to clean out your gutters after the autumn leaves fall, and clear out weeds in the Springtime to ensure a seamless HVAC system. Summer tasks generally involve booting-up systems, while winter ones do the opposite. Check out Insurify's season based home maintenance checklist to make sure you're preparing carefully.
Home Maintenance Tasks to Keep you Safe: The Bottom Line
While some homeowners' tasks can be perceived as purely cosmetic, most can protect your home and family from much larger problems from arising.
Test smoke detectors. Keep hardwood floors in good shape. Touch up the trimming around your shower. Protecting your real estate investment with periodic maintenance tasks can save you huge amounts of money and ensure a safe, long life in your home.
The first step to responsible homeownership is a sufficient homeowners insurance policy. To compare dozens of quotes in minutes, check out Insurify for a seamless insurance shopping experience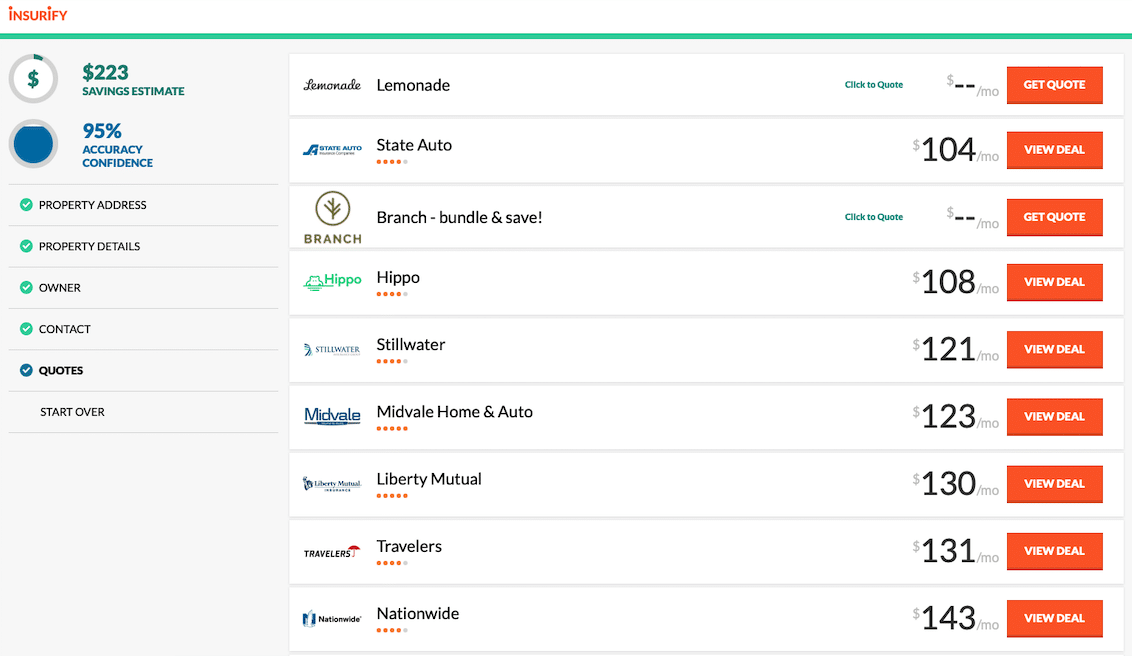 Compare Car Insurance Quotes Instantly
Personalized quotes in 5 minutes or less
No signup required
Data scientists at Insurify analyzed over 40 million auto insurance rates across the United States to compile the car insurance quotes, statistics, and data visualizations displayed on this page. The car insurance data includes coverage analysis and details on drivers' vehicles, driving records, and demographic information. With these insights, Insurify is able to offer drivers insight into how their car insurance premiums are priced by companies.