Do you belong to a homeowners or condo association? If you do, you're probably familiar with the dues you pay as a condition of HOA membership. Part of your membership dues goes to pay for the community's HOA insurance, a master insurance policy that covers physical damage to shared spaces (say, the clubhouse ) and general liability in case anyone gets hurt on common property.
The HOA insurance policy may not cover all your insurance needs, but it may cover more than you think it does. Review the HOA master policy and your home or condo insurance to see if you're over- or underinsured.
Need to shop for a new insurance policy to complement the homeowners association insurance? Try Insurify, a simple tool that lets you compare insurance quotes from lots of insurers with just a few minutes of research.
What Is an HOA?
A homeowners association, or HOA, is an organization that provides members with services for a mandatory fee. Members of the HOA are also subject to the group's rules and regulations.
HOAs that cover single-family homes often have rules encouraging a "harmonious aesthetic" in the neighborhood, which may mean not painting your home or fence certain colors. Condo HOAs often have regulations covering common spaces, such as not using the pool after a certain time or not smoking and vaping in the area. All gated communities have a homeowners association, and many non-gated areas also have them.
Not obeying the rules may result in inspections, fines, or even being banned from using common facilities. The HOA can even put a lien on your property or foreclose on your home if you owe too much in fines or are sued.
What Does HOA Insurance Cover?
The HOA master policy that your fees pay for covers all the common spaces. This could be the main area of a condo building, a pool, tennis courts, or other areas. The master insurance policy covers property loss to those spaces.
All HOA master policies include two basic types of insurance:
Property damage: The master policy protects common areas in the same way that homeowners insurance protects a home. Fires, strong winds, natural disasters, or other covered causes can damage spaces that the HOA is responsible for. The property damage portion of the policy would cover those repairs.
General liability insurance: This protects the HOA in case someone gets hurt on the HOA 's property. For example, imagine someone slips in the pool area, gets hurt, and sues the HOA. Member dues probably won't be enough to cover the lawsuit, but the liability portion of the HOA 's property insurance would kick in, so members don't have to cover the cost of defending the HOA in court.
Coverage varies for condo and co-op associations, so it's important to be familiar with your HOA 's master policy and understand what it does and doesn't cover. Some master policies have a certain level of coverage for individual condos in addition to common areas, while others cover common areas only. You should also know that the master policy may not cover your own liability if a guest gets hurt in your home. Look at the master policy 's liability coverage to see the limitations, and consider adding complementary liability coverage to your home or condo policy.
Compare Car Insurance Quotes Instantly
Personalized quotes in 5 minutes or less
No signup required
HOA Insurance vs. Homeowners and Condo Insurance
For condo unit owners, determining how much condo or co-op insurance you need depends heavily on your master policy. There are two major types of condo insurance quotes that your HOA can buy.
Bare walls coverage: This covers the structure of your condo—in other words, the bare walls and everything in them, like plumbing and wiring.
All-in coverage: This is like a " bare walls plus" policy, covering everything that bare walls coverage includes and adding installed features, like appliances and countertops. If your HOA bought all-in coverage for its condos, review what the master policy covers so you don't pay for extra coverage on certain things.
The main thing condo owners are responsible for is personal property coverage. The master policy won't protect your personal belongings, so you need to make sure the replacement cost of your possessions is covered.
Your condo insurance should also include dwelling coverage, loss assessment, loss-of-use, liability, and medical payments coverage.
Homeowners who live in an HOA for single-family homes or subdivisions will notice that their home insurance coverage isn't much different than it is for homeowners who don't belong to an HOA. In these cases, the HOA insurance coverage doesn't cover the structure of individual homes, so the dwelling coverage isn't impacted by the master policy like it is for condos. However, there are a few key things to keep in mind when you shop for insurance as an HOA member:
Your lender may require you to buy loss assessment coverage, which would cover property losses to common areas after the master policy reaches its coverage limit.

Your insurance company may have a discount for HOA members. That's because HOA communities are often gated or more secure than other neighborhoods, so the home is less likely to fall victim to theft.

The master policy may provide some small amount of liability insurance to cover accidents in community spaces. Your home insurance will pick up the rest of the claim after the master policy 's limit is reached.
HOA Insurance - Frequently Asked Questions
Yes, you still need your own separate insurance. Condominium owners still need to protect their belongings and cover liability. Homeowners need a full homeowners insurance policy, just like they would if they didn't belong to an HOA.

Like homeowners insurance, HOA master policies don't cover everything. There may be exclusions for things like earthquakes, hurricanes, and flooding. Check to see if the HOA board members have bought extra coverage for these kinds of incidents.

Because your fees are paying for the master policy, you have the right to ask whether the HOA board has purchased the right kind of insurance in the right amount (some states or communities have a required minimum limit). You can also check to see if they bought the best value for the best price—sometimes, boards just automatically renew the policy rather than shopping around for quotes.
Understand the HOA Policy and Rightsize Your Own Insurance
Your home is one of your most important assets, so you need to make sure that you're protecting it to the fullest extent possible. Talk to your HOA board about the association's master policy and what it covers, then get together with an insurance agent to make sure there are no gaps in your coverage.
If you discover your policy isn't covering what you need, check out Insurify. This simple tool requires just a few minutes of your time and connects you with quotes from multiple insurers.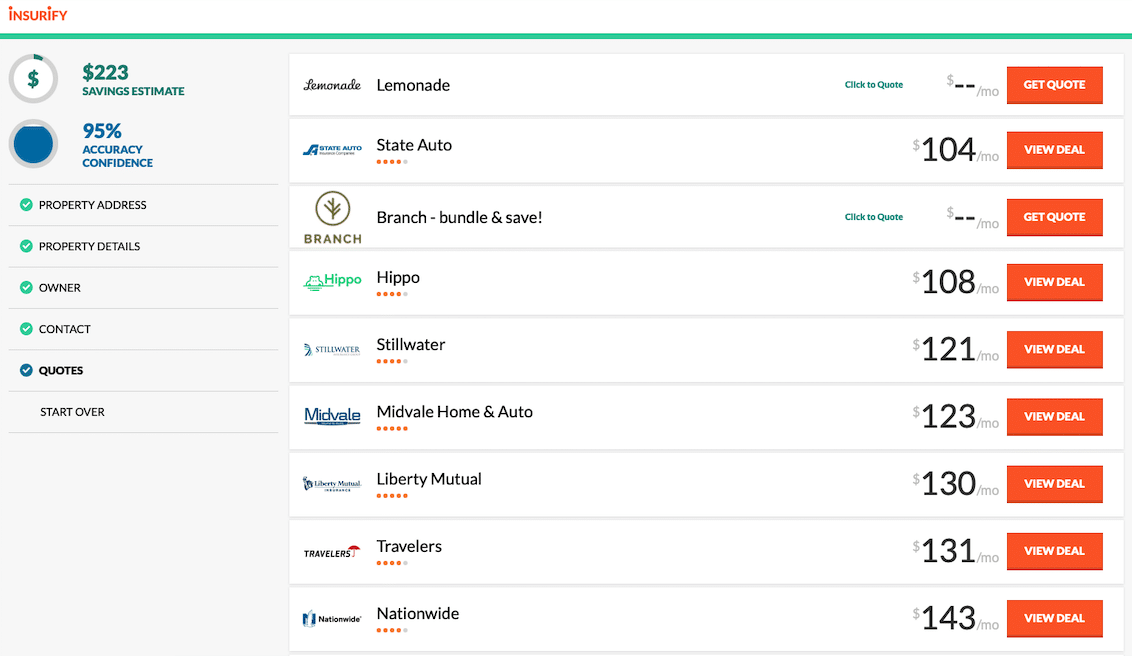 Compare Car Insurance Quotes Instantly
Personalized quotes in 5 minutes or less
No signup required
Data scientists at Insurify analyzed over 40 million auto insurance rates across the United States to compile the car insurance quotes, statistics, and data visualizations displayed on this page. The car insurance data includes coverage analysis and details on drivers' vehicles, driving records, and demographic information. With these insights, Insurify is able to offer drivers insight into how their car insurance premiums are priced by companies.