What is hazard insurance?
Property owners may consider hazard insurance for protection against damage caused by hail, wind, snow, or rain. Hazard insurance offers protection from natural disasters to the main dwelling and nearby structures, like garages or sheds.
Come flood, windstorm, or earthquake, you want your insurance company to be working for you. Hazard insurance, in the correct amount, is the way how.
We hate to break it to you, but you need hazard insurance. It's a vital piece of your insurance puzzle.
So let's dig in and get you the hazard insurance you need.
Spoiler alert: Hazard insurance is part of your homeowners insurance policy. Use Insurify to shop and compare home insurance rates today!
Hazard Insurance 101
Your mortgage lender will require you to carry hazard insurance as part of your loan agreement, and some hazards may be required. Luckily, hazard insurance is part of your home insurance policy, which is made of several components. These include:
Dwelling Coverage

Personal Property Coverage

Personal Liability Coverage

Additional Riders
Falling under the two categories in bold, hazard insurance covers the structure of the home from hazards, also called perils. The structure of your home includes:
Walls

Floors

Built-in Appliances

Roof

Attached Garage
Perils and high risk factors that you may need in your insurance plan include:
Fire

Smoke

Wildfire*

Windstorm

Hail

Lightening*

Weight of ice, sleet, and snow*

Freezing*

Volcanic eruption

Earthquake*

Power surges

Burst pipes

Water damage (not from a flood)

Theft

Vandalism

Vehicle Damage

Aircraft Damage

Falling Objects*

Riots

Explosions
Some perils will be covered through the dwelling component. Others, marked with an asterisk, usually require an additional rider or a separate policy.
Open vs. Closed Perils: Whats the difference?
How do you know if a peril is covered? There are two ways a homeowners policy covers your risks: through open or closed perils.
Closed Peril Policy
Open Peril Policy

Perils covered are named in the policy.
Named perils can be found on the declarations page of your policy documents.
Usually more expensive.

Perils NOT covered are named in the policy.
Excluded perils can be found on the declarations page of your insurance documents.
Usually less expensive.
Compare Car Insurance Quotes Instantly
Personalized quotes in 5 minutes or less
No signup required
Hazard Coverage By Type of Policy
You may know that there are seven types of homeowners insurance policies in use. These policies interact with hazards differently.
Type
Open/Closed Perils
HO-1

Basic Form

Closed Peril Policy. Covers 10 perils, which typically includes:

Fire, smoke, and lightning
Wind and hail
Theft, vandalism, riots, and civil unrest
Volcanic eruption
Explosion
Damage from vehicles or aircraft

HO-2

Broad Form

Closed peril policy. Covers all perils in an HO-1 policy, plus a few extra. These usually include:

Weight of ice and snow
Freezing
Earthquake
Power surges
Burst pipes
Water/steam overflow/discharge
Falling Objects

HO-3

Special Form

Open peril policy. Usually covers everything in an HO-2 unless the peril is excluded.
HO-5

Comprehensive Form

Open peril policy covering your home and personal property. The broadest coverage of all policies. Best for people with high-value personal belongings.
HO-6

Condo Form

Closed peril policy. Covers all perils as in the HO-2 policy, but only for the unit itself. Your HOA fees pay for insurance covering the condo structure as a whole.
HO-7

Mobile Home Form

Open peril policy. Similar to HO-3 policies, but tailored to mobile homes.
HO-8

Older Home Form

Open peril policy. Similar to HO-3 policies, but tailored to older homes.
In case it's driving you crazy, HO-4 is a tenants policy, commonly called renters insurance. Renters insurance is for personal liability and personal property coverage, not the structure of a home. Separate coverage like earthquake insurance or flood insurance may be necessary in addition to standard policies.
Hazard Insurance Reimbursement
There is one crucial detail we must discuss, and that's reimbursement. The way you are reimbursed can make a big difference, not just in how you're covered, but also how much you pay.
| Type of Reimbursement | How it Works | Expense |
| --- | --- | --- |
| Actual Cash Value | Reimburses you for the value of your property at the time it was damaged. | Low Cost |
| Replacement Cost Value | Reimburses you for the cost of replacing your property, no matter what it's currently valued. | Medium Cost |
| Extended Replacement Cost | Reimburses you for the cost of replacing your property, plus | High Cost |
Finding Cheap Hazard Insurance
The key to getting cheap home insurance—remember hazard insurance is part of a home insurance policy—has three parts:
Getting enough insurance to cover you when something goes wrong.

Not getting more insurance than you need.

Taking advantage of discounts.
The first two keys we just discussed. The third key, using discounts, is a great way to lower your rates that does not impact your homeowners insurance coverage. You can ask your current insurance provider about all the discounts it offers. Some discounts will work for you, and some won't. Insurers often offer these common discounts that can help you cut insurance cost:
Bundling home and auto insurance or other insurance products

Automatic payment

Pay-in-full

Electronic billing

Employee benefit program

Membership perks
You can also pay a lower insurance premium by investing in your home. This includes:
Home improvements

Fire alarm systems

Burglary system

Maintenance of trees

Roof replacement
Some investments are more expensive than others. But it's a good reminder that those pesky repairs and maintenance tasks mean you pay less over time. Homeownership is a long game.
See more: Texas Homeowners Insurance Quotes
See more: Georgia Homeowners Insurance Quotes
See more: California Homeowners Insurance Quotes
Hazard Insurance Frequently Asked Questions
It can if you add flood insurance to your policy. You can also purchase flood insurance through another carrier if that makes sense for you and your budget. If you live in a flood-prone area, flood insurance is a must. Not only will it protect you when the water rises, but also your mortgage company will require you to carry it.

It's all about balance. You want to be safe, but you don't want to pay more than you need to. In short, your insurance coverage limits should be high enough to restore all of your personal property and rebuild your home from scratch.  Keep in mind that the higher your policy limits, the more you'll pay for coverage. But limits set too low means you'll pay out of pocket for costs that exceed your limits. And don't forget to adjust your coverage every year or two. Your inventory of personal belongings will change. Plus, inflation and other factors can influence the cost of repairs.  The same goes for your deductible. While a high deductible lowers your premiums, it also means you'll pay more out of pocket in the event of an insurance claim. If you decide to raise your deductible, be sure to keep a deductible rainy day fund. Already having that money set aside makes it that much easier when things go wrong.

If you live in an area prone to certain natural disasters, you may have a hard time getting that hazard covered. Earth movement, like mudslides and landslides, is notoriously difficult. In this situation, you may have to purchase a separate policy to cover it. Going local or using an (expensive) alternative like surplus line insurance, can help you if you've hit a wall.
The Best Way to Save on Home Insurance
A hazard insurance policy may sound scary, but by now, you know it's not so bad. It's an essential, maybe the most essential, part of your home insurance policy. And you know that discounts are an important way to get cheap home insurance without sacrificing insurance coverage. Landslides! Mudslides! Earthquakes, oh my! Protect yourself from it all – get yourself hazard insurance coverage today.
Ready for home insurance right now? Use Insurify to customized free quotes and explore your policy options. Your best rate for home insurance is waiting for you, shop now! Living expenses are expensive – home insurance doesn't have to be. Compare quotes now.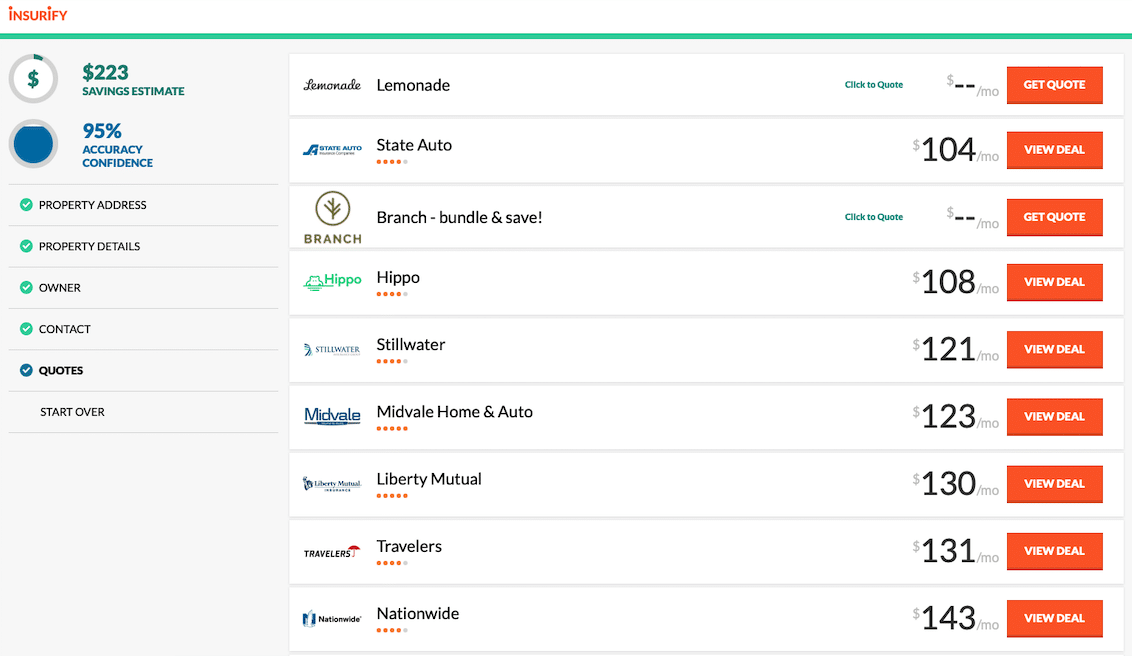 Compare Car Insurance Quotes Instantly
Personalized quotes in 5 minutes or less
No signup required
Data scientists at Insurify analyzed over 40 million auto insurance rates across the United States to compile the car insurance quotes, statistics, and data visualizations displayed on this page. The car insurance data includes coverage analysis and details on drivers' vehicles, driving records, and demographic information. With these insights, Insurify is able to offer drivers insight into how their car insurance premiums are priced by companies.