What is windstorm insurance?
Windstorm insurance is a supplemental insurance product that protects policyholders from damage caused by windy weather patterns such as tornadoes, hurricanes, and gales.
The Atlantic hurricane season traditionally lasts from June 1 until November 30; however, in recent years, more and more hurricanes are falling outside of the norm, arriving as early as May. Coastal states are keenly aware of the devastation hurricanes can cause. Florida is one of the most high-risk areas in the United States for tropical storms, cyclones, and hurricanes.
According to data from the Florida Climate Center, no area of Florida is exempt from windstorm damage. Since 1850, every area of Florida's coastline has been impacted by at least one hurricane. Even inland areas can experience damage from a tropical cyclone.
With these kinds of odds, it makes sense to protect your Florida home from windstorm damage.
No property insurance coverage? Just share a few details with Insurify about your insurance preferences, and you'll have several home insurance quotes to compare in only minutes. It's so easy!
What Does Windstorm Insurance Cover in Florida?
Damage from windstorms comes in many forms, including wind damage, storm surge, and flooding. (Flood damage is not covered by a standard homeowners insurance policy. You must purchase a separate policy through the National Flood Insurance Program ).
Residents of coastal areas such as Texas, Louisiana, North Carolina, and Florida are particularly vulnerable to windstorm damage. Windstorm insurance covers damage to your home, property, and belongings caused by winds. This can include things like broken windows, roof damage, damage to garages or sheds, and other types of structural property damage.
Types of Windstorm Insurance Coverage
A standard homeowners insurance policy typically offers some coverage for your home and property against wind damage. Depending on where you live, windstorm coverage may be excluded from your homeowners insurance policy, or you may have to pay a separate deductible for a wind damage insurance claim. According to information from the Insurance Information Institute, your insurer can only charge a separate hurricane deductible for windstorm losses when a hurricane is declared by the National Weather Service.
Some companies allow you to add a windstorm endorsement to your existing homeowners policy, or you may purchase a separate windstorm insurance policy. A windstorm policy only covers wind-related damage. Depending on where you live in Florida, your lender may require you to purchase windstorm coverage when buying a home.
Compare Car Insurance Quotes Instantly
Personalized quotes in 5 minutes or less
No signup required
Florida Market of Last Resort
Citizens Property Insurance Corporation is the market of last resort (also known as the wind pool) for Florida homeowners in search of property insurance that includes wind insurance coverage. The non-profit government entity was created by the Florida legislature in 2002. It helps Florida citizens who are high-risk and unable to find windstorm coverage through the private market find property coverage.
Property policies are available to Florida citizens who live in traditional homes, condominiums, or mobile homes. Citizens also offers renters policies, which cover personal property, additional living expenses, and liability coverage. The renters policy does not offer coverage for the structure itself (the structure would be covered under the landlord's property insurance policy).
To be eligible to purchase a wind policy through Citizens, you must have been denied coverage through the standard insurance market, or the price of coverage would be greater than 15 percent of a comparable Citizens policy.
The Florida Comprehensive Hurricane Damage Mitigation Program (FCHDMP) offers qualifying homeowners mitigation credits to discount the cost of hurricane insurance if they take precautions to reduce property damage caused by hurricanes and other windstorms. A certified inspector must verify your property qualifies for the discount. Here are some of the features that can qualify your home for a mitigation discount.
Windows and doors constructed with impact-rated glass

Hurricane shutters

Impact-resistant roof covering

Storm-resistant doors for your home and garage
You can go here to find out more information about Florida's Hurricane Loss Mitigation Program which helps homeowners by subsidizing retrofitting projects.
Florida Windstorm Insurance - Frequently Asked Questions
While you can't control Mother Nature, there are some mitigation steps you can take to lessen the impact of high winds from hurricanes and other windstorm events. You can purchase impact-resistant doors, windows, and roofing materials to help protect your home's structure. While protecting your home, taking these steps can also help you save on insurance costs by qualifying you for discounts on your home insurance policy.  In addition to adding features to your home to protect it from windstorm damage, you should also make sure you have emergency supplies, including food, water, and medicine. If you are told by authorities to evacuate, you should do so. If you suffer an illness or injury during a catastrophe, first responders may not be able to make it to you because of damaged roadways or other infrastructure.

Once the hurricane has passed, avoid traveling to flooded areas. Driving on flooded roads can cause you to become stranded or cause floodwaters to enter others' homes. Make sure you do not use any wet electrical devices, use flashlights instead of candles, and make sure to never use a power generator inside. Power generators should be placed at least 20 feet away from any doors or windows to prevent carbon monoxide poisoning.

The insurance rates for wind coverage in Florida vary greatly depending on your insurance company and where you live. The average rate for windstorm insurance in Florida is somewhere around $2,500. Homeowners with beachfront properties, such as those in Miami, can expect to pay higher rates and have fewer coverage options. However, there are mitigation steps you can take to lower your rates.
Florida Windstorm Insurance: The Bottom Line
No matter where you live in Florida, you can experience windstorm damage. Why leave yourself unprotected?
You can use Insurify 's home comparison tools to compare rates quickly and find an affordable quote for your Florida homeowners insurance.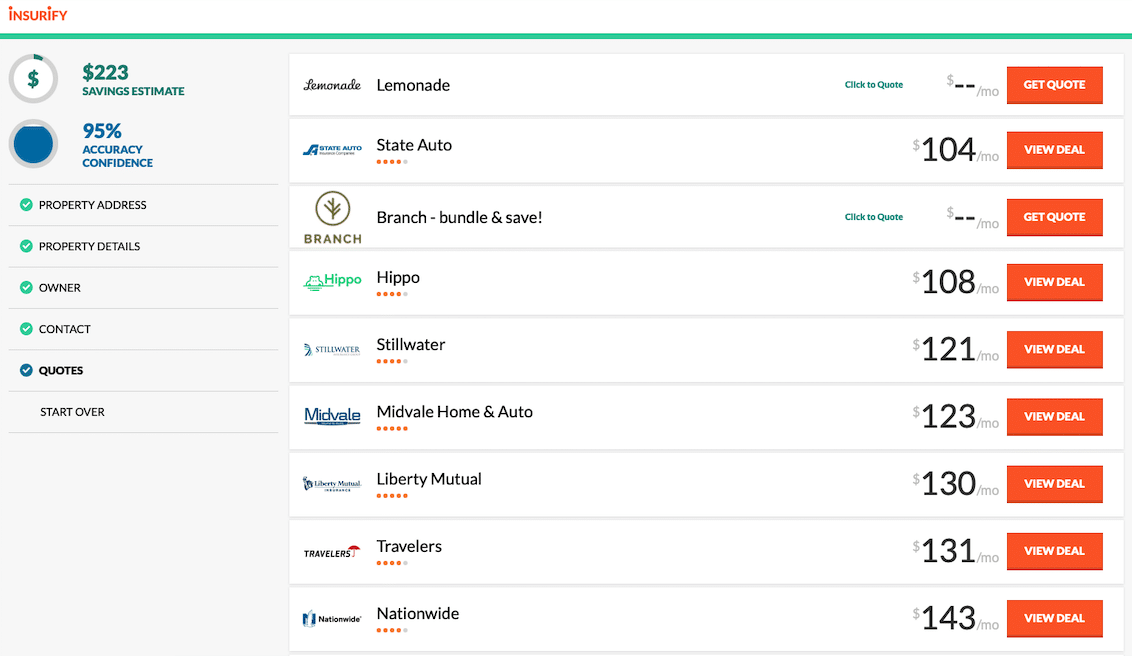 Compare Car Insurance Quotes Instantly
Personalized quotes in 5 minutes or less
No signup required
Data scientists at Insurify analyzed over 40 million auto insurance rates across the United States to compile the car insurance quotes, statistics, and data visualizations displayed on this page. The car insurance data includes coverage analysis and details on drivers' vehicles, driving records, and demographic information. With these insights, Insurify is able to offer drivers insight into how their car insurance premiums are priced by companies.