Do I need flood insurance?
If you live in a marked flood zone, you may be required to acquire flood insurance by your mortgage lender or town to protect you from the perils a flood may present your property.
Buying a home is an exciting experience, so it's pretty unlikely that your dream home's flood zone is among your top priorities during the home-buying process. If you're new to homeownership, you probably know that insuring your home is a great way to protect your property from natural disasters and theft. What you may not realize is that home insurance policies exclude certain perils, like earthquakes and floods.
Chances are you generally know your home's earthquake risk, but estimating your flood risk is a little trickier. Plus, nearly 14.6 million properties are located in 100-year floodplains (which have a one percent chance of flooding each year), according to First Street Foundation, so it's likely that your property could be at risk, too. Some property owners are federally required to purchase flood insurance, and others simply need the coverage to protect their homes and personal property from water damage.
Unsure whether you fall into one of these categories?
Keep reading to learn how to tell if you need flood insurance, what your flood insurance options are, and how much property coverage you need. And if you're searching for home, car, or life insurance, Insurify can help you find the perfect policy for your insurance needs in just a few minutes.
Am I required to buy flood insurance?
Homeowners aren't legally required to insure their homes. In the case of flood insurance, though, the federal government mandates coverage for high-risk homes under certain circumstances.
If you have a mortgage, your lender will require you to purchase a standard homeowners insurance policy to protect your investment in your home and their investment in you. According to the Federal Emergency Management Agency ( FEMA ), lenders are also federally mandated to require homeowners in high-risk flood zones (called special flood hazard areas, SFHAs, or 100-year floodplains ) to purchase flood insurance coverage in addition to their homeowners policies. Some mortgage lenders require flood insurance for homes in low- and moderate-risk areas as well.
Homeowners in high-risk flood areas who've received federal disaster assistance are also required to maintain flood insurance coverage to receive future assistance if needed.
Those are the only two cases in which flood insurance is required. Still, when it comes to insurance coverage, it's better to ask if you need the protection rather than if it's required. And according to FEMA flood statistics, most homes need flood protection.
Over 40 percent of flood insurance claims from 2014 to 2018 came from homes outside high-risk areas, according to FEMA, and one inch of water in your home can lead to over $26,000 in damages. Without flood coverage, you'll be left paying flood repair costs out of pocket.
Flood Insurance Options
Homeowners looking for flood insurance have two options for protection: FEMA 's National Flood Insurance Program ( NFIP ) or private flood insurance.
FEMA started the NFIP in 1968 to provide affordable flood insurance to homeowners in high-risk flood zones. NFIP policies are great for homes in SFHAs since the NFIP can't deny insurance to homeowners whose communities participate in the program.
NFIP policies offer building coverage and contents coverage as separate policies with separate deductibles. This means if you ever have to file a claim for damage to the structure of your home as well as damage to your personal belongings, you'll be responsible for both deductibles before your coverage kicks in.
An NFIP building policy covers flood damage to your home, including foundation walls, staircases, electric and plumbing systems, furnaces and water heaters, refrigerators, stoves, fuel tanks, permanent carpeting, and even detached garages. You can choose an NFIP building coverage limit as high as $250,000 for residential buildings. These policies provide replacement cost coverage for policyholders who fulfill all of the following: they live in a single-family home, the insured property is their primary residence, and the building is insured for at least 80 percent of its replacement cost. Actual cash value coverage is provided when those circumstances don't apply.
NFIP contents coverage protects your personal possessions, including clothing, electronics, washers and dryers, carpets, window blinds, and appliances like microwaves. You can choose an NFIP contents coverage limit up to $100,000, and these policies come with actual cash value coverage.
You can purchase NFIP coverage directly with an NFIP agent or with your current insurance provider through the NFIP 's Write Your Own (WYO) program. NFIP flood insurance has a 30-day waiting period from the time you buy your policy to the time your coverage kicks in, so there's no better time than the present to talk to an insurance agent about your options.
Mortgage lenders weren't able to accept private flood policies until 2019, which explains why NFIP policies currently make up roughly 95 percent of the flood insurance market. Now, private flood insurance policies are on the rise because they can offer policyholders higher coverage limits, replacement cost for buildings and contents, and lower flood insurance costs for low-risk homes. Some private insurers even offer shorter waiting periods.
Private flood insurance covers the same basics as NFIP policies and includes additional living expenses coverage in case you need to leave your home while it's being repaired. And most private policies offer building coverage limits up to $500,000.
The major downside to private flood policies is that private insurers can choose to deny coverage to homeowners in high-risk areas and choose not to renew policies after policyholders file expensive claims. The NFIP cannot deny or choose not to renew coverage due to an area's flood risk or claims history.
Compare Car Insurance Quotes Instantly
Personalized quotes in 5 minutes or less
No signup required
How much flood insurance do I need?
The amount of coverage you need depends on where you live, your flood zone, and the value of your home.
If your mortgage lender requires you to buy flood insurance, they will likely tell you just how much coverage you need. Whether required or not, a good way to tell how much coverage you need is by estimating the cost of rebuilding your home and replacing all of your belongings.
To calculate your home's rebuild cost, multiply its square footage by the cost of building per square foot in your area. For example, if your home is 1,500 square feet and it costs $100 per square foot to build in your neighborhood, you need $150,000 in coverage. The best way to calculate your contents coverage limit is to make a home inventory, noting your most important (and expensive) belongings, to determine how much it will cost if you lose all of your possessions to water damage.
Keep in mind that NFIP policies only offer limits up to $250,000 for residential building coverage and up to $100,000 for personal property. You might want to try your luck with private flood coverage if you need more protection than an NFIP policy can provide, but the more coverage you need, the more you will likely pay for your flood insurance premiums.
Insurify is here to help you keep your head above water. Keep reading for answers to some of homeowners' top flood insurance questions.
Flood Insurance – Frequently Asked Questions
Yes, homes outside high-risk areas account for nearly 40 percent of NFIP flood insurance claims over the last five years. While your home may not be in immediate danger of flood damage, even an inch of water can cause upwards of $26,000 in damages, according to FEMA. The NFIP offers a Preferred Risk Policy (PRP) with lower premiums for homeowners in low- and moderate-risk areas.

Most likely. Mortgage lenders were authorized to accept private insurers' flood policies in 2019, but some lenders still have specific requirements for insurers to meet. You should be in the clear but check with your lender before buying flood coverage with a private insurance company.

No, renters aren't required to insure the building they live in. Renters can still choose to buy NFIP contents coverage to protect their personal belongings from flood damage.

You can find your home's flood zone online through FEMA's Flood Map Service Center. FEMA also has Flood Insurance Rate Maps, which show a community's SFHAs, base flood elevation (BFE), and flood insurance premiums for your area. You can find your flood map and learn more about the NFIP at floodsmart.gov.
Flood Insurance: The Bottom Line
Whether you're required to purchase flood insurance or not, flood coverage can protect your home and bank account from seriously expensive damages. If you're still on the fence about flood insurance, talk to your home insurance agent about your home's risk and your potential premiums to decide if the cost is worth the coverage. And if you're less than satisfied with your current premiums, hop over to Insurify 's home insurance comparison tools to scope out savings on home and also, car, and life insurance policies.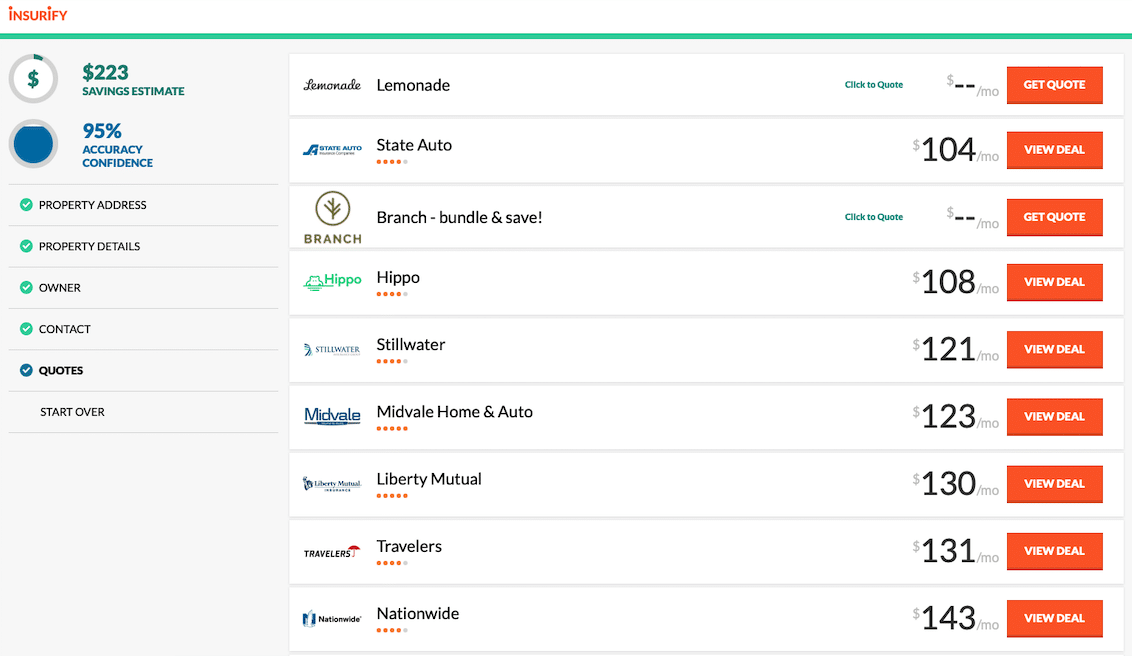 Compare Car Insurance Quotes Instantly
Personalized quotes in 5 minutes or less
No signup required
Data scientists at Insurify analyzed over 40 million auto insurance rates across the United States to compile the car insurance quotes, statistics, and data visualizations displayed on this page. The car insurance data includes coverage analysis and details on drivers' vehicles, driving records, and demographic information. With these insights, Insurify is able to offer drivers insight into how their car insurance premiums are priced by companies.