What is an elevation certificate?
An elevation certificate is a document prepared by a qualified engineer that lists a building's lowest point of elevation, flood zone details, and other relevant characteristics.
Homeowners insurance protects your home and property in case of various natural disasters and perils. But homeowners policies don't pay to repair water damage caused by flooding, and if you live in a high-risk area, your mortgage lender will likely require that you purchase flood insurance coverage.
Most homeowners in high-risk areas purchase flood protection through the Federal Emergency Management Agency's National Flood Insurance Program (NFIP) (which also backs many private insurers' flood coverage). When you purchase an NFIP policy, your insurance agent needs to know certain characteristics of your home—like its flood risk and elevation information—to determine the cost of your flood insurance policy. That's why FEMA requires first-time policyholders to submit an elevation certificate before their flood coverage kicks in.
If you're already feeling in over your head, don't worry. Insurify is here to sort through the jargon and be your bridge over troubled water, so to speak. Keep reading for a full guide on elevation certificates, including what they are, how much they cost, and how they can help you save on your flood insurance premiums.
And while you're here, check out the home insurance comparison tool from Insurify to see how much you could be saving on your insurance premium by comparing home insurance quotes.
What is a flood elevation certificate?
Flood insurance, like homeowners insurance, isn't legally required. But if your home is in a high-risk flood zone or Special Flood Hazard Area (also known as a 100-year flood zone), your mortgage company will require you to purchase flood insurance to protect your assets and the lender's investment.
Whether you're buying NFIP flood coverage for the first time or you've recently retrofitted your home to be more flood-resistant, you're going to need an elevation certificate.
Flood elevation certificates help your insurer determine your annual flood insurance premium rate by measuring the distance between your home's lowest floor and your neighborhood's base flood elevation (or BFE, which is an estimate of how high floodwaters will rise during a storm).
You will only need an elevation certificate if all the following apply:
You are purchasing an NFIP-backed flood insurance policy.

You have a mortgage through a federally regulated lender.

Your home is located in one of FEMA's designated Special Flood Hazard Areas.
Your insurance company also needs to understand certain information about your property, like the build of your basement and any attached garages or crawl spaces, that may leave your home vulnerable to flood damage.
Flood elevation certificates include:
Your home's elevation (based on the lowest floor elevation)

The location of your home

Your flood zone

Details about the build of your home (including information about attached garages and crawl spaces)

Photos of your home
These building characteristics compared with your neighborhood's BFE determine your home's risk of flood damage and, subsequently, your premiums.
If the ground level of your home is lower than your area's BFE, that means your home is likely to sustain damage during a flood. Accordingly, your flood insurance rates will be higher than the average cost for property owners whose homes sit above the BFE.
How to Acquire an Elevation Certificate
Every community that participates in the NFIP has a floodplain manager. The first step in acquiring a certificate is to contact them to see if there is an existing elevation certificate on file for your home. This may also be included with your deed, or the original builder may have your elevation certificate. If there is already a certificate for your home, and it still accurately represents the property, then you're good to go—just submit that certificate to your insurer.
If there isn't an elevation certificate on file for your home or the existing certificate doesn't reflect recent home renovations or additions, you'll have to hire a licensed surveyor to evaluate your property. Only licensed engineers, architects, and land surveyors can complete elevation certificates, according to FEMA. After speaking with your local floodplain manager, they should be able to guide you toward a licensed surveyor who can complete the evaluation and certificate in your area.
Keep in mind this process isn't free, and it isn't instant, either. Hiring a surveyor to complete a flood elevation certificate costs anywhere from $150 to over $2,000, and the process typically takes around two weeks for surveyors to complete.
The cost of elevation certificates depends on a few factors:
The type of property: residential properties are often cheaper to assess than commercial properties.

Your home's structure: basements and crawl spaces may be harder to navigate and lead to higher costs.

Location: more isolated and difficult-to-reach homes can lead to more work and higher rates.

Time: requesting a faster turnaround is going to cost you.
Since your elevation certificate determines your premiums and potentially your chances of exemption from flood insurance requirements, every measurement matters. An elevation certificate from an experienced surveyor might cost you a bit upfront (the national average cost is around $600), but it's important to hire a surveyor who cares more about getting things done right than done quickly so that you can save in the long run.
Lowering Your Home Insurance Premiums with Elevation Certificates
If your home is located in a 100-year floodplain and you're tired of high flood insurance premiums, you can also use an elevation certificate to reduce your premiums.
The NFIP has flood insurance rate maps that help identify whether your home is located in a floodplain and how much you can expect to pay for insurance coverage. But if your home falls in a FEMA-designated floodplain and you've retrofitted it so it isn't susceptible to flood damage—most commonly by filling basements that are below the BFE—you can request a Letter of Map Change to exempt your home from flood insurance requirements.
To request a LOMC, you will either need to apply directly through FEMA's website or have your licensed surveyor submit the request for you. You will need to submit information about your home's location, legal description, and use of fill to reduce flood risk. Your elevation certificate then helps FEMA determine your home's risk of flood damage and whether your home is eligible for removal from the 100-year floodplain.
If FEMA approves your LOMC, the agency will respond with one of two options, depending on which circumstance applies to your home. A Letter of Map Amendment (LOMA) states that your home "is on naturally high ground and has not been elevated by fill" and therefore is not at risk of flood damage. Alternately, a Letter of Map Revision Based on Fill (LOMR-F) states that your home "has been elevated by earthen fill" and therefore is not at risk of flood damage.
Once FEMA has reevaluated your property's flood risk, your insurer can reevaluate your premiums accordingly. If FEMA determines that your home is no longer in a Special Flood Hazard Area, you may not be required to have flood insurance (although you may still benefit from the insurance protection, and your rates will likely be significantly cheaper).
Note that filling a basement to reduce your flood risk is different than floodproofing your home. FEMA restricts residential floodproofing except in specific communities that have requested approval and created standards for floodproofed basements. Even in communities where FEMA permits floodproofed basements, a floodproofing certificate is necessary for a LOMC rather than an elevation certificate.
Still struggling to keep your head (and home) above water? Consider Insurify your "insurance life preserver."
See Also: Private Flood Insurance vs. FEMA
Frequently Asked Questions - Elevation Certificate
If you don't know your home's flood risk, you can check FEMA's Flood Map Service Center and search for your town or even your specific address to assess your flood risk. Your insurer may also have insight into the flood risk for homes in your area.

FEMA only requires elevation certificates under certain circumstances based on your home's age and location. If you aren't located in a FEMA-designated Special Flood Risk Area, then you likely won't need an elevation certificate.

The cost of flood elevation certificates depends on factors like the location, building structure, and type of property being evaluated, along with how quickly you need the certificate and how much data FEMA currently has on your area. On average, elevation certificates cost $600, but you'll need to talk with a local land surveyor to discuss your specific rate.
Elevation Certificates: The Bottom Line
Protecting your home from flood damage can be a confusing and costly process. Elevation certificates might add to your insurance costs in the short term, but understanding your home's flood risk (and how to reduce it) will help you increase your savings in the long term. And after you have the right flood insurance coverage, heavy rain and rising tides can start to feel like water off a duck's back.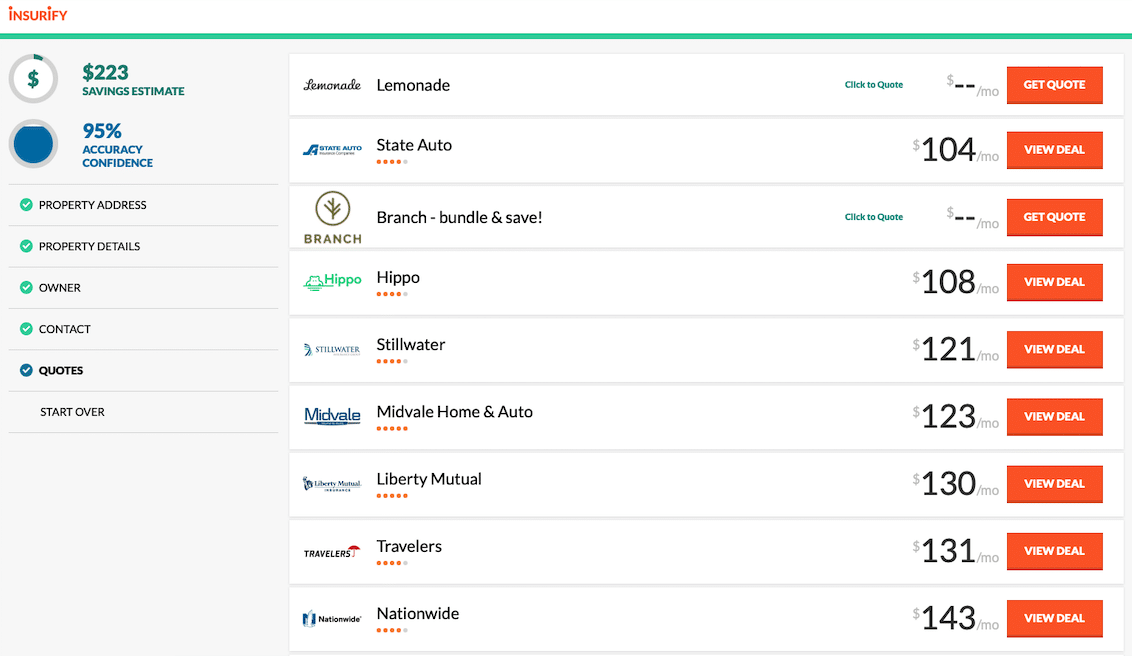 Compare Home Insurance Quotes Instantly
Personalized quotes in 5 minutes or less
No signup required