Costco members have long since enjoyed saving money on food, home goods, and more, but many don't realize that the store also offers a menu of insurance policies. Originally, Costco partnered with Ameriprise Financial for policy underwriting. Ameriprise was acquired in late 2019 by American Family Insurance, so now all policies are underwritten by American Family. These insurance products are called Costco CONNECT, and you get many types of coverage through the program:
Homeowners insurance policies

Car insurance policies

Renters insurance policies

Umbrella insurance policies
You can also purchase rental car insurance through Costco. And Costco offers life insurance policies underwritten by Protective Life. The additional benefits of being a Costco member run deep.
Convenience is key when it comes to purchasing insurance, and American Family Insurance offers customers the ability to bundle auto insurance with a home policy. Overall, the insurance provider has received mostly positive reviews, although some take issue with rate increases and note a general lack of communication from American Family Insurance customer service.
Before you decide to renew your Costco membership or purchase insurance products from American Family Insurance, be sure to visit Insurify. You'll be able to receive up-to-date quotes from multiple insurance companies and can see if the savings that Costco boasts are really worth it.
Costco Home Insurance Reviews: Customer Satisfaction
It's important to remember that while many people purchase both American Family Insurance auto and home insurance, policyholders will have varying levels of satisfaction with each type of product. Most seem to be pleased with the level of service provided by American Family Insurance's home coverage, noting that insurance rates are reasonable and coverage options are robust.
However, not everyone is satisfied with American Family Insurance and some individuals feel that the company is hiding behind the great reputation of Costco itself. It's been regularly reported that American Family Insurance raises its rates even when no claims have been made on the policy and that customer service can be lacking at times.
Costco Homeowners Insurance Quotes
Individuals who shop at Costco are well aware of the major savings they can take advantage of but is American Family Insurance home insurance the same when it comes to value? Overall, customers note that by switching to both auto and home insurance through American Family Insurance, they've been able to enjoy a savings of roughly $500 per year. Keep in mind that individual rates for home coverage will vary based upon the state you live in, the value of your home, and more.
Comparing home insurance quotes is easy and can be completed in one of several ways. Simply call 1 (855) 531-9253 and mention reference number 8A7 or visit the American Family Insurance website and answer a few questions. Although the insurer has a huge reach across the United States, not all residents are eligible for coverage. You also may not be able to work with a local insurance agent either, but can always contact the customer service department with any questions.
Compare Car Insurance Quotes Instantly
Personalized quotes in 5 minutes or less
No signup required
What's Covered by Costco Home Insurance?
Costco and American Family Insurance have worked together to create insurance products for members that far exceed the coverage offered by competitors like GEICO or Progressive. Costco insurance coverage can include:
Protection of your dwelling and additional structures on your property

Personal property insurance that works to cover the items inside your home with an option for larger limits for high dollar valuables

Endorsements that help cover property damage due to water backup and sump pump overflow

Stolen Credit Card Use or Check Fraud Protection

Food Spoilage Protection

Earthquake and mine subsidence options

Loss of use payments that offset expenses incurred when you cannot live in your home during repairs

Personal liability and medical payment features in the event someone is hurt on your property

Identity theft protection
Those with an executive membership can enjoy additional benefits including glass repair reimbursement and home lockout assistance. What's more, executive members who purchase auto insurance through Costco and American Family Insurance can take advantage of lifetime renewability.
Finally, keep in mind that adding additional coverage options, like earthquake insurance, will increase your premium costs. If your home is reasonably vulnerable to a peril, it's best to get it covered. But if your home is very unlikely to be affected, better to do without.
See more: Best Auto Insurance Comparison Sites
How Does American Family Insurance's Claims Process Work?
Most customers find that navigating the insurance claims process is straightforward and many note that American Family Insurance is quick to meet the needs of policyholders during these situations. To start a claim, simply call 1 (888) 404-5365 and provide as much information as possible about the incident. Your claims representative will review your policy details with you including your level of coverage and your deductible information.
Depending on the severity of your claim, you may meet with a claims adjuster in as little as three days. They will review the damage and work with your claims representative to create an estimate for repairs and any replacement of personal property. Each claim situation is different, so the time it takes you to receive your payment could vary.
Available Insurance Discounts and Payment Methods
Looking to save money on insurance premiums? Not only will American Family Insurance offer you a discount simply for being a Costco Wholesale member, but the company works to give policyholders as many ways to save as possible. Keep in mind that not all discounts are available in every state, so make sure to contact customer service to learn about all of your options. Some discounts that you might be eligible for include:
Costco Executive Members receive an additional discount on their policies

Increased savings based on the age of your home—the newer the home, the lower the rate

Those who remain claim-free for five years may be able to enjoy savings on their home insurance policy

Lower rates for certain safety features like smoke alarms, deadbolt locks, security systems, and more

Tenure savings on your policy anniversary for both homeowners and renters

Home renovations may qualify you for a lower rate

Education Discount for having a child in college
Bundling Costco Home & Auto Insurance
Most people enjoy big discounts through multi-policy bundling. Simply combine your home insurance coverage with Costco auto insurance for significant savings. Auto insurance policies also come with additional discounts like the good student discount and, if you live in California, the good driver discount. You'll also get a discount for safety devices like airbags and for completing an approved defensive driving class.
With Costco auto insurance, you can also add optional GAP insurance. Gap insurance is new car replacement Insurance for the first year of ownership. After one year, it will pay the difference between the value of your vehicle and the amount of your original loan, up to 120% of your vehicle's value.
As a final note, you can bundle your policy with any other policy offered by Costco.
Payment Methods
Paying for your American Family Insurance home insurance is easy as customers can select a pay-in-full option or can make monthly installments. Either can be fulfilled online using a credit card or debit card, or you can pay via personal check or money order. Send your payment to:
American Family Insurance
6000 American Parkway
Madison, WI 53783
For the ultimate convenience, contact customer service to find out if auto-pay options are available in your state.
Other Types of Home Insurance Coverage Offered by Costco/American Family Insurance
Nearly any insurance product you need can be found through American Family Insurance, as it offers far more than home insurance coverage alone. If you own your home or live in a condo, you'll find a wealth of options through its traditional home policies. However, renters can also enjoy robust coverage that protects their valuables and offers peace of mind.
If you drive a luxury vehicle or own valuable items, umbrella insurance might be a smart option to consider. Policyholders with motorcycles, boats, or who are concerned about coverage in the event of a flood can learn more about specialty insurance plans by contacting customer service.
Again, most individuals bundle their home insurance policy with an auto policy to take advantage of the best pricing available. Not only will your home be protected but with Costco car insurance, those with safe driving habits can enjoy roadside assistance, towing options, and more.
Costco Home Insurance FAQ
Anyone can purchase a home insurance policy from American Family Insurance. However, the company offers discounts to Costco members and exclusive benefits to executive members. Call 1 (855) 531-9253 and mention reference number 8A7 to get a quote.

The home insurance features offered through American Family Insurance are robust and offer individuals peace of mind when it comes to protecting their belongings. Contact customer service to learn more about the options available in your state.

Home insurance pricing can be multifaceted, so before you spend hours researching various options, head over to Insurify. You'll be able to compare quotes from multiple companies, including American Family Insurance before you make a purchase.
The Best Way to Save on Home Insurance
If you're already a Costco member, you understand how important it is to save money. Those who are in the market for new home insurance would be wise to visit Insurify before making a purchase. There, you'll be able to view quotes from insurance companies in real-time, allowing you to make the best decision for your budget.
American Family Insurance Overview
Based in Wisconsin, American Family Insurance offers auto, home, life, travelers, and other types of insurance policies to residents in nearly all 50 states. The company insures more than 400,000 Costco members and offers savings that are second to none. Non-members can still obtain coverage from American Family Insurance. But those who shop at Costco, specifically executive members, get additional perks and can bundle policies for very low prices.
In general, American Family Insurance has a positive rating from customers and many tend to stay with the company on a long-term basis. A.M. Best has given American Family Insurance an "A" rating based upon its financial strength and stability. Individuals who are looking for a combination of low rates, robust coverage options, and reliable customer service and claims representatives should look no further than American Family Insurance through Costco.
Costco Home Insurance Contact Information
Department

Contact

Customer Service
1 (888) 404-5365
servicepromise@ampf.com
Billing Address

Ameriprise Auto & Home Insurance
Attn: Accounting70700 Ameriprise Financial Center
Minneapolis, MN 55474-0702
General Mail
Ameriprise Auto & Home Insurance
PO Box 19054
Green Bay, WI 54307-9054
Claims
1 (888) 404-5365
aahcsc@ampf.com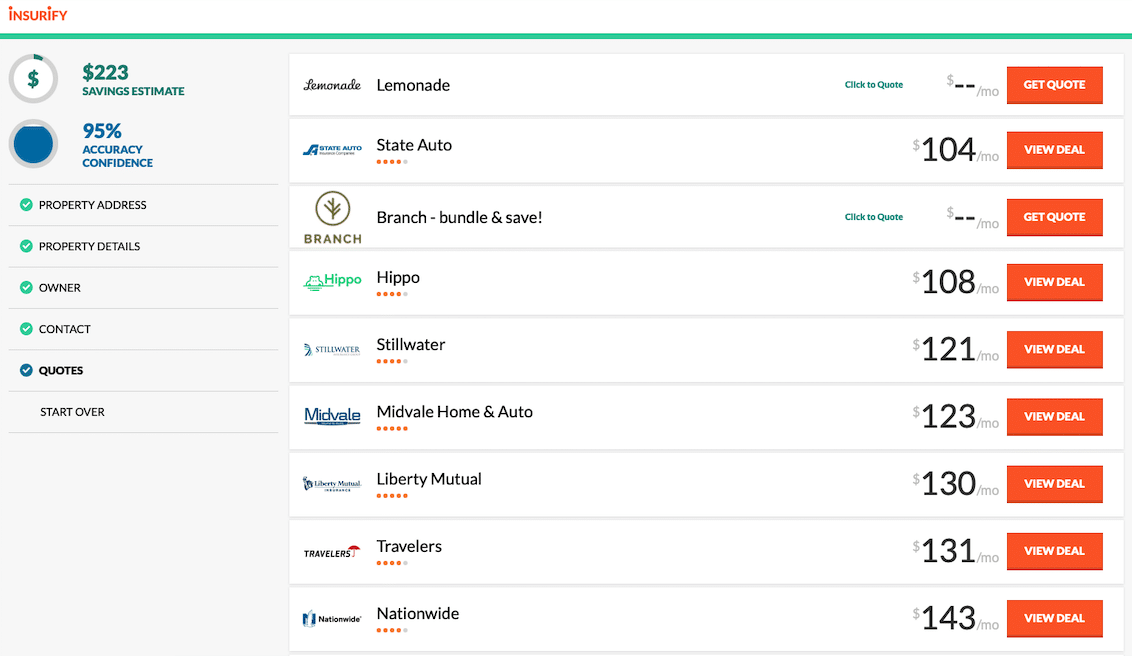 Compare Car Insurance Quotes Instantly
Personalized quotes in 5 minutes or less
No signup required
Data scientists at Insurify analyzed over 40 million auto insurance rates across the United States to compile the car insurance quotes, statistics, and data visualizations displayed on this page. The car insurance data includes coverage analysis and details on drivers' vehicles, driving records, and demographic information. With these insights, Insurify is able to offer drivers insight into how their car insurance premiums are priced by companies.