How much does flood insurance cost?
The cost of your flood insurance policy will depend on your home's unique risk, based on the geographical location, nearby flood zones, and structural features of your home.
Owning a home comes with risks. That's why mortgage lenders require homeowners to purchase home insurance—to protect the lender's investment and the homeowner's property. Depending on the location of your home, your lender may also require you to purchase flood insurance.
If you already have homeowners coverage, buying a flood insurance policy might seem like insurance overkill. But the reality is that home insurance policies don't pay to repair flood damage, and flood damage can get costly pretty quickly.
Keep reading for a full guide on how your flood insurance premiums are determined and how you can lower them. If you're searching for savings on your other insurance policies, Insurify can help with that, too! Use Insurify's tools to compare home insurance rates and see how much you could save on home, car, and even life insurance premiums while you're here.
What does flood insurance cover?
The Federal Emergency Management Agency (FEMA) started the National Flood Insurance Program (NFIP) in 1968 to provide flood protection to communities in high-risk areas. Over 23,000 communities participate in the NFIP, which means they have adopted various policies and measures to reduce their flood risk and qualify for the program. You can buy a policy directly through an NFIP agent or with your private insurance agent since the NFIP partners with over 60 private insurers through its Write Your Own (WYO) Program. In most cases, new policyholders have to wait 30 days before their NFIP flood coverage kicks in, so don't wait until the next storm is coming to look into buying a policy.
NFIP policies come with two coverage options: building coverage (for your home) and contents coverage (for your personal belongings).
Building coverage protects:
Foundation walls and staircases

Detached garages

Fuel tanks, well-water tanks, and solar power equipment

Electrical systems

Plumbing systems

Furnaces and water heaters

Refrigerators, dishwashers, and stoves

Permanent carpeting, cabinets, and paneling
Contents coverage protects:
Clothing

Furniture

Electronics

Valuables (like artwork and furs)

Carpets not covered by building coverage

Air conditioners

Microwaves

Washers and dryers
NFIP contents coverage is perfect for renters who want to cover their personal belongings but don't need to insure the physical structure of their home. If you choose to have building and contents coverage, you'll have to purchase each policy and choose each policy's deductible separately. Both coverage options protect your home in case of flood damage caused by hurricanes, high tides, flash floods, and even melting ice and snow.
For homeowners outside of high-risk areas or those looking for coverage options FEMA doesn't offer, private flood insurance policies can provide higher coverage limits, additional living expenses coverage, and shorter waiting periods. Private flood policies are great for high-value homes (that need more than $250,000 in coverage) and those outside high-risk flood zones. There are currently 41 private insurers that offer flood coverage, and private policies make up roughly five percent of the current flood insurance market.
While private flood coverage has been growing in popularity since mortgage lenders were authorized to accept private policies in 2019, there are still a few risks to note before jumping head first into non-NFIP flood coverage. First, private insurers can turn down homes in high-risk areas or choose not to renew policies for riskier homes. Also, if your home has a high flood risk and you turn to private flood coverage for lower rates, make sure your policy has an affordable deductible. Some private flood policies offer cheaper premiums by having higher deductibles, but your flood coverage won't help you after a storm if you can't afford your deductible when filing a claim.
Factors That Affect the Cost of Flood Insurance
The average cost of NFIP policies was $700 in 2019, but your flood insurance cost will depend on various factors specific to your home and your flood risk.
Private flood insurance costs are often lower than NFIP rates for the same coverage. Still, rates can add up quickly if you're looking for more comprehensive flood coverage since most private flood policies offer additional coverage options, higher coverage limits, and higher deductibles than NFIP policies. Homeowners who opt for private flood coverage can expect their insurer to determine premiums based on similar factors to NFIP policies.
According to FEMA, the following factors determine your flood insurance premiums:
Flood Zone
Your home's flood risk is the first factor that determines your flood insurance cost since higher risk typically means higher premiums.
FEMA created flood maps that outline special flood hazard areas (SFHA), or areas with at least a one percent chance of flooding each year. If you live in an SFHA and have a mortgage backed by the federal government, your lender will require that you purchase flood insurance.
For homeowners outside of high-risk flood zones, the NFIP offers a Preferred Risk Policy (PRP) that provides a combination of building and contents coverage at lower premiums.
Coverages
Flood insurance policies can protect your home and your personal belongings, but you'll have to purchase each coverage separately. The NFIP offers building coverage limits up to $250,000 for residential buildings, while contents coverage limits are capped at $100,000.
When it comes to NFIP flood insurance claims, policyholders are reimbursed for the replacement cost of their home if all of the following apply:
They live in a single-family home.

The insured home is their primary residence (meaning they live at the insured location at least 80 percent of the year).

Their building coverage limit is at least 80 percent of the full replacement cost of the home.
If even one of these doesn't apply, your policy will reimburse your home's actual cash value instead. That being said, if you're looking for a flood policy with replacement cost coverage, it's important to make sure you choose a high enough building coverage limit (which will lead to higher insurance costs). Replacement cost coverage is not available for personal property claims or certain home features, like carpeting.
Buying separate coverages under one policy may seem like an annoying extra step in getting the protection your home needs, but it actually allows you to adjust flood insurance options more freely. With home insurance policies, your dwelling coverage limit affects your personal property limits. But with flood insurance, if you want $250,000 in building coverage but aren't interested in contents coverage at all, you can have exactly that.
Deductibles
When choosing your building coverage and contents coverage limits, you also choose your deductibles.
If you have both building and contents coverage and ever need to file claims for flood damage to your home and personal property, your insurance company will subtract both deductibles from your reimbursement.
Policies with lower deductibles come at a higher cost. Keep in mind that opting for higher deductibles may lower your flood insurance cost now, but your payout will be smaller if you ever need to file a claim. Your mortgage lender may also set a limit on how high your deductibles can be.
Age of Home
Older homes and those that aren't designed to withstand flood damages cost more to insure. Other home features, like a finished basement and crawl spaces, can also lead to higher flood insurance costs.
Location and Contents
Generally, personal belongings and appliances like washers aren't covered if they're stored in your basement. Having utilities like heating and cooling systems in your basement may also lead to higher premiums.
Elevation
The elevation of your home's lowest floor is a significant indicator of your home's flood risk. If the lowest floor is located below your neighborhood's base flood elevation (or BFE, which is the level floodwaters are expected to rise in your area), then your home is susceptible to flood damage and your flood insurance premiums will reflect this risk.
Compare Car Insurance Quotes Instantly
Personalized quotes in 5 minutes or less
No signup required
Reducing Your Flood Insurance Costs
Protecting your home from flood damage can cost thousands of dollars per year, but it doesn't need to. There are various ways to lower your home's flood risk and reduce your flood insurance premiums.
The first (and least preferable) way to lower your flood insurance cost is to raise your deductibles or lower your coverage limits. Since your insurance cost is largely based on the amount of coverage you need, this can help you save a ton right now. But if you ever need to file a claim, this is sure to come back to bite you.
If you're facing high NFIP flood insurance rates because of your home's elevation, a much safer option for lowering your monthly payments is to fill in your basement or elevate your property. By doing this, you will increase your lowest floor's elevation above your area's BFE, which will reduce your home's risk of flood damage. After doing so, you'll need to hire a licensed surveyor to complete an elevation certificate, which will allow FEMA to reevaluate your flood insurance cost.
Another option, if filling in your basement isn't a realistic choice, is installing flood openings. These are vents installed into your home's exterior foundation walls to help reduce the structural damage flooding causes. FEMA has requirements about the number and size of flood openings a home needs, so it's best to discuss your options with an insurance agent or contractor, who can provide professional guidance specific to your home. You can also move utilities like water heaters and electrical panels out of your basement or elevate them on a platform to mitigate their risk of damage and potentially lower your premiums.
If you live in a lower-risk area, opt for NFIP's PRP, which combines building and contents coverage at lower rates, or check out your premium options with private insurers.
For more information about the NFIP, visit floodsmart.gov. Or just keep reading.
Cost of Flood Insurance – Frequently Asked Questions
Yes. Home insurance policies are great for covering damage caused by most natural disasters and even theft, but they don't cover flood damage. The only way to protect your home and personal belongings in case of hurricanes, floods, and melting snow is with a flood insurance policy.

While the NFIP issues the majority of flood insurance policies, private insurers can offer higher coverage limits and more coverage options, like additional living expenses protection, at lower rates. Still, additional coverage is bound to come at an additional cost. The best way to compare flood insurance costs is to get a quote for an NFIP policy and a private flood policy. You can also talk to your current insurance agent to see what option is best for you.

Yes. According to FEMA, over 40 percent of NFIP claims in the last five years were from homes outside of high-risk flood zones. Luckily, homeowners with lower flood risks qualify for lower premiums, so you can still secure flood insurance without breaking the bank.

To purchase NFIP flood insurance (and determine your flood insurance costs), you'll need your home's elevation certificate. You can contact your local floodplain manager to see if there is a certificate on file for your home, check to see if the certificate is included with your home's deed, or ask the builder if they have an elevation certificate. If you can't locate an elevation certificate or the current certificate doesn't accurately represent your home, you'll need to hire a licensed surveyor to complete an evaluation for you.

You might expect flood insurance to be more expensive in the South and in coastal communities. But Vermont, Connecticut, Rhode Island, and Pennsylvania top the list of most expensive states for flood insurance, while Texas, Maryland, and Florida have the cheapest premiums on average.
Cost of Flood Insurance: The Bottom Line
It may feel like no price is too high to protect the things you love, but insuring your home and personal belongings still shouldn't cost an arm and a leg. Unfortunately, your home insurance policy alone can't protect your home from every peril it may face. But with a little time and the right research, you're sure to secure affordable flood insurance.
And if you're feeling less than satisfied with your home, car, or life insurance policies, know that at Insurify, we strive to match you with the coverage you need at a price you'll love. Check out the home insurance comparison tool from Insurify to see just how much you could save.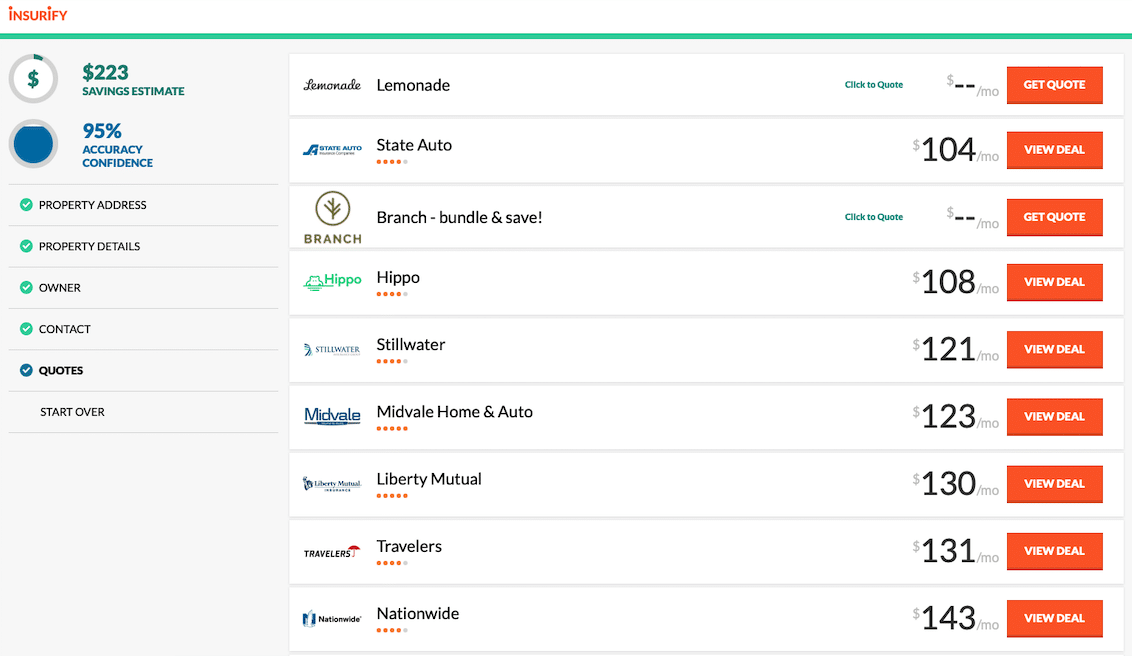 Compare Car Insurance Quotes Instantly
Personalized quotes in 5 minutes or less
No signup required
Data scientists at Insurify analyzed over 40 million auto insurance rates across the United States to compile the car insurance quotes, statistics, and data visualizations displayed on this page. The car insurance data includes coverage analysis and details on drivers' vehicles, driving records, and demographic information. With these insights, Insurify is able to offer drivers insight into how their car insurance premiums are priced by companies.