What's the difference between condo insurance and homeowners insurance?
The main difference is how much the policy has to protect.
What's the difference between condo insurance and homeowners insurance? Both types of insurance coverage protect the inside of your home, your personal belongings, and personal liability. However, that's where the similarities end. The two policies differ in how they handle insuring the structure of your home. Here's everything you need to know about how condo insurance and homeowners insurance are different.
Need to find a new homeowners or condo insurance policy? Check out Insurify! This easy-to-use tool takes just a few minutes of your time and allows you to compare home insurance quotes you will need to find the right policy for you.
Differences Between Homeowners Insurance and Condo Insurance
The main differences between insuring a condo unit with an HO-6 policy and insuring a house with an HO-3 policy come down to which parts of your home you actually own.
When you own a house, you own the whole property. That means the structure, everything inside the house, and the land that the house sits on. When you own a condominium, you only own what's inside the walls. All the common areas, like the pool and hallways, are covered by a master insurance policy owned by the condo association or homeowners association that manages your condo development.
The main differences between condo insurance coverage and a typical homeowners insurance policy are concentrated in three areas— dwelling coverage, personal property coverage, and liability coverage. Let's dig into them.
Dwelling Coverage
Dwelling coverage is the biggest difference between insuring a home and insuring a condo. Condo insurance is typically less expensive than homeowners insurance simply because condo owners need less dwelling coverage. Here's why the average cost is so different.
In a homeowners insurance policy, the dwelling coverage portion covers the physical structure of your home from the roof down to the foundation. It also covers structures that aren't attached to your home, like your pool, shed, or garage. Homeowners need to insure any structure on their property.
Condo owners don't have this responsibility. Structures outside your condo building are owned by the homeowners association ( HOA ) or condo association, and the association's insurance pays for damage to those structures. You still need dwelling coverage, but the dwelling portion of condo insurance covers damage that happens in the interior of your unit only. For example, if you accidentally start a fire while cooking and it destroys part of your kitchen, your insurance would pick up the tab for those damages.
Having the right amount of dwelling coverage is very important, regardless of whether you own a condo or a single-family house. Too much is a waste of money, but too little means you won't have enough coverage to rebuild after property damage.
Compare Car Insurance Quotes Instantly
Personalized quotes in 5 minutes or less
No signup required
Personal Property Coverage
The percentage of your overall coverage dedicated to personal property protection is usually different in a typical homeowners policy than in a standard condo policy.
By default, homeowners policies usually insure personal property for 25–50% of your dwelling coverage. If you have $250,000 in dwelling coverage, it probably comes with $100,000 of personal property protection. You won't need that much dwelling coverage for a condo, but you might still need that much personal property coverage. It depends on how much your belongings are worth.
When you buy a policy, you should look carefully at the personal property coverage limits and adjust them if the limit is too low. You want it to reflect the actual replacement cost of your possessions. Your condo association's master policy will never cover your personal property, so you need to make sure you have adequate insurance to cover you in case the worst happens.
Liability Coverage
The amount of liability coverage can also differ between the two types of policies. Homeowners are usually more at risk than condo owners because homeowners own extra structures that can expose them to liability and litigation, like pools and trampolines. Condo owners don't have to worry about the additional liability exposure because the liability insurance in the master policy covers the pool and other common areas.
It's possible to reduce the amount of liability coverage in condo insurance, but it's a bad idea. Medical bills and legal fees can be incredibly expensive, and it's hard to predict how much your responsibility for these things will be.
All About Condo Master Policies
If you live in a condo, you need to know about the master policy because it affects how much insurance you need. In some complexes, the policy stops at the exterior walls of your home. In others, the master policy extends through the interior walls. When you first move into your condo, ask to review the master policy with your insurance agent so you know exactly what the condo association covers. It should appear in the condominium declaration or master deed, which will include a section on insurance requirements or bylaws that describe what insurance the association will purchase on everyone's behalf.
The condo association's master policy will fall into one of three categories.
Bare walls coverage means owners of individual units have to insure everything from the drywall or wall studs into the condo. The walls, sinks, cabinets, and other fixtures are your responsibility. You are also responsible for insuring any improvements you make to your condo.
Single entity plans mean that the master policy covers most of your unit, including the fixtures. You have to insure your personal possessions and any upgrades.
All-inclusive agreements are similar to single entity plans, except that the master policy also covers the upgrades you make. All-inclusive insurance is the most comprehensive coverage that condo unit owners can have.
Additional Coverage for Condos
There are many similarities between condo insurance and homeowners insurance. For example, both typically include loss of use coverage, which helps cover your expenses if you have to live somewhere else after a disaster damages your home. Loss of use coverage covers things like additional living expenses, which could include food or the cost of staying at a hotel while your home is being fixed.
You may also hear about loss assessment coverage when you buy a condo policy. This is specific to condos, and it kicks in when the condo association charges a one-time fee to condo owners for damages that affect everyone—for example, if there's vandalism that damages a window in a common area. Sometimes, this is included in a standard condo policy, and other times it's only available as add-on coverage.
Frequently Asked Questions
Shop around. Get quotes from several insurance companies to find the best price. You also might be able to save money if you bundle your auto insurance with condo or homeowners insurance or if your unit has safety devices installed. Raising the deductible is another option that can result in lower premiums.

No, standard homeowners and condo policies never cover water damage from flooding. You need separate flood insurance to cover flood damage.

Filing an insurance claim for a home involves filing directly with your insurer. For a condo, you need to figure out whether your insurer or the HOA's insurer will pay the claim and then file accordingly.
Know the Differences
Condo policies and homeowners policies are a little different, but the basic intention—insuring your property against natural disasters and theft—is the same. Need to find a new policy? Online comparison tools like Insurify let you compare insurance quotes from top insurers instantly.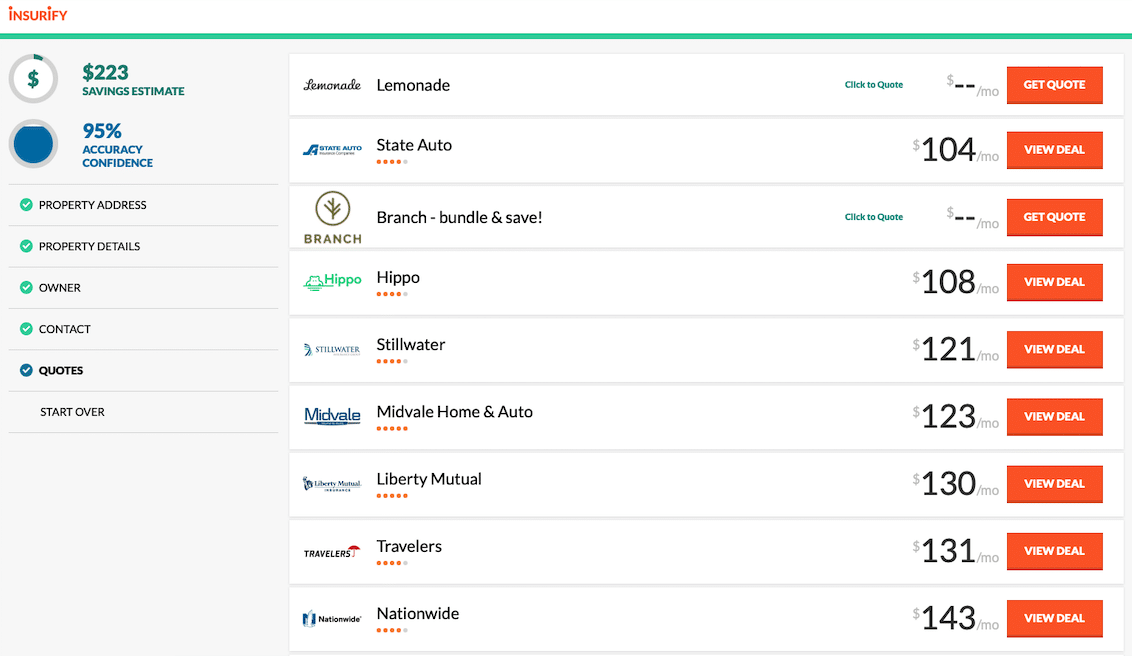 Compare Car Insurance Quotes Instantly
Personalized quotes in 5 minutes or less
No signup required
Data scientists at Insurify analyzed over 40 million auto insurance rates across the United States to compile the car insurance quotes, statistics, and data visualizations displayed on this page. The car insurance data includes coverage analysis and details on drivers' vehicles, driving records, and demographic information. With these insights, Insurify is able to offer drivers insight into how their car insurance premiums are priced by companies.