Is hazard insurance the same as homeowners insurance?
Yes. Every home insurance plan covers damage from certain "hazards," and if you want to get a home loan, virtually all mortgage lenders require a certain amount of this coverage.
Hazard insurance refers to the part of your general homeowners insurance policy that covers the structure of your home in case of damage from most natural disasters, theft or vandalism, and similar catastrophes. Other parts of your policy, like liability coverage, kick in if someone is injured at your home, for example.
In a place like California with a high risk of earthquakes and wildfires, you might want additional coverage to make sure you're fully protected in a worst-case scenario.
We know insurance details can be confusing. Speak to an insurance agent (or more than one) before purchasing your plan(s) so that you're clear on what's covered and not. And to get the best rate, compare insurance quotes from a few different companies.
Need new home insurance? Try Insurify. This online tool is easy to use and can help you get insurance quotes from multiple insurers.
How Hazard Insurance Works
Hazard insurance, also referred to as " dwelling coverage, " is only for damage to the structure of your home when caused by certain perils outlined in your policy. Most hazard insurance covers:
Fire and smoke, including wildfires

Hail and sleet

Windstorms

Lightning

Theft

Vandalism

Fallen trees

Sudden and accidental water damage

Vehicles that run into your home

Explosions
If your home experiences a covered loss, you'll file an insurance claim, and the insurance company will likely send someone to assess the damage. You'll have to pay your plan's deductible before the insurer starts paying out.
It's important to note that each home insurance plan is structured to pay either replacement cost or actual cash value. **
**
Replacement cost pays the current-day cost to rebuild or repair your dwelling, which can be important since construction costs vary over time and often spike after a natural disaster.

Actual cash value pays to rebuild or replace your property minus depreciatio n.
Every home insurance coverage plan has some exclusions to its hazard coverage. Read your policy carefully so that you know what's covered (and your coverage limits) before something bad happens. If you have questions, give your insurance agent a ring
What's Not Covered by Hazard Insurance
Since hazard insurance coverage only applies to the structure of your dwelling, other parts of your home insurance kick in for different needs:
Hazard coverage will not help pay to repair or rebuild additional structures like fencing or a detached garage, and it doesn't pay for landscaping.

It doesn't cover your additional living expenses, like hotels and meals, during loss of use of your home.

Replacement of your personal belongings is also covered by a separate part of your home insurance and only up to your policy limits.

Personal liability is another part of your home insurance policy that will cover costs if someone is injured at your home or if your child's errant ball breaks a neighbor's window, for example.

Damage from a natural flooding disaster isn't covered, but you can get separate flood insurance for that.

Earthquake damage usually isn't covered, but there are also separate plans for this.
Compare Car Insurance Quotes Instantly
Personalized quotes in 5 minutes or less
No signup required
How Much Hazard Insurance Do I Need, and What Does it Cost?
Your mortgage lender will likely require that you have coverage worth at least 100 percent of the value of your home, but many homeowners prefer to be insured for higher amounts.
According to a Nerdwallet analysis, the average cost of homeowners insurance in California is $1,224 per year, which is actually lower than the national average. But insurance rates vary greatly depending on where you live, and if you live in an area prone to wildfires, expect higher premiums.
Your home insurance cost will also depend on other factors, like your claims history, the amount of coverage you buy, and the deductible amount you set. Your monthly insurance premiums are sometimes included as part of your mortgage payments.
Your home is likely one of the largest investments you'll ever make, and catastrophic damage can ruin not only your house but your finances. Home insurance is not an area where you want to skimp.
Additional Coverage Worth Considering in California
Beyond standard homeowners insurance coverage, residents of the Golden State might want to consider buying additional insurance products for further protection.
Fire protection services may be available from your home insurance company.

Earthquake insurance is available as a separate policy or endorsement from most private insurers and from the California Earthquake Authority.

Extended replacement cost coverage expands your dwelling coverage limit beyond your policy's standard limit, sometimes up to 50 percent. This extended coverage is often a good value for the amount of additional protection you get.

Umbrella insurance is a type of personal liability insurance that covers beyond what your standard home, auto, or watercraft policy covers.
Frequently Asked Questions
While you shouldn't skimp on home insurance, there are a few ways to save. Always shop around and get home insurance quotes from multiple companies. Consider bundling your home and auto insurance. Reconsider high-risk additions like swimming pools. And don't file claims for minor property damage, because a single claim can spike your premiums. Save your claims for truly catastrophic needs.

If you have been turned down by multiple insurers, you should consider your state's Fair Access to Insurance Requirements (FAIR) plan. These plans usually aren't great, though, so keep shopping around before you turn to them.

You can get personal property coverage through renters insurance! It's affordable for the amount of coverage you get. A standard renters policy covers damages from wildfires.
Home Insurances Covers You in Case of Most Hazards—Including Wildfire
You don't want to get caught short on home insurance if disaster strikes. Make sure you know in advance what your plan covers so that you can enhance your insurance if needed. Try out Insurify now.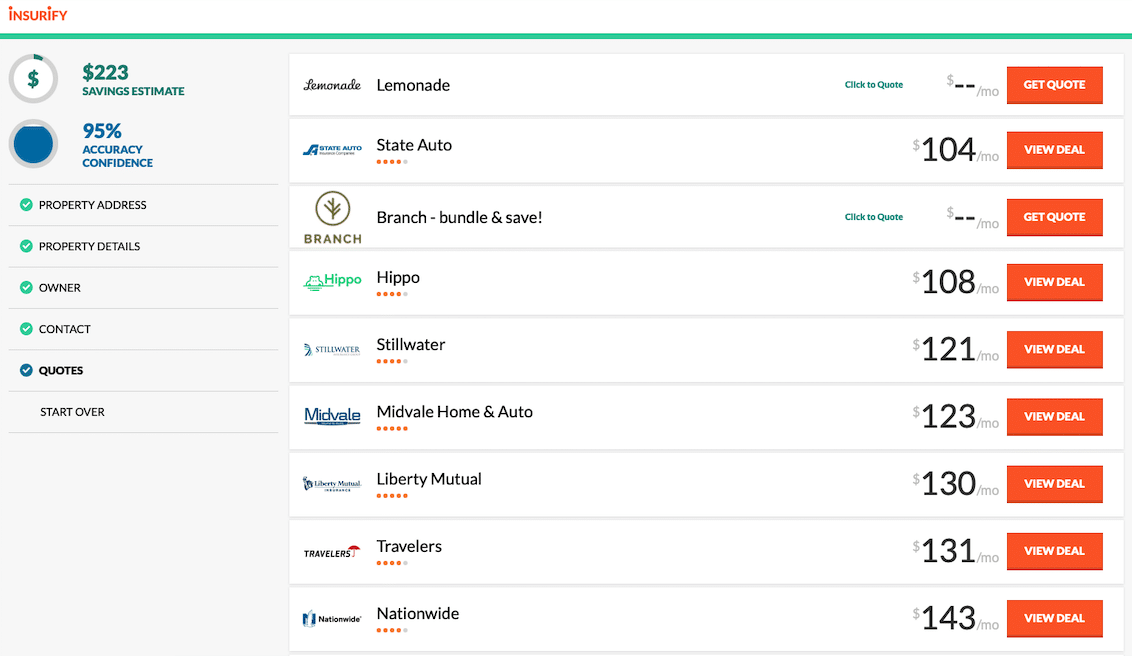 Compare Car Insurance Quotes Instantly
Personalized quotes in 5 minutes or less
No signup required
Data scientists at Insurify analyzed over 40 million auto insurance rates across the United States to compile the car insurance quotes, statistics, and data visualizations displayed on this page. The car insurance data includes coverage analysis and details on drivers' vehicles, driving records, and demographic information. With these insights, Insurify is able to offer drivers insight into how their car insurance premiums are priced by companies.