Can I get a home insurance quote anonymously?
It's not entirely possible to get a homeowners insurance quote without giving any personal information. However, there are ways to limit the information you provide and still get accurate quotes. Insurify will show you how.
Anytime you visit an insurance company's website for home insurance quotes, they ask you to answer some pretty personal questions. The problem is, you need home insurance coverage no matter what so that your personal belongings and home are protected from natural disasters, theft, vandalism, and property damage.
Some companies might ask for personal details such as your Social Security number, phone number, and home address. With personal information being requested all over the web, is it possible to remain anonymous when getting a homeowners insurance quote?
Thankfully, you have Insurify to help you compare homeowners insurance companies and insurance rates to get the best home insurance policy for you and your family so you can have peace of mind.
Ready to start comparing and saving? Let Insurify help you compare home insurance companies for the best rates possible.
Getting an Anonymous Home Insurance Quote
It doesn't sit well, giving such sensitive, personal information to get an insurance quote. Liability coverage rates, coverage options, and insurance rates usually are not handed out by big insurance carriers. Even if the payoff is a free quote, you still have to give away information in return.
You want to get an insurance quote for free without the hassle of giving information like your Social Security number away to anyone who asks for it. And you're probably wondering if staying anonymous for home insurance quotes is possible. The truth is, getting an anonymous home insurance quote is possible, as long as you do it right.
Read along as we cover how you can get an anonymous home insurance quote for free.
Pros of Getting an Anonymous Home Insurance Quote
Usually, when you go to get an insurance quote , a company will make you fill out a questionnaire asking for personal information. On each website you visit, filling out your information for a quote means that they now have your sensitive information.
If you choose the wrong website, your info could be stolen the minute there is a security breach. You could be vulnerable to hacking and other problems. This happens in many industries, not just in the insurance industry, so it's best to be aware of what can happen when you give out your information.
You also don't want a company to share your information without your consent. Most insurers have a disclaimer, but some companies out there practice shady behavior; it's best to steer clear of those altogether. If you must give away your personal information for a quote, be sure to check with an insurance agent or the website to know your rights and what they do with your information.
Entering information may be necessary to give you the most precise homeowners insurance policy quote, but it isn't always needed. Here are instances of when you do and don't need to give out your information.
Non-Guaranteed Quotes
Insurance companies can offer non-guaranteed quotes, which is the average premium paid by homeowners in a given area, depending on the city, state, and ZIP code and property type. You don't have to provide your personal information in these cases. Though, the questions may get a little more in-depth to find out more about the property details.
This method may not be 100 percent accurate, but it's the best you're going to get from a given insurance company for average rates. You also won't have to worry about the insurance agent's follow-ups, inconveniencing you with emails, mail, or voicemails. Keep in mind that if you end up going with a home policy, your homeowners insurance costs will vary from the non-guaranteed quote you may have gotten previously.
Guaranteed Quotes
Guaranteed quotes, on the other hand, are the exact opposite. After you provide as much information as possible, the insurance provider will provide a follow-up. You should fill out a guaranteed quote if you are set on following through on a policy, especially if you want to get a realistic comparison of home insurance premiums by company.
Guaranteed quotes tend to ask custom questions to get the best possible rate based on your needs. So be aware that you will have to give out specific pieces of information for an accurate quote for property coverage or renters insurance.
Personal Information Needed for the Most Accurate Homeowners Insurance Quote
Be aware of the questions companies will ask regarding homeowners insurance coverage to better determine personal liability, liability protection, medical payments, and more. These may be more detailed and be more lengthy than your typical car insurance quote. That's because there's a lot to account for with personal property.
More information like this may be warranted to get you the most precise quote possible:
Name

Age

Gender

Marital status

Household size

Home type (one-story, two-story, etc.)

ZIP code

Address and previous address (if lived in less than two years)

If you have a security system and fire alarm system

The replacement cost of your home (the higher the price, the higher the rates)

Construction type

Roof type
Giving your location is vital to getting an accurate estimate. The average cost of homeowners insurance varies widely depending on where you live —even a few miles can make a difference. That's because an area's claim rates, crime rates, and weather events are taken into account when pricing policies.
For example, if you live in an area prone to flood damage like coastal Florida, your policy will be more expensive. That's because you'll likely need additional flood insurance to protect your property. And if you live in an area classified as a flood plain, your lender will require you to carry a flood policy.
Unnecessary Personal Information for Insurance Companies
Now, insurance companies will ask for your email and phone number (though sometimes not required). This is how companies will get in touch with you to activate your insurance policy. They may also want to sell you more insurance products further down the line.
If you're shopping around, you could always give a burner email, an email separate from the one you typically use. It needs to be a valid email address because many companies like Allstate, MetLife, or Liberty Mutual send quotes via email.
How to Get an Anonymous Home Insurance Quote
A 100 percent anonymous and accurate insurance quote isn't entirely possible. But, if you're still wondering how to get a precise home insurance quote by remaining anonymous, you can conceal details that don't mess with your insurance rates, like your email address. Giving your email address or your burner email address will provide you the most reliable quotes.
If you need a home insurance comparison tool, look to Insurify to collect quotes. All you have to do is provide the valid email address of your choosing to collect all the quotes you need in one place and at the best rate. Many see the property insurance rates they like and end up deciding right then and there, saving time and effort.
How to Get Cheaper Home Insurance
Who doesn't want to save money? The first step to getting cheaper home insurance (without sacrificing coverage) is to compare home insurance rates using a confidential online marketplace — more on this in the next section. Once you've located some top contenders for your policy, take a look at the discount programs that each offers.
Some companies offer insurance discounts for:
Burglar alarms, smoke detectors, and other safety equipment

Sump pumps and other water damage prevention tools

Bundling home with auto insurance or other policies
Keep in mind that your credit history can also affect your homeowners insurance rate. People with higher credit scores are considered lower risk than people with lower credit scores. Even small improvements, like paying an old bill in collections, can drastically improve your score within a few months.
Finally, the types and amount of coverage you include in your policy also affect costs. Raising your deductible or lowering your coverage limit should result in a lower monthly payment —just don't lower your deductible so low you can't afford it when the time goes. And y ou want to set coverage limits to an appropriate level considering the costs you could incur in the worst-case scenario. The goal is to get the right amount of insurance, not too much or too little.
Two critical places where people get this wrong is dwelling coverage and personal property coverage. Dwelling coverage refers to the costs to repair or replace your home —not the market value of the home. Repairing or replacing your home could cost more or less than the market value. Personal property coverage refers to your personal belongings. Creating an inventory of your possessions with the cost of each item is a great way to get a clear picture of how much insurance you need.
Comparing Home Insurance Quotes
Insurify hands you the tools to compare home insurance all in one spot. It takes just a couple minutes to answer questions related to your home so you can be given multiple accurate home insurance quotes in only a few seconds. It's free, with no risk to you. And with Insurify, there's no need to give your SSN, either. You'll get quotes from top insurance agencies. Choose to pay online or over the phone, with no hassle. We won't even call you unless you explicitly tell us to.
With Insurify, cheap and reliable home insurance is available all in one place. All you need to do is take a couple of minutes with a free and easy-to-use tool that makes finding the right insurance possible.
Frequently Asked Questions - Anonymous Homeowners Insurance Quotes
An anonymous car insurance quote is possible when you provide as little details as possible. The General is one of the only insurance companies to allow this.

Insurify is a safe way to get an anonymous car insurance quote. Use our comparison tool for auto insurance the same way you do for home insurance. It's that simple!

Bundling is possible with many car insurance companies, such as State Farm and Farmers. When you go to enter your information, there's usually an option to bundle. Bundling is fantastic because it usually saves you money by giving a discount on insurance.

When you're filling out homeowners insurance quotes on a provider's website, you may spend several minutes on the questionnaire and then waiting for your quote. With Insurify, it only takes a couple of minutes to receive the best homeowners insurance quotes.

No, typically, flood insurance is sold separately from the standard policy. You'll have to purchase a separate policy for flood insurance. Ask your local insurance agent for more details and rates.
Getting an Anonymous Home Insurance Quote: The Bottom Line
While there may not be a way to be completely anonymous when gathering home insurance quotes, there are ways around providing your private information. Remember that Insurify offers you a way to avoid spending hours on insurance websites and can provide you accurate quotes within minutes.
With Insurify, you're on your way to saving money on homeowners insurance. It's free, and it's fast!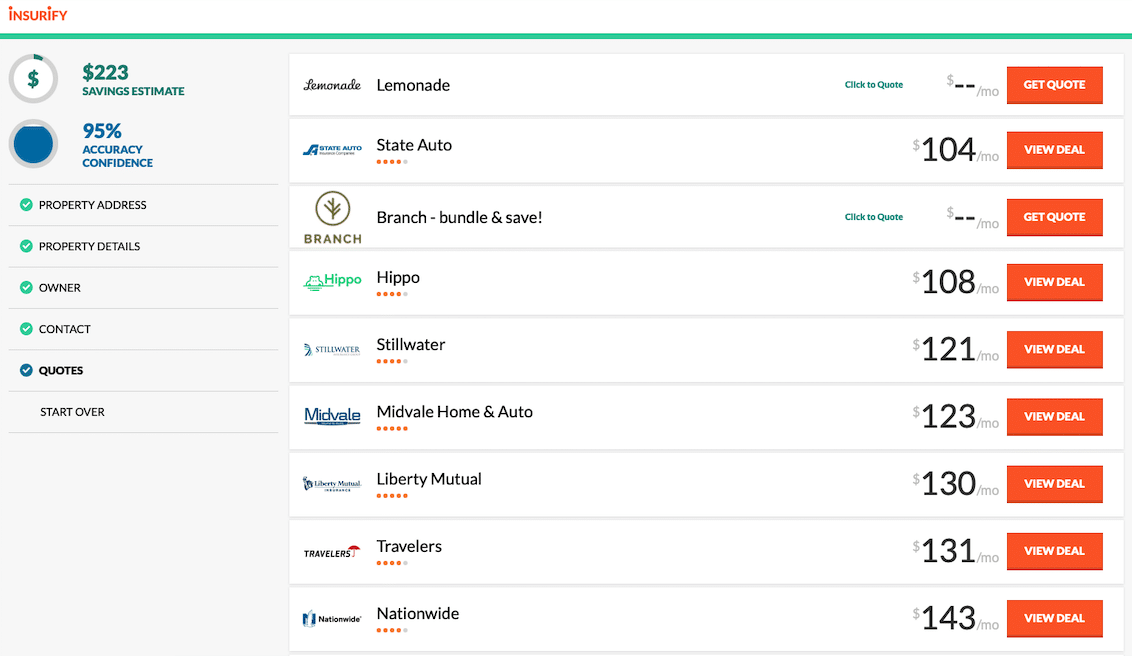 Compare Home Insurance Quotes Instantly
Personalized quotes in 5 minutes or less
No signup required