Does my homeowners insurance provider offer flood insurance?
Not all home insurance companies offer flood insurance, but there are many flood insurance providers.
Did you know that your standard homeowners insurance policy does not cover flood damage? Sure, there are some situations in which water damage to your personal belongings would be covered. Still, in many cases, you need a flood insurance policy if you live in an area with a high risk of water damage or in a flood area.
Since floodwaters can easily cause entire neighborhoods to file flood insurance claims after a single rainstorm or weather event, property insurance excludes this type of coverage. And since people in some areas will never need to make a flood claim, they don't need to pay for flood insurance if they have negligible risk.
What Does Flood Insurance Cover?
Flooding is excess water in a place that's generally dry and covers an area of two acres or two properties. Flood insurance provides contents coverage and building coverage options to protect homes in a known flood-risk area. Flooding can be caused by both natural disasters and the aftermath of them.
Damage that's a result of flooding caused by any of these events generally qualifies for compensation:
Heavy rainstorms

Storm surges

Blocked sewer drains

Failure of a levee dam

Flash flood

Abnormal tide surge
When one of these events happens and damages or destroys your personal property, you can file a claim to receive compensation for your losses. During the underwriting process, you decide if you want building coverage (for the structure of your home), contents coverage, or both. Most people err on the side of caution and get both types of coverage.
Here's a look at what's covered by your flood insurance policy 's building coverage:
Appliances that are built-in, like stoves and dishwashers

Electrical systems

Plumbing systems

Furnace and water heater

Fuel tank

Well-water tank

Permanently installed carpet, cabinets, and bookcases

Window blinds

Foundation and staircases

Detached garages
The contents coverage of your flood insurance policy protects your:
Personal belongings, like clothing, books, electronics, and furniture

Washer and dryer

Microwave

Air conditioning unit

Curtains and rugs

Valuables
Although coverage is comprehensive, there are things in and around your home that are not covered by your flood insurance. Included on the list are:
Personal property that's stored in the basement

Valuable papers, currency, and precious metals

Property that's outside of your home, such as pools and hot tubs, decks, landscaping, fences, septic systems, and wells

Vehicles (though you may have some coverage on them through your auto insurance policy)

Additional living expenses, such as needing to stay in a hotel while your home is being repaired
National Flood Insurance Program Flood Insurance Policies
One choice homeowners and renters have for getting flood insurance is through the National Flood Insurance Program ( NFIP ). This program is supported by the federal government and underwrites policies for anyone, regardless of whether they live in a flood zone.
Policyholders of an NFIP flood insurance policy receive coverage limits of $250,000 for building coverage and $100,000 for contents coverage. If excess flood insurance is needed, you can buy additional coverage from private flood insurance companies. The limits for NFIP policies are low and best suited for people who have minimal risk of experiencing flood damage.
For homes in states like Florida and the Carolinas, where flooding occurs every year due to hurricanes and windstorms, NFIP coverage is inadequate. Consider pursuing coverage from a private company or, at the minimum, supplementing your NFIP plan with private insurance.
The NFIP policies are subject to guidelines set forth by the Federal Emergency Management Agency ( FEMA). The government doesn't service these policies; they just contract with private underwriters. There are nearly 100 companies that service these policies.
Another way to get an NFIP policy is through one of 50 private insurance companies that participate in the Write Your Own ( WYO ) program, which aims to increase the number of properties covered in all areas of the United States. Insurers apply to write and sell these policies, which are fully backed by the government, through their agents.
Some of the companies that participate in WYO include Allstate, Assurant, Farmers, Liberty Mutual, and Metropolitan Property & Casualty. This program has proven effective, as companies in the WYO program sell far more policies than NFIP does on its own. This means more families are protected if their homes or possessions are destroyed by flooding.
One thing to take note of is the 30-day waiting period before NFIP coverage goes into place. If you're considering applying for a policy, get flood insurance quotes today so that your coverage starts as soon as possible.
Private Flood Insurance Companies
For more comprehensive coverage that suits your needs, you can choose to get flood insurance with a private insurance company. This may be as easy as calling up your homeowners insurance provider and asking if they can get you this coverage.
In addition to underwriting policies for coverage tailored to your needs, private insurance companies have shorter waiting periods than the NFIP. You won't have to wait 30 days for coverage to begin. Private companies don't follow FEMA requirements and have more control over how they issue policies.
Some of the best flood insurance companies include:
GEICO: You can save money on your flood insurance if you choose to bundle it with your home and auto insurance. It makes it easy to file claims over the phone with a local agent. It does not underwrite policies for homes that are near water, so if you live on a river or have a lake house, you'll need to look elsewhere for coverage.

USAA: Known for its excellent customer service, USAA is limited to military members, veterans, and their families. One thing many don't know is that they are very generous in their inclusion of family, and even if you're two generations removed from the military, you may qualify. USAA underwrites flood insurance in all 50 states, so it's a great option that's open to a lot of people.

MetLife: In addition to providing various insurance options, including life insurance, MetLife has low-priced flood insurance for renters, which generally costs less than $20 a month. Payments can be made online, and customer service is available by phone to answer questions and file claims.

The Flood Insurance Agency: This company provides commercial flood insurance to businesses and landlords. It does have strict requirements and won't insure a property with more than one flood claim in the past five years. However, it offers better coverage than NFIP and at lower rates.
FAQ: Flood Insurance Companies
No, flood insurance isn't required for everyone. Your mortgage lender will tell you if you must have a policy or not. Renters also need coverage if your home is in a flood zone because your private property could be damaged or destroyed.

Flood insurance rates are neither prohibitively expensive nor cheap. Private insurers charge based on the amount of risk they are taking on, and if your home were to suffer excessive water damage, the compensation would far exceed your annual premium.

This is your decision, but one that's worth consideration. Nearly 25 percent of flood-related claims are paid out to people who are not in flood zones. You can talk with your insurance agent about your risk regarding proximity to water and the frequency of heavy rainstorms in your area.

Yes, you will have two deductibles on your home. One is for your standard policy, and the other is for your flood insurance.
Conclusion: Compare Quotes from Top Flood Insurance Companies
Finding a flood insurance policy that gives you coverage tailored to your home and the contents therein doesn't have to take a long time. A simple option to get insurance quickly is to call up your current homeowners insurance or renters insurance provider. Ask them about the options they offer.
The other choice, which you can make without speaking to anyone, is to do a quick comparison search for flood insurance with Insurify. Fill out the online form with information about your home and address, and you'll get customized quotes from the nation's top insurance companies. From there, you can choose to apply online or speak to an insurance agent to learn more.
Don't wait until the forecast shows a week of rainstorms to apply for flood insurance. Apply today so that you're fully covered as soon as possible.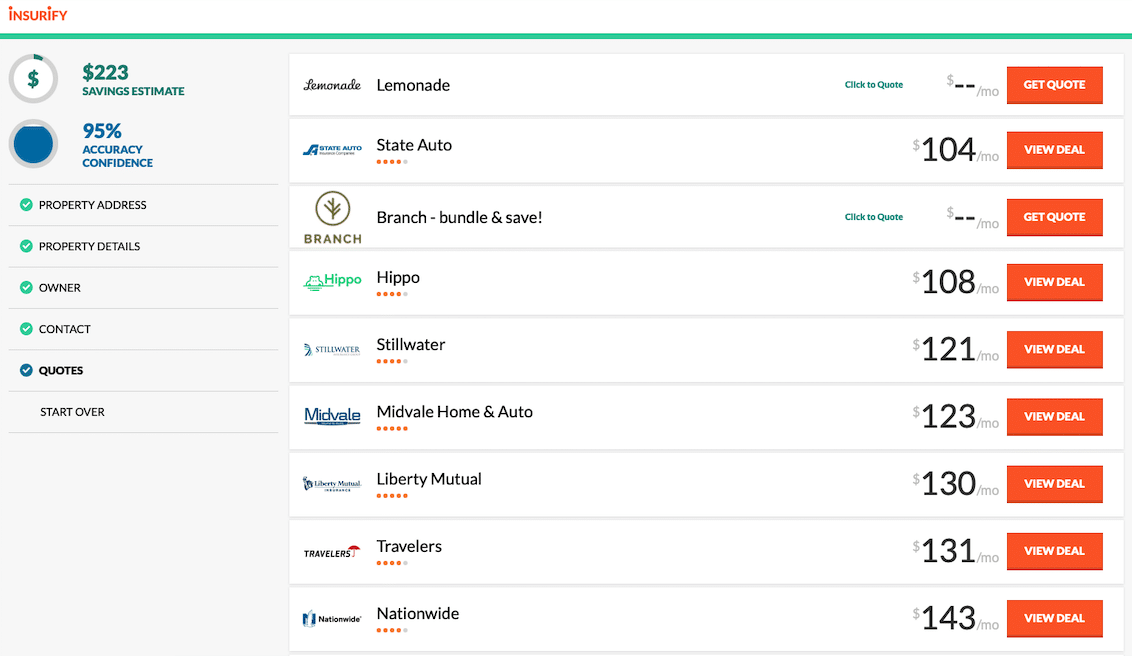 Compare Home Insurance Quotes Instantly
Personalized quotes in 5 minutes or less
No signup required