The roof is out of sight, out of mind for many homeowners, but this outlook can be dangerous. Unless it springs a major leak, you're unlikely to notice what's happening on top of your house.
However, you should inspect the entire roof for potential problems twice a year, according to the National Roofing Contractors Association. Going up on your roof in the spring and fall for a DIY inspection—or having a professional roofing contractor do it for you—will help you catch small problems that sprout after seasonal weather before they become big, expensive problems.
At some point, it will also be time for a full replacement. This sounds like a huge proposition, but it doesn't have to be scary. In fact, replacing your roof on schedule before it starts leaking helps you maintain your investment in your home by avoiding major interior damage from a leaky roof.
Another important part of protecting your investment is to have the right home insurance. Try Insurify, an easy-to-use tool that helps you find and compare quotes for home insurance.
Here's everything you need to know about when to replace your roof.
How Often Do I Need to Replace My Roof?
This depends on several factors, including the material used to roof your house and the climate that the roof is exposed to. These are some common time frames for replacing different roof materials, according to Roof Advisor:
Composition shingles: 12 to 20 years
Asphalt shingles: 15 to 30 years
Wood shingles: 20 to 25 years
Rubber roofs: 30 to 50 years
Metal roofing: 50 to 75 years
Variations in climate can also affect the durability of your roofing system. Harsh winters and high humidity can wear out the materials more quickly than drier, more temperate climates. Always check for signs of damage after severe storms or high winds in addition to your regular twice-a-year maintenance schedule.
Red Flags That You Need a New Roof
You're likely to spot some warning signs that your roof needs to be replaced. One is simply the age of your roof —if it's nearing the end of its expected lifespan, it may be cheaper to replace it now instead of waiting until it springs a leak. If your roof inspection turns up any of these other obvious signs, contact a roofing company immediately to get a professional's opinion.
Cracks or holes in the roof: Can you see any light coming through your roof from the inside? If so, you need a roof repair or replacement right away. If light can get in, so can water.
Dark streaks and water stains inside or outside: These are signs of leaks. Moisture is damaging both your roof and your home's interior.
Sagging areas: Use your hand or a broom to prod any sagging spots you can see from inside your house. Does the spot feel soft and wet or bend easily when you touch it? If so, you have moisture damage.
Rotting and decay: This could include rotten tiles, missing and broken tiles, or what looks like mildew or moldy buildup that covers a group of tiles. This is especially common in wooden and asphalt shingle roofs.
Moss and algae growth: This isn't normally a sign that your roof needs repair, but it's an eyesore that can affect curb appeal. Spray it forcefully with a garden hose and burn away any leftovers with a weak solution of hydrogen peroxide and water.
Decayed, damaged, or cracking shingles: Look for missing shingles and spots with shingles that are crackling, curling, buckling, or otherwise out of place. This is a telltale sign that the shingles need to be replaced.
Granules in the gutter: Look for pieces of your shingles in your gutters. They tend to lose more granules toward the end of their lifespan, so if they're really piling up, your roof is more susceptible to damage and decay.
Damaged roof flashing: Flashing is usually found around the base of the chimney. If your flashing is made with roof cement or tar, it's more vulnerable to water damage. Think about replacing it with durable metal flashing when you replace the rest of the roof.
Neighbors are getting roof replacements: Were a lot of houses in your neighborhood built around the same time? If it's time for your neighbors to replace their old roofs, it might be time for you to do the same thing.
Poor workmanship: You don't always need a professional roofer to spot bad roof work. Is your roof covered in patches, or do the tiles and shingles not fit together securely? If the roof looks shoddy, it's probably not in great shape underneath either.
Compare Car Insurance Quotes Instantly
Personalized quotes in 5 minutes or less
No signup required
Frequently Asked Questions - Roof Replacement
No. Shingles are there to protect your roof deck from moisture and wind. If they're missing, water can seep into the underlayment and deck, where it will cause rot and eventually leakage. This is true even if the exposed area is small.

Sometimes, but you really need to have a roofing professional determine whether the underlayment or decking is damaged before you attempt to patch it. If the damage is extensive, it might be better to replace the whole roof instead of wasting money on a patch. However, if moisture hasn't infiltrated your home, the patch might extend your roof's lifespan without causing more damage in the future.

Maybe. Most local building codes allow up to two layers of shingles on a home. After two layers, you risk putting too much weight on the structure. An extra layer of roofing materials also means you'll pay double for the tear-off when it's time to replace the roof, and it can also make it harder to find roof leaks because you'll have to search through two shingle layers. Layering shingles also typically voids the manufacturer's warranty on the new shingles, so if there's a problem with the new shingle layer, you can't rely on the warranty to cover the repair or replacement costs.
Protect Your Home with a Solid Roof
Your roof protects everything under it, so it's important to take care of it. That includes replacing it when it becomes necessary. Know what signs to watch out for so your roof can continue protecting you and your home for years to come.
Protect your roof—and the rest of your home—by choosing the right home insurance to safeguard your investment. Find the best insurance for you by searching through Insurify, where you can get quotes from top insurers with just a few minutes of research.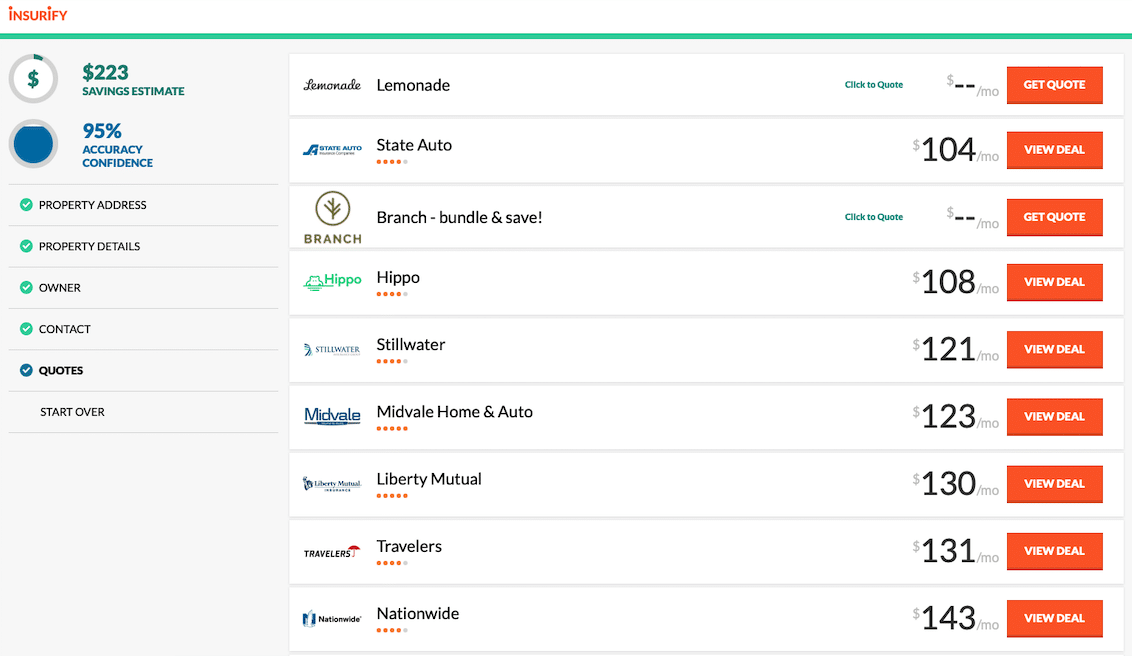 Compare Car Insurance Quotes Instantly
Personalized quotes in 5 minutes or less
No signup required
Data scientists at Insurify analyzed over 40 million auto insurance rates across the United States to compile the car insurance quotes, statistics, and data visualizations displayed on this page. The car insurance data includes coverage analysis and details on drivers' vehicles, driving records, and demographic information. With these insights, Insurify is able to offer drivers insight into how their car insurance premiums are priced by companies.