Flood Insurance in Texas is an important aspect of homeowners insurance.
Here's our guide to the cost of coverage, how it works, and what you can expect.
Texas is a gorgeous state to live in and visit. Besides its warm weather and diverse culture, Texas has a low cost of living and doesn't require you to pay state income taxes. However, the state is particularly prone to flooding.
No matter which major city you live near in Texas, you're likely in a high-risk flood zone. The Lone Star State takes the threat of floods seriously. Because standard homeowners policies don't cover flood damage, homeowners may be required to buy flood insurance.
But regular homeowners insurance is still an important consideration for residents in Texas. Compare rates and options homeowners insurance in Texas with Insurify to see how much you could save on a new or existing homeowners policy.
What Is Texas Flood Insurance?
While homeowners insurance provides financial protection in the event of a disaster or accident involving your home, it doesn't cover damage from flooding. That's where flood insurance comes in.
Flood insurance in Texas picks up where your homeowners insurance leaves off. It covers your home and property for losses explicitly caused by flooding. Generally, heavy or prolonged rain, coastal storm surges, or blocked storm drainage systems can lead to flooding or worsen flood damage.
You may need to purchase a separate flood insurance policy for your home if you live in a high-risk flood area. However, your mortgage lender can require it even if you live outside of a high-risk area.
Requirements for Texas Flood Insurance
According to the Insurance Information Institute (III), Texas has nearly 800,000 active flood insurance policies. The III also ranks it third for storm surge risk out of all 50 states in the U.S.
Your flood insurance requirements as a homeowner vary depending on where you live and the flood risk for that area. Because of the high risk of flooding throughout the state, you may consider purchasing a flood insurance policy even if it isn't required.
But certain situations exist in which you need a policy. For instance, government-backed mortgage programs, like an FHA home loan, generally require you to purchase flood insurance if you buy a house in a flood zone.
If you're in the market to buy a house, check with your real estate agent about which neighborhoods might require flood insurance. You can also contact your insurance agency or FloodSmart. gov at 1 (800) 427-4661 to find an agent in your area and get more information.
Compare Car Insurance Quotes Instantly
Personalized quotes in 5 minutes or less
No signup required
Texas Flood Zone Insurance Rate Map
Texas considers your home to be in a flood zone if it has a 1 percent chance of being flooded in any given year. In that case, you'll likely need flood insurance.
Cities along the Gulf Coast, including Houston, historically have had the most flood events. But remember: floods can happen anywhere. Small and large cities can have flood controls that are easily overwhelmed by heavy rains, leading to widespread flooding.
Texas also has " Flash Flood Alley," one of the most flood-prone regions on the continent. It follows a curve from Waco, through Austin and San Antonio, to Uvalde.
Texas flood insurance rate maps categorize flood risk into different zones. High-risk areas in Texas are Zones A and V, while the moderate-risk to low-risk areas are Zones C, B, and X.
For more information, visit the Flood Map Service Center from the Federal Emergency Management Agency ( FEMA ). It has a tool that lets you search by address or place to see if you're in a floodplain.
Flood Insurance Coverage
Flood policies can vary by insurance company. However, FloodSmart. gov reports that policyholders can generally expect flood insurance to cover the structure of your home and the contents inside:
Essential systems: Electrical and plumbing systems, furnace, water heater, central air conditioners, fuel tanks, and solar energy equipment

Appliances: Refrigerators, ranges, dishwashers, washing machines, dryers, window air conditioners, and freezers

Carpeting and window treatments: Carpeting, window blinds, and curtains

Paneling, wallboard, and cabinets: Permanently installed paneling, wallboard, and cabinets that are damaged

Foundations and structures: Foundation walls, staircases, attached garages, and detached garages used for limited storage or parking

Personal property: Clothing, furniture, and electronic equipment; policies are also likely to cover specific valuables, such as original artwork and furs
What Flood Insurance Coverage Doesn't Include
Flood insurance covers a lot of things, but every policy has exclusions. For starters, policies only cover damage directly caused by flooding. That means damage from a sewer backup is only covered if the cause can be traced directly to flood damage.
Another exclusion homeowners need to watch out for is the 30-day waiting period. After you purchase flood coverage, your policy may not be active until after the 30-day waiting period has passed.
Cost of Flood Insurance in Texas
The Texas Department of Insurance reports the average flood policy costs about $700 per year. However, Texas flood insurance rates vary from one homeowner to the next. How much you'll pay depends on the flood risk, your home's value, the deductible amount, and other factors.
Because more than 20 percent of flood insurance claims come from moderate- to low-risk areas, consider purchasing flood insurance even if you're not in a high-risk flood zone. You could qualify for a Preferred Risk Policy. A Preferred Risk Policy is lower-cost flood insurance available for homes in low- to moderate-risk areas.
How to Get a Quote for Texas Flood Insurance
Even if you have homeowners insurance from one of the best home insurance companies, your policy won't cover flood damage to your home or personal property. So you need to know how to get a quote for flood insurance in Texas.
You have two options: purchase a policy through the NFIP or go through a private insurer.
NFIP Flood Insurance
An NFIP policy in the United States is issued through the federal government. You can purchase a policy through a direct servicing agent if you live in a FEMA -designated participating community.
Private Flood Insurance
The NFIP isn't the only place to get flood insurance. Private insurers also offer flood insurance, and they typically have similar or lower rates compared to the NFIP.
With private flood insurance, you'll have more options to customize your policy:
Stand-alone policy: Flood insurance with high coverage limits for your home and personal items

Excess flood policy: Added insurance that covers you if you've reached your NFIP coverage limits

Flood endorsement: Flood insurance with low coverage amounts that you can add to your homeowners insurance
Whichever option you choose, take the time to shop around and compare costs and policy options between an NFIP policy and one from a private flood insurance company.
Frequently Asked Questions
Standard homeowners insurance doesn't cover water damage from floods. You must purchase a separate flood insurance policy from the NFIP or a private insurer to protect yourself financially from flood damage. However, some private insurance companies allow you to add a flood endorsement with low coverage amounts to your existing home insurance policy.

Most flood insurance policies are purchased through the NFIP, which is managed by FEMA. Private flood insurance makes up around 5 percent of the flood insurance market, but the number is on the rise as more people purchase policies from private insurers.

According to the III, the average flood insurance premium is $642 per year. Because Texas is prone to flooding and may have more high-risk areas, you may pay a little more—about $700 per year for flood insurance in the Lone Star State.

A typical renters insurance policy does not cover flood damage. If you rent your living space, you can purchase a separate flood insurance policy to protect your belongings if a flood should ravage your home or apartment.
Do You Need Flood Insurance in Texas?
They say everything is bigger in Texas. Unfortunately, that can be true of floods, too. Flooding generally impacts cities along the Gulf Coast at a higher rate than the rest of the state. But nearly every city in Texas is prone to flooding.
Flood insurance can go a long way to giving you peace of mind. Even if you're not in a high-risk area, flood insurance can protect you, your family, and your home from this natural disaster.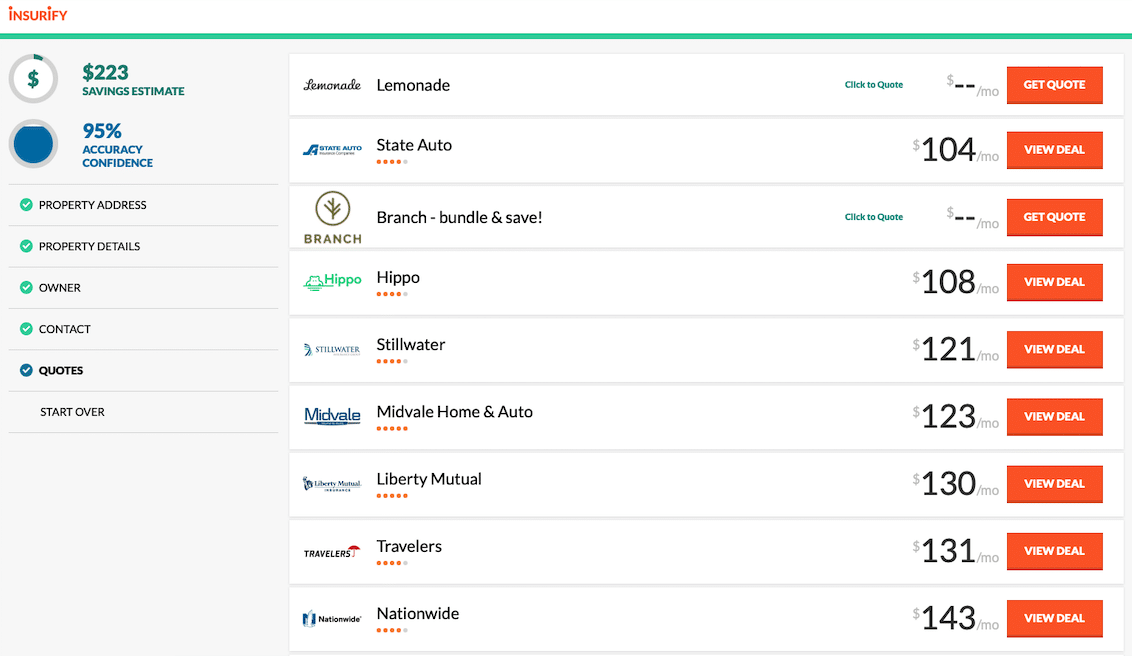 Compare Car Insurance Quotes Instantly
Personalized quotes in 5 minutes or less
No signup required
Data scientists at Insurify analyzed over 40 million auto insurance rates across the United States to compile the car insurance quotes, statistics, and data visualizations displayed on this page. The car insurance data includes coverage analysis and details on drivers' vehicles, driving records, and demographic information. With these insights, Insurify is able to offer drivers insight into how their car insurance premiums are priced by companies.