Does homeowners insurance cover roof leaks?
Whether your insurance covers the leak in your roof depends on the source of the leak. A leak caused by sudden damage from a covered peril will be covered. However, a leak caused by general wear and tear will not be covered.
Signs of a roof leak can cause panic for homeowners. You might wonder how long the roof has been leaking, how much water damage it caused, and how expensive it will be to repair. As you'd expect, the cost for repairing and damaged roof is often very high. Home insurance can give you peace of mind knowing you're protected, but it has its limitations.
Homeowners have several options when selecting an home insurance policy, including the deductible amount. A policy will cover specific damage or situations called named perils. It can also explicitly exclude certain events, such as roof damage from flooding or other disasters.
Fortunately, homeowners insurance generally covers roof leaks and associated damages. Most policies come with a deductible amount you must pay before the insurance kicks in.
Insurify lets you compare policy coverage and deductible options from half a dozen or more top insurance companies. It's free to use and makes it easy to get the right home insurance to fit your needs.
When Does Home Insurance Cover Roof Leaks?
Roof leaks can cause substantial damage. Even a small leak can lead to drywall damage, ceiling discoloration, and attic insulation damage in the short term. A longer-term consequence is mold and mildew growth that spreads through the home's structure, and to the HVAC system. It could eventually make its way into carpets, furniture, and clothing.
If you're a homeowner with a leaky roof, you need to act fast. And that means knowing when your insurance will cover roof repair costs due to leaks. And your insurance will cover water damage so long as it's caused by a covered peril. Your policy can cover many perils or causes of loss, but it has exceptions.
For instance, a standard homeowners insurance policy will usually pay for damages caused by tree collapse, hailstorms, or lightning. To know if your home insurance covers roof leaks, you must discover the cause of the leak. Common causes of roof leaks that may be paid for by home insurance are:
Wind or windstorm

Hail damage

Fire (but not wildfire)

Tree collapse

Lightning damage

Excess weight from snow or ice

Raccoon or animal damage
Keep in mind that not all insurers cover all perils. In fact, if you live in a high-risk area for one of the above perils, it may be excluded from your policy. Review your policy documents and check with your insurance agent to know for sure.
Finally, you should also understand how your insurance policy covers reimbursement for damage. Ideally, you want your insurer to help you get your roof repaired quickly to reduce the chance of further damage.
When Is a Roof Leak Not Covered by Home Insurance?
Your dwelling coverage protects your home's structure, including the roof, against specific perils. Your policy will pay to repair or replace damage to your personal belongings if the leaky roof is caused by a covered peril.
But, uncovered perils can cause damage, and these won't be paid for by your home insurance.
For instance, natural disasters can lead to leaks and are often not a covered peril. An earthquake can impair your home's structure, causing a leak. But you need a separate earthquake policy to be protected because standard homeowners insurance doesn't include earthquakes, according to the Insurance Information Institute (III). The same goes for damage caused by floods.
Policies almost never cover damage from pest infestation issues. Most policies also exclude damage from war or government action and nuclear leak or explosion.
Roof Damage from Lack of Maintenance
Your insurance company will not pay for roof repairs or replacement if your leak is from normal wear, roof aging, or lack of roof maintenance. This is important because most roof leaks stem from poor maintenance.
The lifespan of a roof can vary by roofing material, and proper upkeep is crucial. If you're buying a house, always ask the age of the roof. Failure to replace an asphalt shingle roof after 15 to 18 years or a metal roof after 30 to 45 years can cause a roof leak that your insurer will not cover.
Finally, an annual inspection of your roof can help you fix issues long before they become a problem in the first place.
Compare Car Insurance Quotes Instantly
Personalized quotes in 5 minutes or less
No signup required
How to Find a Roof Leak
A water stain on the ceiling or a drip through the seam of a ceiling tile are telltale signs of a roof leak. But it may not always be that obvious. Because even a small leak can cause expensive repairs, it's best to stop damage before it starts by periodically checking for signs of roof leaks.
Inspecting your roof for damaged shingles and other signs of trouble should be part of your seasonal home maintenance tasks. If you notice signs of a roof leak, the next step is to locate the source. It may be easier said than done. You can take a DIY approach or contact an experienced roofer to track down the leak.
When You Have an Active Leak
If your roof is leaking during a rainstorm, grab a flashlight and inspect the attic. Check for dark spots or flowing water on the rafters. While you're up there, look at potential entry points like roof vents, loose nail heads, chimneys, and pipes that go through the roof.
Depending on the severity of the leak, you may need to make emergency roof leak repairs. Insurance companies expect homeowners to mitigate damage when possible to prevent further damage, such as putting plastic sheeting or a tarp on a leaking roof.
When It's Not Raining
If you suspect a leak but aren't sure where the water is getting in, investigate common problem areas for signs of water damage. Check inside and outside your home to see if you can determine the source of the leak.
Inside your home, check for:
Water stains in the attic on rafters and the roof deck

Roof sheathing (wood boards) that sags between rafters

Moist drywall or paint around light fixtures or electrical outlets

Dripping sounds

Interior paint bubbling or peeling, especially during heavy rain

A musty smell

Moisture or water stains around a skylight
Outside your home, check for:
Missing shingles

Curling, broken, or cracked shingles

Tree branches that rub against the roof surface

Rusty, cracked, or loose metal flashing around plumbing vents or chimneys

Cracked or missing caulk around pipes that penetrate the roof

Clogged or loose gutters and downspouts

Loose or exposed roofing nails

Trapped water from snow and ice dams
Keep in mind this should be a visual inspection from the ground. Hire a professional roofer if further investigation requires climbing up on the roof.
How to File a Homeowners Insurance Claim for a Roof Leak
Becoming familiar with your homeowners insurance policy can streamline filing a claim. That way, you'll already know what your policy does and doesn't cover with roof replacement or repair. You'll also understand your insurance coverage, deductible, and potential roadblocks you may encounter.
Filing a Claim for Roof Damage
Filing a claim for roof damage differs from other types of claims. For instance, filing a police report is your first step if someone vandalized your home. It's not typically necessary to contact the authorities for roof damage.
Filing a claim isn't too difficult if you follow these steps. Always contact your insurance agent or adjuster if you have questions.
Step one: Take photos to document leaking-roof damage and the source of the leak, such as rusty or cracked roof flashing, missing shingles, or rotten or missing trim around dormers.

Step two: Contact your insurance provider to start the claim. Make note of the names and titles of everyone you correspond with, making special care to record the insurance adjuster's name and the case number assigned to you.

Step three: Make temporary repairs to prevent more damage. If the roof leak is from an exposed roofing nail or vent, consider covering the area with a tarp.
Should You File a Leaky Roof Claim?
Before you go through the steps to file a claim, you must ask yourself an important question: should you file a claim at all?
The damage from the leak, the size of your deductible, and the number of claims you've filed in recent years can help you decide whether to file a claim for a roof leak. Sometimes, it makes more sense not to submit the damages to your insurance company.
For instance, if your deductible is $1,000 and a reputable roofing company gave you a $400 quote to repair your leaky roof, you might skip filing a claim and pay out-of-pocket instead.
The more claims you file, the greater your chances that your premiums will increase or that your policy will be considered for cancellation. Even if the repair estimate is $2,000, you may save more money on reduced premiums over the long term if you choose not to file with your insurance company. The rule of thumb: don't claim the small stuff.
Frequently Asked Questions - Roof Leaks
The cost to fix a leaky roof can vary significantly. The cheapest way to avoid a roof leak is to keep an eye out for problems before they start. Maintenance items, such as cracked or missing sealant around a vent pipe, can be caulked and fixed for under $10.

But if your entire roof needs replacing? That can cost substantially more. You may not need to pay more than your policy's deductible if the roof leak is covered by insurance. Your deductible can range from $500 or $1,000 to $10,000 or more, depending on your coverage.

The insurance claim process isn't always cut and dry. Your insurer may deny your claim if the roof damage didn't meet the policy terms or if the cost is less than your deductible. Read through your homeowners policy to understand any policy exclusions that might affect your claim.

If you disagree with the denial, contact the insurance adjuster to schedule another inspection. Have professional roofers on-site to discuss damages with the adjuster. You may also file an appeal with the insurance company, though that process can be slow.

Taking the DIY approach to a roof leak sounds like an attractive option to save money. However, a roof repair is unlike any other DIY project as you will be high off the ground on a steep, slanted surface.

Depending on the damage and your skill level, it may actually cost less and be safer to call a professional to fix the problem. If you plan to file an insurance claim, contact your insurance company before hiring a roofing contractor to repair the leak. Your policy may not allow for reimbursement of repairs without going through the proper claims process.

Securing home insurance can be troublesome if you live in a high-risk area for hurricanes or wildfires or have filed multiple claims in the last few years. But the age and condition of your roof can also cause an insurance company to deny you coverage.

Some insurers require an inspection if the roof is over 20 years old, while others won't offer insurance unless it's replaced with a new roof. Talk to your insurance company to discover steps to take to reinstate your policy.
Roof Leaks and Home Insurance: Key Takeaways
Home insurance typically covers a leaky roof. However, there are exclusions. Perform regular roof maintenance, including frequent inspection for missing or damaged shingles, tree branches that rub against the roof, and signs of water damage due to leaks. Remember that roof leaks can start high, though you may not notice signs until the water travels down rafters to drip through the ceiling or run down a wall.
If you find a leak, take photos to document the damage and contact a professional roofing company to provide a repair estimate. You may not want to file a home insurance claim if the cost is about the same as your deductible. Because roof damage can be extensive, filing a claim may be necessary to get your insurance to cover the cost.
The right homeowners insurance company can make all the difference. Read reviews and compare options with Insurify to protect your home and your belongings against the damage caused by roof leaks.
Use Insurify to compare home insurance policies for your property. Our comparison tools make homeowners insurance shopping (and saving) simple so you can be on your way to enjoying your newly insured home in no time. One quick form lets you get quotes from top insurers while keeping your information safe and confidential. Try it today!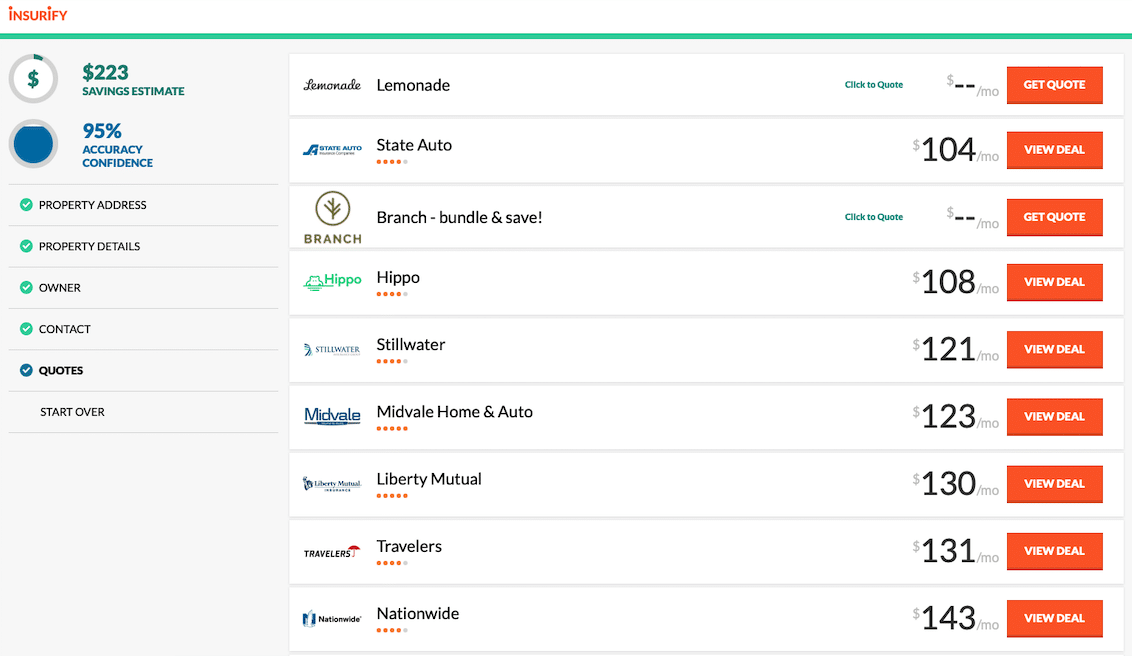 Compare Car Insurance Quotes Instantly
Personalized quotes in 5 minutes or less
No signup required
Data scientists at Insurify analyzed over 40 million auto insurance rates across the United States to compile the car insurance quotes, statistics, and data visualizations displayed on this page. The car insurance data includes coverage analysis and details on drivers' vehicles, driving records, and demographic information. With these insights, Insurify is able to offer drivers insight into how their car insurance premiums are priced by companies.