The stuff you own is considered personal property. Think furniture, clothing, and electronics, like your TV and computer. With homeowners or renters insurance, your policy will likely include personal property coverage. You'll see personal property coverage under Coverage C on your homeowners insurance policy. Getting home insurance or renters insurance is so important. If something bad ever happens to your belongings, you'll need a way to replace or repair your items. Are you ready to keep your personal belongings protected?
Insurify has the tools to let you compare homeowners insurance right here, right now. Try us out and get your free quote today!
Personal Property Coverage in Homeowners Insurance
Do you own a home or rent an apartment? When you have home insurance, your insurance policy will include personal property coverage. How else are you supposed to repair or replace your belongings after a covered peril, like a fire? Without coverage, you'd be stuck paying thousands of dollars when your things become damaged or lost in a terrible event.
What Personal Property Insurance Covers
Everything you own inside the structure of your home is considered personal property. Even if a friend or family member visits and leaves their stuff at your place temporarily, it's deemed to be personal property. Consider this scenario: Your significant other, who lives elsewhere, leaves their laptop at your home. While you two are out, a burglar comes and snatches that laptop. Your partner doesn't have coverage, but you do. So your insurance policy covers the loss of their personal item. This is just one of the many scenarios that a standard renters or home insurance policy will cover. It's safe to say that if something terrible happens to your or someone else's things inside your home, you can always reach out to your insurance company. They will help you figure things out and see what they can do. You would then likely file a claim.
Compare Car Insurance Quotes Instantly
Personalized quotes in 5 minutes or less
No signup required
Homeowners Insurance Policies
When you purchase a homeowners insurance policy, you receive a couple of other types of coverage. You'll get dwelling coverage for the structure of your home and liability coverage in case someone gets injured at your home and you need to pay legal fees. Let's say something bad happens, like a fire, vandalism, a natural disaster, or theft. Your homeowners insurance will pay to repair the damage and replace lost items on your dwelling's structure and the things inside. Always remember that every home insurance policy has coverage limits, which will be outlined in your policy. Always read your policy or ask your insurance agent if you have questions.
Renters Insurance Policies
Many renters think their landlord's insurance will cover their personal belongings in a worst-case scenario. Sure, landlord insurance protects the building against covered perils, but it doesn't cover the renter's personal property. Your expensive items and everyday things should have coverage if they need to be replaced after a covered event.
It's essential to have a renters insurance policy, even if you don't think anything could ever happen to your things. Many insurers will offer bundling of home and auto insurance products at a discount. And since renters insurance is pretty inexpensive as it is (around $10–$20 per month on average), bundling is a great way to save a little money at the very least. Talk to your local agent about bundling multiple insurance policies in one.
Condo Insurance
Your condo will likely be under a condo association insurance. Condo association insurance protects the physical structure of your building and its common areas. But you should have condo insurance for personal property coverage and personal liability coverage as well. Condo insurance policies cover personal belongings like furniture, computers, and clothing. Remember, there are always coverage limits. Discuss with your local agent which coverage limits on personal property are right for you. They will let you know if you need additional coverage on your condo policy.
What Isn't Covered Under Personal Property?
You might lose your personal items due to negligence. The standard homeowners insurance policy will not provide coverage on lost items in that case. Your valuables must be stolen or damaged from a covered peril for your insurance company to do anything about it. Let's say you stay in a hotel, and you leave an item behind. Typically, insurance does not cover that type of loss. But there is a way to protect specific items. You can protect these items by purchasing scheduled personal property coverage, add-on protection for named items. Always talk to your insurance agent about what you can cover in such events.
Additionally, not all risks are included in a standard insurance policy. Let's say there's a flood, and your personal belongings are damaged. Personal property in renters, condo, or a standard homeowners insurance policy will not pay you for the lost or damaged items. You would need separate flood insurance to make a claim on the items. Always double-check your insurance policy to see what is and isn't included in your policy.
Here's a list of the types of personal property traditionally not included in personal property coverage:
Cars or any other motorized vehicle

Animals, including birds and fish

Your roommate's stuff

Anything owned by your landlord (like appliances)
How Much Personal Property Coverage Should You Have?
You can take a few steps to ensure your personal belongings have the right coverage amounts. Here are some of the best ways to figure out if you're covered for peace of mind:
Take a Home Inventory
You may think you don't own much, but every little item adds up. Take a home inventory by doing the following:
Walk around your place, and take photos or video of your personal items. Save them to a USB or cloud storage in case something happens to your phone or camera.

List valuable items and how much they cost. Suppose you're listing out bulk items like shoes or silverware; round the number.

Add everything up to the nearest $10,000 to figure out how much coverage is enough. Let's say your items come to $19,000. Make that an even $20,000.
The standard insurance policy starts at $10,000 for personal items. It may be wise to increase the number to $30,000 for just a little more. You'll end up paying way less later if your stuff needs replacing.
Know Replacement Cost vs. Actual Cash Value
When you replace personal property after a covered loss, your insurance policy will either cover the replacement cost value ( RCV ) or actual cash value ( ACV ) of your items. Replacement cost coverage means the insurance company will compensate you for the cost of replacing your property. Actual cash value coverage means the insurance company will only pay you for the replacement cost minus the depreciation of the item ( ACV = replacement cost − depreciation ).
In all cases, RCV will be the most favorable replacement cost to have on your policy. RCV pays out more when you need to replace property. Ask your insurance agent about which one you're covered under. It may make sense to pay a little extra per month for replacement cost value if something terrible happens to all your stuff.
Know Named Peril vs. Open Peril Policy
Perils are the insurance industry's way of talking about a covered event or hazard. When you have an open peril policy on your insurance, you get coverage for any peril that's specifically not excluded from your policy. When you have named perils listed on your insurance, you get coverage for only the perils listed on your policy. Named perils usually include events like fires, theft, falling objects, and vandalism. Let's say a windstorm comes and damages property. Under named perils, you would have to have the windstorm listed on your policy for it to be covered. If it's not, it's up to you to pay for damages.
Endorse Valuable Items
Let's say you have high-value items like electronics, musical instruments, collectibles, jewelry, and sports equipment. These valuable items should have the right amount of coverage in case you have to replace damaged items. Talk to your insurance provider about additional coverage, known as an endorsement or rider. They'll likely have you purchase one at an additional fee if you have expensive items.
Between personal property coverage, liability coverage, and dwelling coverage, how do you know you have what you need? The answer is Insurify. Browse the best insurance companies with everything you need in your budget. It's fast and easy!
Frequently Asked Questions - Personal Property Coverage
There's no way of guessing how much personal property coverage is enough. A reasonable amount most people go with is somewhere between $10,000 and $30,000. But if you have a lot of stuff, it's best to take a home inventory. You are listing out all your belongings to add up the value of your items. For reference, have pictures or videos uploaded to a cloud drive. This will help to ensure you have something to show your insurance company.

Yes, if you are the owner of those appliances. If your landlord owns them, the landlord insurance policy should cover it.

Scheduled personal property is more coverage on high-value items like jewelry. When you schedule an item, it's covered on your insurance up to the limit you set with your insurer.

Contents and personal property insurance are the same. Contents coverage is just another term for personal property coverage. When a covered peril occurs, contents insurance helps pay to replace or repair personal belongings.
Conclusion: Personal Property Coverage Guide
Personal property coverage is meant to protect your special personal items when a hazard occurs. You never know when you'll need to replace those items from a fire, storm, or burglary. Now that you know all about personal property coverage, it's time to find the right home insurance for you.
Let Insurify help you compare and save on home insurance in one easy place. Try us out for free now.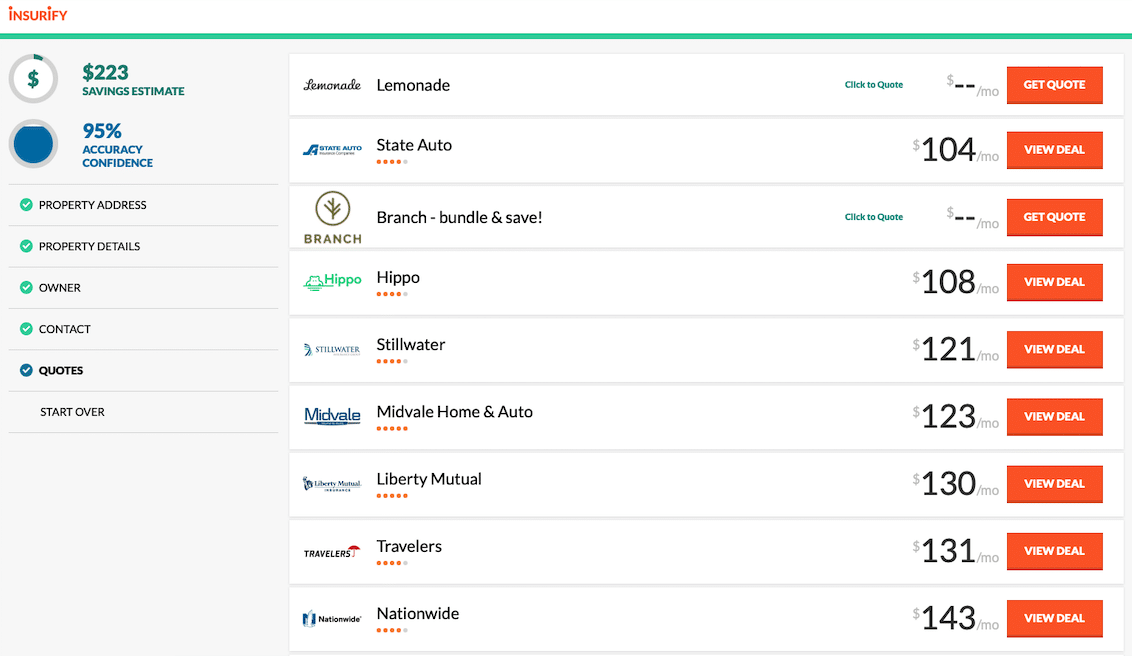 Compare Car Insurance Quotes Instantly
Personalized quotes in 5 minutes or less
No signup required
Data scientists at Insurify analyzed over 40 million auto insurance rates across the United States to compile the car insurance quotes, statistics, and data visualizations displayed on this page. The car insurance data includes coverage analysis and details on drivers' vehicles, driving records, and demographic information. With these insights, Insurify is able to offer drivers insight into how their car insurance premiums are priced by companies.