How can I buy flood insurance in Michigan?
Buy flood insurance coverage from a private insurer or through the National Flood Insurance Program (NFIP).
When people think of a flood, they might think of flooding caused by superstorms like Hurricane Katrina or Hurricane Sandy, which caused billions of dollars in damage. But the usual flood is caused by situations that are far less catastrophic.
For proof, look no further than metro Detroit. Flooding in the Motor City in June 2021 forced motorists to abandon vehicles on freeways and homeowners to try to dry out and sanitize homes swamped with water. Detroit's flood follows in the footsteps of a May 2020 rainstorm that forced the catastrophic failure of two dams after several inches fell, leaving Midland and Saginaw underwater and forcing 100,000 Michiganders out of their homes.
Flooding is the top natural disaster in the U.S., according to the Federal Emergency Management Agency ( FEMA ) and the Michigan Department of Environment, Great Lakes, and Energy. In fact, floods are so common that there is a 26 percent chance of a homeowner experiencing a flood during their 30-year mortgage. On top of that, flood damage can be financially catastrophic—just a few inches of floodwater can cause tens of thousands of dollars in damage.
That's why having flood insurance in Michigan is so important.
Find your new homeowners policy with Insurify. This easy-to-use tool requires just a few minutes of research to get you the insurance quotes you need from top insurers.
Do I Need Flood Insurance in Michigan?
Michiganders often think that only people in flood zones need flood insurance. The truth is, everyone lives in a flood zone. The only question is what level of risk you have.
FEMA publishes flood hazard maps based on statistical flood data, and these maps outline flood risk areas, from high-risk to moderate- and low-risk areas. The FEMA Flood Map Service Center outlines the areas of different risk. If your home is in a high-risk zone, also referred to as a Special Flood Hazard Area (SFHA), your mortgage lender will require you to buy and maintain flood insurance for as long as your loan lasts. A standard policy is your only option.
If you live in a low- to moderate- risk area, however, you may qualify for what's called a Preferred Risk Policy, with the lowest available premiums. This will keep your costs down while ensuring you're protected against flooding from severe weather or other causes. Flood insurance is a smart buy for these areas. Nearly 30 percent of all flood claims come from outside the 100-year floodplain that the National Flood Insurance Program ( NFIP ) outlines. Just because your property is outside the floodplain doesn't mean that flooding from a nearby body of water can't reach your property.
Why buy separate flood insurance? Your homeowners insurance will never cover flood damage. In fact, the standard home insurance policy specifically excludes damage from flooding. You need a separate flood insurance policy to cover flood damage.
Michigan Flood Zones
Everyone in Michigan lives in an area with some flood risk. The question is what level of risk your area has. The riskiest areas are closest to bodies of water, such as rivers, but people who are inland from bodies of water can also be at risk of flood damage.
Figure out what level of risk you have by consulting the flood maps for your community. The flood zones are used to determine flood insurance rate maps for insurers.
What's Covered with Michigan Flood Insurance?
Flood insurance protects two things: your home (meaning the structure of the building) and the contents. It doesn't cover the land. Some insurers sell both pieces as a single policy, while NFIP coverage splits them into two separate coverages.
Building coverage includes:
Your home and its foundation

The electrical and plumbing system

Central air conditioning, furnaces, and water heaters

Refrigerators, cooking stoves, and built-in appliances (for example, dishwashers)

Permanently installed carpeting over an unfinished floor
Contents coverage includes:
Clothing

Furniture

Electronic equipment

Curtains

Portable appliances, like air conditioners, microwaves, and portable dishwashers

Carpeting that isn't included in the property coverage

Washers and dryers
Policyholders should check with their insurer to see which reimbursement method the insurer uses—replacement cost value or actual cash value. Replacement cost value covers the actual cost to replace damaged property. Actual cash value covers the replacement value minus depreciation and wear and tear. It's important to know what method your insurer uses so you can make sure your belongings are properly covered.
Compare Car Insurance Quotes Instantly
Personalized quotes in 5 minutes or less
No signup required
What's Not Covered with Michigan Flood Insurance?
Michigan flood insurance doesn't cover leaky roofs or water in your basement from a frozen pipe. Flood insurance covers only flood damage caused by moving waters (like rivers and creeks) or from water that covers land when river water comes out of its banks. It also usually doesn't cover much of your basement contents. It may cover some mechanical items that are in the basement, but not finishings like carpet or drywall.
What's the Cost of Flood Insurance in Michigan?
People in low-risk zones in Michigan may pay as little as $2 a day for flood insurance. The average is around $700 a year, according to insurance provider Mason-McBride Inc. The cost may seem daunting until you think of the cost of losing all your belongings and paying to rebuild your home.
Flood insurance quotes vary widely depending on where you live. Some of the factors that go into determining the cost include:
The flood risk in your area and on your property

The type of coverage you're buying (building, contents, or both)

The deductible

The amount of coverage you choose

The age of your home and how it's built
How to Get a Flood Insurance Policy in Michigan
Michigan homeowners have two options for flood insurance: private insurers or a policy from the NFIP, which is sold by insurance agents but backed by the federal government.
National Flood Insurance Program ( NFIP )
The NFIP is administered by FEMA. It offers two types of policies for homeowners: dwelling and contents. You can have up to $250,000 of coverage on any one building and up to $100,000 for your personal belongings.
The federal government sets the premium rates, and the costs don't vary, so you don't have to shop around for quotes if you're going with an NFIP policy. The premium is the same whether you buy your policy from one insurance agent or any other private insurance company.
There is a 30-day waiting period before NFIP coverage takes effect, so make sure you buy it ahead of time. You can't buy NFIP coverage right before a major storm and expect it to cover you. Learn more about NFIP policies at floodsmart.gov.
Private Flood Insurance
Private flood insurance is also an option for Michiganders in low- to moderate- risk areas. Sometimes, the rates for private flood insurance are lower than NFIP policies, and they may have higher coverage rates available.
Private insurers may offer add-on coverage for things like coverage of basement contents that aren't usually included in NFIP policies. The waiting period for private insurance is usually 10–14 days after purchase, shorter than an NFIP policy.
The Michigan Department of Insurance and Financial Services maintains a list of licensed private insurers that write flood insurance policies.
Frequently Asked Questions
No, flood insurance excludes damage from water backup in basements from drains or sewers. However, you might be able to get an endorsement on your homeowners insurance policy that includes basement water backup. Ask your agent about specifics.

Any licensed property or casualty insurance agent in Michigan can sell you a flood insurance policy. If you have trouble finding an agent, contact NFIP's agent referral program at 1 (888) CALL-FLOOD.

Many floods don't qualify for a presidential emergency declaration, which is required for FEMA to distribute disaster relief. Flood insurance will pay you regardless of whether the president declares a disaster. It also pays out more than disaster relief typically provides—FEMA's usual payout is a loan of about $5,000, while flood insurance could pay you up to the limit of your policy.
Don't Delay Buying Michigan Flood Insurance
Flood season will be here before you know it. Buy flood insurance as soon as you're able so your home and belongings will be covered before a flood hits.
Try Insurify for your homeowners insurance needs. This simple tool delivers quotes from top insurers so you can find the right policy for you.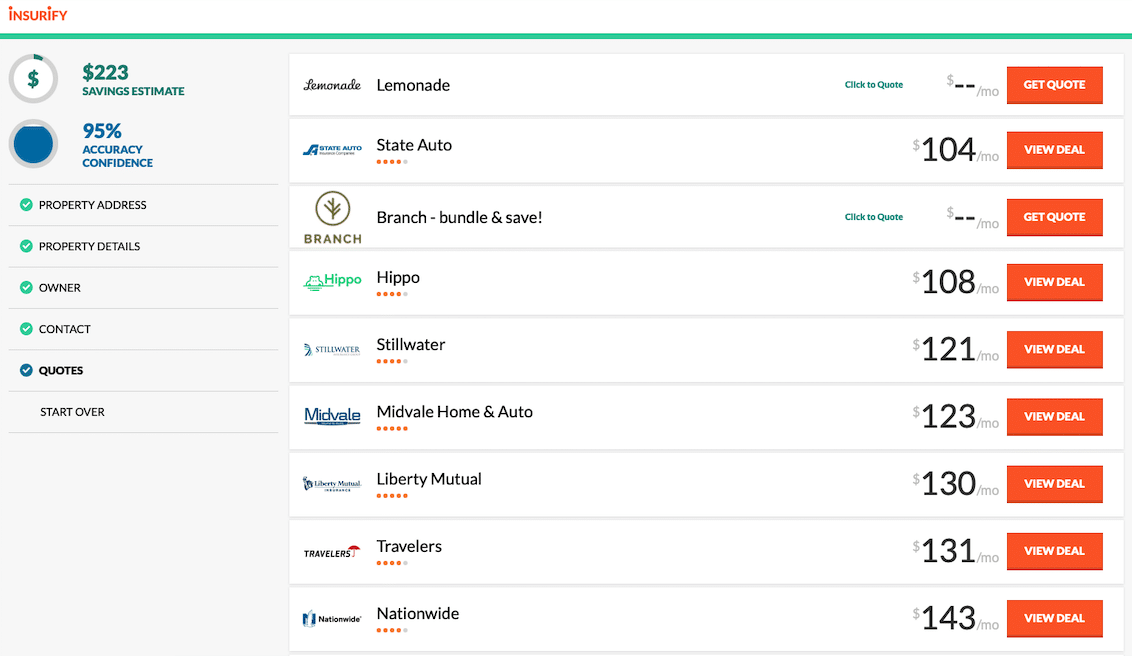 Compare Car Insurance Quotes Instantly
Personalized quotes in 5 minutes or less
No signup required
Data scientists at Insurify analyzed over 40 million auto insurance rates across the United States to compile the car insurance quotes, statistics, and data visualizations displayed on this page. The car insurance data includes coverage analysis and details on drivers' vehicles, driving records, and demographic information. With these insights, Insurify is able to offer drivers insight into how their car insurance premiums are priced by companies.