When your homeowners insurance makes a payout, it's supposed to be for making repairs on your home or the replacement cost on your home's contents. Insurance companies assess the damage to your home and pay the amount they got by calculating how much money it will cost to restore your home to its previous state. But before anything happens, it's wise to know what your home insurance policy provides to help rebuild or repair your home. And can you keep any leftover money from the payout? Knowing now will give you peace of mind and knowledge if you're ever in the position to file a claim.
Do you want to get the best home insurance? With Insurify, you get tools to compare the best homeowners insurance coverage that works for you. Try us out now!
Understand the Home Insurance Claims Process
Let's say something bad happens to your home, and your home insurance covers the loss. The insurance company will have an adjuster first inspect the damage. Then, the insurance adjuster will offer you an amount of money for repairs. Your homeowners insurance policy will specify the amount and any limits. The amount in your first check is typically an advance and not the final payment. This part is crucial to know. That first check goes against the final settlement amount. Let's say the total amount is $20,000. At first, you may receive an initial amount. In this case, let's say it's $15,000. In this case, you would receive another $5,000 check to pay the contractor for the final settlement amount for labor and materials.
In some cases, the insurer might offer a total and final settlement amount in one full check. You might find the check satisfactory if the cost of materials and labor is about the same. Know that you can always reopen the claim later and file for extra money. If there is additional damage previously not discovered by you or the claims adjuster, you may get the green light. Note that your policy will likely require you to file a homeowners insurance claim within a year of the event.
Is the Initial Payment by the Insurance Company Final?
You Might Get Multiple Insurance Claim Checks
Many homeowners are surprised when they receive two separate checks from the insurance company. There are checks for each category of damage. Let's say your home becomes uninhabitable. You'll get a reimbursement check for additional living expenses (ALE). ALE coverage comes in handy when you have to live elsewhere during repairs and need to pay for things like food and transportation. Or you might have separate flood insurance or earthquake insurance and experience damage. Flood insurance and earthquake insurance are not included in your home standard insurance policy. So you'll get a separate check if you have either additional policy.
What Your Lender Might Have Control Over
You likely have a mortgage on your home. And if you do, your insurer will write out a check to you and your mortgage lender. The lender gets a check because they are often named on your policy as a party to any insurance payments.
The same applies to co-ops and condominiums. Management companies require the building's financial entity to be written in your policy as "coinsured." You may wonder why these entities have a financial interest in your property. The truth is, they want to see to it that only the most necessary repairs are made on your home. The financial backer will often have to endorse the insurance money check before you're allowed to cash it.
Sometimes, lenders place the money in an escrow account. From there, the lender will pay the repairs while work is being done. If you show the lender the contractor's bid and how much the contractor wants upfront, they can complete the job in the most timely manner. Sometimes, mortgage companies will require a home inspection of the final job before releasing the money for payment.
Your home might be destroyed and be a total loss. But your policy type, policy limits, and mortgage terms will determine the settlement amount. Sometimes, a portion of insurance money may be used to pay off the balance on your mortgage. It's up to you to decide how much of the money left over from the insurance claim to spend. For instance, you may or may not choose to rebuild on the same lot. Or maybe you want to rebuild it in a different location. You could even decide not to rebuild at all. But know that you'll have to base your decision on your state's laws.
Direct Payments by the Insurance Company
Some contractors ask their clients to sign a "direction to pay," which gives your insurer the right to directly pay the contractor. A direction to pay is a legal document, so you should always read the fine print. That way, you know the contractor isn't getting the entire insurance claim directed to them. Always talk to your insurance agent before signing these kinds of forms. You wouldn't want to give complete control of your insurance claim payout to a contractor, would you? That's why it's always best to double-check. It's good to have control over the situation. That way, too, you can make sure the job is fully done to your liking. Then, you can give the go-ahead to the insurance company to pay the remaining balance to the contractor.
Make Sure ALE Checks Are Made Out to You
Additional living expenses while living away from your home have nothing to do with your mortgage. Make sure the check is made out to only you. This check will be crucial for paying for necessary expenses like hotels, car rentals, and meals. You don't want to be left out in the dark if you don't have the full payment.
Personal Belongings and Actual Cash Value
When filing a claim for lost or damaged personal belongings, you'll first submit a list of your damaged personal belongings. The list is sent to your insurance carrier. This is why taking a home inventory in the form of an itemized list and photos of your belongings is super important. You can easily upload the list and any photos or videos to your cloud drive for safekeeping. You might have replacement cost coverage on your items, but the first check from your insurer is always actual cash value (ACV).
Remember, actual cash value is the depreciated amount based on the age of your belongings. Insurers use ACV to determine the remaining claim payout for your items' exact replacement cost when you go to replace them. The amount is also known as recoverable depreciation. So, if you later decide you don't want to replace an item, your insurer will pay you the ACV or depreciated amount for the item instead.
If you want the full replacement value for your items, you must replace them. Your insurer will ask you for receipts as proof of purchase for your replaced items. The insurer will pay the difference between your initial ACV and the full cost you paid to substitute a similar item for the one you lost. Always talk to your insurance agent about timeframes. And find out the timeline to make the purchase. That way, you can receive a reimbursement since the insurer will likely give you several months to complete it.
If your home and its contents are a total loss, your insurer will likely pay the policy limits according to your state's laws. In that case, you'll get a check for the entire home's and contents' insured amount at the time of the loss.
Compare Car Insurance Quotes Instantly
Personalized quotes in 5 minutes or less
No signup required
Saving When Possible
When the insurance adjuster appraises the cost of repairs, they'll use a benchmark for calculations. It's entirely possible to find a contractor with a lower quote or to use cheaper materials to save money to use elsewhere. But keep in mind that your insurance company will likely inspect your home and notice if you use cheaper materials or the contractor's quality of work doesn't meet the standards for a home in good condition. In either case, your home's appraisal and policy renewal can be directly affected. So, if you're going to get lower quotes, make sure the contractor can do quality work. And by all means, repairing a damaged home does not mean you should do the work yourself unless you are a licensed contractor. You could get yourself into a whole mess of trouble down the line. Just make sure you don't sacrifice quality, especially when your insurance is paying you.
Can You Use Leftover Money from a Homeowners Insurance Claim?
There are ways to utilize leftover money from an insurance claim without getting into insurance fraud or other legal trouble. The payout you get may allow you to choose cheaper contractors, materials, and replacement items. Just make sure the job is done well. In some instances, you may also be able to forgo repairs and put the blanket amount from your insurance into something else. Check your policy because some may be stricter than others regarding where you put all or some money.
Many homeowners who own their home outright, without a mortgage, may choose how they use their leftover insurance money. But if you have a mortgage, your lender will likely ensure you go with their accredited contractors for repairs. You may not see the money if it's going straight to the lender.
Replacing personal property works a little differently. Your policy may give you more freedom to choose how to replace your items. Would you walk away with the actual cash value without getting the replacement cost? That could be an option for you as long as you talk to your insurer about your plans. Always check your homeowners or renters insurance policy for information regarding claim payouts.
But when it comes to home repairs, you will likely have to provide your insurer with receipts for materials and labor. These prove how much of the payout you utilized. Some insurers will specifically say you must return the remaining payout amount. And some insurers will let you keep the leftover money. But avoid insurance fraud or negative repercussions at all costs. It's best to iron out the details with your insurance agent to make sure you're clear on what to do with the money.
Speaking of details, do you know how to get the most of your home insurance? First, compare home insurance quotes using the Insurify comparison tool. Then, get a free quote delivered to your inbox. It's so easy!
Frequently Asked Questions - Leftover Money from a Home Insurance Claim
If your policy and state laws allow for it, you can keep the money for other uses on your property. It's always best to be honest with your insurance if there's an excess amount. Ask your agent about what you should do with any leftover money.

It's technically insurance fraud if you dupe your insurance for profit on an insurance claim payout. It's illegal to lie and say a deductible was paid when it wasn't. So it's best to try not to profit when you submit a home insurance claim.

Once your home insurance claim is accepted, your insurance adjuster figures out the value of the claim. Then, you get a payment from your insurer called a payout. You must then work within the home insurance policy specifications to ensure the payout is appropriately spent.
Leftover Money from an Insurance Claim: The Bottom Line
Now you know it's better to work within your home insurance policy's terms and your state's laws when receiving a payout from your insurance claim. The most important thing is that your home, personal belongings, and family are protected with proper home insurance.
Get the best coverage at the most affordable rates by using Insurify. You'll have the tools to protect your home and family in minutes. It's fast, simple, and easy!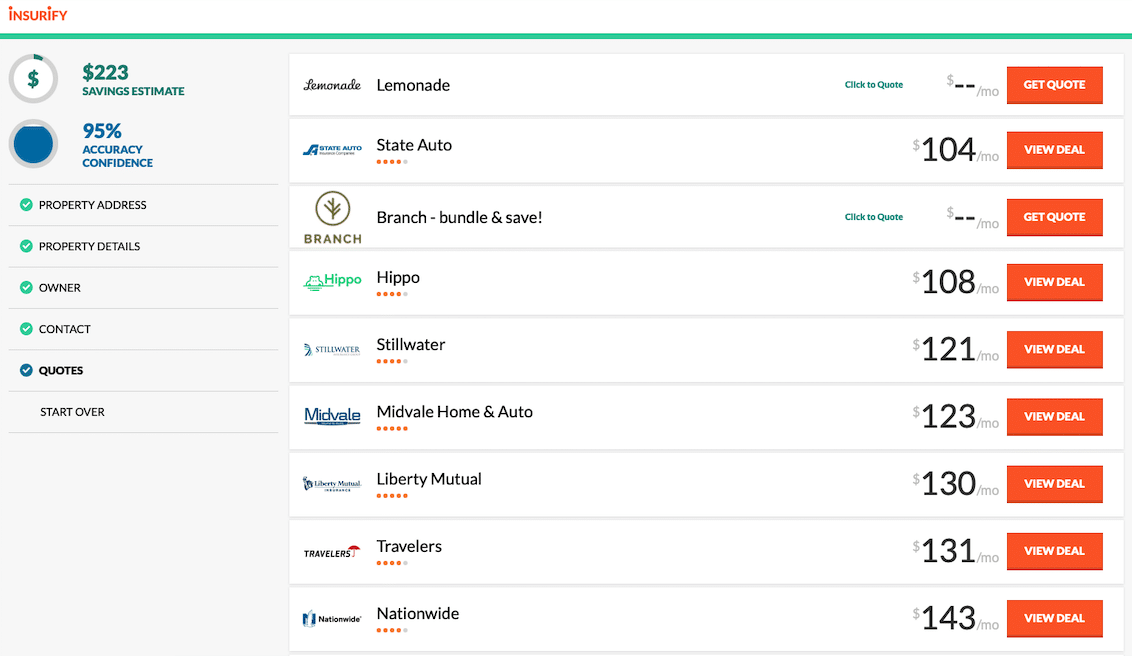 Compare Car Insurance Quotes Instantly
Personalized quotes in 5 minutes or less
No signup required
Data scientists at Insurify analyzed over 40 million auto insurance rates across the United States to compile the car insurance quotes, statistics, and data visualizations displayed on this page. The car insurance data includes coverage analysis and details on drivers' vehicles, driving records, and demographic information. With these insights, Insurify is able to offer drivers insight into how their car insurance premiums are priced by companies.