Does homeowners insurance cover roof leaks?
Standard homeowners insurance policies will typically pay to repair a leaky roof as long as the cause of the leak is a covered peril.
There's nothing better after a long day than knowing you can come home to a roof over your head. So if you're greeted by a damaged roof upon arrival, you're bound to be stressed, and you're probably going to expect your homeowners insurance company to cover the repair costs.
Before filing a roof claim, there are a few things you should know, like what your insurance coverage includes, how much roof repairs cost, and what to expect from insurance reimbursement.
Home insurance policies don't cover damage caused by natural wear and tear or lack of maintenance, but if natural disasters or vandalism leave you with damaged shingles or a leaking roof, your insurer should cover the repair costs. Still, anything from the cause of damage to the age of your roof can leave you paying for repairs out of pocket.
While no one really wants to think about the cost of water damage or roofing materials, the more you know about these costs and your home insurance coverage, the easier it will be to navigate future insurance claims (just in case).
If you're looking for comprehensive insurance coverage with a reliable home insurance company, Insurify can help you find the perfect fit in just a few minutes.
When does home insurance cover roof damage?
Before you understand how your insurance company covers roof damage, you'll need to take a look at your home insurance policy 's dwelling coverage.
There are two main types of policies: named perils and open perils. A named-perils policy will list the various perils (or causes of damage) that it pays to repair, whereas an open-perils policy will list only the perils it doesn't pay to repair (known as exclusions).
In general, your insurer will pay for roof repairs as long as the damage is caused by a covered peril.
Covered perils typically include:
Windstorms

Hailstorms

Fire

Lightning

Weight of snow and ice

Theft and vandalism

Sudden and accidental damages
This list may not seem all that comprehensive, but you should be covered even if one of these perils indirectly damages your roof. For example, if a windstorm blows over a tree and it falls on your roof, you're covered even though your policy doesn't explicitly list " fallen trees " as a covered peril.
Roof Repairs Your Policy Won't Cover
Homeowners insurance simply can't cover everything. Even the most comprehensive home insurance policies have their limits, and the line between what's covered and what isn't can seem especially blurred when it comes to roof damage.
First come the peril exclusions. If a certain peril is excluded from your policy, your insurer won't cover it, no matter how badly it damages your roof.
The most common weather-related exclusions include:
Flooding

Earthquakes

Hurricanes
Some exclusions are location-specific, so areas prone to windstorms often exclude wind and hail damage, areas prone to wildfires exclude fire damage, and so forth. Check your policy or talk to your insurance agent to see which perils your policy excludes.
Next come the roof-specific exclusions. As previously mentioned, homeowners insurance only covers sudden and accidental damages, so your policy won't pay for any preventable (or preventive) roof repairs.
The most common roof-specific exclusions include:
Natural wear and tear

Maintenance issues

Age

Condition
Home insurance companies are less likely to cover older roofs and those which clearly pose a risk to the home. The best way to make sure your policy will protect your roof in case of damage is to stay on top of its maintenance (and don't expect your policy to pay for roof leaks caused by natural aging).
Compare Car Insurance Quotes Instantly
Personalized quotes in 5 minutes or less
No signup required
Roof Repair Costs and Insurance Reimbursements
The cost of repairing your roof depends on the type and amount of damage as well as the type of roof you have. On average, homeowners spend $400 to $1,500 on moderate roof repairs, with roofing companies charging roughly $45 to $75 per hour for labor.
When faced with roof damage, your first instinct might be to let your insurer foot the bill. But keep your policy's deductible, your dwelling coverage limit, and the type of coverage you have in mind before you file an insurance claim.
Most home insurance policies have a deductible of around $500 to $1,000. Homeowners insurance companies typically don't reimburse a policyholder's claim when the repair costs are lower than their policy's deductible. Plus, your filing claims can motivate your insurer to increase your premiums or to not renew your policy. So when it comes to cheaper roof repairs, you'll be better off bypassing your insurer and hiring a roofer yourself. You may be out a few hundred dollars, but that's better than risking your insurance coverage over a low-cost repair.
Your insurance coverage will really prove its worth for more expensive roof damages. But when you're waiting for your reimbursement, you might want to revisit your policy to see what type of payout to expect. Replacement cost policies will cover the full cost of damages up to your coverage limits, while actual cash value policies will only pay to repair your roof or personal property based on its depreciated value. If your policy covers your roof replacement or repair, your insurance company will subtract your deductible from your payout, regardless of the type of policy you have.
From leaky roofs to home insurance, Insurify, a home insurance comparison site that helps make sure there are no holes in your coverage.
Home Insurance Coverage for Roof Damage FAQs
Renters insurance covers a policyholder's personal property since renters aren't responsible for insuring the building they live in. Your renters insurance should pay to replace any personal belongings that are damaged after a roof leak (as long as you didn't cause the leak).

Some insurers offer discounts for homeowners who have new roofs. Plus, older roofs are less likely to be covered, so installing a new roof can also ensure future coverage.

Yes, the personal property portion of your home insurance coverage will pay to repair or replace your damaged possessions.

Insurers often won't pay for damages to old or worn-down roofs, so you should routinely check your roof's condition and hire roofers to stay on top of routine maintenance. The better your roof's condition, the more likely your insurer will reimburse future roof claims.
Leaky Roof? You're Probably Covered
Natural disasters happen; you know it and your insurer knows it, too. That's why it pays to insure your home. So the next time you find yourself with a serious roof leak, know that you don't have to take the loss on your own. Your home insurance policy has your back (and your roof; that's covered, too).
Standard homeowners insurance policies will typically pay to repair a leaky roof as long as the leak is caused by a covered peril, but maintaining your roof's condition before it's damaged is key to making sure your home is fully covered in case of emergency.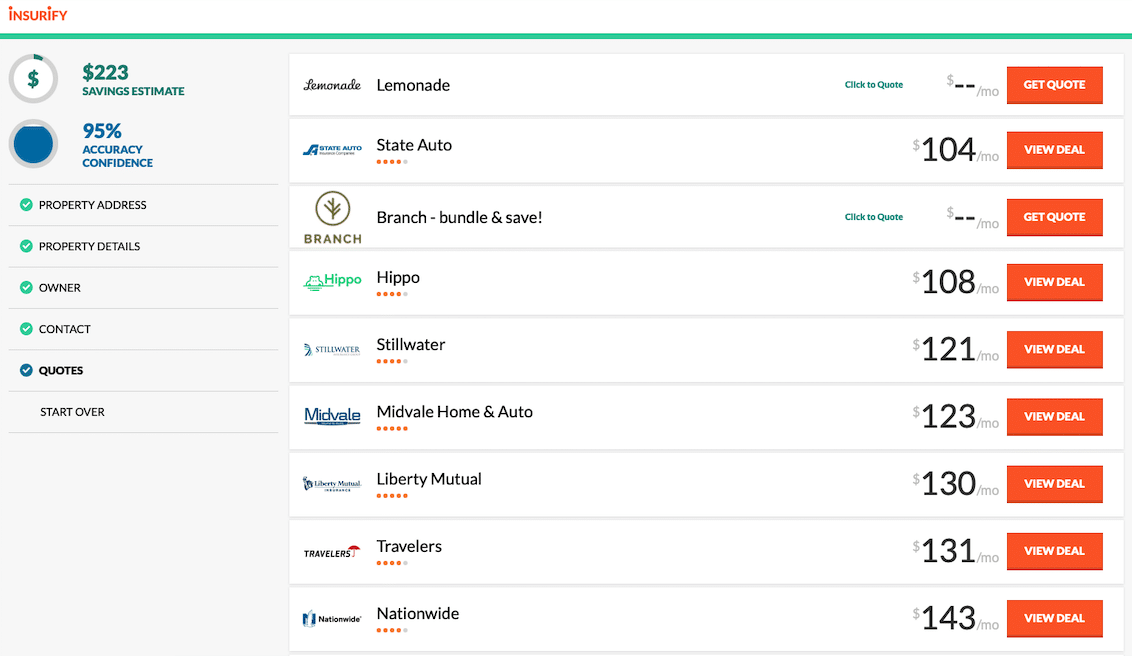 Compare Car Insurance Quotes Instantly
Personalized quotes in 5 minutes or less
No signup required
Data scientists at Insurify analyzed over 40 million auto insurance rates across the United States to compile the car insurance quotes, statistics, and data visualizations displayed on this page. The car insurance data includes coverage analysis and details on drivers' vehicles, driving records, and demographic information. With these insights, Insurify is able to offer drivers insight into how their car insurance premiums are priced by companies.