Being a landlord isn't for the faint of heart, and that's especially true for first-time landlords. It's easy to think that the job is just about sitting back and collecting rent, but there's much more that goes into being a good landlord than simply collecting payments. Do right by your tenants and manage your property well with these tips.
While you're at it, make sure your rental property is insured properly with Insurify, an easy-to-use tool that makes it simple to compare quotes for home insurance. It only takes a few minutes of research to find the best home insurance coverage for you.
Follow the Law
Above everything else, make sure you're abiding by local laws in the state and city where you're offering property for rent. You must comply with fair housing laws and landlord-tenant laws in your state. If you don't, you're setting yourself up for fines and lawsuits from tenants. Landlord-tenant regulations typically cover things like:
Rent

Security deposits

Landlord/tenant obligations

Tenant rights

Eviction procedures
Consult the Department of Housing office in your area or visit the department's website to find out the requirements in your area and become familiar with all the laws. You may find that there are some legal requirements you didn't know about. One often-overlooked rule in Chicago, for example, requires landlords to list the address of the bank where you've deposited the tenant's security deposit; if you don't do this, they can break the lease without a penalty and sue you.
There are also federal laws that affect landlords, like the Fair Credit Reporting Act (FCRA). You may not realize that during the tenant screening process, you're not supposed to share tenant credit and background check results with any outside parties—not even the potential tenants. They do have a right to view a copy of their report, but they have to request it through the consumer reporting agency that created the report, not from you.
Run Your Business Like a Business
Even if you have a small operation with only a couple of properties, real estate investment is still a business, so act like it. Always be professional with your tenants and make sure all of your communication is clear. This shows the tenant that the property manager should be taken seriously.
Running a good rental business includes things like:
Following through with the lease: If your lease stipulates that you'll collect late fees for late rent payments, do it—even if you feel bad about doing it. Maintain the property like the lease says you will, and repair broken items right away.

Keeping security deposits safe: Determine how state law requires you to handle security deposits, then do that. Set the security deposit at a fair amount and have a fair system for collecting, holding, and returning deposits. Document the condition of the unit pre-occupancy so there are no disagreements about the deposit at move-out.

Maintaining good records: It's a good idea to keep electronic copies of everything you have tenants sign because paper documents can go missing. Email copies of all of them to your tenants—they'll appreciate it.

Hiring an accountant: You really need a financial professional with experience in filing taxes for landlords. They can advise you on how to track your expenses and what documents you'll need for every tax year. Accountants can also help you figure out how to pay yourself out of your rental income and how the extra income might affect your taxes. They can even help you make sure you're charging the right amount for monthly rent.
Compare Car Insurance Quotes Instantly
Personalized quotes in 5 minutes or less
No signup required
Screen Tenants Well
You need to screen tenants to make sure you're bringing the right people to live in your properties. Potential new tenants will be scared off if your screening process isn't thorough enough—you don't want people to think you'll let just anyone live in the building.
At a bare minimum, you should be checking a credit report, references, and background. If you don't, you risk leasing to a tenant who pays late or, worse, doesn't pay at all. Use a written rental application and require a salary verification letter, credit verification, and personal and professional references (preferably including their current boss). You should be able to confirm prospective tenants' rental histories, review their income, and screen for red flags like pet ownership. The right tenant won't hesitate to provide these things.
Many landlords require the tenant to make at least three times the rental rate every month as a way of ensuring they'll be able to afford the apartment. You can also look at their credit checks for things like bankruptcies or collections from previous landlords. The background check should also turn up any eviction history you need to know about.
Set Up a Strong Lease
When you're a landlord, the lease is everything. It spells out what you and the tenants can and can't do, establishes responsibilities for both parties, and explains how you'll handle lease violations. Not addressing things in the lease sets you up for disagreements and problems with tenants in the future.
Consider having a real estate attorney draft the lease so you can be certain that the lease agreement doesn't conflict with the state's landlord-tenant laws. In addition to the usual items about rent collection and keeping the unit in good condition, make sure you address questions like:
Lawn maintenance: Who maintains the lawn? What is included as part of that maintenance?

Parking: Where can tenants park? How many cars can they keep in the building's parking area?

Property alterations: Do you allow tenants to paint the walls or make other changes? If you do, does the unit have to be repainted back to the original color when the tenant moves out? What happens if tenants don't follow these rules?

Pets: Do you allow pets? What kind? Is there a weight limit or species restriction? Will you charge pet rent or a pet deposit to account for damage from animals?

Subletting: Are your tenants allowed to sublet to others? If they are, do they need to get pre-approval from you before they can sublet?
Provide Good Customer Service
Remember, the tenant is your customer and they're buying a service from you. Providing good customer service is the key to retaining good tenants and making sure they renew their leases.
Before the tenant even moves in, one good thing you can do is take good quality pictures and video of the unit. When the tenant is about to move in, bring a checklist and do a walkthrough with the tenant so that you're both on the same page about its current condition. They'll appreciate the attention to detail, and you'll be able to better protect your investment. Have the tenant sign the checklist at the end and give them a copy.
After move-in, stay on top of maintenance requests. Set up a time to come and inspect damage if it's not an emergency—many states have a required notification period—and make repairs as soon as you can. Not only does this show you respect your tenants' needs, but it's also good business. You don't want to alienate good tenants by ignoring them when things are broken in their unit. Some states will also allow them to withhold rent, have the problem fixed themselves, and then deduct the repair cost from your rent. Even if you're not in one of these states, you have a much better chance of keeping good tenants if you pay attention to maintenance issues.
Maintain good communication with your tenants, as well. You don't need to smother them with attention, but you should be there if they need to contact you. Everyone should have your phone number and email address in case they have a problem. Include contact information for nighttime and outside business hours in case there's an emergency. When someone does contact you, respond to them as soon as possible—remember, these are business interactions and require quick responses. Let everyone know ahead of time if you won't be available for a period of time.
Not sure how to handle a tenant issue? Consult the lease first. Always follow the lease; it's the one set of guidelines everyone involved has agreed on.
Frequently Asked Questions - Tips for Landlords
Research the market to make sure your pricing is in line with the fair market rent price in your area. You don't want your rent to be too far below or above that rate because you could alienate good tenants. It can also be helpful if you're transparent about what goes into rental rates—for example, how much goes to taxes, HOA, and other fees that rent payments cover. This helps tenants understand the value of the unit.

You don't have to, but it can provide you some extra protection, especially if you decide to allow pets. It also protects the tenants' belongings, which will benefit them because their belongings aren't covered by your insurance on the building.

Pet-friendly apartments are hard to find, so you'll have your pick of the litter when it comes to tenants. Every landlord has a horror story about pets, but most dogs and cats end up being fairly benign as furry tenants. You can also charge extra rent and deposits to account for potential damage—most renters with pets will be glad to pay it because the market has such slim pickings for pet-friendly units.
Conclusion: Be Smart About Renting
Being a good landlord isn't always easy, but it can be rewarding. Get to know the area market, the law, and your renters, and do your best to manage a property people will want to rent
Responsible landlords also make sure their properties are insured properly. Try Insurify, an easy-to-use tool that makes it simple to compare quotes and find the best home insurance provider for you, within just a few minutes.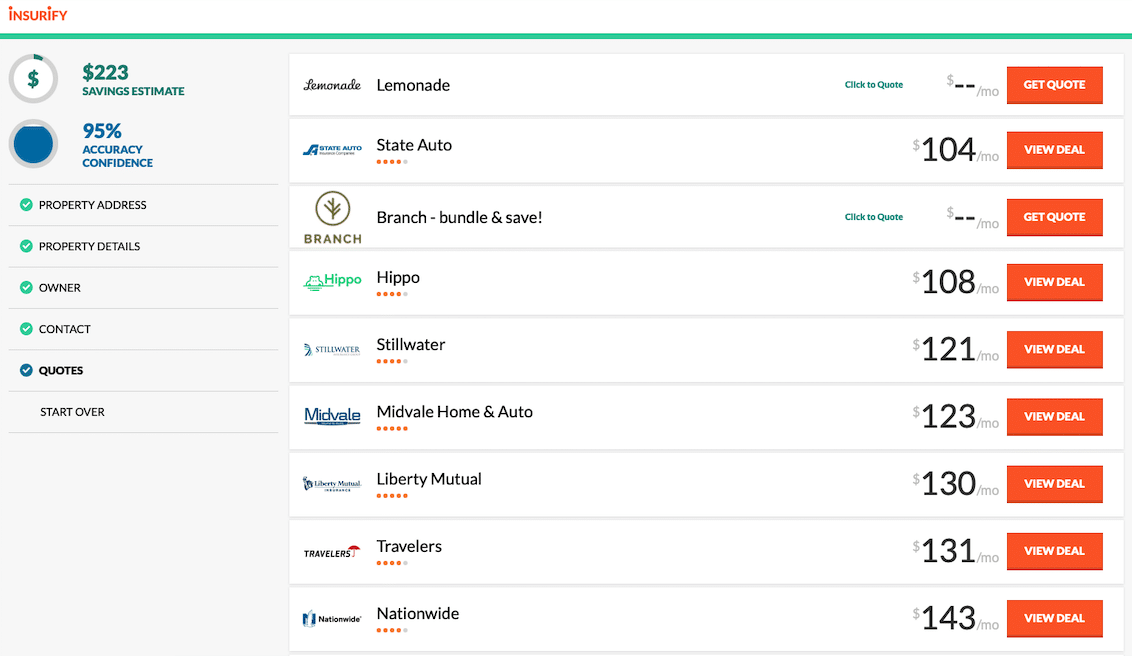 Compare Car Insurance Quotes Instantly
Personalized quotes in 5 minutes or less
No signup required
Data scientists at Insurify analyzed over 40 million auto insurance rates across the United States to compile the car insurance quotes, statistics, and data visualizations displayed on this page. The car insurance data includes coverage analysis and details on drivers' vehicles, driving records, and demographic information. With these insights, Insurify is able to offer drivers insight into how their car insurance premiums are priced by companies.