Blog
Home Insurance
Is My Homeowners Insurance Included In My Mortgage
Why you can trust Insurify
Edited by John Leach
Updated July 9, 2021
Reading time: 4 minutes
Is homeowners insurance included in my mortgage payments?
Typically, mortgage lenders will include your home insurance premium in the escrow portion of your monthly mortgage payment.
There's more to owning a home than paying your mortgage. Aside from saving for inevitable repairs and updates, there are also monthly recurring costs homeowners are responsible for, such as property taxes and homeowners insurance.
Managing all of these recurring expenses can be a handful. That's where an escrow account comes into the picture and helps simplify the responsibilities of homeownership. Most lenders will provide borrowers with the option to open an escrow account. An escrow account holds funds for your home insurance policy and property taxes. Y ou make a simple, single monthly payment to your mortgage lender.
In some cases, your lender may actually require an escrow account to ensure that you are in good standing on these critical payments—which is most common for borrowers when you make a down payment of less than 20 percent. To learn more about how escrow accounts work and a breakdown of what's included in your monthly mortgage payment, read on.
Want to save big on that home insurance premium? Compare your current homewoners policy using Insurify. One short form gets 6+ quotes from top companies in your area. Try it today and see how much you could save!
Is My Homeowners Insurance Included in My Mortgage Payment?
It depends. While it's very common for mortgage lenders to set up an escrow account to combine homeowners insurance and taxes into one easy monthly mortgage payment, that isn't the only way to pay for your homeowners insurance policy.
Homeowners have the option to pay their insurance company directly instead of through a lender -created escrow account. The benefit of paying for your policy directly is that you may save on escrow account management fees. Although these fees are typically minimal, savings of any kind are always a plus.
Speaking of savings, many homeowners assume that they cannot save on bundle discounts when they make homeowners insurance payments through an escrow account. This is actually not true. Although payments are made through an escrow account, your homeowner's insurance policy is still in your name. This means you can still take advantage of any bundle discounts your insurer may have to offer—such as bundling homeowners insurance and auto insurance—even if you make homeowners insurance payments through an escrow account.
If you're considering making home insurance payments directly, you'll also want to consider the pros of paying for insurance through an escrow account. The biggest advantage of making home insurance payments part of your monthly mortgage payment is convenience. Rather than tracking down multiple bills, you only need to pay one monthly bill. Another advantage is peace of mind. You never want to go without your home being insured. Lumping this payment into your monthly mortgage payment is an easy way to ensure that you never miss a homeowners insurance bill.
How Do Escrow Accounts Work?
For the purposes of homeowners insurance, your insurance premiums are divided into monthly payments and entered into an escrow account. When payments on your premium are due, they will be routed to your homeowners insurance company. Many mortgage lenders prefer this method because it assures the lender that your home is actively insured and protected. It's important to note that any other insurance payments, such as deductibles when you make a claim, will be paid to the insurance company, not your escrow account or mortgage lender.
Similarly, other expenses that may be paid on an annual basis—such as property taxes —will be divided up into manageable monthly payments that are "bundled" into your monthly mortgage payments through an escrow account.
Escrow Account Overpayments and Underpayments
With home insurance and mortgage insurance, you know annual costs ahead of time. For these expenses, it's easy to divide them into 12 monthly payments. Other expenses, like property taxes, are variable—meaning they change year to year. For variable expenses like property taxes, your mortgage lender will need to estimate how much you will owe in property taxes.
For the most part, lenders from your mortgage company are fairly accurate with their estimations for escrow payment. Lenders will estimate what you need to pay based on what you owed in previous years. Sometimes, lenders will overestimate or underestimate the amount that needs to go into the escrow account.
In the case of overcharging, lenders will issue the homeowner a refund check for overages. In the case of undercharging, your lender may provide a few different options. One option is paying the remaining balance in one lump-sum payment. Another option some lenders offer is dividing the remaining balance into 12 payments to be made over the course of the next year.
Compare Home Insurance Quotes Instantly
Personalized quotes in 5 minutes or less
No signup required
What Else Is Included in My Mortgage Payments?
At the very least, your mortgage payment will include your mortgage principal and interest. Below are other common expenses homeowners may find included in their monthly mortgage payments:
Estimated annual property taxes

Homeowners insurance annual premium

Private mortgage insurance ( PMI ) if required based on your down payment and mortgage loan amount

Mortgage insurance premium (MIP) if required based on your loan type (such as an FHA loan)
Depending on your insurance needs and your lender, you may also be able to pay for other insurance policies, such as flood insurance, in your monthly mortgage payments through an escrow account.
FAQ: Is My Homeowners Insurance Included in My Mortgage?
All homeowners insurance policies vary. Take care in reading the fine print of your insurance policy to ensure you have good insurance coverage. A basic homeowners insurance policy should cover damage from natural disasters and vandalism, loss, and liability.

You may also want a policy that covers additional living expenses in the event that your home is uninhabitable due to repairs or replacement cost coverage.

Your homeowners insurance premium depends on several factors, such as your home's ZIP code, age, and more. The national average is $1,312 per year.

While homeowners insurance may not be legally required in all U.S. states, having a home insurance policy is highly recommended. Homeowners insurance offers financial protection and protects your personal property and personal belongings from theft, loss, and property damage.

When getting a mortgage, most borrowers will require the homebuyer to get a home insurance policy before they can officially sign for a home loan.
Conclusion: Compare Home Insurance Companies Online to Save on Home Insurance
The home-buying process is stressful and often confusing for first-time homebuyers. With how competitive the real estate market is, some homebuyers feel rushed into signing any home insurance policy to secure their home loan in time.
If you're making home insurance payments through an escrow account, it's easy to forget the details of your policy and how much you actually pay for insurance. Because of this, some homeowners may feel locked into a home insurance policy —which is not the case. Whether you make home insurance payments through an escrow account with your mortgage lender or directly to the insurance company, you have the freedom to change policies when you see fit.
The best way to see if you're getting the best value is to compare quotes from several home insurance companies. While it sounds like a tedious process, this can actually be done within minutes in your own home—no need to contact an insurance agent or fill out multiple forms from insurance companies. With the Insurify comparison tool, you can get multiple home insurance quotes and compare policies quickly and anonymously online. Get started today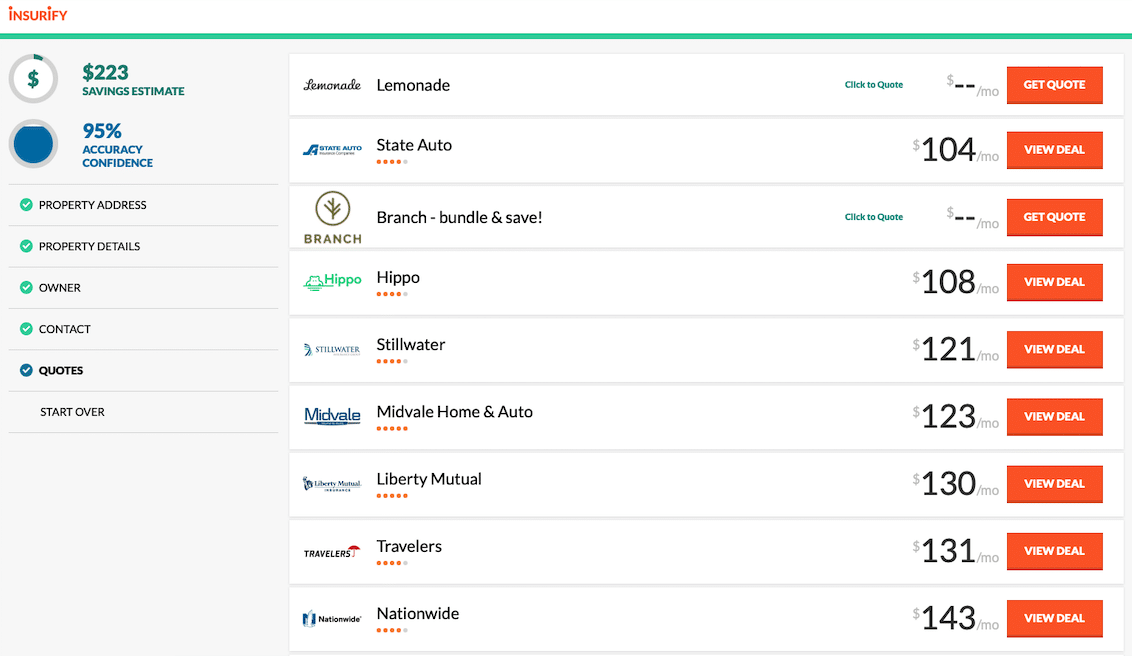 Compare Home Insurance Quotes Instantly
Personalized quotes in 5 minutes or less
No signup required
Data scientists at Insurify analyzed over 40 million auto insurance rates across the United States to compile the car insurance quotes, statistics, and data visualizations displayed on this page. The car insurance data includes coverage analysis and details on drivers' vehicles, driving records, and demographic information. With these insights, Insurify is able to offer drivers insight into how their car insurance premiums are priced by companies.