Is it hard to get home insurance?
Buying home insurance isn't usually difficult. However, some homes are more challenging to insure because of the higher risks of a disaster happening. Take the time to understand your homeowners insurance needs and compare quotes before buying a policy.
If you're in the market for a homeowners insurance policy, you're in the right place. Home insurance requires careful consideration. The right coverage can protect you from financial ruin if a major disaster strikes.
When looking for a policy, you might run into some terms and policy options you aren't familiar with. Because you'll have a smoother experience if you're familiar with the process, we're here to walk you through it, step by step.
This guide will help you understand how to buy home insurance, what's covered, and mistakes to avoid when purchasing a policy. We'll also explain who should have it, how much you might pay, and the best way to bundle home and auto insurance together.
How to Buy Home Insurance Step by Step
Homeowners insurance protects your home and possessions from damage or theft. The type of policy you need depends on your home type.
The most common coverage is an HO-3 policy. But you'll need different coverage if you're buying a condo or looking for mobile home insurance.
No matter where you live or the protection you need, here's a step-by-step guide on how to buy homeowners insurance.
Step 1: Understand What Homeowners Insurance Covers
Standard homeowners insurance consists of different components. Each offers coverage for destruction and property damage to a home's interior and exterior, loss or theft of possessions, or personal liability.
Dwelling coverage pays for damage to your dwelling, including your house and attached structures. It also covers plumbing, electrical, heating, and other home systems.

Other structures pays for damage to detached garages, sheds, fences, and other structures that aren't attached to your house.

Personal property coverage pays for damage to the contents of your home, including clothing, furniture, electronics, and appliances. It can also cover items that aren't on your property at the time the loss occurs.

Loss of use pays for additional living expenses if you can't use your home while repairs are being done. This can include costs for accommodations, restaurant meals, and other expenses.

Liability coverage is protection if someone is hurt on your property and files a lawsuit where you're found legally responsible for injuries.

Medical payments coverage covers the cost of medical bills if someone is injured on your property or by your pets.
The policy may not repair or replace valuables like jewelry, artwork, or collectibles. Insurance providers typically offer endorsements at an additional cost to cover losses of these types of items.
Your insurance company may also require additional coverage if you own a swimming pool or trampoline.
Step 2: Calculate How Much Home Insurance You Need
All homeowner's policies are not created equal. Plus, the amount of insurance you need will likely be different from your neighbor, your sister, or your friend.
How much homeowners insurance is right for you depends on your home's rebuild cost. Features like square footage, the number of bathrooms, and local construction costs can increase or decrease the amount.
The set coverage amount is called a policy limit. It caps how much the insurance company will pay when you file a claim.
Getting the right amount of coverage is crucial. If you don't have enough insurance, you'll be forced to pay out of pocket for insurance claims that cost more than the policy limit.
The insurance company will calculate how much it would cost to rebuild your home if it were destroyed. This amount is your dwelling coverage, and the rest of your coverage is typically a percentage of that amount.
| Coverage Component | Typical Coverage Limit |
| --- | --- |
| Dwelling | Based on the home's rebuild cost |
| Other structures | 10% of dwelling coverage |
| Personal belongings | 50% of dwelling coverage |
| Loss of use | 20% of dwelling coverage |
For instance, if your dwelling coverage is $250,000, your policy can cover up to $125,000 to repair or replace your personal belongings.
Step 3: Become Familiar with Local Threats and Disasters
Homeowners insurance is an excellent way to protect you and your family. But even the best homeowners insurance company won't cover every potential threat.
A standard policy covers:
Fire and smoke

Lightning

Windstorms and hail

Explosions

Vandalism and theft

Aircraft, car, and other vehicle damage

Water damage

Weight of ice, snow, and sleet
But there are exceptions. For instance, Hawaii home insurance doesn't cover windstorms or hail damage caused by a hurricane. But you don't need separate hurricane insurance in Florida. All Florida homeowner's policies cover hurricane damage.
To make sure you have the coverage you need, become familiar with the local risks in your area and make sure your policy covers those perils.
Keep in mind that homeowners insurance does not cover damage from flooding. You may need to buy additional flood insurance coverage if your home is in a high-risk flood area.
Step 4: Gather Necessary Information
Before shopping for a policy, gather the information you'll need to get a quote. You'll need facts and figures about your home and personal details. The more information you have, the more accurate your insurance quote can be.
Home information:
Property address

Rebuild cost or insurance appraisal

Previous insurance inspection reports, if available

Lender requirements for homeowners insurance coverage

Whether it will be your primary or secondary residence
You'll also need the home's square footage, heating type, and age of your roof, plumbing, and electrical systems. This information might be in the insurance appraisal or previous inspection report.
Personal information:
Birthdate

Occupation

Social Security number

Residence history
If you already have or plan to get any pets, trampolines, or pools, your insurer will need to know those details, too.
Step 5: Compare Quotes and Policy Options
Most insurers offer similar coverage options. But your insurance premiums can vary from one company to the next. That's because each insurer calculates your costs differently. Companies can also have home insurance discounts available to lower your costs.
Shopping around to compare insurance rates and policy options can help you save on home insurance. When looking at your options, pay attention to the deductible and policy type.
The deductible is a dollar amount that you're responsible for when filing a claim. Common amounts are $500 and $1,000. The higher your deductible, the lower your premiums can be.
The policy type is a crucial consideration. You can choose between replacement cost coverage or actual cash value (ACV):
Replacement cost covers the cost to rebuild your home and replace your belongings according to current market value.

Actual cash value considers the age and wear and tear to determine how much to pay to rebuild or replace your home and belongings.
ACV policies are typically less expensive. But they often won't pay enough to cover the replacement value of the damaged house or property.
To get a fair comparison, make sure you're looking at home insurance policies with the same deductible and policy type.
Step 6: Pick an Insurance Company and Finalize Details
After getting quotes and considering what each policy covers, it's time to pick a home insurance company and finalize your policy details.
If you're in the process of buying a home, your lender will usually require you to pay premiums for one year before closing on your mortgage. Otherwise, you can choose to pay the premium in monthly, quarterly, or annual increments.
You'll also set your policy's deductible. A lower deductible can mean you'll pay more for your home insurance premiums. If you opt for a higher deductible to save money, make sure you can afford to pay it if you file a claim.
The last detail is to choose an effective date. The effective date is the day you want your coverage to begin. If you're buying a home, the date can be the same day as your closing.
Who Needs Home Insurance?
Your home might be the single biggest investment you make. Home insurance isn't a luxury. It's necessary to protect you financially if a fire, a storm, or another natural disaster destroys your home.
All homeowners can benefit from having a policy. In some cases, you might not have a choice. According to the Insurance Information Institute (III), mortgage lenders can require home insurance before closing on your home loan.
But it's a smart move even if you don't have a mortgage. It can cover more than just your home and your stuff.
Your policy can pay for a place to stay if your home is uninhabitable following a covered event. If a guest injures themselves in your home, it can also cover medical bills and legal costs.
Compare Car Insurance Quotes Instantly
Personalized quotes in 5 minutes or less
No signup required
How Much Does Homeowners Insurance Cost?
According to the National Association of Insurance Commissioners, the average cost of homeowners insurance in the U.S. was $1,249 in 2018.
How much you pay can be more or less than the average. Your rate depends on:
Age of the home

Location of the home

Construction materials used

Safety features

Policy limits

Deductibles

Endorsements or add-on coverages
You'll typically pay more if your home is in a high-risk area for earthquakes, wildfires, hurricanes, or other disasters.
When considering how to buy home insurance, keep in mind that cheaper isn't always better. You might save a little cash now by paying a lower premium, but you could end up paying more in the long run if you don't have the coverage you need.
Mistakes to Avoid When Buying Home Insurance
Shopping around to compare home insurance quotes is one of the best ways to save money. You might also increase your deductible amount to lower your premiums.
But cutting too many corners can lead to disaster. Avoid these common mistakes when buying home insurance:
Don't insure your home for its real estate value. Instead, use the cost of rebuilding, which will be higher.

Don't select a policy by price alone. Compare coverages and make sure the insurer is financially sound and provides good customer service.

Don't drop flood insurance. Standard homeowners insurance doesn't cover flooding, and 25 percent of flood losses happen in low-risk areas.

Don't forget to ask about available discounts. You could pay less by installing deadbolts, a security system, smoke detectors, or buying your home and auto insurance from the same company.

Don't forget to ask your agent about coverage for valuable items. Your policy might not cover expensive jewelry, art, or collectibles.
If there's something you don't understand, ask your insurance agent. It can also help to do an "insurance checkup" every year. Review your home's contents and rebuild cost to make sure you have enough coverage before disaster strikes.
How to Buy Home and Car Insurance Together
Insuring your auto and home with the same company can lower your insurance costs. Called bundling, combining two or more insurance products can qualify you for a discount. It can also simplify your policy management by getting both policies from a single insurer.
Remember that premiums vary by company. Bundling isn't always the cheapest option, so it pays to shop around.
First, compare quotes for separate policies. Then, see how much it would cost if you bundled the policies together. If the cost of separate policies is lower than the bundled rate, it doesn't make sense to bundle your home and car insurance.
But if the bundled rate is less? Then, you'll have a good reason to combine your policies.
Frequently Asked Questions
You don't need to do anything differently if you're buying home insurance for the first time. Pay attention to policy limits and exclusions before you buy a policy. If you're getting a mortgage, your lender will let you know when to buy a policy. But you can start shopping to compare prices as soon as you solidify the home's address.

If you don't have home insurance, you could be in violation of your mortgage contract. Your lender could secure a policy for your house and charge you for it. If you don't have a mortgage, you're not required to have homeowners insurance. But without it, you won't have home or property insurance to cover you if something bad happens.

Shopping around to compare rates is the easiest and quickest way to save money on home insurance. You could also raise your deductible, bundle your home and auto insurance, and ask your insurer about available discounts to lower your premiums.
How to Buy Home Insurance: The Bottom Line
Home insurance is a wise investment to protect your home and belongings. Whether you're buying home insurance for a new home or looking to replace an existing policy, the process is the same.
Take the time to understand what your policy covers and if you need to purchase additional insurance for earthquakes, hurricanes, floods, or other threats. If you follow these tips and compare policy options and premiums, you'll discover how easy it is to buy home insurance.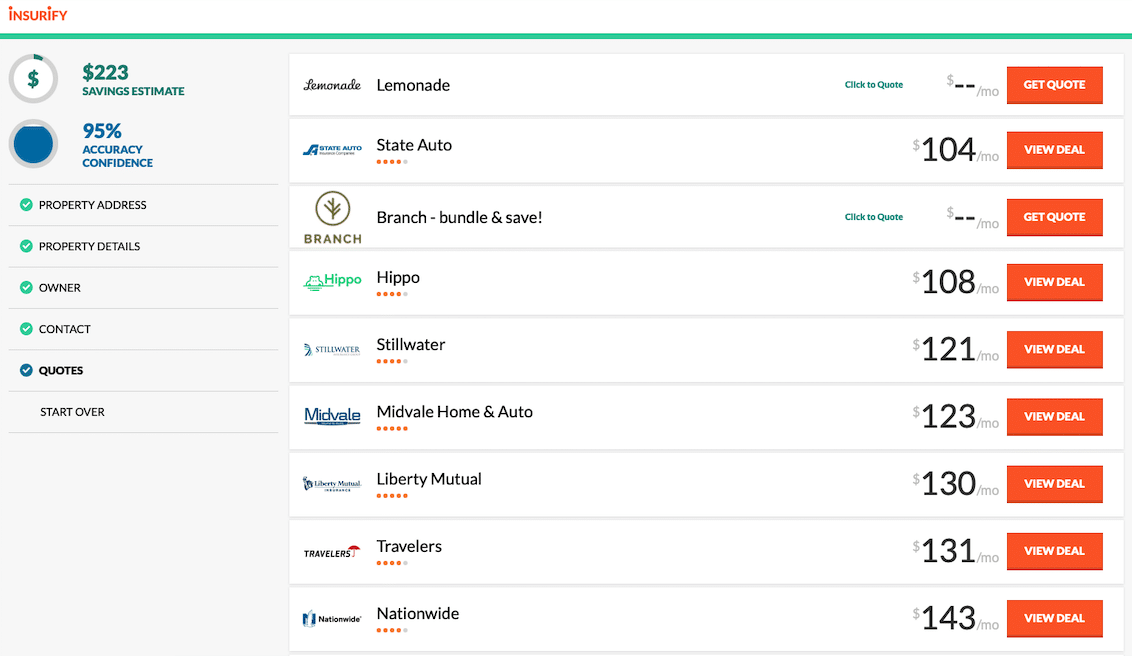 Compare Car Insurance Quotes Instantly
Personalized quotes in 5 minutes or less
No signup required
Data scientists at Insurify analyzed over 40 million auto insurance rates across the United States to compile the car insurance quotes, statistics, and data visualizations displayed on this page. The car insurance data includes coverage analysis and details on drivers' vehicles, driving records, and demographic information. With these insights, Insurify is able to offer drivers insight into how their car insurance premiums are priced by companies.