How can I get flood insurance in Houston?
Houston flood insurance is available through the National Flood Insurance Program (NFIP) and from private insurance companies.
Houston doesn't generally require homeowners to purchase flood insurance. But the city is a prime spot for tropical storms and flooding, and a policy can help protect your home and valuables from flood damage.
In a city as flood-prone as Houston, you must consider buying flood insurance. It's an excellent addition to your existing home insurance coverage.
And if you're looking for a homeowners insurance policy, Insurify can help. The home insurance quote comparison tool can help you find the proper coverage to protect you and your family.
Do I Need Flood Insurance in Houston?
Most homeowners aren't required to buy flood insurance. A mortgage lender can require it if you're using a government-backed mortgage to buy a house in a flood risk area—but otherwise, you probably won't give it a second thought.
But consider this: even the best Houston homeowners insurance won't cover flood damage, and Harris County has seen 134 flooding events between 1996 and 2019.
So, do you need flood insurance in Houston? It depends. Generally, if you can afford to rebuild your home and replace your belongings without help from an insurance company or a loan, you might not need it.
However, the average flood claim payout from the National Flood Insurance Program ( NFIP ) was $52,000 in 2019—most homeowners don't have that much cash sitting around. A Houston flood insurance policy is a safe bet to protect against financial devastation if a flood destroys your property.
Flood insurance goes beyond the coverage of a standard homeowners policy. It covers more severe types of water damage, such as heavy rain and powerful coastal storms.
Your decision to buy a policy can depend on your flood zone, too. But living outside of a high-risk flood zone doesn't mean floodwaters won't reach you.
According to the Harris County Flood Control District, you may want to buy coverage no matter where you live—nearly 70 percent of flood insurance claims after Hurricane Harvey were from properties outside of the 100-year floodplain.
Houston Flood Zones
In Houston, you can use the Harris County Flood Education Mapping Tool to locate your flood risk. Enter your address in the flood map search box to discover whether you're in a floodway, 100-year floodplain, or 500-year floodplain.
Knowing your zone is important. It's a primary factor that can determine your risk of flooding. However, Federal Emergency Management Agency ( FEMA ) flood modeling might not be as reliable as you think.
Houston saw three 500-year floods in a row—one in May 2015, one in April 2016, and another in August 2017. The chances of a 1-in-500 event happening three consecutive times is one in 125 million!
No matter where you live in Houston, the Harris County Flood Control District recommends all residents have flood insurance.
What's Covered with Houston Flood Insurance?
Standard homeowners coverage doesn't include damage caused by flooding. Luckily, that's exactly what flood insurance covers.
Policies are typically split into two types of flood insurance coverage:
Building coverage

Contents coverage
Houston Flood Insurance Building Coverage
Building coverage includes things like the home's structure, foundation, and staircases. It also covers electrical and plumbing systems, furnaces, water heaters, appliances, cabinets, detached garages, and solar energy equipment.
Policyholders will find that building coverage from an NFIP policy is capped at $250,000. Your policy limit could be higher if you buy private flood insurance.
Houston Flood Insurance Contents Coverage
Contents coverage primarily protects your personal property, such as clothing, furniture, and electronic equipment. It also includes curtains, portable and window air conditioners, washers and dryers, and valuable items like artwork and furs.
Property coverage from an NFIP policy is capped at $100,000. Your policy limit could be higher if you buy private flood insurance.
Compare Car Insurance Quotes Instantly
Personalized quotes in 5 minutes or less
No signup required
What's Not Covered with Houston Flood Insurance?
You don't want a devastating flood loss to blindside you, so it's best to understand what isn't covered before you need it.
A typical flood insurance policy may not cover:
Water damage not directly caused by flooding

Temporary housing if your home is uninhabitable while being repaired

Landscaping, wells, septic systems, fences, hot tubs, and swimming pools

Currency, precious metals, and stock certificates

Cars and other vehicles

Personal belongings stored in basements
Your policy may offer some protection for items kept in your basement, but the coverage varies and isn't guaranteed. Most policies have a waiting period of 30 days before coverage kicks in, so don't wait to get coverage.
What's the Cost of Flood Insurance in Houston?
How much you pay for flood insurance depends on several factors. However, according to the Texas Department of Insurance, the average flood policy costs about $700 per year.
You could pay less than $500 per year if you live outside of a high-risk area. If you rent your living space, your cost will be even less.
FEMA is changing how it calculates flood risk, and the changes could impact your rates. The restructuring is known as Risk Rating 2.0 and promises a custom-tailored risk to each individual property.
Houston Public Media reports that 86 percent of Texans with federal flood insurance could pay more under the new program expected to be released in 2022.
How to Get a Flood Insurance Policy in Houston
A few inches of floodwater in your home can result in tens of thousands of dollars in damages. Buying flood insurance can help you protect the life you've built.
If you're buying or renewing a policy, contact your current homeowners or renters insurance provider. Your insurance company or insurance agent can connect you with a policy through the NFIP or a private flood insurance company.
National Flood Insurance Program ( NFIP )
The NFIP is a federal government program that provides affordable flood insurance to residents in the U.S., and Houston participates in the program.
However, you don't buy a policy directly from the government—instead, the NFIP partners with over 60 private insurance companies who sell policies. Visit Floodsmart.gov to find a participating agent in your area.
If your insurance provider doesn't sell flood insurance, the Texas Department of Insurance recommends you call 1 (800) 427-4661 for help.
Private Flood Insurance
Private flood insurance policies are a second option. While the policy limits are typically higher, coverage can be unreliable. A private insurer can decide not to renew your policy or even cancel it.
But it's an excellent option for homeowners or renters with possessions worth more than the NFIP flood insurance policy cap. Plus, when getting a flood insurance quote, some homeowners find that private coverage is less expensive.
Don't Wait to Buy Houston Flood Insurance
Even though Houston doesn't usually require flood insurance, buying a policy is a smart move. Standard homeowners insurance doesn't cover flood damage, and many areas in the city have a significant flood risk. A policy can protect you and your family after a flood event.
Most flood insurance policies have a 30-day waiting period before coverage kicks in. Flood season will be here before you know it, so don't wait to buy the protection you need.
Homeowners in Houston can also benefit from updating their home insurance coverage. Insurify can help you compare quotes and coverage options from top providers.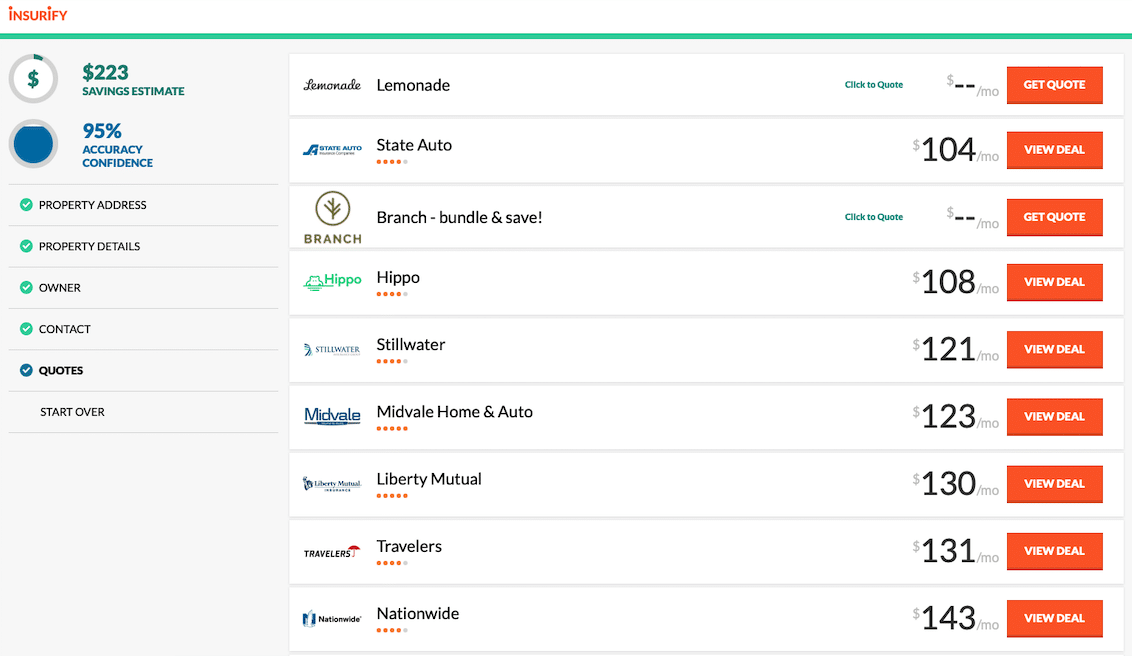 Compare Car Insurance Quotes Instantly
Personalized quotes in 5 minutes or less
No signup required
Data scientists at Insurify analyzed over 40 million auto insurance rates across the United States to compile the car insurance quotes, statistics, and data visualizations displayed on this page. The car insurance data includes coverage analysis and details on drivers' vehicles, driving records, and demographic information. With these insights, Insurify is able to offer drivers insight into how their car insurance premiums are priced by companies.