Does my homeowners insurance cover my swimming pool?
Yes but you need to inform your insurance company about the pool to have coverage.
Who doesn't dream of having a pool in their backyard once summer sets in? Whether you're considering buying a new home that comes with a pool or installing a pool at your current home, you need to understand the risk of a pool. Plus the associated costs of including it as part of your homeowners insurance coverage.
The Insurance Information Institute reports that between 2005 and 2014, there was an average of 3,500 pool-related fatal drowning deaths in the U.S. each year. It's not just drownings that pool owners need to worry about. People could slip and get hurt or a guest's personal property could be damaged.
A pool is considered an " attractive nuisance " because it certainly attracts the neighborhood kids. It's a nuisance because there's a high risk of someone getting injured while using the pool. Trampolines and swing sets also fall into the " attractive nuisance " category. Always disclose them when you are getting insurance quotes.
Let's jump in and get to know more about pool insurance, what coverage is included, and the requirements you need to meet to reduce overall liability.
But if you're ready to look for better rates on your homeowners insurance, check out the Insurify comparison tool. Within a few minutes, you'll be exploring top policies that cover your home and pool. Try it now!
Homeowners Insurance Doesn't Automatically Cover Pools
Standard homeowners insurance policies are written to be as close to one-size-fits-most as possible. When you compare policies, you'll notice they are generally the same with minor variations. Since not all homes come with pools, insurance companies do not factor coverage into premiums, so you will see an increase in your home insurance rates when you add a pool to your policy.
The actual cost of the policy will be determined by how your pool is classified. An in- ground pool is different from an above- ground pool in that the latter is removable. They may both be covered as an "other structure," or the in- ground pool could be considered part of the dwelling itself, especially if it's connected to the home.
What Does Pool Insurance Cover?
Almost every insurance company will gladly give you coverage for your pool, provided you meet their safety requirements to help reduce the likelihood of you making a claim. The type of pool will dictate the exact coverage and insurance cost.
Your pool will be covered in two ways with most insurance policies: liability coverage and other structures coverage. Liability insurance protects you when someone is hurt, while structures coverage is for pool damage done by outside forces.
Many homeowners insurance policies have liability coverage limits that max out at $100,000 to $200,000. These liability limits are too low for homes with pools. When an injury occurs, insurers need to pay out for medical expenses, plus you run the risk of being sued. The Insurance Information Institute suggests a minimum of $300,000 to $500,000 in personal liability coverage if you have a pool.
The physical structure of your pool is generally covered under other structures unless it's attached to or in your home, in which case it could fall under dwelling coverage. Your swimming pool insurance policy will cover a portion of the replacement cost of damages caused by covered perils, which include fire, weather damage, and vandalism.
For additional coverage, consider getting an umbrella insurance policy. They generally give you an extra $1 million, or more, in coverage. This will protect you if an insurance claim uses up all of your homeowners insurance liability coverage and will keep you from having to pay the remaining costs out of pocket.
Compare Car Insurance Quotes Instantly
Personalized quotes in 5 minutes or less
No signup required
Requirements for Getting Insurance Coverage on Your Pool
Some of the requirement that pool owners must adhere to for their pool to be included in their home insurance policy are:
A fence around the pool area, typically four feet high

Water in the pool at all times

Follow manufacturer's directions for all pool-related items

Use pool safety measures at all times

No diving board or slide
This is not a comprehensive list but rather a generic one that applies to most backyard pools. You can get coverage if you have a slide or diving board, but expect to pay higher premiums for the added liability.
Additionally, to help reduce the risk of accidents happening at your pool, you should:
Post pool rules and explain them to guests.

Never use the pool during storms.

Teach family members how to turn off pool equipment.

Enroll your children and frequent guests in swimming lessons.

Require non-swimmers to wear life jackets or wearable flotation devices (usually called "floaties").

Post emergency contact numbers.

Know how to perform and have a poster of lifesaving techniques.
FAQ: Homeowners Insurance that Covers Pools
You can expect your homeowners insurance premiums to go up between $50 and $75 in most areas. This number depends on several factors, including your location and how much liability coverage you have on the pool.

Buying an umbrella policy adds an extra layer of financial protection between the accident and your bank account. Even if your main homeowners insurance policy covers your pool, it might not be enough if a terrible accident happens in your pool. Umbrella policies cover a broad range of items and are relatively inexpensive for the value they provide.

For most insurance policies, no. An issue like mildew or mold developing during the months your pool isn't in use results from your failure to maintain it. Regular cleaning and maintenance will go a long way in keeping your pool clean and safe for guests.

You certainly need renters insurance since your belongings are not covered by your landlord's homeowners insurance policy. You will need to discuss the pool coverage with the homeowner as well as your insurance company to ensure that you are protected in the event of a claimable accident.
How To Find Affordable Homeowners Insurance Even When You Have a Pool
It's clear that pool owners need more significant amounts of personal liability protection and personal property coverage. Thankfully, it's not hard to find an insurance provider that offers affordable policies that offset your liability risk.
Implement the tips from above to make your pool area as safe as possible. Don't forget to educate your family and guests on how to have a safe and enjoyable afternoon splashing in the water. Once you've done what you can, know that your insurance carrier is taking on the risk so that if an unfortunate accident occurs, you are protected financially.
To find a homeowners policy that covers homes with pools, use the Insurify comparison tool. Whether you're in New York or Nebraska, you can be talking to an insurance agent about a new policy in just a few minutes. Try it out now!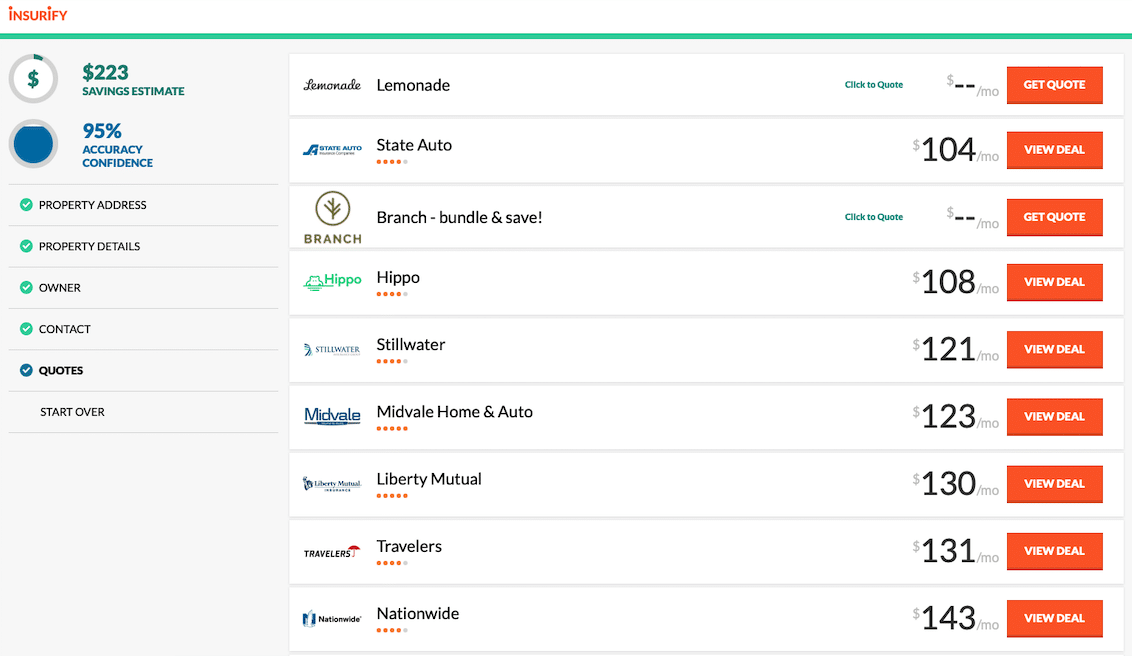 Compare Car Insurance Quotes Instantly
Personalized quotes in 5 minutes or less
No signup required
Data scientists at Insurify analyzed over 40 million auto insurance rates across the United States to compile the car insurance quotes, statistics, and data visualizations displayed on this page. The car insurance data includes coverage analysis and details on drivers' vehicles, driving records, and demographic information. With these insights, Insurify is able to offer drivers insight into how their car insurance premiums are priced by companies.