Does Homeowners Insurance Cover Plumbing?
Homeowners insurance policies can cover plumbing repairs resulting from accidental or sudden damage, but not from a poorly maintained plumbing system.
If you're a homeowner, dealing with plumbing issues is definitely something you'll need to keep in mind. Standard homeowners insurance policies cover a wide array of damages, though they don't cover everything. So can you lean on your home insurance policy to help with plumbing expenses? In short, it depends on the nature of the plumbing expenses and water damage.
Interested in finding out whether your plumbing expenses are covered by standard insurance policies? Read on below!
Did you know? Insurify makes it super simple to compare homeowners insurance rates coverage from top-rated companies like Allstate, State Farm, and Farmers. Just answer a few questions about your home, like the address, the age of the house, and the amount of coverage you need. Submit the info and get home insurance quotes in less than two minutes. It's that easy. Try it today!
Does Homeowners Insurance Cover Water Damage?
Typically, standard insurance policies will cover water damage caused by a sudden plumbing system failure. For example, if a pipe bursts suddenly or your water heater ruptures, the ensuing water damage can be covered in your insurance coverage. Given how pervasive unmitigated water damage can be, it could be possible that you'll need to repair the structure of your home or relocate until your home becomes inhabitable again.
For certain types of water damage, most standard insurance policies will offer coverage through the following clauses:
Personal Property Coverage: For the most part, insurance providers will cover any personal belongings that are damaged by a major plumbing failure. For standard policies, the coverage limit is typically fairly low, which can be a bit alarming if you happen to have valuable items, like jewelry or art. In these cases, it might make sense to pay for an endorsement that will expand the coverage limit for your property.

Dwelling Coverage: This part of your insurance policy covers the actual structure of your home, including the floors, roof, walls, etc. If a covered leak damages your home or you need to break through a wall to fix such a water leak, then dwelling insurance will reimburse you for the repair costs. Additionally, built-in appliances, such as water heaters or some washing machines, can also be covered by dwelling insurance if they happen to take damage.

Loss of Use/Additional Living Expenses Coverage: If your home is uninhabitable due to widespread water damage, loss of use coverage will cover you for any extra living expenses that result from being displaced from your home. This coverage includes hotel and food expenses that you would otherwise not have if your home had not suffered damage.
While these clauses are typical of most standard policies, it would be a good idea to check with your insurer regarding what specific types and circumstances of water damage are covered in your specific policy. If you do file a water damage claim, your insurance company will likely send an adjuster to assess the level of damage and the company's liability.
The finer details of coverage and coverage limits of most standard plans can vary, but the overall rule of thumb is that your plan will cover accidental water damage provided that the resulting damage was caused by an unforeseen and sudden failure of your plumbing system. This includes things like burst pipes, broken pipes, ruptured water heaters, or other things that are not the result of neglect or lack of maintenance.
What Types of Plumbing Damage Does Home Insurance Not Cover?
Home insurance covers more sudden or accidental damages caused by water. The other rule of thumb is that standard home insurance does not cover water damages that result from maintenance issues or leaking pipes that cause damage over a period of time. Although you can purchase endorsements to help cover other types of water damage, standard home insurance typically does not cover the following:
Flood Damage: Though heavy rains and storms can cause water to accumulate and damage your home in a quick and sudden way, many home insurance plans do not cover flood damage.

Mold Damage: While some insurance companies cover mold damage that results from a covered leak, the majority of plans do not cover mold damage.

Lack of Maintenance: Any damage resulting from regular wear and tear on your plumbing system is not covered by home insurance. If you notice a leaking that's getting onto drywall and do nothing about it for weeks, the resulting damage will not be covered. As a homeowner, you are highly encouraged to address issues like this as quickly as possible so as to avoid further damage and costs. Also, many companies will deny claims dealing with frozen pipes bursting in the winter, given that it's on the homeowner to keep heat running to prevent pipes from freezing.

Sewage Backup: In certain cases, your homeowners insurance might cover a leaking toilet or faucet. However, a full sewage backup is not typically covered by home insurance.
Unfortunately, when it comes to maintenance, there is not much you can do aside from calling a plumber to quickly fix the issues at hand. Fortunately, there is some recourse for you on some of the other uncovered issues, provided that you pay for the right insurance endorsements.
Compare Car Insurance Quotes Instantly
Personalized quotes in 5 minutes or less
No signup required
Can I Expand My Insurance to Include More Water Damage Coverage?
As mentioned previously, there are some steps you can take to expand your insurance coverage to include many of the things we've already mentioned. For example, you can get endorsements that will cover some of the following things:
Sewer/Water Backup Coverage: This type of endorsement is specific to water that has overflowed into your home from the home's drain, sump pump, or sewage system. Given that this water contains a higher level of contamination and potential for damage, insurers can require you to obtain an endorsement for coverage.

Additional Coverage for Personal Property: While this is not necessarily specific to water damage, getting more coverage for your personal belongings may be a good idea if you suspect that those things are at risk of water damage.

Hidden Water Coverage: This type of endorsement essentially offers coverage for leaks that aren't readily visible, such as leaks originating inside of walls, floors, ceilings, or cabinets.

Flood Insurance: Many insurers can offer a flood insurance endorsement that is commonly provided by the National Flood Insurance Program. The only downside is that these endorsements have notoriously low coverage limits, so for higher coverage limits, you may need to turn to a private flood insurance policy.

Mold: For things like mold, you'll likely only find coverage if the mold is related to a covered peril.
Getting endorsements and expanding your coverage is always a good idea, provided that you actually need and can afford the extra endorsements. When it comes to water damage that isn't coming from a catastrophe, the best thing you can do is to see what coverage your insurance company offers and do your best to take as much preventative action (such as catching potentially troublesome leaks and calling a plumber ) as possible.
FAQ: Homeowners Insurance and Plumbing
What does a claims adjuster do?
Once you file a claim, your insurance company will send a claims adjuster to assess how much damage has occurred and how much the insurance company is liable to pay. Once on site, the adjuster will evaluate the following to determine the cost and whether the damage is covered:
Whether leaks are the result of wear and tear

Whether there are any signs of deterioration, such as rusting,

that could have signaled a leak to the homeowner

Whether the damage is from a recent leak or an old one

The location of damaged pipes or other sources of water damage
With all of this information, the adjuster will figure out whether you, as the homeowner, took reasonable steps to try to prevent the water damage.
What can I do as a renter to get water damage coverage?
Generally speaking, water damage to the unit you are renting falls under the responsibility of the unit owner, so any claims of water damage to the walls, floors, or ceilings should go to the owner's insurance. However, your personal property is absolutely not covered in the case of water damage.
If you'd like to make sure your personal property is covered as a renter, be sure to look for renters insurance, which will cover damages and replacement costs for much of your personal belongings.
What can I do to prevent wear and tear on my plumbing system?
The best thing you can do is to be proactive when it comes to maintaining your plumbing system. If you find a leak, don't ignore it, and call a plumber as soon as possible. You can also do some of the following checks to make sure there's nothing amiss with your plumbing system:
Fix leaky faucets as soon as possible.

Check the sealing/caulking around toilets, sinks, tubs, etc.

Know where major pipes in your home's structure are so that

you can catch signs of an obscured leak.

Fix running toilets as soon as possible.

Check your drains often to make sure they are not blocked.

Check the water pressure often.

Drain the water heater regularly to get rid of sediment buildup.
Routine Maintenance and the Right Endorsements Save You Repair Costs
Water damage is covered by standard home insurance policies, but only when it is out of your hands. Even then, flooding is not typically covered and requires an endorsement. Any water damage that is sudden or unexpected is likely covered, but any costs for water damage that comes from poorly maintaining your plumbing system will land squarely on you.
The best thing you can do is be proactive in maintaining your plumbing system and repairing issues as soon as they appear. In the same vein, it could help to reach out to an insurance agent to get a real sense for what your policy will cover.
And don't forget that you can always compare your home insurance policy using a tool like Insurify. One form gets you 6+ quotes from top insurers in your area without sharing any of your personal information.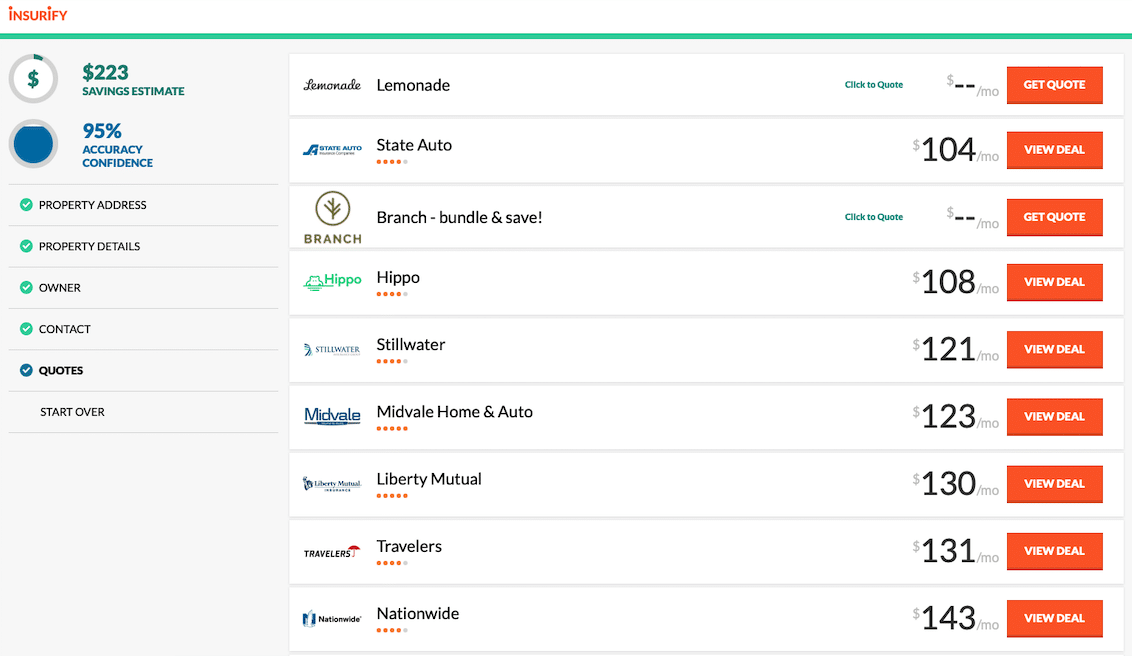 Compare Car Insurance Quotes Instantly
Personalized quotes in 5 minutes or less
No signup required
Data scientists at Insurify analyzed over 40 million auto insurance rates across the United States to compile the car insurance quotes, statistics, and data visualizations displayed on this page. The car insurance data includes coverage analysis and details on drivers' vehicles, driving records, and demographic information. With these insights, Insurify is able to offer drivers insight into how their car insurance premiums are priced by companies.