How are home warranties and home insurance different?
Both are important tools that reduce risk, but they cover different things.
What's the difference between home insurance and a home warranty? They have one thing in common—they both provide peace of mind for homeowners by reducing the risks (and potentially, the financial burden) of owning a home. Other than that, they are very different because they cover completely different things.
In short, homeowners insurance covers you against things that might happen, such as theft or property damage from fires or storms. Home warranties are designed for things that will happen at some point, like your air conditioning system malfunctioning or water damage from leaks or an overflowing toilet.
Still confused? Explore our guide to homeowners insurance vs. home warranties below.
If you need new home insurance coverage, try Insurify! It's easy to use and takes just a few minutes of your time.
What Is Homeowners Insurance?
Home insurance covers damage to your home and personal belongings from unpredictable events, like theft, vandalism, storms, fires, and certain natural disasters. It typically includes four areas of coverage:
The interior of your home

The exterior of your home

Your personal property

Liability coverage, which you would need if someone gets hurt while on your property
Mortgage lenders will usually require homebuyers to have home insurance before they issue a mortgage on your real estate. You have to renew it every year, and it has a deductible that you'll pay when you file an insurance claim and coverage limits for how much the insurance company will pay toward replacement costs on your home.
For example, if a storm knocked down a tree on your property and it crashed into your kitchen, your home insurance policy would help pay for the appliances damaged by the tree. However, it wouldn't pay for an oven that just quit working one day. That's where a home warranty comes in.
See more: Best Home Insurance Comparison Sites
What Is a Home Warranty?
Home warranties are also known as home service plans. These plans are service contracts that cover repair or replacement for home systems and appliances that fail due to age or wear and tear. Your heating and air conditioner, electrical systems, plumbing, water heater, kitchen appliances, and washers and dryers are usually covered by most home warranty companies.
Warranties aren't required for you to get a mortgage, but they can be a good purchase. You can even choose add-ons for your policy to cover things like roof leaks, pools, or spas. Every plan is a little different, however, so make sure you read the fine print and understand what your policy covers.
Individual home appliances may be covered under a manufacturer's warranty at first, but these usually only last for a certain amount of time. Home warranties provide protection no matter how old the appliance or system is, as long as you keep up with required maintenance.
Imagine your oven stops working one day and it's not due to a natural disaster like the falling tree example. You would call your home warranty company, who would send out an independent service contractor they've vetted to assess the problem. If the contractor determines that the oven's breakdown is covered under the terms of your contract, they'll either make the repair or replace the appliance if necessary. You'll simply pay a service call fee at an amount that's predetermined when you sign up for the home warranty plan.
Compare Car Insurance Quotes Instantly
Personalized quotes in 5 minutes or less
No signup required
Do I Need Both Home Insurance and a Home Warranty?
Unlike home insurance, a home warranty isn't mandated by mortgage lenders. It can be useful to have both, though, because they cover different things.
A homeowners insurance policy won't protect you against equipment or system breakdown. So when your appliances get old and worn out, you can't count on your insurer to help you replace them. Home warranties are designed to fill in the gaps of home insurance by covering mechanical equipment, such as an HVAC system, that needs to be repaired or replaced over time.
Some of the key differences between a home warranty contract and a home insurance policy include:
What they cover. Home insurance is for structural damage and loss of personal property from emergencies. A home warranty covers repair and replacements from old age and normal wear and tear.

Whether they're required. Home insurance is usually required for homeowners if they have a mortgage on their home. A home warranty plan is not required.
In theory, these two types of coverage work together to protect you against expensive repairs.
See more: Home Insurance Without Inspection
Frequently Asked Questions
You have to buy homeowners insurance if you have a mortgage, but a home warranty is optional.

Good home warranty coverage protects you from expensive repairs that home insurance won't cover, but some warranty providers exclude coverage for questionable reasons and technicalities. Consider what it would cost to repair or replace your existing appliances, and compare the costs to what you'd pay a warranty company.

Home warranties usually don't cover cosmetic issues or any damage caused by appliance misuse or neglect. They also don't cover pre-existing conditions, like systems or appliances that were malfunctioning or broken before the coverage started.
Home Insurance vs. Home Warranties: Which One Do You Need?
It can be a good idea to buy both home insurance and a home warranty. That's because they cover different parts of your home under different circumstances. These two policies are designed to complement each other.
Need to find new home insurance to go with your home warranty? Check out Insurify, an online comparison tool that lets you buy a new policy instantly.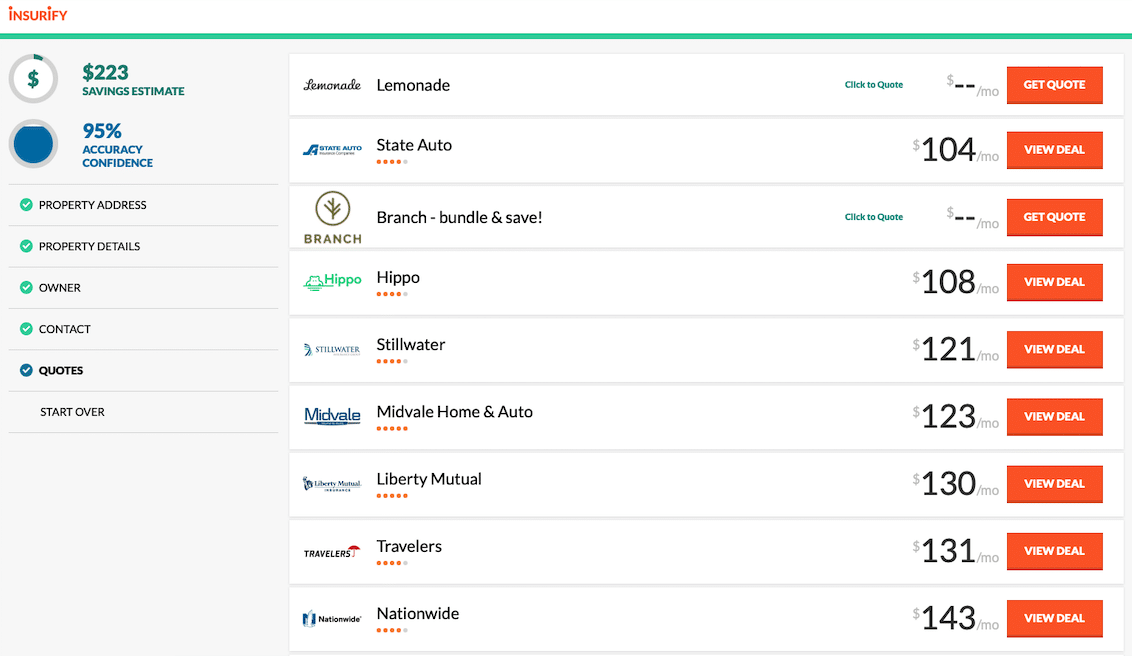 Compare Car Insurance Quotes Instantly
Personalized quotes in 5 minutes or less
No signup required
Data scientists at Insurify analyzed over 40 million auto insurance rates across the United States to compile the car insurance quotes, statistics, and data visualizations displayed on this page. The car insurance data includes coverage analysis and details on drivers' vehicles, driving records, and demographic information. With these insights, Insurify is able to offer drivers insight into how their car insurance premiums are priced by companies.