What is home protection class?
Insurance protection class is determined by ISO (Insurance Services Office) and ranges from best to worst (1-10). ISO refers to Fire Protection Class, based on the distance to the nearest water source or fire department.
Companies don't pull prices out of thin air when quoting the cost of homeowners insurance. Common factors that influence the cost are the age of the home, square footage, and outdoor play equipment. But a big factor you may not have thought about is your home's protection class.
Many homeowners aren't sure what a protection class is or how to find the rating for their home. Because of the significant role, it plays in the cost of home insurance policies, Insurify is here to simplify it for you. Here's what a protection class code is and how to find the rating for your home.
To save time shopping for home insurance, use Insurify to compare quotes from top insurance companies and get the best price on your next policy.
What Is a Protection Class Code?
Public Protection Classification (PPC) is one-way insurance companies measure risk. Specifically, it identifies risk in terms of fire protection services. Fire protection class is another name for protection class code.
PPC codes range from 1 to 10, with sublevels in between. Class 1 presents the least amount of risk and is typically the least expensive class to insure. Class 10 is the highest level of risk. It means the home doesn't meet the minimum criteria for fire suppression.
How is the Public Protection Classification rated?
The Insurance Services Office, Inc (ISO) has been the leading source of protection class codes for insurance companies since 1971. ISO uses the Fire Suppression Rating Schedule (FSRS), which ISO also developed, to issue grades for the PPC program.
FSRS classifies a community's protection class rating according to the area's fire suppression program, such as emergency communications systems, fire departments, and access to fire hydrants. Each item gets a point value, and the total score can range from zero to 105.5.
| Public Protection Classification (PPC) | Fire Suppression Rating Schedule (FSRS) |
| --- | --- |
| Class 1 | 90.00 or more |
| Class 2 | 80.00 to 89.99 |
| Class 3 | 70.00 to 79.99 |
| Class 4 | 60.00 to 69.99 |
| Class 5 | 50.00 to 59.99 |
| Class 6 | 40.00 to 49.99 |
| Class 7 | 30.00 to 39.99 |
| Class 8 | 20.00 to 29.99 |
| Class 9 | 10.00 to 19.99 |
| Class 10 | 0.00 to 9.99 |
Factors That Determine Your PPC Class
Your home's location and the community it's in determines the PPC level. To assign a protection class, someone from the ISO office collects relevant data and issues FSRS points according to four areas:
Emergency communication systems

Fire department

Water supply

Community risk reduction
Factors such as the fire department's equipment and first-alarm response, fire hydrant size and type, and public fire safety education can affect the score, which impacts the PPC rating and in turn, your homeowners insurance premium.
How to Find Your Protection Class
Because protection class codes were created for insurance industry professionals, ISO does not make PPC information available to policyholders or the general public. However, there are ways to find your home's PPC.
Protection Class Code Lookup by Address
Although homeowners don't have easy access to PPC codes, there is an option to do a protection class code lookup by address. The trouble is that a single database doesn't exist for you to access. You must search by state or township or do a protection class lookup by ZIP code to find the information.
When you locate your area's classification, you may also find the year ISO gave the rating. For instance, the PPC for Semmes, Alabama, is Class 5, and the municipal government site states it was issued in 2016.
Your state's department of insurance has information about protection class, too. Contact the department by phone or visit the website to locate the classification. The Texas Department of Insurance, for example, has a breakdown of the class ratings by area. The protection class codes in large cities in Texas range from 1 to 2, while small towns have ratings from 4 to 7.
You may also contact your insurance company or agent, local fire chiefs, or a community official to ask about your home's classification.
See more: Colorado Homeowners Insurance Quotes
See more: Pennsylvania Homeowners Insurance Quotes
See more: Arizona Homeowners Insurance Quotes
Finding Home Insurance for Protection Class 10
PPC ratings are on a scale of 1 to 10. Class 1 is the best because it shows your home is in a location with superior fire protection. If you're in a Class 10 area, your community doesn't meet minimum ISO criteria for fire suppression.
Some insurance companies won't allow you to purchase home insurance for Class 10 homes. Here's what you can do if your home is in a Class 10 area:
Save time by using Insurify to find a company that issues policies for Class 10 homes

Contact your fire station or local community official to encourage fire suppression improvements
Your home isn't automatically uninsurable if your protection class is 10. Insurance companies weigh each factor differently when determining the cost of your policy. If one company doesn't offer insurance, check another to see if your home qualifies. Plus, some companies don't use ISO. Instead, a company may calculate insurance premiums according to the distance from a fire station and losses and risks within a specific ZIP code.
Protection Class Lookup: FAQ
ISO assigns a protection class to a home according to the address or ZIP code to help insurance companies assess the risk of insuring the property. Unfortunately, a centralized protection class lookup tool doesn't exist. Because the data is primarily for insurance, the information isn't available to the public.

The protection class of your property isn't easy to find. Insurance companies use ISO's Public Protection Classification codes to determine risk and to provide the cost of a homeowners insurance policy for a particular address. Unless you specifically ask, you may never know the PPC of your home because the information isn't widely available. However, knowing your home's PPC is possible if you contact your realtor, insurance carrier, or local fire official. You may also lookup the information on the government website for your city or township.

Because the cost of homeowners insurance goes up as the PPC code increases, improving your protection class could lower your insurance premium. But it isn't a simple process. Your community leaders must improve emergency communication systems, fire departments, water supply, and community fire safety education. If you want to lower your cost, you can compare multiple quotes using Insurify and look for discounts to save money on your home insurance.
ISO Protection Class Lookup: The Bottom Line
Your home's protection class isn't something you must know, but it is nice to know how your home and community rate in terms of fire protection and firefighting services. The classification can make a significant difference in how much you pay for homeowners insurance.
If you're in the market to buy a house, ask the realtor about the home's protection class rating, and do some research on your new neighborhood's municipal fire-protection efforts. If you're already a homeowner and are comparing prices for a new policy, keep in mind that insurance companies can calculate PPC values differently. Easily compare home insurance rates from a half dozen or more companies with Insurify to get the best price on an affordable home insurance policy.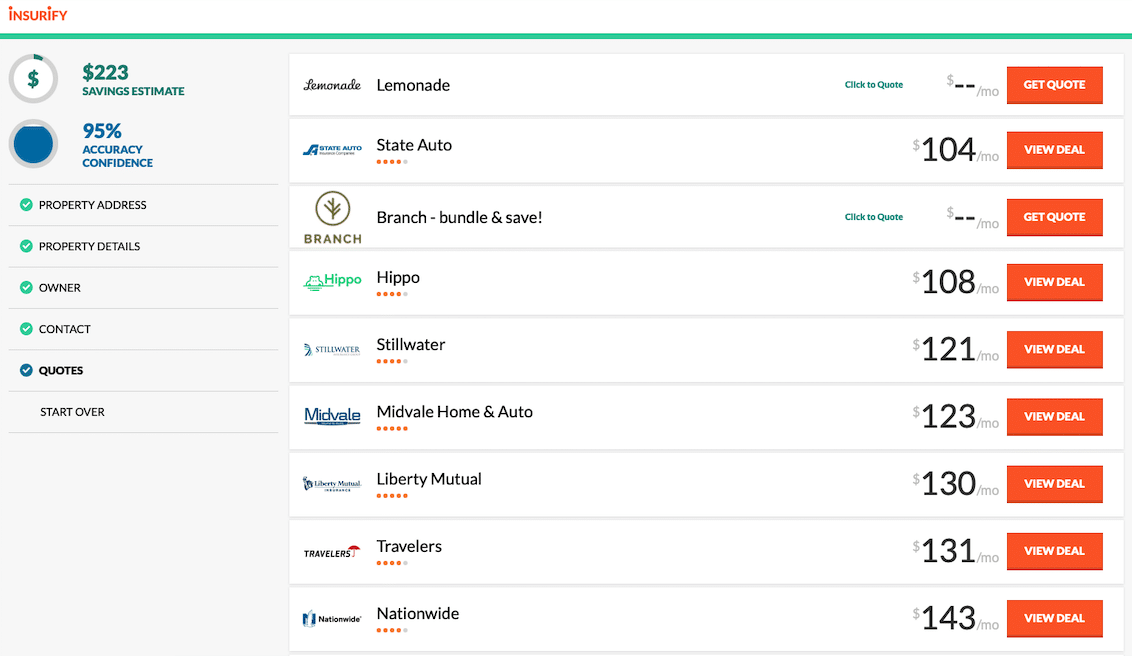 Compare Home Insurance Quotes Instantly
Personalized quotes in 5 minutes or less
No signup required