Does homeowners insurance cover wildfire damage
Homeowners insurance usually covers fire damage, but if you live in an area prone to wildfires, you may not be covered.
Finding homeowners insurance coverage in fire-prone areas is already hard—and it's getting harder all the time. Record-setting California wildfires caused by climate change in recent years have caused the insurance industry to rethink how much risk they're willing to take to insure people, resulting in scores of non-renewals and policy cancellations.
Insurers in California refused to renew 235,250 home insurance policies in 2019, 31 percent more than in 2018. Non-renewal notices issued to Californians increased by 61 percent in ZIP codes in moderate to very high risk areas for fires. Even policyholders who manage to obtain a homeowners insurance policy in certain areas are finding that fire is specifically excluded from their policies or requires a separate wildfire deductible.
But going without homeowners insurance is not an option, especially in areas with a high risk of wildfire losses. You could be left with hundreds of thousands of dollars in costs to repair, rebuild, and replace a home damaged by a wildfire —or simply lose your biggest investment.
Having trouble getting insured? Try Insurify to get the quotes you need from multiple insurance agents. This simple tool takes just a few minutes of research.
Wildfire Coverage in Home Insurance
If you live in an area vulnerable to wildfire season and manage to get a standard homeowners insurance policy, your home and belongings will both have fire protection, as long as your policy doesn't specifically exclude fire. Standard policies from insurance providers cover fire damage in the following ways.
Dwelling coverage: This part of your insurance will pay for the cost of repairs and construction if your home is damaged by a fire. Make sure the dwelling coverage limit equals whatever it would cost to rebuild your home and any structures attached to it, considering the current costs of construction and labor. Natural disasters cause the demand for construction and labor to go up, which increases the cost of those services, but you can get endorsements to help cover future cost spikes. An extended replacement cost endorsement, for example, extends your dwelling limit coverage by an extra 25–50 percent.
Other structures coverage: This part of your policy covers structures that aren't attached to your house. That could include a detached garage, a shed, or even your fences. Your other structures limit is usually about 10 percent of your dwelling coverage, but your insurance broker may let you increase it if you think there's a need.
Personal property coverage: This covers your personal belongings, including furniture, clothes, and jewelry, up to a certain limit. The limit is usually half of your dwelling coverage limit, but some insurance carriers will let you increase it to 75 percent.
Loss of use: If you have to evacuate your home and stay somewhere else while the structure is being repaired or rebuilt, loss of use coverage reimburses you for the additional expenses of living away from your home. Make sure you keep all your receipts for when you file a claim with your insurer.
Landscaping: Some homeowners insurance policies offer coverage for plants, trees, or lawns damaged by covered perils, including fire. Check your policy to see if you have landscaping coverage.
How to Insure Your Home in a High-Risk Area
Insurers in California and other areas at high risk during fire season are increasingly sending out non-renewal notices to insured homes. You have a few options if this happens to you.
A surplus or excess lines carrier can step in if a regular insurance company says your home's fire risk is too high. Surplus companies are usually more expensive than typical home insurance, and they're also not required to follow the same state regulations as standard carriers. But they insure homes against risks that regular insurance companies refuse to cover. This can be a lifesaver for homeowners in high fire risk areas.
A premier carrier typically only covers homes valued at over $1 million. Owners of high-value homes in high-risk areas may want to pursue a premier carrier like Chubb or AIG, both of which offer loss prevention and private firefighter services for people in fire-prone areas.
Your state's FAIR ( Fair Access to Insurance Requirements ) Plan is a good last resort. A FAIR Plan is a state-chartered program intended for people who can't get insurance through the standard market for whatever reason. FAIR Plan policies cost more than private insurance and offer less coverage, but it's certainly better than going without insurance.
Be sure to read through the FAIR Plan coverage to understand how it differs from regular insurance. It usually doesn't cover liability or medical payments, and some policies may have a wildfire exclusion for personal property damage or additional living expenses. Most states have something like this, so check out your state's department of insurance if you're having trouble getting covered.
Compare Car Insurance Quotes Instantly
Personalized quotes in 5 minutes or less
No signup required
8 Steps to Lower Your Wildfire Risk
It may be a little easier to get fire insurance if you take some basic fire mitigation measures. Here are eight things you can do to prevent a total loss.
Make sure the home has half a foot of clearance between the ground and siding. Buy non-combustible siding and roofing for the house.

Keep debris cleared off the roof.

Use roofing materials with a Class A fire rating. Two examples are concrete and clay tiles.

Clean your gutters regularly so that you don't have combustible debris gathered next to your home.

Make sure your fences and gates are made of non-combustible materials.

Use multi-pane materials or tempered glass for windows. If a wildfire is nearby, close all of your windows.

Building a deck? Use boards that comply with California building codes for wildfire-prone areas. Get rid of anything flammable that's under your deck.

Keep up with landscaping. Remove dead vegetation, and prune any tree branches that are over your home.
Home Insurance in Fire-Prone Areas FAQS
Yes, in two ways. Your own policy will cover any damage that a wildfire does to the "inside walls" of your condo. The master policy that your HOA holds will cover the outside walls, roof, and other exterior features.

A standard renters insurance policy does cover wildfire damage, but it may be hard to get a standard policy in a wildfire-prone region.

The amount of insurance you need depends on several things, including the cost of rebuilding your house and the cost of replacing your personal belongings inside. You should review your dwelling coverage once in a while to make sure it accounts for the local cost of labor and construction materials. You can also make a home inventory to figure out whether your personal property coverage amount is high enough.
Home Insurance in Fire-Prone Areas: The Bottom Line
If you live in a fire-prone area, you may need to get creative to get your home covered by insurance.
Start by compare homeowners insurance companies with Insurify. Discover customized quotes for home, life, and car insurance with just a few minutes of research.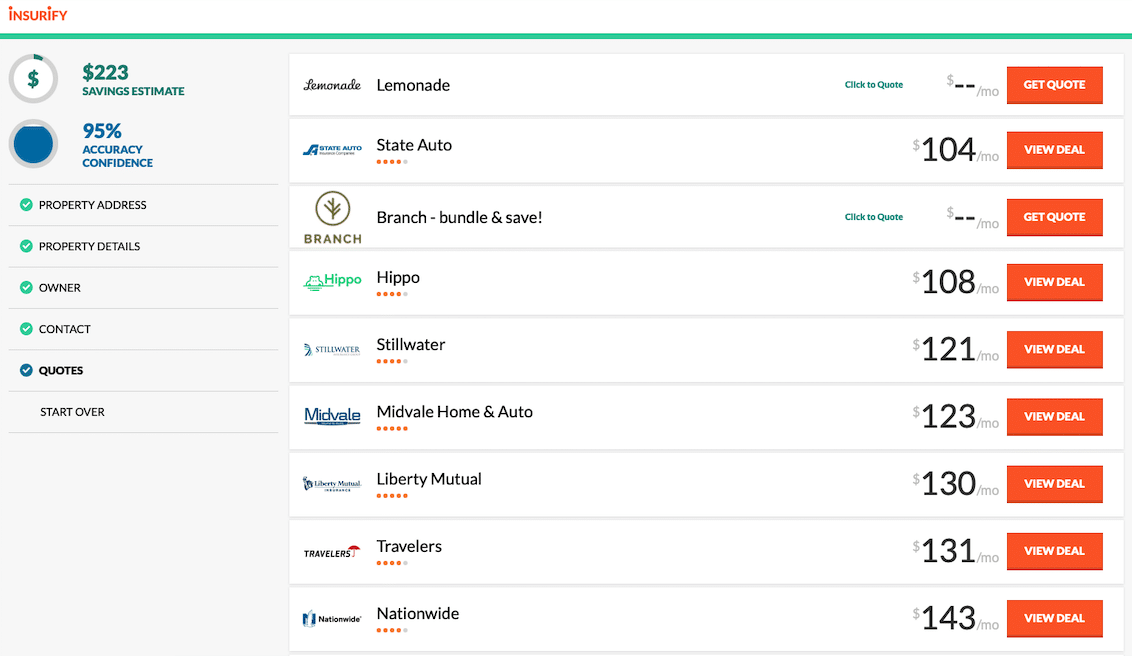 Compare Car Insurance Quotes Instantly
Personalized quotes in 5 minutes or less
No signup required
Data scientists at Insurify analyzed over 40 million auto insurance rates across the United States to compile the car insurance quotes, statistics, and data visualizations displayed on this page. The car insurance data includes coverage analysis and details on drivers' vehicles, driving records, and demographic information. With these insights, Insurify is able to offer drivers insight into how their car insurance premiums are priced by companies.