What is home and contents insurance?
Home and contents insurance, also called personal property insurance, is a standard part of your homeowners insurance policy.
After a long day of work, nothing feels better than going home, changing into some comfy clothes, sitting on your favorite sofa, and catching up on your favorite show. Or maybe it's enjoying a beer out on the back patio with some friends. Whatever your end-of-workday de-stressor is, there are certain things in your home that help make it possible.
You may not think much of your sofa or patio furniture from day to day, but if a fire destroys part of your home or a thief steals your electronics, you'd be devastated. Not only are you out hundreds of dollars, but a part of your daily routine would also be upset. Fortunately, with home and contents insurance, you don't have to worry about the financial impact of the loss.
In standard home insurance policies in America, home and contents insurance is called personal property insurance and is included as a part of your policy. In some countries, including Australia and the United Kingdom, home and contents insurance is a stand-alone policy used in conjunction with buildings insurance, which covers their dwelling.
This portion of your policy pays to replace your personal belongings that are destroyed by a covered peril, such as a fire or theft. Once you pay your deductible, your insurance company will pay you a portion of the items' value or the full replacement cost, as outlined in your insurance policy documents.
Coverage Provided by Home and Contents Insurance
A homeowners insurance policy is made up of coverage for the structure of your home, coverage for your belongings, and liability insurance to protect you and your family members if a guest sues you after being injured on your property or as a result of your actions. But what exactly does home and contents insurance cover?
Home and contents insurance covers your personal belongings, with some limitations. Any items that are a part of your home's structure are not covered within this portion of your homeowners policy. Flooring, large appliances, and built-in shelving units are permanent fixtures and fall under dwelling coverage.
So your large area rug is covered by this policy, but the carpeting is not. The same goes for your microwave. It's small and easily moveable, thus considered a piece of property, whereas your washing machine is going to stay in one place, possibly even when you sell the house.
For some valuables, including fine jewelry, expensive artwork, and coin collections, you need to purchase a rider, or add-on coverage, which covers a particular item. If you have a costly jewelry collection as well as a couple of collector paintings, you'll need two riders so that you have coverage tailored to your specific items.
Items Covered by Contents Insurance
Clothing

Jewelry (unless it has its insurance rider)

Personal electronics, including phones and gadgets

Small, unattached appliances like coffee makers and toasters

Firearms and ammunition

Home decor and linens

Books

Sports equipment

Furniture

Property of guests
Items Not Covered by Contents Insurance
Automobiles

Pets, including birds and fish

Permanent fixtures like cupboards or a built-in china cabinet

Any possessions that have other coverage with a rider

Property of long-term non-family guests or tenants
The last item on both lists relates to guests in your home. When your parents come for the holidays, they're covered. Even when a vandal breaks in and steals your dad's MacBook and your mom's diamond necklace. Your out-of-town friends who are staying for two nights are also covered. They are all staying for limited amounts of time and have some personal connection to you.
But if you're an enterprising college student doing a house hack and renting out three of the bedrooms to friends, their possessions are not covered. Or when you rent out your home in Maine to spend the winter in Florida, your tenants aren't covered by your policy. Check with an insurance agent to determine the best insurance coverage for these situations.
Accidental Damage Cover
Home insurance claims can be made for personal property that's damaged or destroyed by an insured event. But what about when a DIY home renovation goes wrong and results in a burst pipe? Or your kids spill their grape juice over your new light-colored rug. These don't qualify for an insurance payout. However, an accidental damage cover will cover a home emergency.
This optional cover takes over where your regular home insurance cover leaves off. Under your standard policy, accidentally dropping your laptop and shattering the screen or leaving your phone by the pool where it later suffers water damage is not covered.
Do Renters Need Home and Contents Insurance?
Whether you're a homeowner or renter, you need an insurance policy that covers your possessions. You want to find a rental policy that gives you all the coverage you need, and that's easy enough. As you read through this, know that the coverages provided by renters insurance and homeowners insurance are very similar.
There are differences because renters don't have to worry about the structure of the home and garage. Your landlord's insurance provides dwelling coverage. Depending on your state's regulations and your landlord's policies, you may already have contents insurance. And if you don't, make it a priority to get a policy ASAP because your belongings are not covered under the building owner's policy.
How to Determine How Much Home and Contents Coverage You Need
Generally, the amount of coverage you have for your personal property is 50 to 70 percent of your dwelling coverage. So if your home is insured for $250,000, your contents will be insured for an amount between $125,000 and $175,000.
To see if that amount is enough, or whether you need to consider purchasing a rider or umbrella policy to give you additional coverage, you should take a home inventory. To do this, you make a list of all the items you would need to buy if your home were completely destroyed and you needed to furnish a new home.
You can make your home inventory the old-fashioned way, with pen and paper or do it digitally in a file on your computer or with a home inventory app. There are two common ways to do a home inventory: categorize items by room or by category. As you record each item, note the purchase price, especially with valuable items.
Here are common categories for organizing your home inventory:
Clothing and shoes

Furniture

Linens

Home decor

Electronics

Hobby supplies

Books

Tools

Kitchenware

Guns

Sporting equipment

Jewelry

Cash
After completing your home inventory, compare the value to what your policy covers. If you need additional coverage, ask your insurance agent about adding a rider to your policy.
Compare Car Insurance Quotes Instantly
Personalized quotes in 5 minutes or less
No signup required
The Cost of Home and Contents Insurance
Since home and contents insurance is a part of your homeowners insurance, the amount will vary from person to person. Even three neighbors with identical homes will pay different amounts due to the amount of coverage on their homes and possessions.
The amount you pay for your homeowners premiums is based on the amount of coverage you have for your belongings, plus the type. You can choose two main types of coverage: actual cash value (ACV) or replacement cost.
Actual Cash Value Coverage
This coverage is less expensive because it pays out less when you file a claim. The value of items is depreciated, so when your two-year-old mobile phone is stolen, you'll get an amount that's comparable to buying a secondhand one at today's price.
Replacement Cost Coverage
With replacement cost coverage, the amount you're reimbursed will cover the amount you'd pay to buy a new one right now. Your premiums will be a bit higher if you opt for replacement cost coverage, but it ensures that you can replace damaged or stolen items with the same quality of item.
Another factor that plays into the cost of your contents insurance policy is the type of security and safety features you have installed in and around your home. Installing a security system discourages acts of vandalism since you and the authorities can check camera footage. Installing good locks on your doors can also help prevent a break-in.
Inform your insurance company of any security measures you have so that they can give you a home insurance quote that reflects the extra effort you've put into securing your home. In general, the more risk you take on, the less you pay for insurance products, including home and car insurance.
The location of your home is another factor that your insurer considers when setting your insurance premium. Once you're in your home, you cannot do much until you make your next move. As you plan for your next move, look for areas near police and fire stations and neighborhoods with low crime rates since they also have lower insurance costs.
As a renter, your insurance will be less than a homeowner 's because of the landlord insurance. Homeowners pay all insurance costs. Always double-check your coverage and that of your landlord to ensure your possessions are covered and that their policy provides temporary accommodation if you need to vacate the home.
[ faq ]
Conclusion: Get Quotes for Home and Contents Insurance Online
Whether you're buying a new home, renting a new apartment, or just looking to find a cheaper home insurance policy, a quick online search will get the job done. There's no need to call an insurance agent and get stuck listening to a seemingly endless sales pitch. When you use Insurify, you can search from the comfort of your home and decide when you want to talk to a human.
To find quotes online, you'll need to provide your address and answer a few questions about the property and the level of cover you want. You'll get a dozen or more quotes almost instantly. Take your time to read the policy documents, though, so you know what the policies cover. When you find a policy that meets your needs, apply online.
Still, have questions about the policies? You can connect with an insurance agent who can provide the answers and help you make an informed decision.
You can find cheaper home and contents insurance today. Use Insurify's comparison tool to get insurance quotes in minutes. Try it now!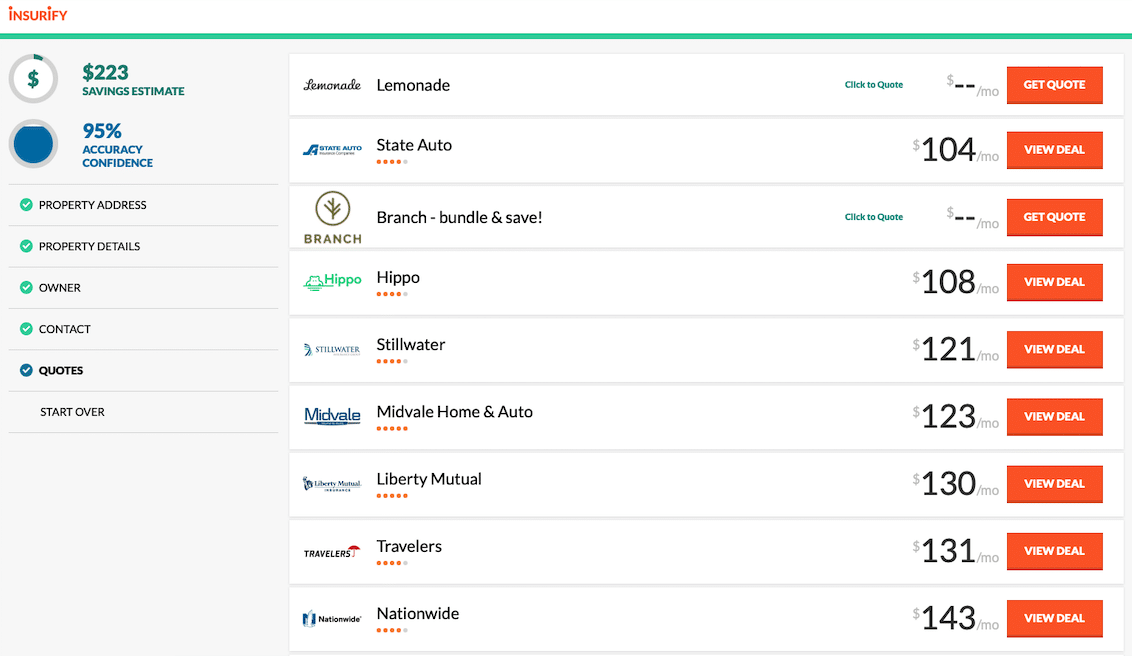 Compare Car Insurance Quotes Instantly
Personalized quotes in 5 minutes or less
No signup required
Data scientists at Insurify analyzed over 40 million auto insurance rates across the United States to compile the car insurance quotes, statistics, and data visualizations displayed on this page. The car insurance data includes coverage analysis and details on drivers' vehicles, driving records, and demographic information. With these insights, Insurify is able to offer drivers insight into how their car insurance premiums are priced by companies.