What is high-risk home insurance?
Homeowners residing in disaster-prone areas or who have a history of lots of insurance claims may be considered high-risk. These homeowners may have trouble finding affordable homeowners insurance, or may not be able to get covered at all. Insurify can help.
When it comes to high-risk homeowner's insurance, you have options. But how can you make sure you're getting the right coverage at the right price? Insurify makes this easy by enabling homeowners to compare coverage options side by side so that you can get a clear view of the insurance landscape.
How to Know if You're Considered High-Risk
When you buy a home, you take on financial risk. That's what a homeowners insurance policy is all about: managing those risks so that you're protected in the event of damage to your property.
But no two houses are the same. And some houses are considered "riskier" than others in the eyes of insurers. For instance, say your home is located in a high-risk area that experiences extreme weather or natural disasters. As you can imagine, these homeowners are more likely to file insurance claims due to weather-related damage.
Other factors like structural problems in a home make it more likely to be deemed "high-risk." Additionally, a homeowner with a low credit score, criminal history, or previous claims history can also end up in the "high-risk" category.
These situations call for high-risk homeowners insurance. And luckily, there are insurance companies out there that cater to homeowners whose profile might be considered risky. Read on to learn about the different ways you can find high-risk insurance and get a homeowners policy that works for you. Private insurance companies can give high-risk homeowners a hard time when it comes to securing a home insurance policy, we're here to help!
How to Get High-Risk Insurance
If you fall into the "high-risk" category, there are a few ways you can go about finding insurance coverage.
One clever way to get information is by asking neighbors. Because these neighbors live in the same high-risk area, they've likely been in the same situation as you. So consulting with them can help you find an insurance agent who provides high-risk coverage.
Similarly, asking your realtor, who likely has sold properties in this area before, is an excellent way to learn about homeowners insurance companies that align with your needs.
Giving High-Risk Homeowners a FAIR Shake
Most mortgage lenders require homeowners to insure their homes. So what do you do if you're having no luck finding high-risk coverage?
Luckily, many states provide home insurance through the Fair Access to Insurance Requirements (FAIR) plan. The FAIR plan is a useful last resort for homeowners who can't find coverage. It's a government-run plan that provides a baseline of coverage against wildfires, windstorms, vandalism, and riot.
To enroll in a FAIR plan, you should contact your state insurance department. They'll let you know if your state offers a FAIR plan and connect you with a licensed insurer who can get you started.
Always Do Your Research
Often, coverage offered through the FAIR plan policy is more expensive and provides less coverage. So you'll only want to turn to FAIR if you've tried all of your other options.
Shopping with Insurify can help you see all your options, compare prices, and help you feel confident you're getting the right coverage at a good value.
Compare Car Insurance Quotes Instantly
Personalized quotes in 5 minutes or less
No signup required
Companies that Provide High-Risk Home Insurance
Here are some companies that provide high-risk homeowners insurance.
Liberty Mutual: Available in all 50 states, Liberty Mutual is a trusted provider of homeowners coverage, auto insurance, liability coverage, and more. Liberty Mutual also caters to high-risk homeowners, but remember, your rates may be higher.

Amica: One of the oldest insurers in the country, Amica has helped high-risk homeowners and drivers find the comprehensive property insurance they need.

American Family: With high financial strength ratings, American Family is a trusted provider for a reason. Because American Family is a more financially stable company, it's more likely to take a chance on a high-risk homeowner.

Progressive: You've undoubtedly seen the commercials. And aside from offering a full range of insurance products, Progressive offers coverage like flood insurance that can help homeowners who are at risk for water damage.

Allstate: Allstate is one of the most popular providers in the country, and homeowners have trusted the company for decades. Allstate's respected agents can help you find the insurance plan that works for you, regardless of your risk.

A local home insurance company: It can sometimes be difficult to get high-risk coverage from a major nationwide provider. That's why it's a good idea to consider a local insurer as an alternative. These providers know your area and the risks that come with it—helping you get just the coverage you need.
Want to find more insurance companies that provide coverage for high-risk homes? Browse Insurify to get a full view of the home insurance landscape.
Factors that Make You High-Risk
Many factors come into play when you're looking for homeowners insurance. Here are a few that can make your home a higher risk.
ZIP code/region: Your home's location makes a major difference. For instance, a home in California might have a higher risk of earthquake or wildfire, which will affect your home insurance rates. And if you're living in the middle of the city, you might face a higher risk of criminal activity. Homeowners along the coastline in New York, Delaware or even North Carolina could also be considered high-risk.

A high number of claims: If you have a long history of filing claims, you—rather than your home—are riskier to insure. This is especially likely if you've filed multiple claims across multiple properties.

Structural problems: Older homes are a riskier bet for insurers. For instance, a home built decades ago might have a weaker roof or a foundation that needs repairs. These homes have a higher chance of expensive claims. Also, if you live in an area with a high crime rate, this could contribute.

High-risk dogs: Your dog is your best pal. But an aggressive dog is seen as a possible cause of property damage, so this furry friend will be taken into account when building your homeowner profile.

Low credit score: If your credit score isn't very high, you might have a harder time getting homeowners insurance. That's why it's so important to pay bills on time and stay financially responsible.

Vacancy: Maybe you aren't going to be in your new home all the time. Maybe it's a vacation home that you're only in a few months a year. If so, the home is considered a higher risk because you aren't around all the time to keep tabs on damage or structural issues.
See more: Georgia Homeowners Insurance Quotes
See more: Illinois Homeowners Insurance Quotes
See more: Michigan Homeowners Insurance Quotes
Frequently Asked Questions: High-Risk Home Insurance
If you have a high-risk home, are high rates a foregone conclusion? Not necessarily. There are things you can do to save. Making repairs to your roof or foundation is a good way to make your home less risky—and might help you save big on insurance rates. If you live in a high crime area, installing a security system might give providers more faith in your home. And looking into discounts, such as savings when you bundle home insurance and car insurance, is a great way to pay less.

The FAIR plan is a good way for high-risk homeowners to get coverage. To find out if your state offers the FAIR plan, look online or contact the state insurance department. They have the details you need to connect with an agent and get covered no matter your risk.

Once you know you need high-risk homeowners insurance, you can use Insurify to quickly and easily research home insurance quotes. Gone are the days of jumping from site to site and making calls to different providers. With Insurify, you can compare quotes side by side all in one place.
How to Get Cheap High-Risk Home Insurance
Just because you're a high-risk homeowner doesn't mean you have to miss out on home insurance. It just means you might need to do a bit more research and gain a deeper understanding of the options at your disposal. High-risk homeowners aren't completely excluded from standard home insurance policies. We'll help match you with a private insurer that will get you covered.
That's where Insurify comes in handy. Insurify helps you compare free quotes—regardless of where you live or how high-risk you are—so that you can get your dream policy.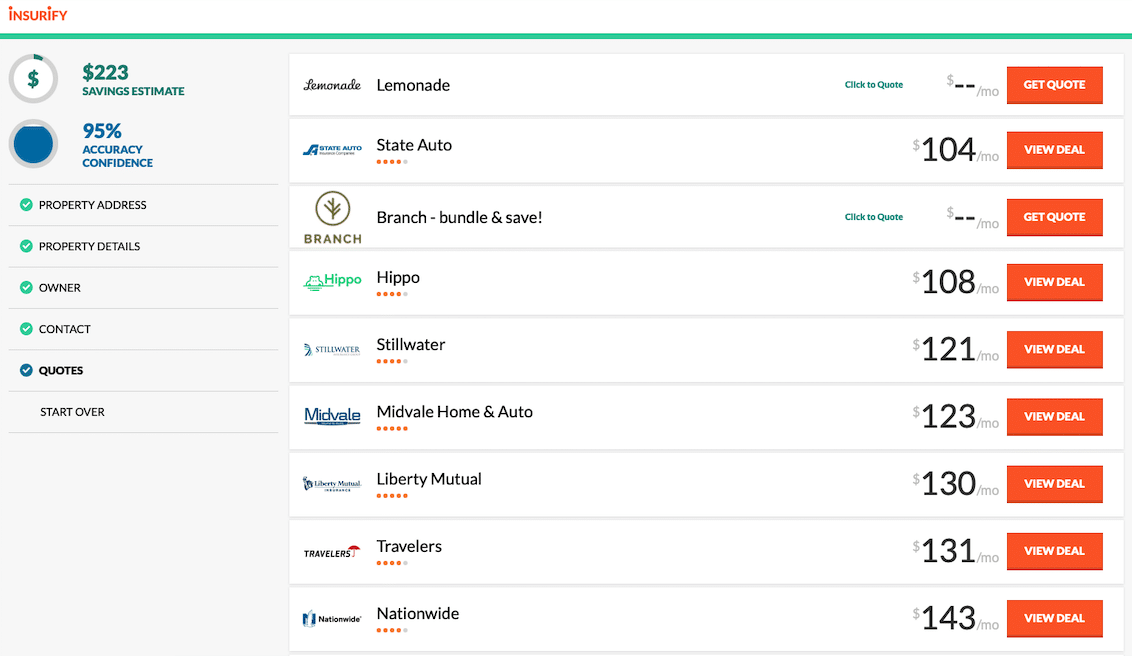 Compare Car Insurance Quotes Instantly
Personalized quotes in 5 minutes or less
No signup required
Data scientists at Insurify analyzed over 40 million auto insurance rates across the United States to compile the car insurance quotes, statistics, and data visualizations displayed on this page. The car insurance data includes coverage analysis and details on drivers' vehicles, driving records, and demographic information. With these insights, Insurify is able to offer drivers insight into how their car insurance premiums are priced by companies.