What is a hazard insurance premium?
Hazard insurance protects homeowners from the costs associated with damage from fires, accidents, or other perils. A hazard insurance premium is an amount you pay monthly or annually to secure coverage.
Hazard Insurance is insurance coverage for the structure of your home only ( dwelling coverage only with no coverage for personal belongings, personal property, or liability coverage ), and your mortgage lender may have minimum coverage requirements for you to purchase a homeowners policy before you are approved for a home loan.
If you are in the process of buying a home, the list of things you have to do is long and exhausting! Before you can buy a home, you need to get pre-qualified for a home loan, work on coming up with a down payment, set up your escrow account, and most importantly, find the home of your dreams!
You're likely aware that you will need home insurance, but what you may not know is that the mortgage lender has specific insurance requirements before you can receive funding at your real estate closing.
Insurify can simplify the home-buying process by finding you a homeowners policy that fulfills your lender 's requirements. This easy-to-use tool finds you quotes from several insurance companies, and the process takes only minutes!
Hazard Insurance Lender Requirements
Your mortgage lender will require you at a minimum to purchase hazard insurance equal to the mortgage company 's financial interest in your home. Depending on the lender, you may need proof of hazard insurance coverage for the first year before you can close on your new home loan.
It is important to keep your homeowner's insurance up-to-date and not allow your policy to lapse. If the mortgage company discovers your homeowners insurance has lapsed, it may place its own coverage on your home's structure and charge you a high fee for this coverage.
Hazard Insurance vs. Home Insurance
Don't be confused by the term hazard insurance. Hazard insurance is included in a standard homeowners insurance policy. It is the portion of the policy that specifically covers the home's structure. It does not include personal property coverage, personal liability, or medical coverage for any accidents that may happen to you or your guests. Don't think of hazard insurance as a separate policy, but rather the part of your homeowners insurance that covers the home's structure.
What Hazard Insurance Covers
Hazard insurance covers damage to your home's structure from these common named perils:
Natural disasters (storms, fires, wind, lightning, volcanic eruption)

Explosions

Theft

Damage from vehicles

Civil commotion

Vandalism

Fallen trees

Weight of snow

Sleet

Frozen plumbing

Smoke

Accidental discharge of steam or water/overflow of steam or water
What Hazard Insurance Excludes
There are things that are excluded from coverage in your basic homeowners insurance policy. Structural damage to the home caused by these perils is not covered:
Water damage caused by flooding

Nuclear hazard

Intentional acts

Enforcement of building codes

Power failure

Neglect

Earthquakes
Some of these coverages can be added back by purchasing a policy endorsement, also known as a policy rider. For flood insurance, you will need to purchase a policy through the National Flood Insurance Program (NFIP) or through an authorized NFIP insurance agent. Earthquake insurance can be purchased as a separate policy. Depending on your mortgage lender, where your home is located, and whether you live in a flood zone, you may have to purchase flood insurance and/or earthquake insurance before closing on your home.
Compare Car Insurance Quotes Instantly
Personalized quotes in 5 minutes or less
No signup required
Picking Coverage Levels
To satisfy your lender 's requirements, you will need to have enough hazard insurance to match the mortgage company 's financial interest in your home. Most lenders will require you to provide proof of coverage for the first year before you can close on your home.
Depending on where you live, you may need to add a separate coverage for floods, earthquakes, or mudslides, especially if your area is prone to these natural disasters. Even if you are only required by your mortgage lender to purchase a hazard insurance policy that covers their financial interest, you should think about more than just the cash value of your home. Consider how much the replacement cost will be to rebuild your home from the ground up if you suffer a loss.
With today's construction and labor costs, the amount it costs to rebuild your home could be more than your actual mortgage loan amount. You could need the financial protection a replacement cost homeowners insurance policy can provide.
The Cost of Hazard Insurance
The insurance company uses several variables to determine the cost of your home insurance policy. Some of the more common determining factors include:
The policy limits (the amount of coverage your purchase)

The age of your home

The home's value

Any special security features installed (home security systems, burglar alarms, water sprinkler systems, etc.)

The deductible amount
Your insurer may also check your credit score as one of the determining factors of your home insurance rates. The higher your credit score, the better hazard insurance premium rate you may receive. However, the credit score is only one of the determining factors; there are many others, so you shouldn't be too worried if you have a lower credit score. In any case, improving your credit scores can help you in many ways, so it is a good idea to work on improving your credit standing.
According to Experian, these states either don't allow credit scores to be a determining factor for your insurance premium or limit how insurance companies can use your credit score in determining your homeowners insurance coverage rates:
California

Hawaii

Maryland

Massachusetts

Michigan

Oregon

Utah
Hazard Insurance Premiums FAQs
Yes. Your mortgage lender requires proof of hazard insurance before closing on your home loan. The cost of hazard insurance can vary by insurer. Shopping around to compare insurance rates can help you save money on your insurance premiums.

Yes. Because hazard insurance is part of homeowners insurance, the homeowners policy deductible applies. Common deductible amounts are $500 and $1,000. Insurance companies can charge a different and often higher amount for claims related to certain catastrophes.

Yes. You don't have to own real estate to have hazard coverage. Renters insurance includes coverage for many of the hazards you see in a homeowners insurance policy. It doesn't cover all perils. Most policies exclude flooding, earthquakes, and sinkholes.
Shopping for the Best Hazard Insurance Policy
You may have not given much thought to the mortgage company 's insurance requirements or having to buy hazard insurance when you started the journey of finding your dream home. Insurify takes the hassle out of the equation. You can use this easy home insurance comparison tool to find home insurance quotes from top companies.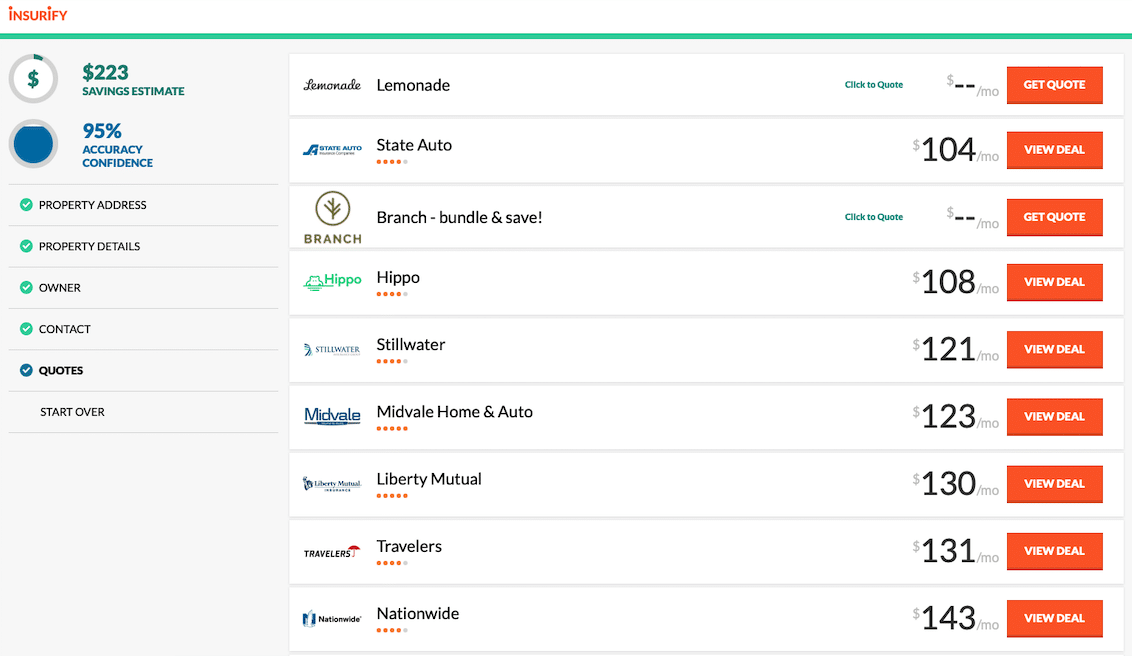 Compare Car Insurance Quotes Instantly
Personalized quotes in 5 minutes or less
No signup required
Data scientists at Insurify analyzed over 40 million auto insurance rates across the United States to compile the car insurance quotes, statistics, and data visualizations displayed on this page. The car insurance data includes coverage analysis and details on drivers' vehicles, driving records, and demographic information. With these insights, Insurify is able to offer drivers insight into how their car insurance premiums are priced by companies.