Flood Insurance in Florida is an important aspect of homeowners insurance.
Here's our guide to the cost of coverage, how it works, and what you can expect.
Florida is known for its gorgeous coastline, diverse population, theme parks, and attractions. It also has over 11,000 miles of rivers, streams, and waterways, making it an excellent place for homeowners seeking sunshine, watersports, and entertainment.
All that water makes it a prime spot for flooding. Floods are more likely in Florida than in any other state in the U.S.
But standard homeowners policies don't cover flood damage. Flood insurance in Florida can help you protect your home from one of the most common and most expensive natural disasters.
In this Florida flood insurance guide for homeowners, you'll discover when you need flood insurance, how much it costs, how to get a quote, and where to find your rate map.
Speaking of insurance quotes, when is the last time you checked your homeowners insurance options? You could be paying too much. Use Insurify to quickly compare quotes on a dozen or more Florida homeowners insurance policies to see how much you could save.
Everything You Need to Know about Florida Flood Insurance
Flood insurance is what it sounds like: property insurance that protects homeowners from claims involving water damage from floods. It's a separate policy that you can purchase in addition to your standard homeowners policy.
It's generally required for government-backed mortgages if the home is in a high-risk flood area. However, your mortgage lender might require you to purchase flood insurance even if you live outside of an area with a high-risk of flooding.
Keep in mind that standard homeowners policies don't cover flood damage. If flood insurance isn't a requirement for your mortgage, it's worth considering a separate flood insurance policy, no matter where you live in Florida.
When You Need Flood Insurance in Florida
According to the Insurance Information Institute, the over 1.7 million flood insurance policies in Florida make up 34 percent of all U.S. flood policies. Based on that alone, there's a good chance you'll want to buy a flood insurance policy in Florida.
But when do you "need" it? Generally, if you use a government-backed mortgage, such as an FHA loan, to buy a house located in a flood zone, you're usually required to have flood insurance.
You can contact your insurance agent or call the National Flood Insurance Program ( NFIP ) at 1 (877) 336-2627 if you're not sure whether you need flood insurance.
Compare Car Insurance Quotes Instantly
Personalized quotes in 5 minutes or less
No signup required
Flood Plain Map Florida
No matter where you live, there is some risk of flooding. But how do you find out if you're in a moderate- to low-risk or high-risk flood zone?
Florida 's flood map, also known as a Flood Insurance Rate Map, is provided by the Federal Emergency Management Agency ( FEMA ). FEMA 's Flood Map Service Center is the official online tool to locate your flood zone.
Here's a guide to Florida flood zones:
Zone A and AE are designated Special Flood Hazard Areas ( SFHA ). They're high-risk areas and are part of the 100-year floodplain.

Zone V and VE are high-risk coastal areas with additional flood hazards associated with storm waves.

Zone X is moderate- to low-risk. While homes in this area can still flood, the damage is usually minimal.
Florida Flood Insurance Coverage
Flood insurance covers direct physical losses to your home's structure and personal belongings. According to FloodSmart. gov, the NFIP offers policy coverage for your home and for the contents inside.
Home and Building Coverage
Flood insurance building coverage protects your:
Electrical and plumbing

Furnace and water heater

Refrigerator, stove, and other built-in appliances

Carpeting

Cabinets and bookcases

Window blinds

Foundation walls, anchorage systems, and staircases

Detached garages

Fuel tanks, well water tanks and pumps, and solar energy equipment
Personal Contents Coverage
Contents covered in a flood insurance policy include your:
Clothing, furniture, electronics, and other personal belongings

Curtains

Washer and dryer

Portable and window air conditioners

Microwave oven
Things Not Covered by Flood Insurance
Perhaps even more important than what is covered by flood insurance is what's not covered.
Flood insurance is designed to cover damage caused by flooding. That means if any damage is not a direct result of flooding, your policy likely won't cover it. For instance, damage from moisture, mildew, or mold that you could have prevented (or not caused by a flood) is not covered by flood insurance.
Your coverage limit can include an amount up to the replacement cost or actual cash value (ACV) of direct damages. Your covered amount might be less, so check your policy to determine limits.
There's also a waiting period before you can file a flood insurance claim. Generally, your policy won't cover damages until 30 days after your purchase it.
Cost of Florida Flood Insurance
According to the Florida Office of Insurance Regulation, policyholders in a high-risk area can expect to pay around $700 per year for flood insurance.
A preferred risk policy is an option for homeowners in low- to moderate- risk areas that can cost considerably less.
How much you pay depends on the location of your home, type of coverage, and the policy deductible. Properties in high-risk areas will have higher premiums because the risk of flood loss is greater.
How to Get a Flood Insurance Quote in Florida
Remember that even the best home insurance companies don't have flood coverage for your home or personal property. You must purchase a separate policy to get flood insurance in Florida.
Most flood insurance coverage is federally regulated and purchased through the NFIP. The Florida Office of Insurance Regulation has worked to improve access to private flood insurance, giving homeowners more coverage options.
Getting a quote is simple. If you already have homeowners insurance, contact your local agent to ask about adding a flood policy.
However, shopping around to compare costs can be an excellent way to lower your premiums. Consider the cost difference between an NFIP policy and one from a private flood insurance company before making a decision.
Florida NFIP Flood Insurance
An NFIP policy in the United States is issued through the federal government. To buy an NFIP policy, you typically go through a private insurance agent.
As of January 2021, 37 companies offer NFIP policies in the state of Florida. Visit FloodSmart. gov to find a flood insurance provider in your area.
Private Flood Insurance
You can purchase flood coverage outside of the NFIP. The Florida Office of Insurance Regulation has a list of private flood insurance companies in Florida to choose from. Contact each company directly to discuss coverage options and to compare rates from different insurers.
Frequently Asked Questions - Florida Flood Insurance
Maybe. Whether Florida flood insurance is worth it to you depends on where you live, your flood risk, and your risk tolerance level. Florida's relatively flat terrain, abundance of coastal areas, and inland water sources make it prone to flooding even if you're not in a high-risk area. Because standard homeowners and mobile home insurance don't cover flood damage, consider purchasing a separate flood insurance policy to protect yourself financially.

FEMA designates areas with special flood, mudflow, or flood-related erosion hazards as Special Flood Hazard Areas (SFHA). If you live in an SFHA, you have a high risk of flooding. Use the Florida flood map to identify SFHAs as being Zone A or AE.

Many flood insurance policies are bought through the NFIP. However, private insurers in Florida also sell flood insurance. The price can vary according to your flood zone, policy type, and deductible. To get the best coverage at the best rate, compare options from multiple companies.

Renters insurance policies do not cover flood damage. But renters can purchase separate flood insurance even if they're not in a high-risk area. If you're renting in Florida, a separate flood insurance policy can cover your clothes, furniture, electronics, and other personal belongings if a flood causes damage.
The Bottom Line: Florida Flood Insurance
Your home may be your most valuable asset. Besides the monetary value, it holds your belongings and most precious memories. Don't leave protecting it to chance.
No matter where you live in Florida, there's a risk of potential flooding. Homeowners policies don't cover flood-related damage. Give yourself peace of mind knowing you're protecting your home, yourself, and your family by purchasing flood insurance.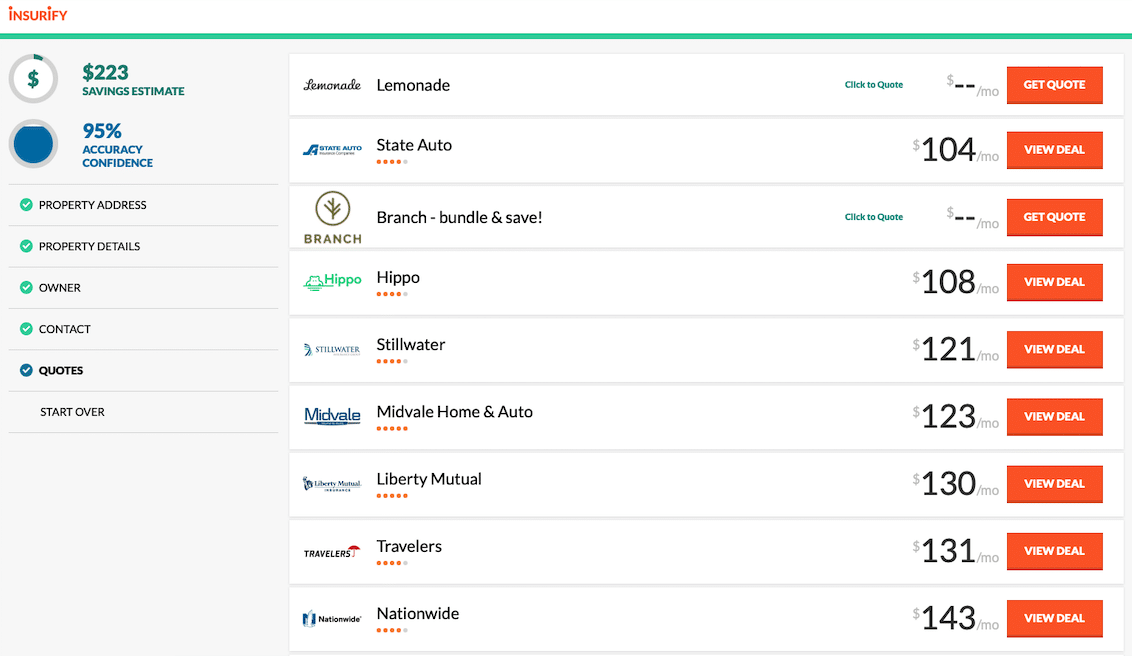 Compare Car Insurance Quotes Instantly
Personalized quotes in 5 minutes or less
No signup required
Data scientists at Insurify analyzed over 40 million auto insurance rates across the United States to compile the car insurance quotes, statistics, and data visualizations displayed on this page. The car insurance data includes coverage analysis and details on drivers' vehicles, driving records, and demographic information. With these insights, Insurify is able to offer drivers insight into how their car insurance premiums are priced by companies.