Imagine being without a functioning air conditioner or refrigerator during a hot summer or lacking a working water heater in the dead of winter. It sounds like a nightmare, but it can happen. Appliances can break down and leave you high and dry. Can you afford to replace them if something happens?
Your homeowners insurance will cover the loss if your appliances are damaged in a fire or a severe weather incident. But appliances that break down from electrical or mechanical failures aren't typically covered. However, there is an option that could help. Some insurers let you bridge that gap in coverage by adding equipment breakdown coverage as an endorsement to your policy for a slightly higher premium.
Not all insurers offer this special coverage, so you may need to shop around for new homeowners insurance if you want to insure your appliances and equipment against breakdowns. Find a company that's underwriting this kind of coverage by comparing quotes with Insurify, an easy-to-use tool that lets you compare insurance quotes from lots of insurers with just a few minutes of research.
What Does Equipment Breakdown Insurance Cover?
Equipment breakdown insurance is similar to a home warranty; it covers your household systems, appliances, and electronics if they break down from a mechanical or electrical system failure. Many insurance companies offer this type of coverage as an add-on, or "endorsement," to your homeowners insurance for just a few dollars a month.
Coverage typically includes four categories of physical loss or damage: mechanical breakdowns, electrical failures, breakdowns from appliances being installed incorrectly, and breakdowns of pressure systems. These categories can include incidents like:
Ruptures or bursts

Power surges

Short circuits

Motor burnout
As long as it's caused by a mechanical or electrical breakdown, equipment breakdown coverage may cover it. It can help repair or replace all sorts of devices in your home, like your HVAC system, refrigerator, or home security system. It can also help cover replacement costs of spoiled food or beverages from a lack of refrigeration after your refrigerator breaks, as well as damage from power surges after your electricity turns back on after an outage.
How Does Equipment Breakdown Insurance Work?
The usual home insurance endorsement for equipment breakdown coverage will give you about $50,000 in coverage per occurrence to cover damaged appliances and systems. One occurrence could be a power surge that destroys multiple appliances, or it could be the breakdown of one appliance—say, a refrigerator that breaks down and causes your food to spoil.
A typical deductible is $250–$500 before coverage kicks in. After that, your insurance company will reimburse you for things like:
Temporary repairs you already made

The cost of expediting permanent repairs

Replacing damaged equipment

Spoiled food or drinks from a covered occurrence

Additional living expenses that were the result of a covered occurrence
It's also important to understand what equipment breakdown coverage doesn't cover. You won't be reimbursed for repairs or replacement if the affected equipment breaks down because of normal wear and tear, including rust, corrosion, deterioration, defects, mold, cracking, shrinking or expanding, or pest damage. Your insurance agent will want to know that you weren't at fault and that the breakdown isn't from normal deterioration over time.
It also won't cover breakdowns that are caused by not taking proper care of your equipment. Understand the exclusions in your policy before you buy.
Compare Car Insurance Quotes Instantly
Personalized quotes in 5 minutes or less
No signup required
Is Equipment Breakdown Coverage Worth the Money?
It can be! An equipment breakdown endorsement added to your insurance coverage is usually fairly inexpensive, to the tune of just a few dollars a month, and it can really pay off if you have a major equipment breakdown. Large equipment and mechanical systems can be very expensive to fix out of pocket.
You may also find that some insurance companies offer coverage for "green" upgrades. If your water heater, HVAC system, or refrigerator gives up, you can replace it with a more energy-efficient and environmentally friendly Energy Star-rated replacement. If you have an older home or your systems and appliances are getting up there in age, equipment breakdown coverage is a great idea.
Frequently Asked Questions. - Equipment Breakdown Coverage
No. A home warranty is sold by a home warranty company, not a property insurance company. Equipment breakdown coverage is a separate upgrade that you add to your existing homeowners insurance policy. Home warranties also tend to be more expensive and only cover the equipment specifically listed in the warranty.

Here are just a few examples: heating and air conditioning equipment, computers, data restoration, refrigerators and freezers (and the food within, which could suffer spoilage during an outage), washers and dryers, ovens, microwaves, boilers, furnaces, sump pumps, and more!

It typically starts at $25–$50 per year for about $50,000 of coverage. Ask insurance companies what additional coverage they offer to be certain.
Protect Your Major Equipment
Equipment breakdown coverage can be a no-brainer when it comes to protecting what's in your home. Think about how much it would cost to replace your major appliances and home systems, then make your decision.
Shop around for homeowners insurance companies that offer equipment breakdown coverage with Insurify, the tool that lets you compare multiple quotes with just a few minutes of research.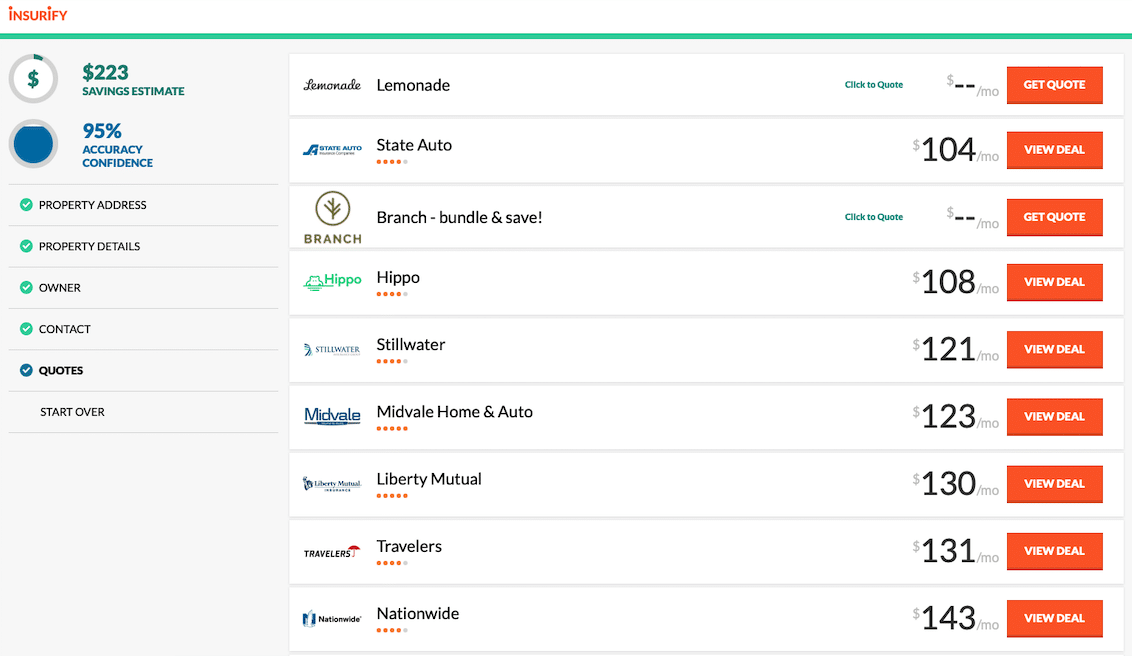 Compare Car Insurance Quotes Instantly
Personalized quotes in 5 minutes or less
No signup required
Data scientists at Insurify analyzed over 40 million auto insurance rates across the United States to compile the car insurance quotes, statistics, and data visualizations displayed on this page. The car insurance data includes coverage analysis and details on drivers' vehicles, driving records, and demographic information. With these insights, Insurify is able to offer drivers insight into how their car insurance premiums are priced by companies.