Over the last several decades, Americans have been trying to do better for the environment. As a result, the housing market has seen an increase in eco-friendly homes. These are houses that are built intentionally with high-quality materials to consume less energy and produce fewer emissions.
Homeowners can make changes to move toward a more eco-friendly building, even if they are not looking to buy a new home. There are plenty of ways to improve your existing property with more energy-efficient options. First, though, it is important to check if these changes are covered by your home insurance policy. Otherwise, you may need to consider purchasing a new policy or add-ons to your existing policy.
While there may be a bit more work needed for sustainable home design, it is easy to see why some people decide to go green: having an environmentally friendly home can help homeowners save money on energy bills and insurance rates. More recently, insurance companies have been offering discounts that encourage homeowners to reduce their carbon footprint.
Choosing the right home insurance policy begins with establishing your coverage needs, which may differ based on your location. Find out how to compare home insurance quotes with the best homeowners insurance comparison sites and save hundreds on a new policy.
Shopping for homeowners insurance can be a daunting, confusing, and downright boring task, but making sure that you have sufficient insurance is a fundamental step in responsible homeownership, especially when considering more ethical and eco-friendly options.
Insurify has compiled the stats on the best and most affordable home insurance in the nation, broken down by location, company, local risk, and even demographic variables. Home insurance coverage is too important to be a burden. Read on to find the best cheap homeowners insurance quotes in your area.
What exactly is an eco-friendly house?
Also known as a "green home," an eco-friendly house is any living space designed and built sustainably. While the purpose is typically to reduce one's carbon footprint, it may also lead to greater energy savings. Updating your home for improved energy efficiency can help you save on bills, but it may also make your home a healthier place to live. More often than not, there are fewer chemicals in green homes.
Even though new homes and communities are being built to be greener, there are also a number of ways to make your current property a more energy-efficient one. It can be as simple as changing the type of light bulbs you use in your home or updating plumbing fixtures to conserve water. But if you would like to make larger changes, try the following:
Replace old appliances with energy-efficient appliances.

Replace lighting and water fixtures with ones that consume less energy.

Install solar panels to harness the natural power of the sun to produce electricity.

Consider other natural resources, like geothermal heating to produce hot water or larger windows that let in more natural light.

Fit double-pane, low-emission windows to prevent heat from escaping.

Install a green roof (also known as a rooftop garden) that absorbs heat and provides natural insulation to buildings, or install an insulated roof system.

Make use of smart home automation systems, and improve your home's heating systems to control the thermostat and regulate the temperature as necessary.

Skip the air conditioner or opt for an environmentally friendly option. This will also lead to improved air quality.
Make Sure Your Green Building Materials Are Covered
The standard homeowners insurance policy does not typically cover repairing a home using sustainable materials. Usually, it would only pay to make repairs or replacements with the traditional materials used during original construction. Green building materials are different from traditional ones. They are produced more sustainably, are healthier in that they are free of certain chemicals, and are often recyclable.
Insurers offer add-ons to policies to promote using sustainable building materials and help homeowners conserve energy. Ultimately, this helps save them money. For example, some insurers have eco-friendly material replacement endorsements. If your home is damaged by a disaster, you may consider replacing old building materials and other appliances with more sustainable alternatives. Your insurer will cover the cost of the green alternative (up to the policy limit) if you have an eco-friendly material endorsement on your homeowners insurance policy. It is incredibly important to check that you have already purchased this add-on to your existing policy before making any replacements.
Travelers is a good example of an insurance company that prioritizes eco-friendly lifestyles. Its "green home additional coverage" add-on will cover up to 10 percent of replacement costs if you decide to rebuild with sustainable materials. Farmers' "Eco-Rebuild" coverage will pay up to $25,000.
Compare Car Insurance Quotes Instantly
Personalized quotes in 5 minutes or less
No signup required
Insurance Companies May Reward Green Homes
Homeowners who have plans to switch to a more eco-friendly house can save as much as 5 to 10 percent on their home insurance premiums. It is recommended to notify your insurer of what changes you have made with your products and construction methods to be more environmentally friendly. This includes all updates to your appliances (particularly Energy Star–certified products and others that meet new federal environmental standards), roofing, heating and cooling systems, insulation (including windows and siding), and plumbing systems. These areas will have the greatest impact on saving on home energy—in both consumption and bills—and on lowering your carbon footprint.
There are many additional benefits to energy-efficient home buildings, also known as "passive houses." Energy bills tend to be lower, and property value tends to be higher. Green homes are in high demand recently, and an increasing number of people are willing to pay for an eco-friendly design.
In addition, some insurance companies like to reward owners of green homes with discounts. You can receive these for making eco-friendly choices. It can be as simple as going paperless and receiving your home insurance policy documents and bills electronically. This saves trees and waste. You can also replace current appliances with Energy Star appliances and smarter, automated home products that consume less energy. Smart home products can detect when one of your home systems malfunctions, like water sensors that turn off water sources when spotting a leak. Switching to these products not only saves you money in the long run but may also get you a discount on your home insurance policy.
Getting a LEED-certified home discount requires you to take a step or two further. Homes that are LEED-certified meet the U.S. federal standards of the Leadership in Energy and Environmental Design (LEED). Some insurance companies encourage having a LEED-certified home, which promotes energy-efficient home design, and will offer a home insurance discount for this.
Eco-Friendly Homes – Frequently Asked Questions
Business property insurance may cover the cost to replace damage, but it will usually only pay for similar building materials that were used during construction. If you want to use sustainable materials, your business property insurance policy may not cover these costs. Some insurers will offer add-ons to cover green upgrades to a commercial property when replacing the standard materials after a loss.

If you've put in the effort to invest in and adjust to an eco-friendly home, you may want to consider a more responsible insurer that shares similar values on sustainability. Naturesave, ETA, and Ecclesiastical Group are three insurance companies that focus specifically on covering eco-friendly houses. Larger national insurance companies that cover green homes at affordable prices include Travelers, Farmers, Allstate, The Hartford, and American Family.

Check with an insurance agent to see if you can get your current home covered with a green add-on to your current policy. This gives you the option to replace the items in your home with more sustainable materials or energy-efficient appliances. It can also cover rebuilding costs to green certification standards after damage from a disaster. As always, notify your insurer when you decide to make changes or improvements to your home. It could change the value of your home and the amount of coverage you need.
Starting Your Eco Journey at Home
Making the switch to a more eco-friendly home through sustainable materials and energy-efficient appliances can do more than reduce your carbon footprint. Living in a green building can actually help you lower many household bills and earn you discounts on your insurance policy. Be sure to contact your local insurance agent to find out if you qualify for a green discount on a new or existing property. If you meet certain standards on sustainable renovations, you may be eligible for extra discounts.
Before you decide to go green, there are a few things you should consider doing:
Check with your municipality and insurer before making replacements for a more eco-friendly building. Different towns have different requirements for adding solar panels or wind turbines, and while some insurance companies are now extending coverage to green renovations, they don't cover all of them. Sometimes, adding solar panels or a wind turbine can significantly impact the cost of your insurance premium. Before installing, we recommend that you find out what the municipality's legal obligations are for insuring them and then contact your insurance agent to see if it's covered.

Each homeowners insurance policy is different, so be sure to confirm your coverage to make sure your policy has what you need. Most standard policies might not cover the cost of making green replacements to your home. You don't want to be left paying for these expenses out of pocket. Before making any renovation decisions for an eco-friendly house, ask your insurer if it could affect your auto or homeowners insurance policies. Be sure to review your current policies to see if they cover green upgrades. It is advised to always contact your insurance agent first to discuss these changes. You may also be eligible for discounts that you otherwise did not know about.

If you are not covered, you can most likely purchase an add-on to your existing homeowners insurance policy. This will cover the expenses if you decide to switch to a more eco-friendly home design or make sure you are insured for green renovations following damage. Some companies will offer policies that let you buy extra insurance before damage even occurs. This can make sure that extra funds are available prior to making replacements, like improving the energy efficiency of your home or using sustainable materials when renovating.
As always, shop around to find the best value. Be smart when going green on home design. Compare the terms and prices offered on green policies. Insurify can help you determine which policy is best for you, as these policies differ from insurer to insurer. Be sure to get several quotes from multiple insurance companies and ask questions on what is covered, how renovation costs are determined, and if you are eligible for green coverage.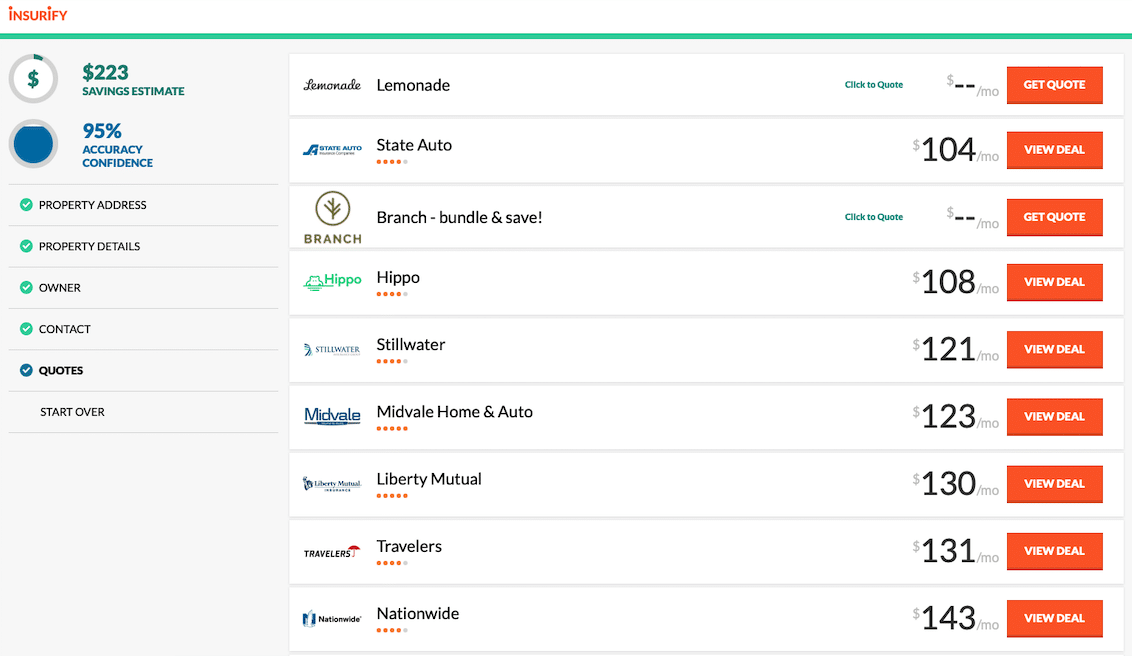 Compare Car Insurance Quotes Instantly
Personalized quotes in 5 minutes or less
No signup required
Data scientists at Insurify analyzed over 40 million auto insurance rates across the United States to compile the car insurance quotes, statistics, and data visualizations displayed on this page. The car insurance data includes coverage analysis and details on drivers' vehicles, driving records, and demographic information. With these insights, Insurify is able to offer drivers insight into how their car insurance premiums are priced by companies.