What is DIC insurance?
Differences in Condition insurance is a policy type that fills in gaps left by standard homeowners insurance policies to ensure all catastrophic perils are covered.
If you've reviewed your homeowners insurance recently, you know that the policy protects your property against a long list of covered perils, including fire, smoke damage, wind, and hail. But these policies often exclude other types of losses, like those caused by earthquakes, flooding, landslides, and mudslides.
That's where difference in conditions (DIC) insurance can make a difference. A DIC policy is a type of commercial and residential property insurance that fills in the coverage gaps left by your main insurance policy. It's often used by larger organizations that need to be protected from catastrophic perils, but it's available for homeowners, too.
These policies are usually provided by surplus lines carriers. These are insurance companies that aren't licensed at the state level and don't have to obey the same underwriting and rating requirements that standard homeowners insurance companies do. They typically take on higher risks than standard insurers would, and they offer all-in-one coverage for earthquakes, floods, landslides, and mudslides combined in a single policy.
Try Insurify to find the insurance agents who can sell you the right DIC policy—and a new homeowners policy if you need that, too. This easy-to-use tool delivers quotes from multiple insurance companies in just a few minutes.
DIC Policy Coverages
There are four specific perils that DIC insurance usually covers. They include:
Earthquakes: Your homeowners insurance probably specifically prohibits covering damage from earth movement, which includes damage caused by earthquakes. Many insurance brokers include direct earthquake loss in their DIC policies.
Flooding: Your standard homeowners policy most likely covers internal water damage if it was caused by a burst pipe or explosion, but it probably specifically excludes property loss caused by flooding. Flood protection is usually included in a DIC policy.
Mudslides: Homeowners insurance doesn't cover mudslides, and separate flood insurance may not cover it, either. If you're at risk for mudslides—say you live at the bottom of a long slope—you should think about investing in a DIC policy so that you have mudslide coverage.
Landslides: Home insurance and earthquake insurance both usually exclude landslides. Anyone in a hazard area for landslides needs a DIC policy.
DIC policies can be tailored to meet your needs, but there are a few common elements in all policies. Like your standard homeowners insurance, DIC coverage comes with a list of covered perils—natural disasters that the policy insures you against. There will be limits for each type of disaster that's covered, plus a deductible that you have to meet before coverage kicks in. The deductible may be larger than what you'll see on a standard policy.
How a DIC Policy Works
This property insurance policy can be your primary coverage, or it can function as excess coverage. It's a primary policy in cases where the peril you're insuring against isn't already covered by another policy. It's an excess policy if you are already covered. If your DIC policy is excess coverage, it will kick in after you reach the coverage limits on your main policy.
As an example, imagine a flood damages your home. Your primary flood insurance policy is worth $250,000, and you also have a $1 million DIC policy. After your primary flood insurance pays out the $250,000 it owes you, your DIC insurance covers the rest, up to $1 million.
Do you need DIC insurance? To figure it out, review your unique situation with an agent or broker, who can look at your current coverage and figure out whether you have the right coverage for the right perils. DIC policies are easy to customize if you need to. For example, you might decide you need more coverage for spoilage than your primary carrier is willing to give you, or your mudslide risk might be significant. An agent can create a DIC policy that works for your situation.
Compare Car Insurance Quotes Instantly
Personalized quotes in 5 minutes or less
No signup required
DIC Coverage and California FAIR Plans
DIC insurance is very common in California, where homeowners insurance routinely excludes wildfire damage. It can be hard for residents to obtain insurance there because of the high brush-fire risk. Many California homeowners have opted to get windstorm and fire coverage through the Fair Access to Insurance Requirements (FAIR) plan and then buy a custom DIC policy that covers things like water damage, theft, and liability.
A difference in conditions policy can also be written to extend the coverage limits for some of the perils in your FAIR plan policy. That way, you can make sure you have adequate coverage for anything that can happen.
Frequently Asked Questions - DIC Insurance
If you're in an area where natural disasters are common or frequent, you probably need difference in conditions coverage. This is especially true if you're in California (because insurers are backing away from writing insurance policies in areas at high risk for wildfires) or if the most common disasters in your area are earthquakes or flooding.

Most DIC policies specifically exclude losses from the enforcement of building codes. Bringing an older building up to code during repair or reconstruction can significantly increase costs. However, all is not lost—some DIC insurance companies offer another type of coverage called building ordinance insurance, which would help cover those costs.

Some DIC policies cover a specific list of named perils, like floods and earthquakes. Others are written on all-risk forms, which means they cover loss or damage from any type of loss that's not specifically excluded. Understand which type of DIC policy you're looking at. It's also a good idea to make sure you understand the definitions of "flood" and "earthquake" because a DIC policy may interpret them differently than a standard policy or the National Flood Insurance Program does.
Investigate DIC Policies for High-Risk Properties
A difference in conditions policy can be hugely useful to homeowners at high risk from perils their regular homeowners insurance doesn't cover. Reach out to a surplus lines carrier today, and discover whether this type of coverage is a good fit for you.
Need a new homeowners insurance policy to go along with it? Try Insurify. This home insurance comparison tool connects you with multiple quotes for home, life, and car insurance with just a few minutes of research.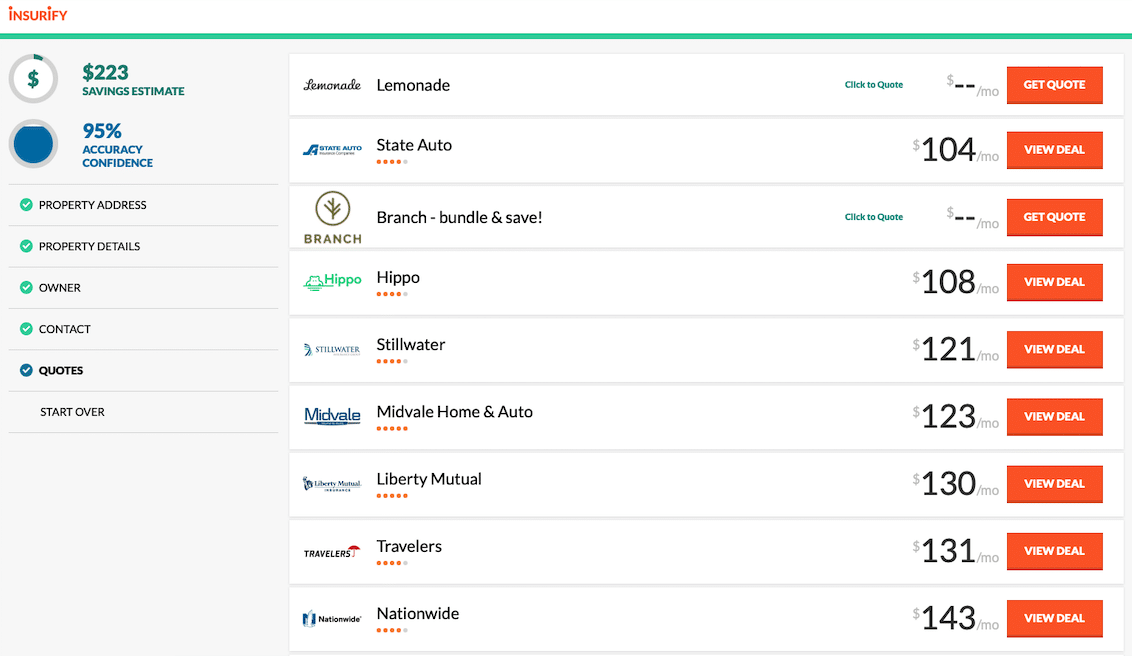 Compare Car Insurance Quotes Instantly
Personalized quotes in 5 minutes or less
No signup required
Data scientists at Insurify analyzed over 40 million auto insurance rates across the United States to compile the car insurance quotes, statistics, and data visualizations displayed on this page. The car insurance data includes coverage analysis and details on drivers' vehicles, driving records, and demographic information. With these insights, Insurify is able to offer drivers insight into how their car insurance premiums are priced by companies.