Why you can trust Insurify
Blog
Home Insurance
Change Of Address Checklist Everything You Need To Move Smoothly
If you're moving to a new address, does it make sense to make a change of address checklist?
Definitely. Moving to a new home always requires way more than simply moving in, especially given that your new address is not automatically known to various service providers and government agencies.
Moving into a new place can be an exciting new chapter in anyone's life. However, the whole process—from scouting new homes to finally moving in—can be labor-intensive and full of things you can do to make the transition more seamless. One extremely important thing you will need to do is change your address as it appears in all the places where people and agencies look to find you. While changing your address might not be the hardest thing to do, being thorough in updating your address can save you considerable headaches in the future.
Want to get rid of another headache? Use the Insurify home insurance comparison tool to save on your home insurance policy. It's free and confidential to use. Make a purchase only if the price is right. Try it today!
The Checklist: Who Do You Notify When Moving to a New Address?
Whether they're as big as government agencies or as small as your child's day care, the companies and people you are tied to will need to know your new location. While many larger entities will have change of address forms that you can access online, others may offer these in person. Either way, here's a list you should consider when figuring out who to give an updated address:
- Government Agencies

- United States Postal Service: Updating your address with the USPS will ensure that you keep receiving physical mail and packages without interruption. There are different ways to update your address with USPS, like walking into your local post office and requesting a change of address form or simply visiting the Change of Address page on the USPS website.

Social Security Administration: If you are or will be receiving benefits from Medicare or Social Security, you will need to update your address via the SSA website.

Department of Motor Vehicles: Whether you are moving out of state or across town, the DMV requires by law that you update your address within 30 days of moving. While the DMV gets a bad rap for long lines and wait times, it can actually help you update the address on your vehicle registration, passport, driver's license, and voter registration. Also, in some states, some of the change of address forms can be found online.

Internal Revenue Service: Obviously, no one wants to run afoul of the IRS. In order to make sure your tax information stays up to date, you can fill out and submit an 8822 Tax Form.

- Utility Companies

- Gas and Electricity: If you're moving across town, you'll need to inform your gas and electricity providers so that they can switch service to your new address. If you're moving across state lines, you'll need to cancel your current provider account and open a new account with a company that services your new home.

Phone, Cable, and Internet Provider: Similar to the previous item on our list, you'll need to either update your address with your current providers or open a new account if your current providers do not service your new address. While some providers bundle phone, cable, and internet services, this may not be the case for you, and you'll need to update with each individual provider. (Note that this will likely be the case for you if you prefer/require landline service.)

Water: You won't last long in your new home without water, so be sure to check with your water provider to make sure they get your updated address. If you're moving out of state, you'll likely need to close your current account and open a new one with the local water provider.

- Financial Institutions

- Banks/Credit Unions: Though many banks and financial service providers now offer practically all of their services online, they can still send you important physical documents, such as statements or new debit cards. Be sure to update your address with your bank to make sure that those sensitive materials continue going directly to you. For credit unions, be sure to update your address prior to moving day.

Online Payment Services: Applications like Venmo and PayPal utilize your address to verify proper billing information. Be sure to update your address in these accounts so that payments from you are not declined due to an inaccurate billing address.

Credit Card Companies: Much like banks, credit card companies might send you physical things, like statements or new cards. Updating your address will ensure that these things keep going to you without issue.

Long-Term Financial Account Administrators: If you have a 401(k), IRA, or other long-term retirement accounts, you'll need to give the administrating companies your new address in the case that they need to send you physical documents.

Lenders /Loan Collection Agencies: Much like many of the previous items on this list, if you have student loans or private loans, you'll need to let those lenders know where your new address is so that they can update your contact information. The same goes for credit reporting agencies.

- Insurance Providers

- Homeowners / Renters Insurance: Informing your insurance company of an address change is important to make sure that your new home is properly covered.

Car Insurance: It might make sense to check with your insurance company to make sure that they have resources for you if you're moving to a new area. Otherwise, you may also need to check with them to make sure you don't have to modify your coverage on account of the move.

Health, Dental, and Life Insurance: It's always a good idea to keep things like health insurance policies up to date, including making sure that these accounts are tied to your new address. You wouldn't want to have a claim denied because you forgot to update your mailing address.

- Other Services

- Streaming/ Online Services: Though they'll typically use your internet IP address to determine limitations, streaming services like Netflix will require you to update your billing address.

Retail Shopping Websites: While you can buy almost anything on Amazon or eBay, it won't do you much good if your purchases are getting shipped to an old address.

Subscription Services: Though many magazines and newspapers have transitioned to delivering their content online, you'll need to update your address to make sure your billing information is still accurate and to receive physical copies.

Retail Memberships: If you're a member of Costco or a gym, you'll need to update your address, given that your new location may affect your membership status.

- Individuals

- Friends and Family: Those close to you will need to know where to find you and your new place.

Doctors, Veterinarians, Lawyers, and Accountants: Any professionals that you regularly interact with will need to know of your new address. If you're moving outside of their service area, they may also be able to refer you to reliable colleagues.

Employer: Having an up-to-date address with your employer is extremely important, especially if you receive physical paychecks mailed to your home.
Is There Anything I Should Consider Before Changing My Address?
There are a handful of things you'll want to double-check before changing your address across all necessary areas. The first and most important is to make sure that you have the correct address. You will save yourself a big headache by ensuring that you have the correct spelling and number for your new address.
In that same vein, you should note whether your change of address is permanent or temporary. Obviously, if you're making a permanent move, then definitely go ahead and notify all relevant entities of your new address. However, if your move is temporary (such as if you're spending some months in a vacation home), you can work with the post office to set up a temporary change of address, which will ensure that your mail is forwarded to your temporary location for a period of time.
One last thing to consider is who else will be moving with you. If you're the head of a family and moving to a new location, you will need to include everyone who will be changing locations in some change of address forms, particularly those for the USPS.
Compare Car Insurance Quotes Instantly
Personalized quotes in 5 minutes or less
No signup required
What Can I Do to Streamline the Change of Address Process?
There is plenty you can do to set yourself up for success and make your change of address as smooth as possible.
The first thing you should do is make your own checklist. While the checklist above seeks to be as comprehensive as possible, not everyone has an accountant or Netflix subscription. With this in mind, make a checklist that is exhaustive of your specific situation. Keeping such a list will help you keep track of where you've already changed your address and where you'll need to update it.
In addition, given how many resources, forms, and processes can be found and completed over the internet, check to see what you can complete online. As mentioned previously, the USPS change of address form can be found and submitted online, and such is the case for a wide array of services. You could save yourself a lot of time and energy by knocking out change of address forms online.
Lastly, make sure you have any relevant information readily available to fill out forms. Do a lot of forms ask for your SSA number? It would help to have that number ready. Questions about emergency contacts and phone numbers? Have those individuals and their contact information ready. The more information you have ready to go, the easier it'll be. In general, you'll want to have the following information ready:
Your new address

Relevant account numbers

Relevant phone numbers

Relevant account passwords

Your credit card number (in the event that you're also required to update a payment method)
FAQ: Change of Address Checklist
No, the USPS does not charge anything at all in changing your address, regardless of whether you complete the process online, over the phone, or in person. The same should go for virtually all other entities, though it's always a good idea to check in case an entity tries to charge you a service fee.

Moving can be a long and chaotic process that can take months of planning, budgeting, and moving. Generally speaking, you want to get started updating your address roughly two weeks prior to your moving day. You'll also likely be continuing to update your address with various entities in the days following your move.

As you start settling into your new location, keep an eye on any mail that's being forwarded to the new address, as any bits of mail that you find missing could tip you off to places where you haven't yet updated your address.

Yes, any local/residential services will need to know that you will be relocating.

For example, if there's a service in your neighborhood that handles lawn-mowing, it would be a good idea to let them know that you'll no longer be living at the address that they are servicing. This can save them any confusion as to whether your address still needs to be worked on, and more importantly, you can save yourself from receiving any charges or invoices that result from not notifying them.
Make Your Own Checklist!
As mentioned previously, the checklist above will likely include a lot of entities with which you'll need to update your address. However, your situation may or may not require you to cover everything on the list. The best thing to do is to make your own checklist so that you can keep track of who you still need to notify. The checklists don't even have to stop there, as they can help you organize virtually all of your to-dos when it comes to relocating.
And don't forget: when you move you should review your home insurance costs. The Insurify home insurance comparison tool can make this easy. Fill out one short and confidential form to get 6+ quotes from top insurers in your area. Saving on home insurance has never been easier!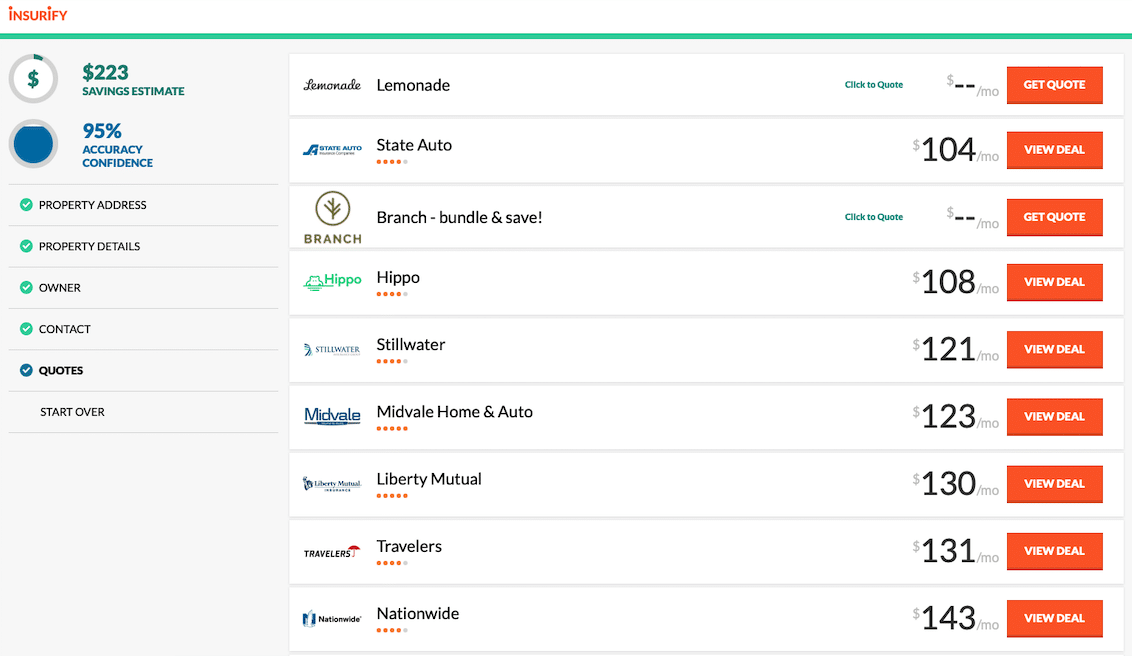 Compare Car Insurance Quotes Instantly
Personalized quotes in 5 minutes or less
No signup required
Data scientists at Insurify analyzed over 40 million auto insurance rates across the United States to compile the car insurance quotes, statistics, and data visualizations displayed on this page. The car insurance data includes coverage analysis and details on drivers' vehicles, driving records, and demographic information. With these insights, Insurify is able to offer drivers insight into how their car insurance premiums are priced by companies.