What do I do if I cannot make my mortgage payment?
Contact your mortgage lender right away. Mortgage companies occasionally offer struggling homeowners temporary reductions to their monthly payments and their history with the company. Lenders may even allow for smaller down payments depending on the situation.
The coronavirus pandemic has left many Americans struggling to pay their mortgages. Even with temporary eviction moratoriums, the inability to pay your mortgage bills on time is not a fun experience.  While this is an extremely stressful situation, homeowners who can't pay can find many options for help.
This article will detail your best options and best practices for getting mortgage loan assistance. We're sorry that you're experiencing a tough time right now, but we promise you have many options—and there's definitely a light at the end of the tunnel.
Remember: your mortgage company is better off negotiating your home loan with you than going through the hassle of repossessing your home and selling it. Don't be afraid of contacting your lender. In fact, the earlier you reach out, the better you'll be.
But before you run to the phone, you should absolutely do some preparation. Your lender will appreciate it. Plus, you'll be in a better position to know a good plan from one that won't work.
Did you know? Insurify helps you compare home insurance rates fast. Finding affordable, full coverage insurance is what we're about. Start with your ZIP code; end with the right insurance policy for you.
Know Your Finances
This first step is very important, so do not skip it. You need to know exactly what you can right now and in the near future. You should look at your budget or banking records to get the big picture of what's going on. Things you'll want to make note of:
Your financial hardship: if you lost your income, you'll need proof of that loss.

Other bills due now and in the near future.

The time horizon of this setback: is it short-term or long-term?

Any special circumstances you're under and your lender should know, for example, a family member who requires special assistance.

Places in your budget where you can make cuts.
Be careful with credit cards, treat them like cash, and never get carried away unless you're in a financial crisis. This will support long-term credit health.
That last step is important. If you can't make your entire mortgage payment, you may be able to make partial payments. Your lender will want to know exactly what you can afford. The more you can afford the better off you'll be. So don't be afraid to cut the fat from your budget.
Know Your Options When You Can't Pay
When you can't pay your mortgage, you have quite a few options. Thanks to legislation from the aftermath of the housing crisis, there are several ways you can get assistance. Your lender may have a preference, but you should advocate for the option(s) that works best for you. Also, beware of late fees, which can make an already terrible experience even worse.
| | |
| --- | --- |
| Reinstatement | For missed payments. You pay the entire past-due amount plus any fees to become current on your account. |
| Repayment Plan | For missed payments. You and your lender decide on additional monthly payments until your mortgage is current. |
| Forbearance | You pay less or nothing on your mortgage for a set period of time. At the end of this period, you use a repayment plan or pay a lump sum to get up to date. |
| Loan Modification | Your lender changes the terms of your mortgage so that you can afford your mortgage. For example, extending the length of your loan to reduce your monthly mortgage payment or refinancing your loan to lower your interest rate. |
| Sell Your Home | If the real estate market is good, selling your home may be a very good option. This allows you to pay off your loans, protect your credit report, and downsize to a more affordable space. You may be able to do a short sale if you owe more than your home is worth. |
| Bankruptcy | This is a very serious step and should only be approached as a last resort. With a Chapter 7 bankruptcy, you lose your home in a settlement. With Chapter 13, you keep your home and modify your loan. Both affect your credit for at least 10 years. |
Special Assistance Programs
Beyond the usual options, some homeowners may qualify for additional assistance through federal programs. Be sure to check out resources from the Department of Housing and Urban Development (HUD) and the Consumer Financial Protection Bureau for resources.
In the past, federal programs like Home Affordable Refinance Program (HARP) and Making Home Affordable Modification Program (HARP) were the go-to for stressed homeowners. Unfortunately, those programs have been closed. But there is still assistance from the federal government available to you. Contact (888) 995-HOPE (4673) to speak with a housing counselor at no cost. Counselors are from Green Path, a non-profit organization.
A word of caution: fraudsters are known to pose as federal mortgage relief counselors. Often they use the word hope in the email name or website. These scams are dangerous! Fraudsters have been known to trick homeowners into signing over their deeds. If you think you are the victim of fraud, please call (888) 995-HOPE (4673) option 3 for assistance.
Compare Car Insurance Quotes Instantly
Personalized quotes in 5 minutes or less
No signup required
Finally, Contact Your Mortgage Lender
Okay, you've put a lot of work into this, and you're ready to self-advocate! This deserves at least a couple of pats on the back. It's not easy to do all this busy work in the middle of a pandemic. It's not easy to deal with financial hardship at any point.
Keep all the information you've gathered nearby in case you need it during your call. Be upfront and honest about your situation. Be sure to detail what's changed in your life, how you're affected, and how many more loan payments you can make.
The work you put into reducing your expenses? Now's the time to bring that up with your lender. Even better if you have evidence of this reduction, for example showing the difference between your current budget and one before financial hardship. The reason this is so important is that it shows you are making efforts to make your payments. It shows that you are taking this just as seriously as your lender does.
The mortgage specialists with your lender see things like this every day. Rest assured that they will take you seriously and, if you've done your homework, they will be relieved to be working with a competent homeowner like you.
Finally, document everything you can in writing. Keep notes of all your phone calls, who you speak to, and what was discussed. Be sure to meet the requirements your lender lays out and turn in supporting documents on time. Any time you send something to your lender, be sure to use the "return receipt requested." This means your lender will notify you that your documents were received. Keep all your records together and organized.
Frequently Asked Questions When You Can't Pay Your Mortgage
Once you miss the second mortgage payment, your loan goes into default. The federal government has put a 60-day suspension on foreclosures during the coronavirus pandemic, so be sure to speak with your mortgage servicer about how that suspension affects your case.  After three months, you'll get a letter from your lender notifying you to pay your missed payments and late fees in full within 30 days. If you still haven't paid or worked out a plan with your lender, foreclosure will typically begin.  However, if you contact your lender before the first missed payment, you may avoid default, foreclosure, and many fees.

You can avoid foreclosure by contacting your lender as soon as possible and knowing exactly what you can afford. You may find that selling your home is necessary if you won't be able to afford the home in the future. This may sound hard, but it's better to sell your home and downsize than go through a foreclosure.  Sometimes setbacks are temporary. Sometimes they're not. If you need to downsize your home, then downsize your home. The relief of owing less on your mortgage will be a huge payoff to an otherwise difficult process.

Do you have a friend or relative who can move in with you and pay a portion of your rent? If so, you may want to consider adding them to your household. However, if you want to rent out the entire home to another family, you should do so carefully.  When you rent out your home, your home becomes an investment property. As such it will be treated differently for insurance and for mortgage assistance. So be careful! If you go this route, the rent must be higher or even with the entire cost of your home. That includes the mortgage loan, higher home insurance premiums, cost of repairs and maintenance, and cost of utilities if you're required to cover them.
If You Can't Make Your Mortgage Payments: The Bottom Line
When you can't pay your mortgage, it feels like everything is falling apart. That anxiety is totally normal and is now exacerbated by COVID-19. Even so, you do have the power to address these difficult circumstances. And you have many options that won't negatively affect your credit score. Just remember: prepare and act early! Borrowers beware, loan servicers, mortgage servicers, and credit bureaus are right there to greet you when they're ready for foreclosure.
Preparation also helps you save on home insurance when you shop with Insurify. Our free rate comparison tool lets you shop providers, compare coverage, adjust limits, and buy within minutes. Try it today!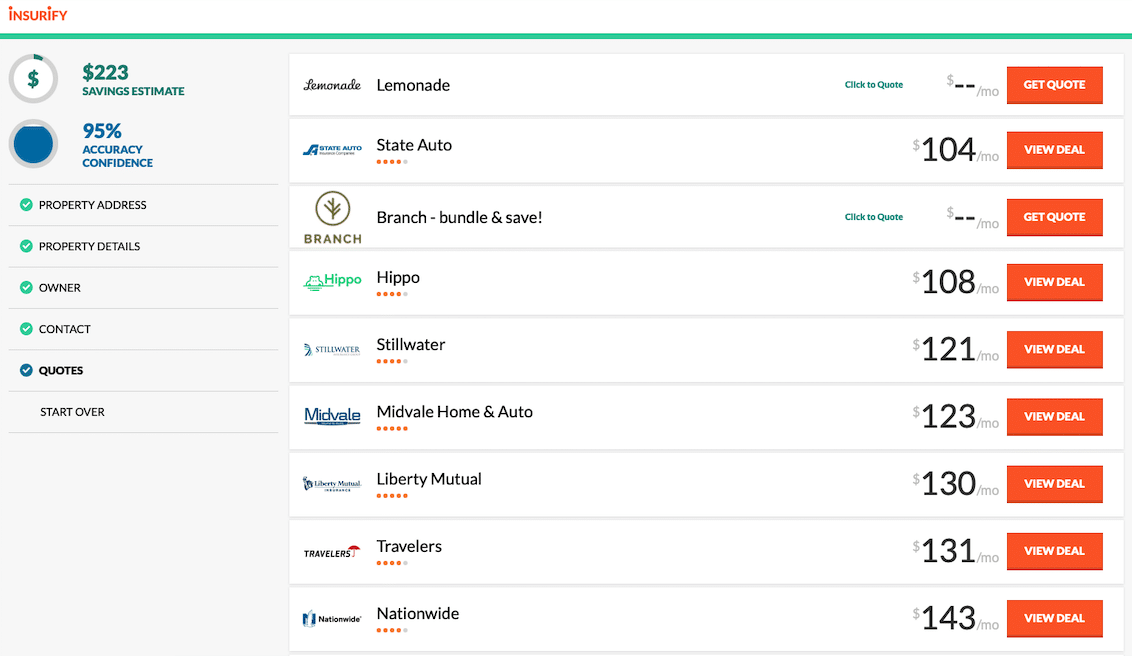 Compare Car Insurance Quotes Instantly
Personalized quotes in 5 minutes or less
No signup required
Data scientists at Insurify analyzed over 40 million auto insurance rates across the United States to compile the car insurance quotes, statistics, and data visualizations displayed on this page. The car insurance data includes coverage analysis and details on drivers' vehicles, driving records, and demographic information. With these insights, Insurify is able to offer drivers insight into how their car insurance premiums are priced by companies.