What is Airbnb insurance?
Airbnb insurance offers hosts' financial protection as part of their contract with the home-sharing service.
If you're thinking of joining the 660,000 (and growing!) people who rent out their homes, apartments, condos, RVs, and more on Airbnb, you might wonder how your homeowners insurance coverage or renters insurance policy jives with your plans to earn some extra income.
There's no need to comb through your insurance coverage documents to determine if Airbnb home-sharing is a safe and sound option for you. Instead, we'll lay it all out here.
Insurify lets you compare home insurance companies with just a few clicks in only a few minutes. Insuring your first home? Compare, Save, and Discover on home insurance quotes today and unlock discounts in your area.
Airbnb Insurance for Renters
If you're a renter, tread carefully. Many leases prohibit listing your place on Airbnb, VRBO, and other similar short-term rental services. Some leases even have clauses that expressly forbid any kind of "business activity" in your rental property, and short-term rentals arguably fall within that category. If you decide to go ahead anyway, you do so at your own peril. You may face fines or eviction if you break your lease terms, so we highly advise against this.
However, suppose you've reviewed your lease and landlord policy, and you're confident that hosting on Airbnb is above board. In that case, the good news is that you don't have to worry about your renters insurance policy covering third-party claims or personal liability if someone gets hurt in your home. Airbnb actually has its own form of insurance called host protection insurance (more on that below). Airbnb hosts are automatically covered by this policy—you don't need to do anything to register or sign up for it.
Airbnb Insurance for Homeowners
Property owners generally have fewer hoops to jump through to be Airbnb hosts. Still, your city may have specific regulations or restrictions dictating how you manage your short-term vacation rental. But since this is an insurance blog, let's keep the focus on insurance coverage.
Like renters, homeowners who become Airbnb hosts are covered by Airbnb's own host protection insurance. And, like renters, you don't need to do a thing to be covered. It happens automatically once you list your home.
Most standard homeowners insurance policies don't cover Airbnb or similar home-sharing services, which is why Airbnb offers its own host protection insurance program. Whichever company you choose, make sure your policy covers liability protection and you don't skimp on supplemental insurance products. There are insurance options for Airbnb hosts that further protect hosts from damages that would not be covered under normal landlord insurance or business insurance and will protect your rental income.
Compare Car Insurance Quotes Instantly
Personalized quotes in 5 minutes or less
No signup required
Get to Know Airbnb Host Protection Insurance
Becoming an Airbnb host can be a process that's fraught with anxieties. Even if you don't rent out your primary dwelling (some people buy properties solely to act as Airbnb rentals), it can be nerve-wracking to allow complete strangers to post up at your place for a few days. But how exactly does this type of insurance coverage work?
Airbnb Host Protection: Liability Coverage for Guests
Airbnb's host protection insurance is a legitimate form of liability insurance coverage underwritten by Lloyd's of London and Zurich Insurance, two well-regarded international insurance carriers. Host protection insurance does exactly what its name implies: protects hosts like you from being sued by guests. This service provides up to $1 million in protection against bodily injury and property damage claims.
For example, if an Airbnb guest stumbles on your staircase and is injured in your Airbnb, host protection insurance protects you if they decide to sue. If an international guest damages her European hair straightener in your American outlet, host protection insurance will likely cover the cost of the straightener.
How is Airbnb insurance different from the Airbnb Host Guarantee?
Host protection insurance typically protects hosts from litigation. Another service offered by Airbnb, the host guarantee, is more comparable to an insurance policy for your stuff—your "personal property" in insurance parlance. Like host protection insurance, the host guarantee offers up to $1 million in coverage. But in this case, it's dedicated to covering your belongings rather than reducing your liability. Host guarantee coverage doesn't cost anything and is automatically applied to every listing. In short, the host guarantee covers property damage caused by guests—whether it's a stain on your rug or a stolen statuette.
Of course, there are some caveats to this type of insurance.
Host guarantee coverage only applies to property within the listing itself. If your listing is for one room in a larger home, the host guarantee insurance coverage will protect anything within that room. Items and property in common areas (like a lobby, shared kitchen, or entryway) are not protected—however, common areas are covered by Airbnb host protection insurance, which we covered earlier.
The Airbnb host guarantee also won't cover the typical wear and tear incurred by hosting multiple short-term guests. For example, a mattress that sags after dozens of people sleep on it isn't eligible for coverage—that's expected wear and tear. The same principle applies to permanent fixtures that show evidence of daily life, such as loose doorknobs, tarnished faucets, and dulled wood floors. Wear and tear is an inevitable part of Airbnb hosting and is different from accidental or intentional acts that cause damage.
Finally, high-value items often have reduced coverage under this type of policy. If you're fond of priceless antiques or one-of-a-kind works of art, it's probably wise to keep them out of your Airbnb.
Home-Sharing Insurance and Coverage for Pet Damage
Many potential Airbnb hosts struggle to decide whether to allow their guests to bring pets. It's a bit of a double-edged sword; while you can likely differentiate your listing from the competition by allowing pets, Airbnb's host guarantee doesn't cover damage caused by pets. And, as we all know, the potential for pet damage in a rental is sizeable.
As a host, t he choice rests solely with you. But it's essential to have all the facts before making this critical decision. You may initially opt to allow pets as on a trial basis—you can always change your policy later on.
Airbnb Insurance for Guests
Airbnb wants everyone who uses their service—hosts and guests alike—to have a positive experience. Remember that the insurance policies we discussed here don't just protect your hosts. They also protect you in case anything goes awry during your stay.
If you abide by the host's rules, you probably don't have a lot to worry about. But accidents happen! If you inadvertently damage something in your host's home, the Airbnb host guarantee has your back. And the host protection policy offers a buffer of insurance coverage should you get hurt and decide to sue. It's unlikely that your host will need to pay your liability insurance claims out of his or her own pocket.
Airbnb Insurance - Frequently Asked Questions
Do I need special home insurance if I host an Airbnb?
Airbnb offers their hosts liability protection known as Host Protection Insurance which covers claims of bodily injury and property damage up to $1 million. Most homeowners insurance companies allow their policyholders to host on Airbnb or other home-sharing services without supplemental coverage, but if you're renting out an apartment within a larger building, or if you're renting from a landlord, you'll want to get their permission before listing your place online.
If a guest destroys my place while renting it out on Airbnb, how much is covered?
With proper coverage from Airbnb's Host Protection Insurance as well as their Host Guarantee, owners of Airbnb rentals should have peace of mind that they'll be covered in case of damage from a guest. That being said, those who rent their places out online should still ensure they have sufficient homeowners insurance policies. You can compare home insurance quotes and coverage options on insurify.com.
Is it illegal to rent out my apartment on Airbnb if I do not own it?
You should never list your apartment or home on Airbnb or any other home-sharing website if you do not own the property without explicit permission from the owner or property management. If you rent out your place and something goes wrong, you will be liable for damages your guests may cause.
Airbnb Insurance: The Bottom Line
Protecting your Airbnb property is vitally important. Even more important is sufficient homeowners insurance which will be your first line of defense when anything goes wrong in your home. From liability claims to personal property coverage, options for your short-term rental insurance are readily available.
Count on Insurify to help you secure cheap home insurance providers that work for you. Say goodbye to your insurance agent for good! Compare quotes, unlock discounts, and discover insurers who'll cover you, your guests, and your belongings 365 days a year.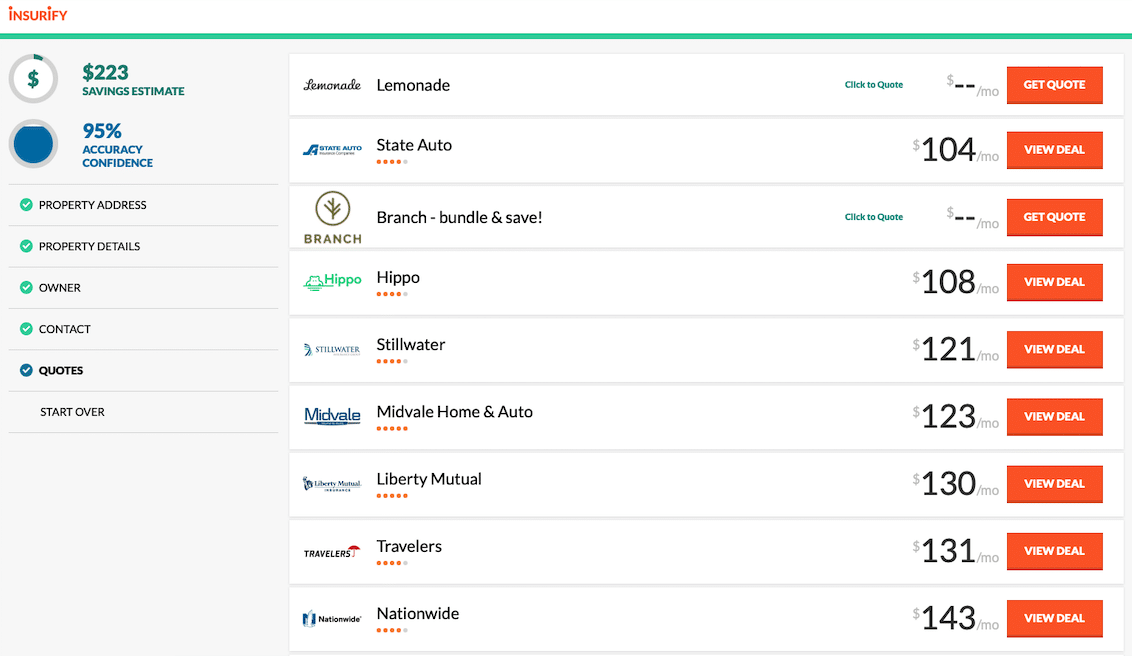 Compare Car Insurance Quotes Instantly
Personalized quotes in 5 minutes or less
No signup required
Data scientists at Insurify analyzed over 40 million auto insurance rates across the United States to compile the car insurance quotes, statistics, and data visualizations displayed on this page. The car insurance data includes coverage analysis and details on drivers' vehicles, driving records, and demographic information. With these insights, Insurify is able to offer drivers insight into how their car insurance premiums are priced by companies.