If a natural event damages your home, will you be on the hook for repairs? The answer is complicated.
Most home insurance policies cover damage from bad weather, like windstorms, lightning, and hailstorms, as well as certain natural disasters, including wildfires, hurricanes, and tornadoes. Natural hazards that are out of human control are often referred to as " acts of God." Homeowners insurance will protect you from many acts of God, but not all of them—floods and earthquakes are usually not covered. You'll need additional coverage to be covered against flood- and earthquake-related losses.
The line between covered and not covered can also be fuzzier than people realize. For example, think of a fire. An accidental fire in your house is not an act of God because accidental fires are usually preventable. But fires caused by lightning strikes fit the definition of an act of God because no one is at fault.
Here's everything you need to know about acts of God and insurance providers.
Not sure whether your insurance policy covers certain acts of God? Review your policy, or shop for a new one with Insurify. This easy-to-use tool lets you get quotes from multiple insurers with just a few minutes of research, saving you time and money.
Disasters Covered by Homeowners Insurance
Certain disasters are usually included in insurance coverage. The natural events typically covered include:
Hurricanes: Hurricane-force winds and wind-driven rain are usually covered. However, hurricanes can lead to storm surges and flood damage, which aren't covered in standard policies. Policyholders who live in hurricane-prone states should add flood insurance to make sure they have comprehensive coverage against hurricane damage. The insurance industry also regularly excludes wind damage from coverage in certain communities with frequent hurricanes. Make sure your policy covers windstorms, or look into windstorm insurance.
Tornadoes: Tornado-strength wind damage is usually covered by homeowners insurance. However, your insurer might require a separate wind/hail deductible if a tornado damages your house. Your policy may also cover water damage from wind-driven rain if the tornado damages your roof and lets in water.
Lightning: Most homeowners insurance policies cover damage from lightning, including fire and power surges.
Wildfires : Most homeowners insurance policies cover fire and smoke damage from wildfires, but homeowners in areas like California, where there are a lot of wildfires, may have trouble getting coverage against this particular peril. If you're having trouble getting insurance in your area, you have a few options. Look into surplus or excess lines carriers that specialize in high-risk homes, or buy a Fair Access to Insurance Requirements (FAIR) plan, which is a high-risk insurance pool that most states offer.
Volcanic eruptions: Your insurance probably covers volcanic eruptions, as well as the shockwaves, fire, ash, and lava flows that can accompany them, but there are a few exceptions. Damage from ash is usually only covered if it causes a specific physical loss on your property; your policy won't pay for it to be removed.
Acts of God Not Covered by Homeowners Insurance
Not all natural disasters are covered by a standard homeowners insurance policy. Two major natural causes of damage usually aren't covered—floods and earthquakes. You need separate insurance to cover both of these.
Floods: Water damage is usually covered if it's sudden and accidental, like when a pipe bursts, but homeowners insurance doesn't cover backups, gradual leaks, or flooding. People in flood-prone areas need to buy flood insurance through the National Flood Insurance Program to cover their homes. Your lender may require you to buy flood insurance if you live in a flood hazard area.
Earthquakes: Quakes are not covered under standard home insurance policies. You need stand-alone earthquake insurance or an earthquake endorsement on your existing policy if you want to be covered.
Compare Car Insurance Quotes Instantly
Personalized quotes in 5 minutes or less
No signup required
How to Protect Against Natural Disasters
Not sure whether your policy covers natural disasters? Don't panic. Figure out whether you're covered with these tips.
Ask your insurance agent. The terminology that your insurer uses may vary from other insurers. Some policies may have a specific "act of God" clause, while others just refer to risks and perils. Ask your agent what is specifically covered and not covered in your policy. Understand all the exclusions in your policy—for example, it's common for policies to exclude damage to fences, gates, and sheds.

Figure out whether you need more or different insurance. Evaluate your policy, and determine what your insurance covers. You might need to upgrade your policy or take out a separate one to cover circumstances like flooding.

Understand your risk. Report your risk level honestly, and figure out what it is if you don't already know. Your insurer can help you with this. Don't leave anything out or embellish if you have to submit a claim.

Make sure your property is well maintained. Even if a particular act of God is covered, insurance companies may not pay if they don't believe you took reasonable measures to prevent the damage. For example, if you let your roof fall into disrepair, it may be more vulnerable to damage during a blizzard. Make sure your property is well-maintained by doing things like checking drains, fixing wear and tear on the roof, repairing broken fences and cracks in walls, and cutting down any rotting trees. Be prepared to prove that you maintained your property well if you have to make a claim.
Act of God Insurance - Frequently Asked Questions
Floods and earthquakes are typically not covered. You need to add separate flood or earthquake insurance for damage from these sources to be covered.

Insurance is based on risk assessment, and that includes "act of God" coverage. People in areas prone to certain types of disasters—say, wildfires in California—may find that coverage for those perils isn't standard. Talk to an insurer about a separate policy if you find that's the case for your area.

If the insurer believes your property was in disrepair, they may dispute whether the act of God was really responsible for the destruction on your property. For example, if you have a run-down shed that's barely standing and a windstorm knocks it down, your insurance may not pay because you should have made sure it was structurally sound before the storm. Take steps to reduce the risks on your property, and be prepared to show your insurer evidence that everything is in good repair.
Review Your Policy and Protect Your Home
When it comes to reviewing your policy to make sure the main acts of God are covered, it's better late than never. Look at your policy and talk to your insurance agent today to make sure you're covered against the biggest risks in your area.
Don't like what you find? Purchase add-ons for your policy, or shop for a new one with Insurify. In just a few minutes, you could have cheaper, more comprehensive coverage.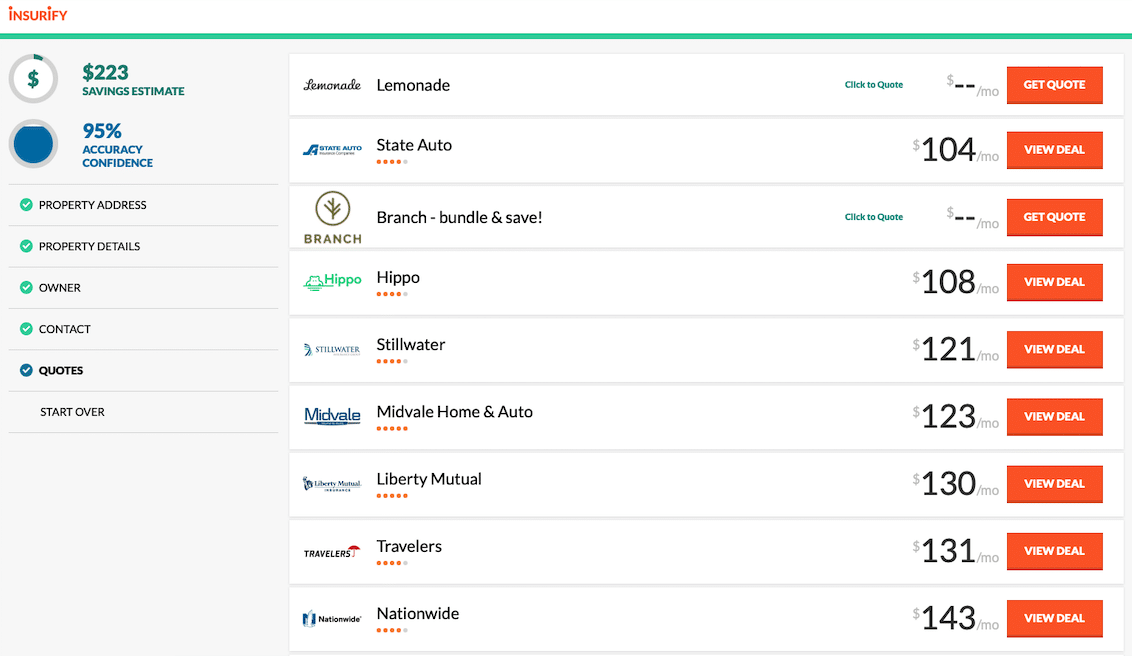 Compare Car Insurance Quotes Instantly
Personalized quotes in 5 minutes or less
No signup required
Data scientists at Insurify analyzed over 40 million auto insurance rates across the United States to compile the car insurance quotes, statistics, and data visualizations displayed on this page. The car insurance data includes coverage analysis and details on drivers' vehicles, driving records, and demographic information. With these insights, Insurify is able to offer drivers insight into how their car insurance premiums are priced by companies.