There are a reason trampolines fall under a category called attractive nuisances. As a source of fun and great exercise for both children and adults, trampolines can also pose a large risk of injury for anyone who uses one. Because of the risk trampoline injuries may pose, home insurance rates are generally higher for homes with one of these fun toys in the backyard.
In general, homeowners insurance offers protection for your home and belongings in the case that they're damaged or destroyed by a covered peril. Policies can also protect homeowners from personal liability and/or medical expenses in the case that someone is injured on their property.
Before making the purchase of a trampoline for your backyard paradise, consider the risks involved, and check with your homeowners policy to familiarize yourself with the changes adding a high-risk item may have on your coverage. Here's your guide to homeowners insurance with a trampoline.
Protect your home and personal property with sufficient homeowners insurance. Use Insurify to compare dozens of quotes in minutes.
How Trampolines Affect Homeowners Insurance
If you've recently obtained a trampoline for your yard, there are a few steps you will want to take to ensure proper safety and coverage. Your insurance coverage will have to reflect your new purchase. With your new trampoline (or pool, dog, or other attractive nuisance) it's a good idea to consider a personal umbrella policy (PUP). A PUP increases your liability coverage limits in case of litigation after a lawsuit. Personal umbrella policies protect homeowners.
Not all homeowners insurance policies will cover risks associated with trampolines.
Homeowners insurance companies may write policies pertaining to trampolines in one of three ways:
Trampolines (and injuries/litigation associated with them) are covered

Trampolines are covered under certain circumstances

Trampolines are excluded under all circumstances
Some insurance companies may have a clause in their policies called a trampoline exclusion. If the words "always excluded" are included in your home insurance policy, an insurance company may cancel your policy or outright refuse you coverage if you obtain a trampoline.
If Trampolines are Covered
If your policy has no exclusive trampoline exclusions, your trampoline should be covered under every circumstance.
If your trampoline is covered under your homeowners insurance policy, in the case that a guest is enjoying your trampoline, loses control, and suffers a serious injury, the personal liability coverage on your policy will provide relief for emergency room and medical bills and/or legal expenses in the case of a lawsuit.
If trampolines are covered under your policy, accidents aren't the only thing you're protected from. If your trampoline is damaged in a storm or other uncontrollable circumstance, your personal property coverage may also cover repairs or replacements.
If Trampolines are Covered Under Specific Circumstances
Some policies may provide coverage even if you have a trampoline, but only if you abide by certain rules.
Your policy may cover trampolines under a specific category called attractive nuisances. This category may also include other fun backyard activities like swimming pools, tree houses, and diving boards. Some companies may only cover these attractive nuisances under certain conditions. In terms of special circumstances, some insurers may require a safety net to surround the trampoline in order to be covered. If you fail to protect jumpers with specifically stated safety precautions like a net, your personal liability coverage may be nullified.
If Trampolines are Excluded
If you own a trampoline, you may get bounced from some insurance policies.
If the entire concept of trampolines is explicitly excluded or left out of your home insurance policy, insurance companies may deny you coverage if you own or obtain a trampoline. Alternatively, they may simply exclude the property and let you keep the homeowners policy. If you need a trampoline, but your homeowners policy is refused if you own one, you'll need to shop around for a new insurance policy. You can do this easily by using Insurify to compare home insurance quotes in two minutes, for free.
Other Coverage Options for Trampolines
If you own a trampoline or other attractive nuisance that may be considered hazardous, a personal umbrella policy (PUP) may be a wise investment. These policies protect a homeowner financially in the case of legal fees from an ensuing lawsuit, medical payments if a guest is injured on your property, and large liability claims if you exceed the coverage limits of your home or auto insurance policies.
In general, umbrella policies increase liability coverage in million-dollar increments. This means that if your homeowners insurance covers $300,000 of liability coverage, your umbrella policy coverage will bump that up to $1,300,000 in liability protection. Consider the Risks.
There's a reason policyholders face larger home insurance premiums if they have a trampoline in their backyard. Insurance carriers charge homeowners more if they have an attractive nuisance because of the major risks they pose to your family and neighbors' health and safety.
If you allow trampolines on your property, be familiar with the risks, take the necessary safety precautions, and ensure your liability insurance will cover you in case you need it. Limit those somersaults and try not to get bounced off your homeowners insurance with a trampoline exclusion clause.
Trampoline Insurance Frequently Asked Questions
Will my homeowners insurance cover expenses I face after a trampoline accident?
If you own a trampoline or other attractive nuisance, you'll want to ensure that your home insurance policy explicitly states that trampolines are covered. Some policies specifically exclude homeowners with trampolines in their backyard. Check with your insurance agent to see if your policy covers trampolines. If not, use Insurify to compare quotes to find a new policy that will cover you even with a trampoline.
I am a renter. Can I get a trampoline?
If you do not own the property you reside on and would like to get a trampoline in your backyard, you'll want to check with your landlord to make sure their homeowners insurance will allow it. Landlords may have an objection to trampolines because of the health and liability risks they pose, but it doesn't hurt to ask.
What risks are associated with trampolines?
Due to the bouncy nature of trampolines, many accidents occur on them. Obviously, this likelihood of accidents makes trampolines a high-risk activity, which can result in insurance claims. Because of this, households with trampolines may have trouble finding home insurance coverage or finding cheap rates. If your current homeowners policy won't cover you because of your backyard trampoline, use Insurify to compare quotes to find a new, trampoline-inclusive policy.
Ups and Downs of Trampoline Ownership
Some of the best moments of childhood are spent in the backyard. If you choose to have a trampoline to enhance those moments, make sure you're familiar with the risks they pose to your family. Ensure your homeowners insurance is inclusive of trampolines, and that your children (or yourself) are careful on it.
Limit the number of people on the trampoline at a single time, and make sure you take necessary precautions like installing a safety net. Trampolines are fun but can pose a great risk.
If your current homeowners insurance policy won't cover you if you have a trampoline, or you're ready to find a cheaper, better quote, use Insurify today.
Have fun and stay safe.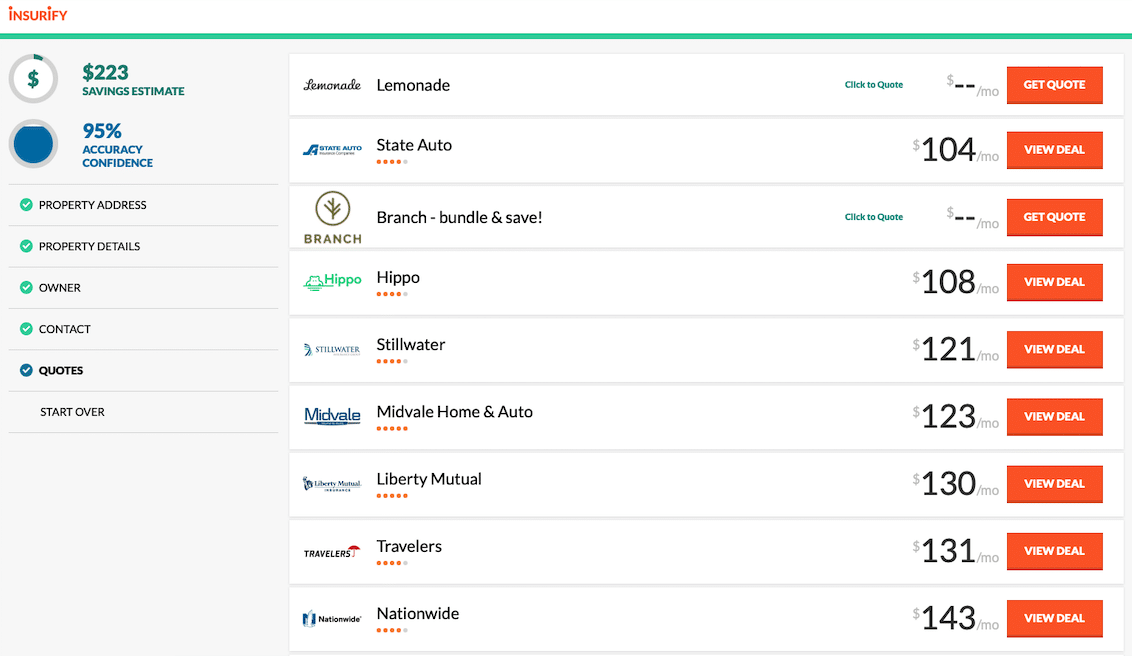 Compare Home Insurance Quotes Instantly
Personalized quotes in 5 minutes or less
No signup required