As a homeowner, you're responsible for taking care of your home. What you may not have realized is that you're also responsible for the condition of all the utility lines connected to your home, from the power and gas lines to the sewer pipes or septic lines. Homeowners insurance coverage protects your home, but it usually won't cover your sewer line at all unless you buy coverage that specifically protects your utility lines.
Not having coverage for these things can become expensive quickly. The buried sewer line can crack or leak because of age, wear and tear, tree roots, or ground movement. When this happens, the damage can cause major losses in your home by destroying flooring, furniture, and other belongings, leaving you with bills for sewage cleanup, structural home repair, and pipe replacement.
Consider investing in service line coverage to protect your sewer lines and other utility lines from many potential sources of damage. It's often available as an endorsement, so you can add it to your policy for a little extra money each month. Here's what you need to know about service line coverage.
Does your insurer not offer service line coverage? It may be time to shop for a new insurer. Try Insurify, where you can get quotes from top insurers in just a few minutes.
Does Homeowners Insurance Cover Sewer Lines?
The standard home insurance policy will usually include covered repairs to pipes and other systems within your home—for example, if the plumbing freezes or bursts. It may even cover your sewer line if it's damaged suddenly or accidentally. But usually, it won't automatically cover the wastewater lines or other utility lines on your property that are outside the house unless you've added service line protection to your insurance.
You may not realize you have sewer line damage right away. Sometimes, the damage can only be recognized long after it's begun. You may notice things like:
Septic waste pools

Bad odors

Mold

Indentations on your lawn

Slow drains

Rodent or insect problems

Cracks in the foundation
Water and Sewer Line Insurance
Service line coverage protects all the wiring and pipes that connect your home to the services in your area. This kind of coverage is available from many home insurance companies and can be added to your policy for a little extra money included in your monthly premiums. However, if your insurer doesn't offer it, utility companies usually offer service plans. Here are the options you'll find as you shop around for service line insurance.
Service line coverage protects all your service lines, from sewer pipes to steam pipes and cable. Service line coverage is an endorsement that your insurer adds to your existing policy. It will cover damage to your sewer lines from wear and tear, rust and corrosion, tree and root damage, pests, collapse, and the weight of equipment, vehicles, and other heavy items that can crack pipes. It covers many types of repair costs, including backfilling holes in your lawn, clogs and blockages, excavating, renting equipment, inspection fees, and reseeding.
Utility service plans cover repairs to your water and sewer lines. They're not as comprehensive as service line coverage from an insurer, but they can be a good option if your homeowners insurance policy doesn't have service line coverage. These plans also don't cover all utilities at once; you need to enroll in several service plans—one from each utility—to cover them all.
Water backup coverage: This covers the water damage to your property that can result from a cracked or damaged sewer line. It would pay to fix the water damage and replace the damaged flooring, furniture, and other items.
Compare Car Insurance Quotes Instantly
Personalized quotes in 5 minutes or less
No signup required
Is Water and Sewer Line Insurance Worth It?
Sewer and water line insurance can save you a lot of money if you have a sewer line break. It's an especially good idea if your house was built before 1950 or if your pipes are made of older, more porous materials that can absorb water. It's not quite as urgent for newer homes, but it's a good idea to add this coverage as the property ages. Sewer line issues can come on suddenly and create huge costs for homeowners.
It's also important to understand what sewer line insurance doesn't cover—namely, the need for you to maintain your home. If you cause a sewer line loss through neglect or irresponsible use—for example, by pouring grease or oil down the drain—the insurer may deny responsibility for the claim.
Frequently Asked Questions
The best way to protect your sewer lines is regular maintenance and preventing the kind of damage that your policy won't cover. Sewer backup is usually excluded in most policies, but you can prevent it by doing a few simple things: disposing of grease and paper properly, snipping tree roots, hiring a plumber to fix any faulty plumbing connections and unclog lines, and installing a backflow prevention device.

Start by asking your homeowners insurance company whether they offer sewer line or water backup coverage. It's available from most of the top insurers, such as American Family and Auto-Owners Insurance. Some companies also offer stand-alone sewer line protection, including American Water Resources and HomeServe.

Before you purchase a sewer line policy, get to know the provider and policy. Understand what conditions can void the contract (floods and other acts of nature are a common one), and check with the Better Business Bureau for complaints.
Sewer Line Coverage Ensures Peace of Mind
Talk to your insurance provider or review your policy to see what exclusions your policy has. If service line repair isn't covered, you should think about adding service line coverage as an endorsement or finding other coverage.
Need a new insurer who offers sewer line coverage? Insurify lets you compare quotes from top insurers in just a few minutes.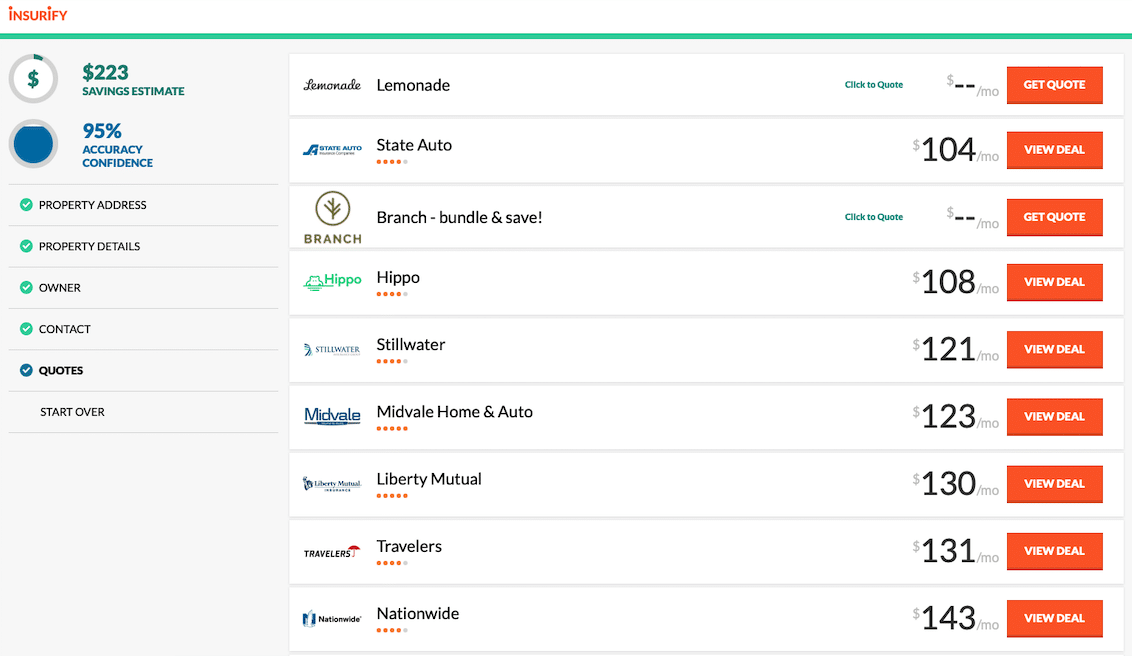 Compare Car Insurance Quotes Instantly
Personalized quotes in 5 minutes or less
No signup required
Data scientists at Insurify analyzed over 40 million auto insurance rates across the United States to compile the car insurance quotes, statistics, and data visualizations displayed on this page. The car insurance data includes coverage analysis and details on drivers' vehicles, driving records, and demographic information. With these insights, Insurify is able to offer drivers insight into how their car insurance premiums are priced by companies.