You've heard it said that your home is your castle. Today's homeowners don't have fortified walls or moats to protect against burglary or theft. That's why many homeowners rely on a home security system.
The FBI reports that burglaries account for nearly 24 percent of all property crimes. But alarm systems can do more than prevent unlawful entry. Many insurers offer a home insurance discount for security systems.
Start by shopping for home insurance quotes with Insurify. You'll get rates from a dozen or more companies to compare premiums and discounts that can save you money.
How Home Security Systems Impact Homeowners Insurance
Home security systems can protect your home and give you peace of mind. You can decrease your chances of a break-in when you combine home security devices and burglar alarms with deadbolt locks, motion lights, and window locks.
Here's how a home security system could benefit you and your family:
Protect valuables

Deter crime

Remotely access your home with "smart" systems

Lower homeowners insurance rates

Utilize smoke alarms or carbon monoxide detection
While keeping you safe is an alarm system 's primary benefit, you could also use it to lower your homeowners insurance premium.
Insurance companies offer discounts for a security system because it reduces the chance of burglary. The National Council for Home Safety and Security reports that 83 percent of burglars specifically look to see if a home has an alarm system. If one is installed, 60 percent will change their mind about breaking in.
Fewer break-ins mean you're less likely to file an insurance claim, and your insurance company won't have to pay out as much. Insurers pass some of the savings on to you in the form of a homeowners insurance discount.
The discount varies by insurance provider. It's best to check with your insurer before installing the system to make sure the cost is worth the savings. Additionally, your insurer may offer special discounts to work with a preferred provider.
Central Monitoring vs. Audible Alarm
Your home insurance discount for security systems can depend on the safety features and type of system you install. They primarily fall into two categories:
Local audible alarms

Central monitored systems
A local or audible system can sound an alarm to make you or someone near your home aware of a problem. It can also include visual effects, such as flashing lights.
However, an audible alarm will not alert authorities if there's a break-in. The sound could deter burglars from entering, but you must contact the police and other services to notify them of the emergency.
The draw of audible alarm systems is the cost. You might pay $100 to $400 for a self-monitored home security system, though you could pay more depending on the size of your home and the features you want.
A central monitoring system is more expensive and usually requires a monthly subscription fee. But the added cost comes with more protection. For instance, a central monitoring station can monitor the security system around the clock, seven days a week.
If the alarm goes off, the central monitoring station will determine if it's a false alarm or a true emergency. If it's a break-in or another emergency, the system will automatically notify authorities.
The central monitoring system can give you more peace of mind in knowing that proper help is on the way.
Compare Car Insurance Quotes Instantly
Personalized quotes in 5 minutes or less
No signup required
Is the Cost Worth the Deduction?
If safety and security is your primary concern, the cost savings you get on your homeowners insurance isn't as important. Still, you might want to know if a security system's cost is worth the discount on premiums.
The average cost for homeowners insurance can vary by state, ZIP code, and the policy's deductible. In the U.S., policyholders pay an average of $2,071 for their annual premium.
Like home insurance, the cost of a home security system can vary. It can depend on the type of installation, amount of equipment, and level of monitoring you select. It could cost a couple hundred to a few thousand dollars to purchase and install the equipment.
For central monitored security systems, you'll pay a subscription fee in addition to the cost of the equipment. A typical monthly monitoring fee is $40, but you could pay as little as $10 or nearly $100 per month.
Now that you know how much it might cost, how much is the home insurance discount for a security system?
Generally, you could get a 2 to 15 percent discount. Using the average cost of homeowners insurance as an example, you could save up to $310 a year.
Frequently Asked Questions - Security System Home Insurance Discount
A home security alarm system isn't the only way to lower your home insurance premiums. Deadbolt locks, fire alarms, smoke detectors, sprinkler systems, and living in a gated community can usually qualify you for a discount of at least 5 percent.

Installing a security system can qualify you for a home insurance discount, but the amount you save varies by home insurance company and type of system you install. You can generally save between 2 and 15 percent on a homeowners insurance policy if you install a home security system.

Yes, Allstate offers a protective device discount. It can lower your home insurance rate when you have theft or fire protection devices installed.

Security systems aren't the only way to make your home safer and more secure. Fire alarms and smoke sensors can alert you to danger. If they're connected to a central alarm, they can notify the fire department and first responders. Smart thermostats can maximize your comfort and energy savings, and smart home water sensors can shut off water sources if they sense a water leak or unusual water flow.
Home Insurance Discount for Security Systems
Compared to the expense of installing a home security system, the discount you get on homeowners insurance premiums may not be worth it from a cost perspective.
However, studies have shown alarm systems can reduce the chances of a break-in and alert authorities in the event of a burglary, fire, or other emergencies. The peace of mind for you and your family may be worth the cost. To get the most out of your system, be sure to talk to your insurance agent about what discounts might be available.
Use Insurify to find the best home insurance comparison sites for your property.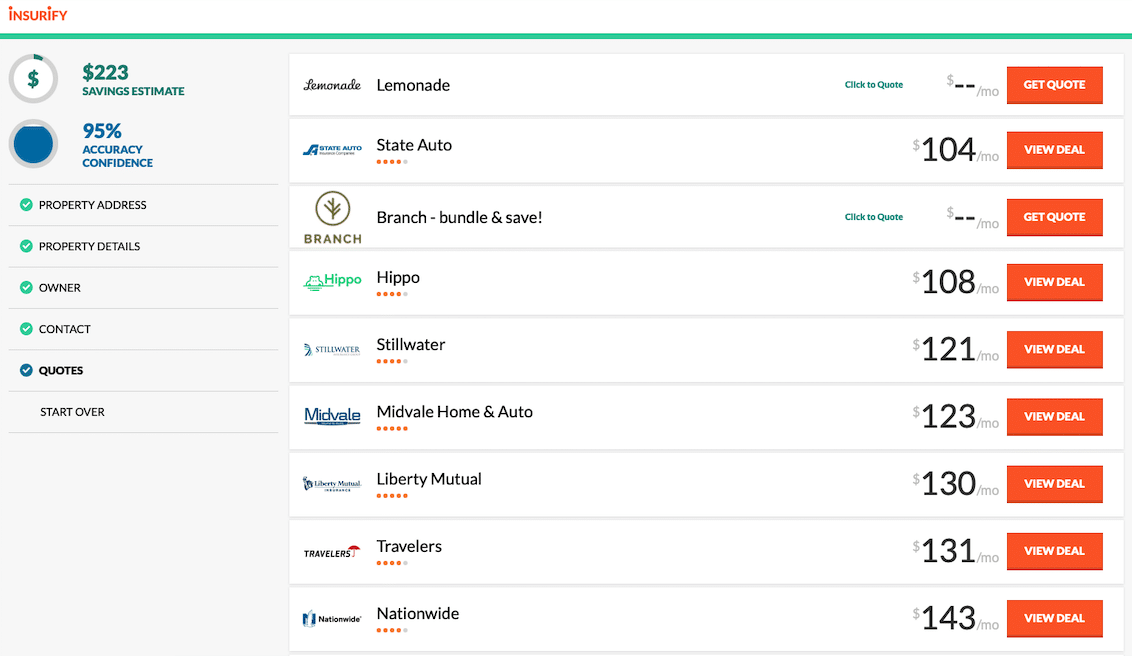 Compare Car Insurance Quotes Instantly
Personalized quotes in 5 minutes or less
No signup required
Data scientists at Insurify analyzed over 40 million auto insurance rates across the United States to compile the car insurance quotes, statistics, and data visualizations displayed on this page. The car insurance data includes coverage analysis and details on drivers' vehicles, driving records, and demographic information. With these insights, Insurify is able to offer drivers insight into how their car insurance premiums are priced by companies.