Insurance offers homeowners peace of mind knowing they're covered no matter what, right? Well, it's important to keep in mind that in general, homeowners insurance policies don't offer all-encompassing protection against anything the universe might throw your home's way. There are specific perils your policy might explicitly state are covered (called named perils), while other disasters may be specifically excluded. Other perils may not be stated exactly but will still be covered under another umbrella category. Normally, standard homeowners policies will cover roof leaks and associated damages. The exception to this rule is if the cause of the leak is specifically excluded from your policies, for example, neglect. Prior to your insurance chipping in, you may also be responsible to pay a deductible amount.
Insurify lets homeowners compare a half a dozen or more quotes from top insurance companies in a matter of minutes — for free.
Is That Leak Covered?
The nuances of whether or not a roof leak and subsequent water damage almost always depend on what caused the leak in the first place. On the declaration plan of your insurance policy, your exact except or covered perils will be stated. "Open Perils" lists, which are a part of most insurance policies, generally state protections against most weather-related natural disasters and other sudden/accidental incidents. That being said, claims may be denied if there was any human error or neglect involved. For example, if lightning struck a tree outside your home, and a branch fell and put a hole in your roof, you'll be covered. If the shingles on your roof are decrepit due to years of needed attention, resulting in a leak and water damage, you may be responsible for covering damages without assistance from your homeowner insurance company. It's important you understand these nuanced parts of your home insurance policy. Check with your insurance agent to check if your unique situation is covered.
While shopping for homeowners insurance, make sure you understand your chosen coverage levels and policy limitations. There are some perils that are almost always explicitly excluded from homeowners insurance policies and must be purchased as supplemental add-on products. For instance, floods are almost never covered by standard policies but can be added as an optional endorsement on your policy. Some hazards may be excluded based on the low risk they present in your areas, such as earthquakes, landslides, or damage from smog. As the policyholder, if you'd like to be protected from these hazards, you can simply add them to your standard policy.
The Aftermath of a Roof Leak
Identifying a roof leak isn't always as easy as it seems. Timing, however, can be the difference between major and minor damages resulting from a leaky roof. For pitched roofs, a leak may enter your home at one part of the roof, but present its effects only after trickling down to another part. When this happens, identifying the source of the leak is not always straightforward. Once you notice dripping or water stains on your ceiling, the leak could be coming from a source far from the original hole.
To identify the source of the leak, you should inspect your roof for possible points of entry the liquid may have initially come from. Examine each shingle on your damaged roof– look for irregularities, raised hardware, warped edges, misplaced gutters, and cracks. Since climbing onto your roof is a pretty dangerous endeavor, please consider hiring a professional to do this work for you. On a rainy day, examine the ceiling of your attic to identify moist wood, drips, or mold to help you pinpoint the entry point. If no source of entry can be identified, the leak may be a result of a plumbing issue, which will present different challenges and needs.
After you've discovered a leak in your roof, you may soon discover other issues that have resulted as a result of the said leak. Mold and fungus may have grown in a damp room that has been subject to a roof leak. Standard homeowners insurance policies won't cover mold or fungus if they've grown in a room that is damp or moist as a result of negligence unless it's been added as an endorsement. But if mold or fungus grows as a result of a covered roof leak, your policy should cover the damages, as long as you've filed your claim in a timely manner so that the problem does not worsen.
Whether or not you need to replace a portion of shingles or get an entirely new roof altogether, your insurance provider should cover damage caused to your roofing by windstorms, hail damage, or an accident resulting in roof damage. Since a leaking roof can lead to many more issues inside your home, this is the type of issue you'll want to nip in the bud, otherwise more issues will mount, and the cost of repairs will only increase.
Compare Car Insurance Quotes Instantly
Personalized quotes in 5 minutes or less
No signup required
Replacement Cost of Roofing
Depending on how much time a leak is causing damage before it's discovered will be a huge determining factor in how much a roof replacement or repair will set you back. The total cost of repairing a leaky roof will of course depend on the extent of the damage. While many repairs can be fixed with a quick trip to the local hardware store for some rubber sealant and a few replacement shingles, larger projects like reshingling or resetting can cost hundreds or even thousands. Replacing your entire roof with a professional roofer can cost homeowners anywhere between $5,000 to $15,000, depending on the quality of the roofing material you choose and the size of your home. If your roof has dangerous elements, like a skylight or multiple chimneys, costs can fluctuate. General roof repair after an accident will be part of standard insurance coverage, but replacements from negligence or just wear and tear will likely end up as out-of-pocket expenses.
Roof Leak- Frequently Asked Questions
The source of the leak in your roof will likely determine whether or not your insurance policy will cover damages. If the roof leak is a result of negligence, for example, ignoring an overdue roof replacement, insurance won't cover damages. If a tree outside your house fell down and broke through your roof, your insurance company should have your back. Keep in mind, you'll be responsible for paying for your predetermined deductible amount prior to your insurance kicking in.

If your roof has suffered damage from a storm or another disaster out of your control, you may consider filing a claim with your homeowners insurance company to help cover the cost of damages. Prior to filing your claim, you'll want to be sure to document everything you do during the clean-up process and any initial or temporary repairs you make prior to your insurance adjuster coming in. By documenting all repair costs and other progress made, you're more likely to be fully compensated after your claim is settled.

In general, flood insurance must be added to standard homeowners insurance policies as a supplemental add-on or insurance endorsement. These products can cover policyholders at an extra cost added to their monthly premiums. It's important to note that though damages caused by a roof leak may be covered by your homeowners policy, resulting floods may not be covered unless you have an additional flood endorsement on your insurance policy.
A Safe Roof Over Your Head
Whether it's a fallen tree, huge storm, or other accident that results in a hole in your roof, your insurance products should have you covered. Most roof leaks that are not a result of negligence will be covered by homeowners insurance. Be sure to keep up with repairs and be vigilant about having an eye on warping or missing shingles, vents, and gutters, as these can cause much larger damage in the long run. If you're looking for more coverage, consider shopping around for a new homeowners insurance policy with Insurify, a tool that allows you to compare insurance policies side by side to decide what best fits your needs and budget.
Find the cheapest homeowners insurance quotes in your area with Insurify .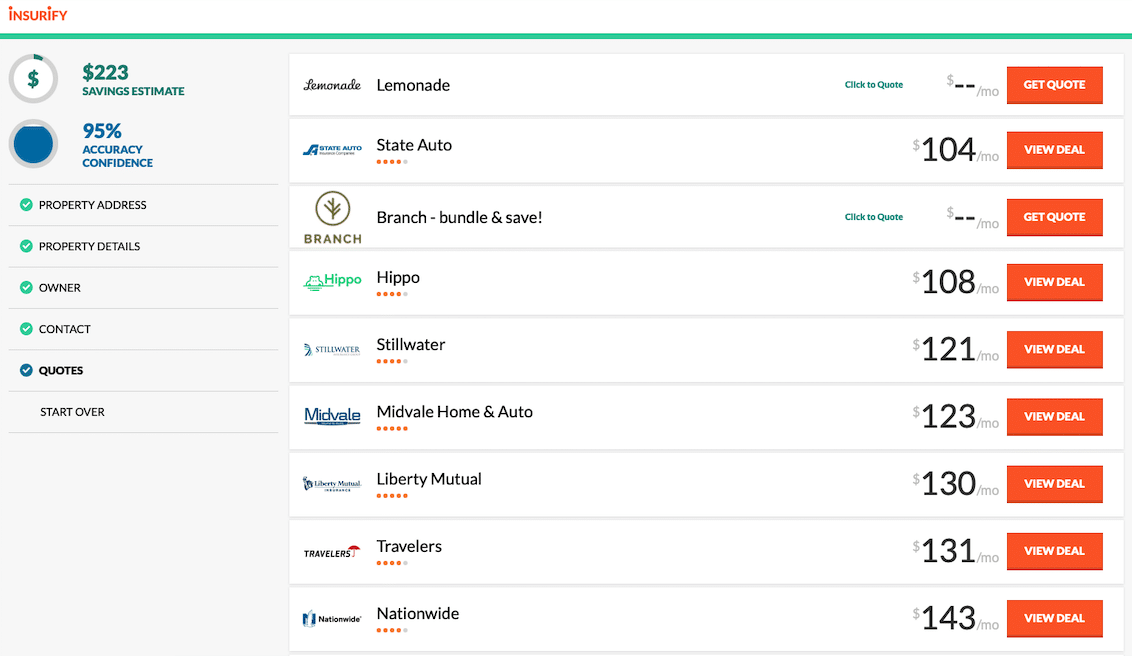 Compare Car Insurance Quotes Instantly
Personalized quotes in 5 minutes or less
No signup required
Data scientists at Insurify analyzed over 40 million auto insurance rates across the United States to compile the car insurance quotes, statistics, and data visualizations displayed on this page. The car insurance data includes coverage analysis and details on drivers' vehicles, driving records, and demographic information. With these insights, Insurify is able to offer drivers insight into how their car insurance premiums are priced by companies.