Is hurricane insurance worth it in North Carolina?
Depending on the risk level of your area, having earthquake insurance can save you big financially in the long run. It's always worth getting a quote.
Your home is often your most valuable investment. Homeowners insurance is an obvious next step when purchasing a home. But for residents in North Carolina, hurricanes can make insurance complicated.
When hurricanes bring high winds, storm surge, and lots of rain, you need to make sure your policy protects against wind and flood damage. That's where North Carolina hurricane insurance comes in.
Keep reading to discover how to protect your home with North Carolina hurricane insurance, what it covers, and how much it costs.
Choosing the right insurance is the name of the game, and it starts with establishing your coverage needs. Use Insurify's comparison tools to compare insurance rates and coverage options to get the protection you need.
Hurricane Insurance in North Carolina: The Basics
Hurricane insurance protects your home and property from damage caused by hurricanes, one of the most destructive natural disasters. But you can't buy a specific hurricane insurance policy. Instead, hurricane insurance is a combination of policies that can protect against hurricanes.
Storm surge, heavy rain, and high winds accompany hurricanes. The combination of insurance you buy to protect against them must include coverage for all three types of damage.
Most standard homeowners policies cover damage caused by hurricanes. Unfortunately, homeowners insurance doesn't cover floods or storm surge, and some policies don't automatically include windstorm damage.
You may need to purchase several insurance products—homeowners, flood, and windstorm insurance—to protect your home and belongings from hurricanes.
Is North Carolina Hurricane Insurance Required?
Keep in mind that hurricane insurance isn't a type of policy you can purchase. To get hurricane insurance coverage, you may need to buy separate homeowners or renters insurance, flood insurance, and windstorm insurance policies.
Individual policy types can be required in some instances. It largely depends on where you live.
Generally, North Carolina residents aren't legally obligated to buy flood coverage. It's also one of the few states that don't require the purchase of homeowners insurance. But lenders can mandate you purchase homeowners and flood insurance as part of the home-buying process if the home is in a high-risk or coastal area.
Thus, homeowners and flood insurance can become the "hurricane insurance" that's required in North Carolina when comparing homeowners insurance.
Compare Car Insurance Quotes Instantly
Personalized quotes in 5 minutes or less
No signup required
Hurricane Insurance in North Carolina Coverage
Your hurricane coverage depends on the policy types you purchase. Most North Carolina homeowners insurance policies include some protection from hurricane damage. The following are typically covered:
Your home's structure and systems, including heating, air conditioning, plumbing, and electrical as well as attached structures, such as an attached garage or carport

Your personal property such as furniture, window treatments, clothing, tools, and other items

Detached structures like a storage shed or gazebo

Additional living expenses you may have if you can't live in the home during the rebuilding phase because of significant damage
If you purchase flood insurance, you'll also have coverage that can pay for losses relating to a flood. That way, you'll have financial protection to replace, repair, or rebuild your property if heavy rains or storm surge occur during or following a hurricane.
Creating a home inventory to have an accurate record of your items can help when filing an insurance claim. You may have trouble remembering everything you own if a hurricane destroys most of your belongings.
What North Carolina Hurricane Insurance Doesn't Cover
A common misconception among policyholders is that homeowners insurance covers flood damage caused by a hurricane. But that simply isn't true. Because tropical storms and hurricanes can bring flooding from storm surge and heavy rains, having a separate flood insurance policy can be crucial.
According to the North Carolina Department of Insurance, your policy may also exclude windstorm and hail coverage.
Hurricanes have sustained winds of 74 miles per hour to over 157 miles per hour. Winds that strong can cause damage ranging from minor roof and shingle damage and fallen tree branches to total roof failure, destroyed homes, and uninhabitable areas for weeks or months.
Given the potential damage, windstorm coverage is an important consideration. The North Carolina Insurance Underwriting Association (NCIUA) offers a separate wind and hail policy to pick up where your homeowners insurance leaves off.
The important thing is that you don't wait until you have a loss to review what your insurance covers and what it doesn't. Contact your insurance agent to discuss what your homeowners policy covers and what additional policies you may need to protect yourself, your family, and your home.
Cost of North Carolina Hurricane Insurance
According to the Insurance Information Institute (III), five of the top 10 most costly hurricanes in the U.S. caused damage in North Carolina.
The insurance cost for hurricane coverage in North Carolina is higher than in other areas of the U.S. because of the increased risk of major storms.
How much you pay depends on the policies you purchase. If you own a home, you'll likely have a home insurance policy. The average annual homeowners insurance premium in North Carolina is $1,463.
A flood insurance policy can cost an average of $370 per year for $100,000 of coverage. Some communities in North Carolina offer discounts for premiums through the National Flood Insurance Program (NFIP). You could save as much as 25 percent, depending on where you live.
North Carolina Hurricane Insurance Companies
North Carolina hurricane insurance starts with a good homeowners insurance policy. The III lists State Farm, Farm Bureau, Nationwide, USAA, and Allstate as the state's top five home insurance companies.
If you already have a policy, check with your insurer to determine what's covered and what isn't if a hurricane damages your property.
But remember that policies and insurance deductibles can vary from one company to the next. Use Insurify to compare multiple rates and insurance options in one place. It can save you time and money when looking for homeowner insurance.
You may need a flood insurance policy because homeowners insurance doesn't cover flood damage. The NFIP offers policies for flood damage for North Carolina residents. Visit them online at FloodSmart.gov for more information.
You may also need windstorm and hail insurance. The NCIUA, also known as the Coastal Property Insurance Pool, offers insurance coverage if your homeowners policy doesn't include windstorm and hail damage.
North Carolina Hurricane Insurance - Frequently Asked Questions
Your homeowners policy usually covers some hurricane damage. It doesn't cover flood damage from storm surge or heavy rain, and some policies exclude windstorm and hail damage. Review your policy or contact your insurance agent to find out what your coverage includes before hurricane season begins.

The best North Carolina hurricane insurance depends on your insurance needs. Check with your existing insurer to ask about what hurricane damage your policy might cover. If there are gaps, use Insurify to shop around for coverage and compare premiums. The NFIP can connect you with flood insurance providers, and the NCIUA can offer wind coverage to make sure you have the protection you need.

The price of North Carolina hurricane insurance can vary based on your home's location, age, and features. The average cost of homeowners insurance in North Carolina is $1,463. You'll likely pay additional premiums to get flood insurance and a windstorm policy.
North Carolina Hurricane Insurance: The Bottom Line
Remember that hurricane insurance isn't a type of policy you can purchase. To get hurricane coverage, you may need to purchase several insurance policies to cover the different types of damage.
Homeowners, flood, and windstorm insurance are three policy types that can give you the protection you need against hurricane damage. Some lenders require you purchase coverage to qualify for a mortgage. But even if it isn't a requirement, consider buying the policies you need to protect your home.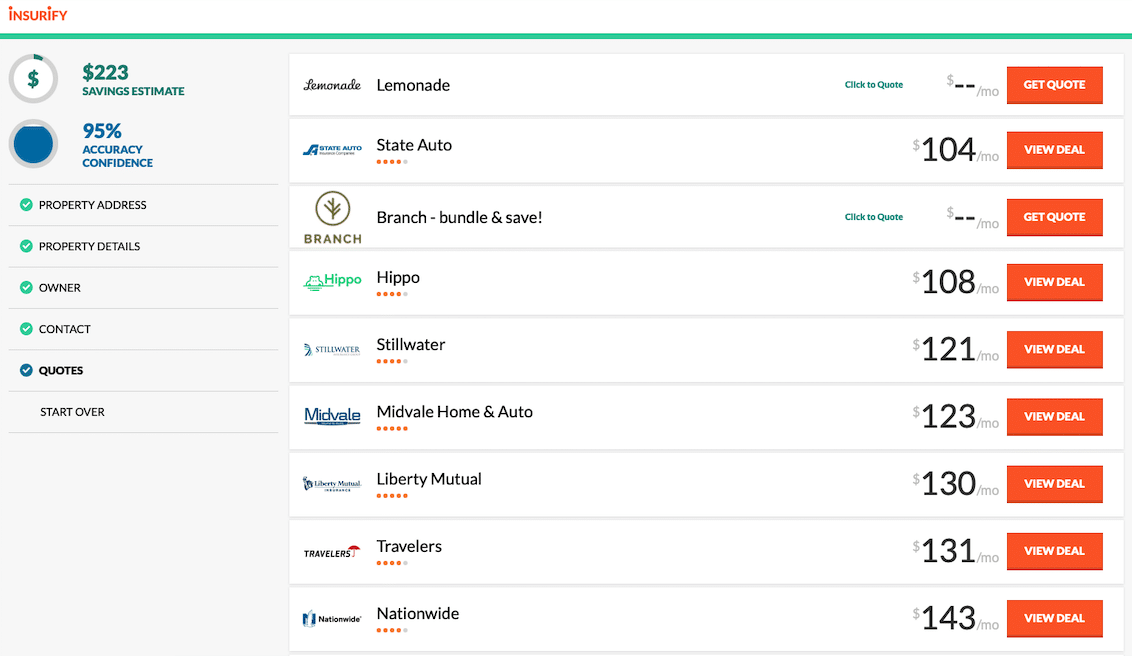 Compare Car Insurance Quotes Instantly
Personalized quotes in 5 minutes or less
No signup required
Data scientists at Insurify analyzed over 40 million auto insurance rates across the United States to compile the car insurance quotes, statistics, and data visualizations displayed on this page. The car insurance data includes coverage analysis and details on drivers' vehicles, driving records, and demographic information. With these insights, Insurify is able to offer drivers insight into how their car insurance premiums are priced by companies.