You might be planning to improve or alter the curb appeal of your home by doing some landscaping. You may wonder whether your home insurance covers landscaping improvements. Unfortunately, your insurance company will not pay to improve your landscaping. But that doesn't mean your home insurance doesn't help at all. Your home insurance provides coverage for damage to your landscaping in some instances. Having the best home insurance policy will ensure your beautiful lawn, garden, and entire property are protected.
No home is one-size-fits-all, much like homeowners insurance. Check out Insurify to compare the best insurance companies and protect your home for years to come.
Does Homeowners Insurance Cover Landscaping Improvements?
Though not covered by homeowners insurance, there are some pluses to landscaping improvements. If you're putting your home on the market, it's a great idea to spruce up your landscaping. The first thing home buyers look at is a home's curb appeal. You could hire a landscaper if you're planning to sell your home. Or are you about to get out pruning shears or call the gardener? Before you do that, it's essential to know what is covered if something terrible happens to your property.
Your homeowners insurance policy might provide coverage if there's damage to your landscaping. Some home insurance policies cover a part of the cost of removing fallen trees off your property. They'll also provide debris cleanup if caused by a covered peril.
How Much Landscaping Is Covered with Home Insurance?
Landscaping coverage is different from coverage for the other parts of your property. It will not cover as much as it would cover your home. And there will be coverage limits to a percentage of your full policy. As long as a covered peril causes the damage, your insurance will provide some coverage. Some of the covered perils include:
Theft or vandalism

Riots or civil commotion

Aircraft

Explosions

Fire

Lightning
Let's say a windstorm or hail comes and damages your landscaping. Though your home's structure will be covered, your insurance will not cover landscaping. But some insurance providers do cover tree removals if caused by wind. Also, let's say pests or vermin damage your prize-winning rose bushes. Pest and vermin damages are excluded from coverage on landscaping.
Flooding is not covered on homeowners insurance. If your lawn becomes flooded, you're out of luck unless you purchase a separate flood insurance policy. Flood insurance is helpful, especially if you live in a flood zone. Ask your insurance agent about how to buy a supplemental flood insurance policy.
Depending on the insurance company, you may get reimbursed for damaged landscaping. But some insurance policies only include the removal of dead shrubs, plants, and trees. Using your garden or landscaping for business purposes will cause the denial of payment even with covered damage. You will need a separate policy for business.
To be covered, your landscaping must be on the grounds of your property. Let's say you share a garden like a neighborhood garden, and something happens. Your insurance will deny coverage in this case.
Most homeowners insurance policies only cover trees, shrubs, and plants at about five percent of your total dwelling coverage limit. You cannot claim single items for more than $500. So let's say you have a $500,000 policy. You could claim as much as $2,500 for landscaping damage. If there's an expensive shrub that needs to be replaced, you can only claim up to $500 for it. If the shrub's value exceeds $500, you won't receive the full replacement cost.
Fallen trees are a little different. Your insurer will cover up to $1,000 per removal. The $500 per tree limit still applies.
Additional Coverage for Landscaping
You may have dreams of creating an expensive garden with intricate landscaping. Did you know you can buy additional landscaping coverage, known as a yard and garden endorsement? It will cover damage to your shrubs, plants, or trees. An endorsement of this type would give you up to $1,000 in coverage per item. This add-on is a step up from the typical $500 per item of the former coverage. You can ask your local agent to increase the amount if they allow it.
A benefit of the endorsement is the extended coverage you get on landscaping tools and machinery. Expect to pay $50 to $100 more per year with this type of endorsement, depending on how much you ask for. Policies differ by insurance company. It's best to ask your insurance agent for more policy coverage information.
Did you know that Insurify makes finding the right coverage easy? Compare the best insurance companies that fit your needs and get a free quote delivered to you. Check out how easy it is now!
Insurance Premiums and Landscaping
Any home improvement project or renovation may be worth contacting your insurance company about. You'll find out if it impacts your rates. Something terrible may happen and damage your expensive landscaping, and you may not have enough coverage. By giving your insurance agent a heads up about a project, you can have the right coverage and won't be surprised when your insurance premium goes up.
Compare Car Insurance Quotes Instantly
Personalized quotes in 5 minutes or less
No signup required
Steps Homeowners Can Take to Save Money on Landscaping
Landscaping improvements can cost a pretty penny. You can expect to pay anywhere between $1,500 and $10,000 on landscaping costs. And if a natural disaster that's not covered comes, you're out thousands of dollars. Before you go all out and have your landscaper trim your shrubs like a work of art, you should keep savings in mind. You can do little things to save money here and there that add up in the long run. Consider the following:
Make Your Landscaping Flood-Resistant
Flooding is the most common natural disaster. And even if you don't live in a flood zone, you could experience some flooding in the future. By creating flood-resistant landscaping, you are preventing damage caused by flooding and runoff. You can easily DIY flood-resistant landscaping by building walls or building natural channels. Creating buffers also helps water flow freely without damaging homes and the rest of your garden. There are tons of DIY flood-resistant landscaping plans on the internet if you do a web search. Additionally, using mulch helps by retaining water and controlling erosion. Mulch can make your landscaping more attractive and save you in the long run if flooding occurs.
Use Drought-Resistant Plants
If you live in a dry climate, succulents, cacti, and agave require little to no water at all. These plants are often low-cost and attractive. Additionally, you can help cut waste and reduce the chance of your greenery dying in dry heat. Are you looking for flowers? Poppies, rock daisies, and yarrow have lots of colors and need minimal watering as well. And herbs like sage and water thrive in warmer and drier elements. All these plants can look attractive and sophisticated with very little upkeep.
Replace Grass with Turf and Rock Gardens
Though artificial grass costs more upfront, in the long run, you can save money. With turf, you'll be watering less. And if you live in a dry climate, watering less saves you money. Turf is easy to install yourself and lasts a long time. Additionally, you can use rock gardens to decorate in a beautiful mosaic-like fashion. You can also create fun walkways using rocks of any color you choose. Decomposed granite, pea gravel, and river rocks are some options. And at $3 to $5 a bag, you can create beautiful landscaping on the cheap.
Create an Urban Garden
If you have a terrace, balcony, or even just a windowsill, you can create a mini urban garden. Large cities have popularized this cheap trend. You can plant herbs, veggies, and flower boxes on your balcony or windowsill. These DIY options are inexpensive and will be sure to impress your friends and family.
Regularly Clean Gutters
It's not the most glamorous job, but you should be cleaning your gutters routinely. Gutters easily get clogged with sticks, leaves, and debris. A clogged gutter often results in roof and water damage to your home. Additionally, sometimes clogged gutters attract pests, rodents, mold, and bee infestations. It's recommended that you clean your gutters at least two times a year, in the spring and fall. If you live in a climate with lots of trees, you may need to clean your gutters more often. It's a dirty task, but it's better than paying for the replacement cost of a new roof.
Check on Sketchy Trees
Trees on your property may be rotted or diseased, whether you can tell or not. Even if a tree looks healthy, your trees could be dying or decaying by the roots. If a windstorm comes and knocks your tree down, then you have another set of problems. Call a certified arborist to check on any suspicious trees on your property. The arborist can tell if a tree must be removed and has the proper machinery to help with the removal. A good arborist may cost a few hundred dollars. But they could save you more money on damages that aren't covered by your home insurance. You may even be able to mitigate the issue by trimming your trees down. Tree trimming costs much less than tree removal or replacing.
Also, don't fall prey to scammy solicitors for tree removal or landscaping services. They may be without proper credentials or liability insurance. They could cause damage to your property, or a worker could become injured while working. That's also a liability risk. Don't hire a company without general liability coverage or workers' compensation insurance. Without these things, you could end up being sued and have to pay a lot of money. Make sure anyone working on your home or making home improvements has at least a general liability policy.
Check on Your Neighbors
Your neighbors may have trees that hang onto your property. The cause for concern would be if the trees ever fall on your property and cause property damage. Take a look and suggest to your neighbors that they could trim their tree or have it checked out by a professional. You would be saving both parties from paying out of pocket or having to file a home insurance claim.
When you have the right homeowners insurance coverage, you have peace of mind. Let Insurify help you find the best homeowners insurance companies right now so you can be prepared for later!
Frequently Asked Questions - Landscaping Improvements
Depending on the renovations you're making, your home insurance rates could go up. If you're changing your living space, it may require additional coverage on your policy. Before you make home improvements, always talk to your local agent. Give them the heads up and find out how it might affect your home insurance premium.

If a tree falls on your property, your home insurance policy may cover the tree removal. Sometimes, damage to your home from windstorms or snowstorms results in insurance payouts. And if lightning strikes cause a tree to fall to the ground, your insurer may pay for the removal. Always check your home insurance policy to see what is included and excluded in this scenario.

It depends. Some home insurance policies help cover landscaping damage. Always check your policy to find out if your insurance will help pay damage to your yard. Including trees, plants, and shrubs on an additional policy or rider may be necessary.

No, landscaping improvements are not covered by home insurance. But it may be wise to contact your local agent to give them the heads up about any updates you'll be making to your home. That way, you can see if it will affect your insurance premium.
Home Insurance Coverage on Landscape Improvements: The Bottom Line
Landscaping improvements can be an expensive investment in your property, and they are not covered by general homeowners insurance policies. Are you thinking about making improvements to your lawn? Make sure you have the know-how to hire the right professionals. And keep up maintenance yourself to save money down the line. That way, if a storm comes and knocks down your shrubs, you won't be losing all your hard work. Another way to protect the investment on your property is with home insurance.
Let Insurify help you pick and compare homeowners insurance to fit your needs for free. Try us out now!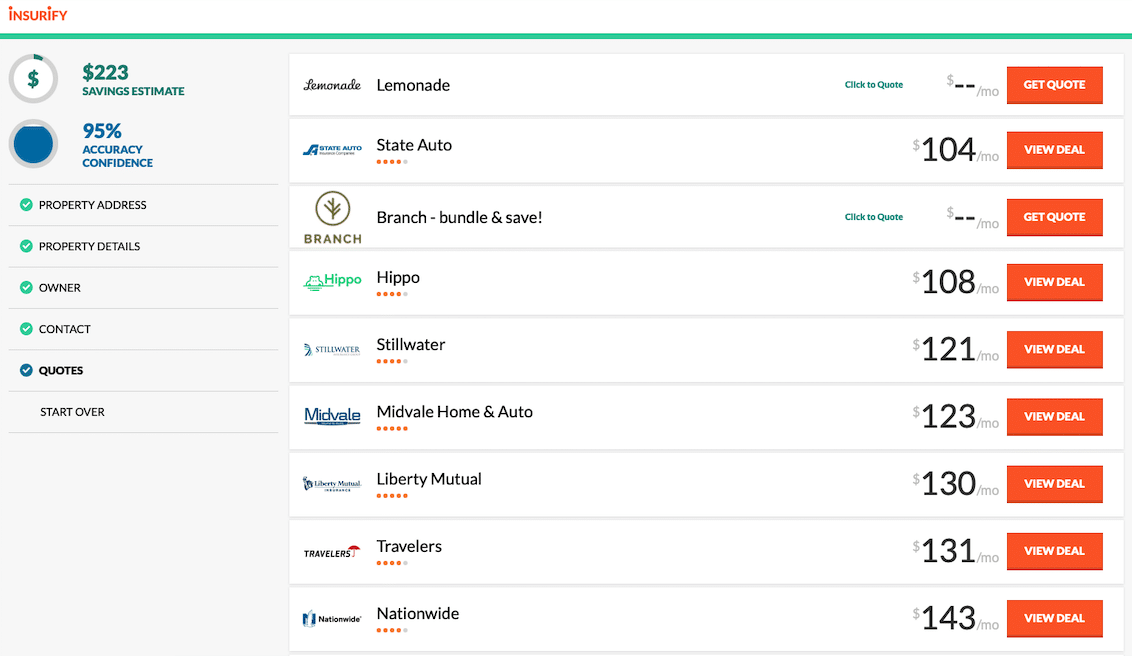 Compare Car Insurance Quotes Instantly
Personalized quotes in 5 minutes or less
No signup required
Data scientists at Insurify analyzed over 40 million auto insurance rates across the United States to compile the car insurance quotes, statistics, and data visualizations displayed on this page. The car insurance data includes coverage analysis and details on drivers' vehicles, driving records, and demographic information. With these insights, Insurify is able to offer drivers insight into how their car insurance premiums are priced by companies.