Dealing with property damage, whether it's a fire, water damage, or the effects of a natural disaster, can be a homeowner's worst nightmare. To make matters worse, the claims process can be arduous and confusing, especially dealing with the homeowners insurance adjuster. Browse our guide to dealing with insurance adjusters to better understand how the claims process works.
Make sure your home is properly insured against covered losses by using Insurify, a simple tool that helps you compare homeowners insurance quotes. It's easy to use and only takes a few minutes of research.
What Insurance Claims Adjusters Do
An insurance adjuster 's job is to evaluate your homeowners insurance claim and figure out how much money the insurance company must pay as part of a fair settlement. They represent your contact with the insurer. They'll start by gathering information in several ways, including:
Talking to you

Assessing the damage firsthand

Speaking with witnesses, if there are any

Reading reports by officials if applicable
For simple claims, your insurance company may assign a claim settlement expert who will settle things over the phone. For more complicated or large claims that require on-site inspection, the adjuster will come to your property to ask questions and document your loss with a written report, photos, and videos.
There are two kinds of adjusters. The kind that works for your insurance company is also known as a staff adjuster, although insurance companies sometimes hire independent adjusters to work for them. You can also find public adjusters, who are insurance professionals you can hire to manage your claim on your behalf. Public insurance adjusters deal with the insurance company for you in exchange for some amount of money, usually 5–15 percent of the settlement amount, and work to make sure you get the maximum insurance settlement you're entitled to according to the terms of your insurance coverage.
How to Prepare for the Claims Process
You can get the claims process off to a good start by reading your policy's declarations page. It lists the different kinds of claims your policy covers, as well as the limits for each type of coverage you have. Homeowners insurance usually covers categories like damage to your dwelling, other structures, personal property, loss of use, and additional living expenses, as well as liability and medical payments. Familiarize yourself with the declarations page so you and the insurance company adjuster will be on the same page concerning what you're entitled to for your property loss.
Next, read your policy. Some of the most important information, like the list of covered perils, won't be included on the declarations page. Make sure you know what parts of your property are covered by the insurance policy and determine whether the cause of your loss appears to fall into the covered peril list. Some causes of damage, like flooding, aren't covered—you need separate flood insurance to cover flooding-related home insurance claims.
The policy also outlines the steps you need to follow after you have a covered loss and how to settle disputes between you and the insurer, which are important to know. It will also state whether your insurance company will restore your property at actual cash value (the value minus depreciation) or replacement cost (the amount of money it costs to replace something). This will be important to know when you're dealing with the insurance company.
After you've become familiar with the policy, start documenting the condition of your home and the losses you've suffered. Don't try to clean up or alter the property's condition before the adjuster inspects it unless you have to make temporary repairs to protect your home from further damage (for example, if the roof is damaged and there are more storms on the way). If this is the case, take pictures or video of the damages before you start fixing things.
You'll also need to create an inventory of items that were damaged, destroyed, or stolen as a result of your covered loss. If you have pre-disaster photos of the damaged property, include them, as well as a description of the item, its original value, and its estimated replacement value. The adjuster can help you obtain estimates of the costs. You will probably also be required to complete a Proof of Loss form, which itemizes the losses included in your insurance claim. Take your time and fill it out completely.
The claim is complete after you and your adjuster agree on the amount of money the insurance company will pay you under the terms of your home insurance policy. However, you may disagree with the adjuster's assessment of your losses. In that case, you may have some recourse.
Compare Home Insurance Quotes Instantly
Personalized quotes in 5 minutes or less
No signup required
What to Do If You Disagree with the Adjuster
If the insurance company 's first offer seems too low to you, ask questions to determine how they came to the low settlement amount. Ask them to itemize the damages so you can respond to each item on the list. Provide additional supporting information that shows why you should receive a higher settlement amount. After the settlement is reached, be sure you get the final settlement offer in writing.
If the adjuster doesn't seem receptive to negotiating and isn't providing you with the good service you're paying for, contact the policyholder service department with your insurance carrier and ask them for help. You can also reach out to your insurance agent and ask them for assistance. The homeowners insurance policy usually also has requirements that dictate how further disagreements are handled. These provisions usually require you to enter arbitration or mediation through a third-party organization.
If that doesn't help, you can also file a complaint with the state insurance department, which regulates the insurance industry in your state. They will investigate the complaint for you and provide you with an answer about whatever issue you're disputing.
Frequently Asked Questions
The length of settlement varies depending on many factors, including the severity of the damages, how long it takes to send out an adjuster, and whether you and the insurance company agree on the settlement amount. Your state may also have a required timeline for the insurance company to follow.

To create an inventory of your possessions, include a description of the item, the date you purchased it, the original value, and how much it would cost to repair or replace. It's a good idea to include photos too. This will help you negotiate a fair claim during the claims adjustment process.

Additional living expenses (ALE) benefits usually cover temporary rent, boarding your pets, and other expenses that are directly related to losing the use of your home. They may also cover gas and mileage if your temporary home is further from locations like school or work than your damaged home. If your temporary home has no cooking facilities—for example, if you're in a hotel—you can submit receipts for restaurants. However, ALE coverage is typically limited by either a dollar amount or time (or both), so you want to relocate to a fully equipped home as quickly as you can so you don't use all your ALE coverage on hotels and restaurants. Ask your insurance company for a list of covered and reimbursable items to make sure everything is covered.
You Can Get a Fair Settlement
The claims process isn't fun for anyone, but with good preparation, it can be relatively painless. Understand how claims adjustment works and prepare well for the adjustment process to make it easier on yourself.
You can make the process even easier by finding the right insurance company for you. Use Insurify and find the best homeowners insurance company in just a few minutes.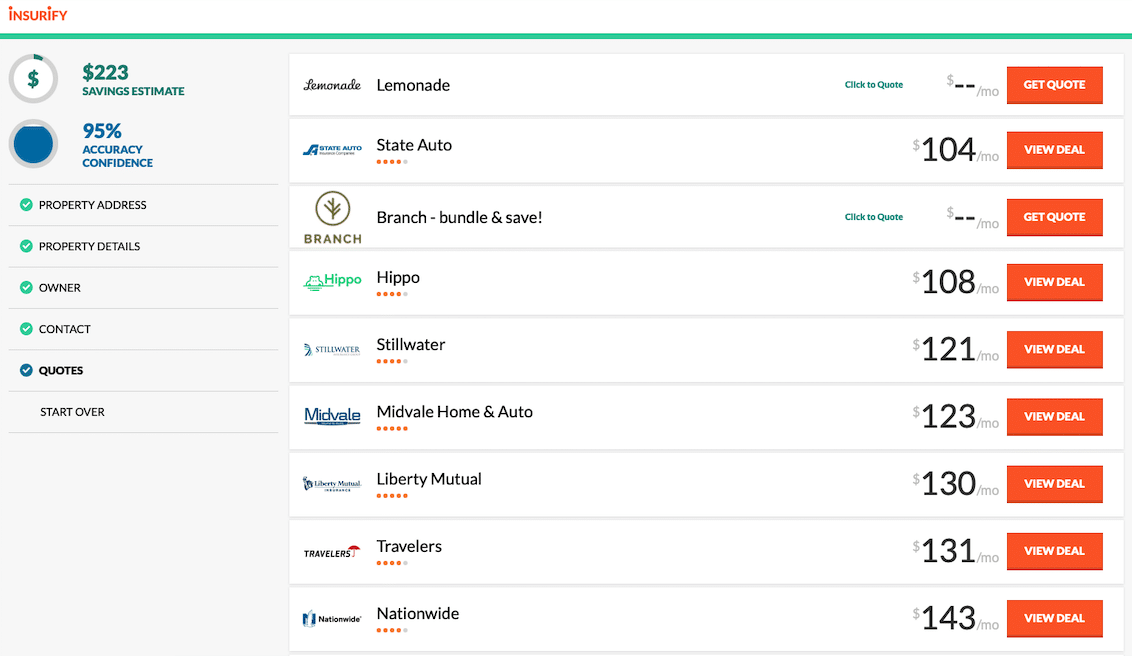 Compare Home Insurance Quotes Instantly
Personalized quotes in 5 minutes or less
No signup required
Data scientists at Insurify analyzed over 40 million auto insurance rates across the United States to compile the car insurance quotes, statistics, and data visualizations displayed on this page. The car insurance data includes coverage analysis and details on drivers' vehicles, driving records, and demographic information. With these insights, Insurify is able to offer drivers insight into how their car insurance premiums are priced by companies.