When should you report your landlord?
Keep reading to find out what your rights are if you're renting a property and when you should consider taking your landlord to court.
As a renter, your landlord can make or break your living experience. With a good landlord, one who follows up on maintaining the property and provides the services agreed upon, life as a renter can feel secure and easy. However, not all landlords have their tenants' best interests in mind. Some landlords might disregard making necessary repairs, make a rent increase without giving proper notice, fail to return a security deposit, or ignore a tenant's right to stay.
By making regular rent payments, renters are paying not only to live on a property but also to join a rental agreement with some form of property management. If you are living on a rental property and following all the rules on your lease agreement but your landlord is not doing the same, it can cause issues and, sometimes, eviction.
With high court costs, suing might not always be the right first step. It is always recommended to discuss the issue directly and come to an agreement (and especially to have this in a written notice ). But when all else fails, one may consider taking legal action to get justice in their tenancy.
Insurify is here to help. Keep reading to find out the landlord-tenant laws in place that can protect you as a renter if your landlord refuses to hold up their end of the deal. And protect yourself from anything life may throw your way with renter's insurance. Compare rates today.
Know Your Rights and File a Report
If you plan on making a complaint about your landlord, you need to be able to prove that they are doing something wrong in the first place. The first step in doing this is to review your lease agreement. (You hopefully did this before you signed, as it's always a good idea to read thoroughly before agreeing to a binding contract.) If you notice that your landlord is breaking one or more of the terms, then that is a good start for filing a complaint.
For example, if your lease states that the landlord must respond to your repair requests, but in reality, they don't maintain the property,  that can be flagged. If they agreed not to raise the cost of hot water after the first year but then end up doing the opposite, that can be flagged. The best solution is to address this directly with your landlord and remind them of the terms stated in the contract.
Unfortunately, open communication does not always work, and some landlords can prove to be quite stubborn or unwilling. When this happens, the next best thing to do is educate yourself on your legal rights. There are two sets of laws when it comes to renting real estate: 1. landlord-tenant laws on the federal level and 2. local laws that vary depending on the state.
Researching your state-specific landlord-tenant laws is as simple as looking up " landlord-tenant law [your state's name here]." This way, you can find out what your rights are before taking legal action and typically heading to small claims court.
There are plenty of resources available if you feel nervous about legal bills or filing a formal complaint. If you realize that your landlord is indeed breaking a state law, you can go to HUD.gov and find assistance, depending on your state. Taking a claim to housing court may require hiring an attorney, but you may be able to get help from a nonprofit organization, a state agency, or a legal aid service at little to no cost to you. There are agencies that help handle tenant complaints, and some groups provide public services for free to low-income individuals.
If your landlord receives federal assistance but does not provide safe and decent housing for low-income tenants, then this is cause for concern. The specific office to make these complaints to is the U.S. Department of Housing and Urban Development ( HUD ). Landlords who profit from taxpayer money yet fail to provide housing at an acceptable standard may be fined and potentially prohibited from doing business with the federal government.
Property management that receives government benefit as compensation while failing to create a suitable occupancy needs to be reported. This can be done by calling the Multifamily Housing Complaint Line at 1 (800) MULTI-70 (or 685-8470) or 1 (800) 432-2209. It is encouraged for tenants of HUD -insured or HUD -assisted properties to submit concerns and complaints of all sorts, ranging from mismanagement and fraud to poor maintenance to health and safety concerns. If English is not your native language, HUD specialists are available to hear your grievances about issues in Spanish, as well.
Reporting Housing Discrimination
If you believe you're the victim of housing discrimination, one law to familiarize yourself with is the Fair Housing Act. This law protects both renters and homeowners from any housing-related discrimination from landlords or others. Protected classes include race, color, national origin, religion, sex, familial status, and disability.
If you find that a landlord is refusing to rent to you because of one of these factors, then they may be breaking the Fair Housing Act. Each of these classes is protected, and it is illegal for a landlord to raise the standards or enact a different set of renting qualifications for you just because of an identity classification. Alternatively, if your landlord tries to give you an eviction notice before your lease ends despite your paying each month's rent on time, then you may consider reporting housing discrimination.
Compare Car Insurance Quotes Instantly
Personalized quotes in 5 minutes or less
No signup required
Other Reasons to Report a Bad Landlord
There are various reasons someone might want to report a terrible landlord. As mentioned earlier, the first step in filing a complaint is to have a good reason to do so. Here are a few common reasons and notable laws to know if you intend to issue a grievance:
The Warranty of Habitability
At the very least, this legal right requires that the landlord provide a rental unit that is suitable for living and worth paying for. It is a basic standard that states that landlords must provide a property with hot water, clean drinking water, plumbing, electricity, heat, and smoke detectors, as well as being free from a pest infestation and meeting local building codes. While the specific rules differ depending on the state, the guidelines ensure the safety and well-being of tenants. If you realize that your landlord is not providing these basic standards to ensure good quality of living, we suggest that you notify your landlord immediately and ask them to address the request. If your landlord refuses, it may be time to consider legal action.  It may require some patience, as landlords typically have a maximum of 30 days to correct the housing issue, but this depends on the type of request.
Failing to Complete Repair Requests
In a similar theme, landlords must provide a safe and livable property at the time of move-in, but it does not stop there. Landlords must continue to keep the unit in good condition and maintain suitable living conditions. If you find that there is an issue that disrupts a standard quality of life, you should communicate this to your landlord, who is responsible for addressing the problem in a reasonable time frame. This could include fixing a leaky faucet so that your water bill does not increase, making sure the plumbing works so the temperature isn't scalding hot or freezing cold, or boarding up any holes so that critters can't enter the premises from the outside.
Pest Infestation
If your rental unit is crawling with pests and made unlivable, then it is your landlord's responsibility to handle this and seek professional services. A pest infestation, like bed bugs or a bee's nest, requires attention from an exterminator and should not be taken into the tenants' hands. Not all landlords are trustworthy and may not reimburse for the cost, even though you are maintaining the property, which is their job. Time is of the essence here—the problem can get worse the longer a pest infestation goes untreated.
Not Returning the Security Deposit
You may feel that you left the rental unit in pristine condition, free from any holes in the walls, scuffs on the floor, or mold in the shower. But what happens if your landlord decides to keep your security deposit? Tenants should know that every state has its own laws on what is required for landlords to return the security deposit. It usually must be returned within 30 days of moving out. If your landlord assesses the property and decides to keep all or part of it, make sure you ask for reasons in a demand letter, along with any receipts of outstanding repairs or services.
Entering Without Proper Notice
Typically, landlords need to give advance notice before entering the property. This is usually 24 hours in advance, and it may be done in writing. If your landlord fails to do this once or even multiple times, you may be able to file a complaint under landlord harassment.
The Right to Quiet Enjoyment
As the name suggests, this legal protection provides the right to quiet living. For example, a formal complaint was made against a landlord in a famous case from the late 1980s, where they failed to stop the loud siren-like noise of a smoke alarm in a timely manner. Because the alarm sounded overnight, the tenant reported that their landlord violated their right to quiet enjoyment. In winning the case, the tenant received three months of rent money as compensation for their quiet being disturbed. In addition, this legal protection also ensures that renters can live in the property freely and without the risk of their landlord or another person trying to claim the home during the tenancy and before the lease agreement ends.
Frequently Asked Questions
Living in a rent-controlled area, such as New York or California, means that certain laws are in place that protects tenants from landlords raising the rent too high or determining when landlords are allowed to evict their tenants. Different issues can arise due to rent control laws, so be sure to do extra research based on your state.

It is illegal for landlords to refuse to rent a property to a tenant who requires an emotional support animal or service animal. Disability is a protected class under the federal Fair Housing Act, and it is required that landlords allow these types of pets to live in the unit with their owners. In any case, assistance dogs usually receive extra training and are so well behaved that there is little reason to prohibit them.

HUD stands for the U.S. Department of Housing and Urban Development. This is the specific department you should contact if your landlord fails to provide a safe and livable unit while receiving government benefit from taxpayer money. To file a complaint here, call the Multifamily Housing Complaint Line at 1 (800) MULTI-70 (or 685-8470) or 1 (800) 432-2209.
Educate Yourself if You Want to Get Your Landlord in Trouble
If you intend on reporting your landlord, make sure you know your rights as a renter and what reasons exist for considering taking your landlord to court. Legal action can be expensive, but Insurify is here to give you the information and resources you need to make an informed decision—for free.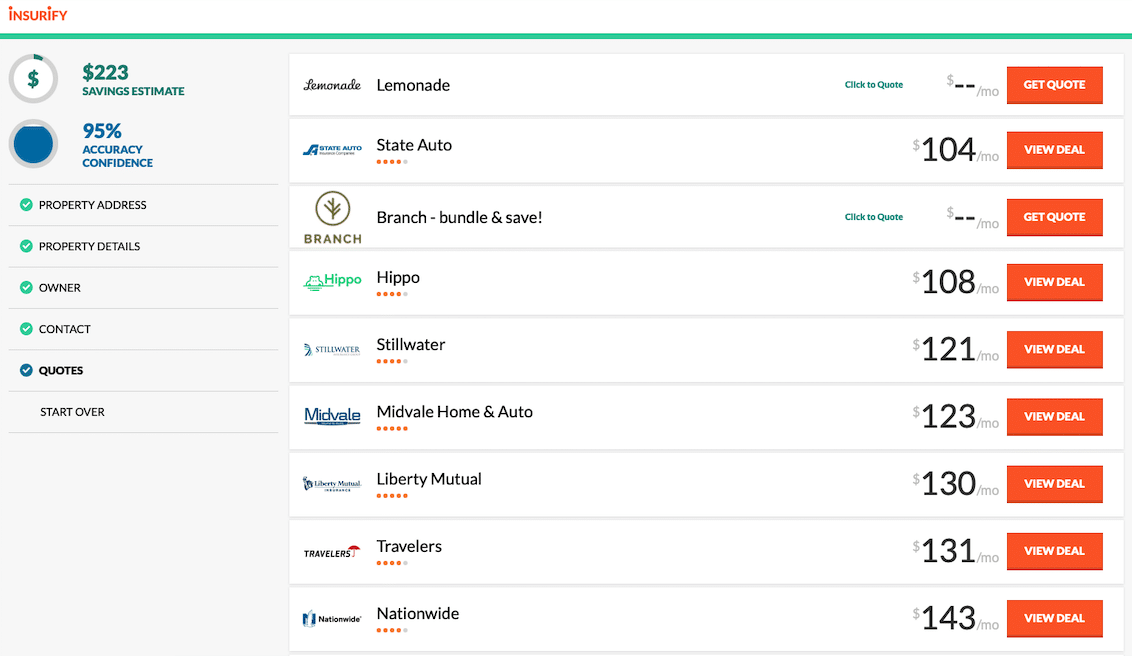 Compare Car Insurance Quotes Instantly
Personalized quotes in 5 minutes or less
No signup required
Data scientists at Insurify analyzed over 40 million auto insurance rates across the United States to compile the car insurance quotes, statistics, and data visualizations displayed on this page. The car insurance data includes coverage analysis and details on drivers' vehicles, driving records, and demographic information. With these insights, Insurify is able to offer drivers insight into how their car insurance premiums are priced by companies.