How do I file a flood insurance claim?
Call your insurer immediately, then work through these steps.
Whether your home experienced a few inches of floodwater or a few feet, the damage can be expensive. Fortunately, you have flood insurance. These policies are designed to cover much of the replacement cost associated with recovering from a flood.
However, the claims process can be overwhelming. Our guide demystifies the claims process, breaking it down so you can get back to normal faster.
Need new homeowners insurance after your home is rebuilt? Check out Insurify for home insurance quotes from multiple insurers.
1. Start Your Claim
The first thing to do is immediately report the loss to your insurance agent or insurance company. You will be assigned an insurance adjuster who will work with you throughout the claims process. This person will set up a time to inspect your property, either in person or remotely, within a few days. Due to COVID-19, remote inspections are becoming more common.
Be ready to provide this information when you report the flood to the company that provides your flood insurance policy:
Your policy number

Contact information where you can be reached

The name of your mortgage company
Has there been a presidential disaster declaration for the event that caused your flood damage? If so, you should also register with the Federal Emergency Management Agency ( FEMA ) in addition to filing your flood claim. Some flood insurance (mainly what's available through the National Flood Insurance Program, or NFIP flood insurance ) doesn't cover additional living expenses or temporary housing that you might need if your home has been badly damaged. However, federal disaster assistance may be available to help with those things. You can apply for it online at disasterassistance.gov.
To get the wheels of flood recovery in motion, file for assistance as soon as you can. You should also ask your insurance agent about getting an advance payment. Advance payments are deducted from the final claim payment but can be invaluable in helping you get back on your feet faster.
2. Prepare for Your Inspection and Begin Cleanup
To process your claim, the insurance adjuster needs to do an inspection to assess the water damage to your home, either in person or remotely. You can make this process go as smoothly as possible by collecting all the information that's necessary for a thorough damage assessment. The documentation process is crucial to recovery because your adjuster needs evidence of the damage to your home and possessions in order to create a repair estimate.
Make sure it's safe to enter your home, then take as many photos and videos of your damaged home and personal property as you possibly can. Include any structural damage you can document, as well as floodwater lines on the inside and outside of the building. For appliances and electronics, take photos of the make, model, and serial number. Keep samples of damaged carpet, flooring, curtains, and other materials to show your adjuster whenever possible.
After you take photos and videos of your damaged property and collect your samples, throw out damaged contents that pose a health threat, including perishable food items, clothing, pillows, and other things that can't be cleaned.
Are the electrical, water, or HVAC systems damaged? If so, contact repair services right away. Consult your adjuster or insurance company before you sign any agreement with a contractor.
Compare Car Insurance Quotes Instantly
Personalized quotes in 5 minutes or less
No signup required
3. Work with Your Adjuster
Next, your adjuster will inspect the property and your documentation so they can take care of your claims estimate. When you first meet the insurance adjuster, ask to see their company ID or Flood Control Number (FCN) card and other official identification to make sure you aren't being scammed. They should also provide contact information, including email and a telephone number, so you can get in touch with them if you need to.
The adjuster should also cover these things:
An explanation of the flood claims process

Inspecting your property, including taking measurements and additional photos

An explanation of advance payments and how (or if) you can get one (if they don't bring this up, you should)

Information about how you should present your loss to the insurance company

Information about your policy coverage

Anything else you need to do and what will happen next
The adjuster will create a written estimate and report for you to review. Go over it closely to make sure it's accurate and complete. This is called a Proof of Loss document. You must submit the signed and dated Proof of Loss form back to your insurance company within 60 days of the flood loss unless you have NFIP insurance and they have issued a waiver for the flood event, which doesn't always happen.
4. Receive Payment and Recover
The amount of your claim payment will be based on what your policy covers and how much is supported by the documentation you have provided. That's why it's so important to document everything thoroughly, even though you only have 60 days. It can be helpful to consult with general contractors to estimate the amount you'll need for structural and interior repairs.
Most claims are settled within 30–60 days of filing. However, repairs usually take longer than that. It's important to make sure you get good work done at a good price, so get at least three estimates for major repairs. Make sure the estimates provide work details and a fixed price and are signed. Never, ever proceed with a repair job with just a verbal agreement. Ask contractors for their licenses and references, and take the time to call them. Natural disasters often attract unqualified workers who will do a subpar job in exchange for cash.
[ faq ]
Work Quickly to Rebuild and Recover
Getting back to normal after a flood is complicated, but being organized can help you get through the claims process as quickly as possible. Stay in touch with your adjuster throughout the process so you can receive a claim that accurately reflects what you've lost and helps restore your belongings.
Insurify can help take the hassle out of buying home insurance. Just invest a few minutes of research to get quotes from top insurers.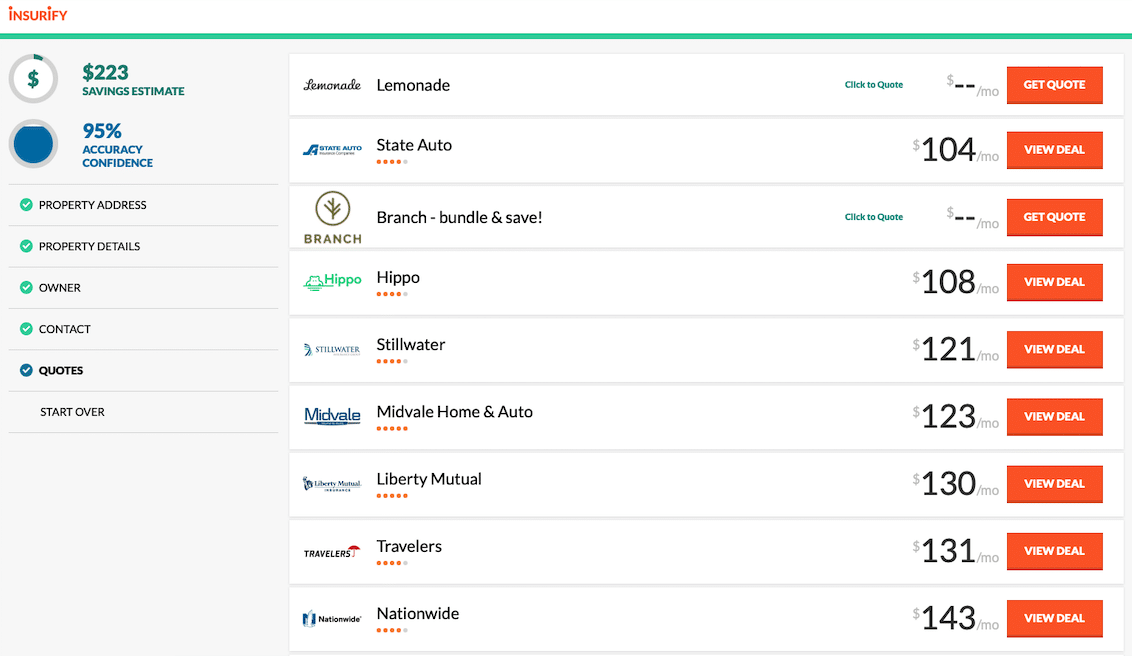 Compare Car Insurance Quotes Instantly
Personalized quotes in 5 minutes or less
No signup required
Data scientists at Insurify analyzed over 40 million auto insurance rates across the United States to compile the car insurance quotes, statistics, and data visualizations displayed on this page. The car insurance data includes coverage analysis and details on drivers' vehicles, driving records, and demographic information. With these insights, Insurify is able to offer drivers insight into how their car insurance premiums are priced by companies.