A home burglary can leave you feeling anxious and confused, and when you're feeling overwhelmed after a home invasion, it can be hard to know what to do next. You've called the police department, but filing a police report is just the beginning. Now you have to replace your stolen items and repair any damage the intruder caused to your property. Plus, you want to keep your loved ones and home safe from future burglars and break-ins.
You shouldn't feel insecure in your home. Your home insurance policy covers property crime, but you'll need to know how to get reimbursed for your stolen or damaged items and how much your policy will cover. Whether you have replacement cost coverage or an actual cash value policy, Insurify is here to help you understand how to get the most out of your homeowners coverage.
If your current home insurance policy is leaving you feeling unprotected or underinsured, Insurify can help with that, too. Use Insurify's comparison tools to see insurance providers, policies, and premiums side by side to find the best homeowners coverage for you in just minutes.
Home Burglary Statistics
After someone breaks into your home, you probably aren't too concerned with home burglary statistics. But knowing the numbers can help you better protect your family and home from future burglars.
Even awareness about home intruders' top three entry points can help you keep your home more secure. Did you know 34 percent of burglars enter through the front door, 23 percent through a first- floor window, and another 22 percent through a back door? This is especially important to know since 51 percent of burglars go back to steal from the same home within just one month from the initial break-in.
Plus, homes without security systems are three times more likely to be broken into than homes with security cameras or alarm systems. This means that simply making sure your front door, back doors, and windows are locked securely and installing a home security system significantly decrease your likelihood of a home burglary.
Still, according to the Bureau of Justice Statistics, property crime has been on the decline. The FBI 's 2019 crime statistics show that property crime rates––including burglaries, larceny -thefts, and motor vehicle thefts––decreased by 9.5 percent, 2.8 percent, and 4 percent, respectively.
But declining doesn't mean disappeared, and nearly seven million property crimes were committed across the United States in 2019, leaving homeowners facing nearly $16 billion in collective losses.
You don't need to take these losses on your own—your home insurance policy is there to make sure you're covered after a burglary. Let's make sure you know how to secure your coverage.
Home Insurance Theft Coverage
The steps you take after a break-in are some of the most important moments in making sure your family and home are safe and secure––now and in the future. These steps can vary depending on factors like whether you were home or away during the invasion and whether you have a home security system or burglar alarm. Regardless of the specific details of the unlawful entry, your course of action can seriously impact your insurance company 's reimbursement.
The steps to take immediately after a home burglary are as follows:
Get your family to a safe place. Whether you were home or out during the break-in, make sure your loved ones are away from any potential danger.

Call your local law enforcement. The police need to evaluate the untouched crime scene to document the reported burglary and determine any potential entry points. The police may also check any of your alarm systems or security cameras and may be able to give you crime prevention tips to avoid future break-ins. Plus, your insurance provider may require you to file a police report in order to file an insurance claim.

Make an inventory of all stolen or damaged items. Home insurance policies cover larceny, so your homeowners policy should repair or replace any of your broken or stolen property. Keep in mind that insurance also covers property damage for your home and other structures. So if forcible entry damaged your sliding glass door frame, you're covered for that too. Your specific policy will determine which items and how much your insurance will cover, and you may not be covered for everything. But documenting the specific items and property that were damaged during the residential burglary, as well as the items' values and replacement costs, will help you make sure you're reimbursed for everything that your policy covers. Make a list, take photos, and make sure to include all of your stolen or damaged property, whether you think it will be covered or not.

Call your home insurance company. After you've filed a police report and documented all of your damaged and stolen property, it's time to file an insurance claim. The claims process can be confusing, but you've come prepared. Plus, this is where things start looking up. It's best to know what your policy covers before you get to this point, and you should expect to pay your deductible before your coverage kicks in. Your policy type will affect your next steps, too. Whether you have an actual cash value policy or replacement cost coverage will determine how much you're reimbursed and how the reimbursement process takes place. But you've braved your way through the storm, and filing a home insurance claim is the first step to feeling safe in your home again.

Clean up. This may seem obvious, but in the chaotic moments after a break-in, it's easy to lose track of even the most straightforward processes. Check your home inventory again while you pick up, making sure to pay attention to easy access points like garage doors and first- floor windows. Once your house is back in order, you can start to restore your sense of normalcy.

Be proactive about the future. During the clean-up process, you may notice easy targets or places you can reinforce to prevent future break-ins. This can mean changing habits, like being more mindful of unlocked doors. You can call a locksmith to install a deadbolt lock on your front door, or you can implement motion detectors or security cameras in your home. If your neighborhood has faced a high number of burglaries and suspicious activity lately, you may consider talking with trusted neighbors to implement a neighborhood watch program.
Compare Car Insurance Quotes Instantly
Personalized quotes in 5 minutes or less
No signup required
Home Burglary Prevention
After experiencing the trauma of a home invasion, it's no question that you'll want to know how to protect your home from burglaries in the future. It may seem impossible to prevent a burglar from breaking into your home, but home burglary prevention is less about the intruder and more about the security of your home.
But you don't need to sit on your front porch all night to ensure your family's safety. Being proactive about home security in 2021 looks more like searching through the best home security systems than standing your ground.
During your home inventory or clean-up process, take note of any old door frames, locks, or shoddy windows. Installing heavy-duty deadbolts on your exterior doors and reinforcing windows with security film already eliminates 79 percent of burglars ' go-to points of entry.
After you secure your windows and doors, finding a home security system may sound expensive or excessive. But implementing an alarm system or security cameras in your home not only prevents burglars but can help you identify any potential intruders, too. Not to mention installing a security system can help you save up to 10 percent on your home insurance premium.
Still have questions? We have you covered. Check out Insurify's answers to homeowners ' most frequently asked home burglary questions.
Frequently Asked Questions
Most likely yes. Whether you need a police report to file an insurance claim depends on your insurance company and the type of claim you're filing. Still, if someone broke into your home and stole your belongings, you should probably file a police report. And giving that report to your insurer, even if it isn't required, may make the claims process easier.

That depends. Your insurer will likely need you to provide proof of ownership of your stolen items, and a serial number makes that easy. You might have already provided your insurer with this information if you previously submitted a home inventory. But even if you don't have your stolen item's serial number, you may be able to provide proof of ownership with a receipt or warranty.

Yes. Your renters insurance policy doesn't cover any damage to your physical property (your landlord's insurance should have that covered), but it will help you pay to replace any of your stolen or damaged belongings.
Home Burglary Protection: The Bottom Line
Crime prevention is no simple task, especially when it's happening right in your backyard. But protecting your home doesn't need to be complicated. A good home insurance policy will have you covered from even the most alarming home invasions. And if your current coverage has you feeling, well, less than covered, Insurify can help you find the best homeowners insurance for you in just a few minutes.
Use Insurify to compare home insurance premiums for your property.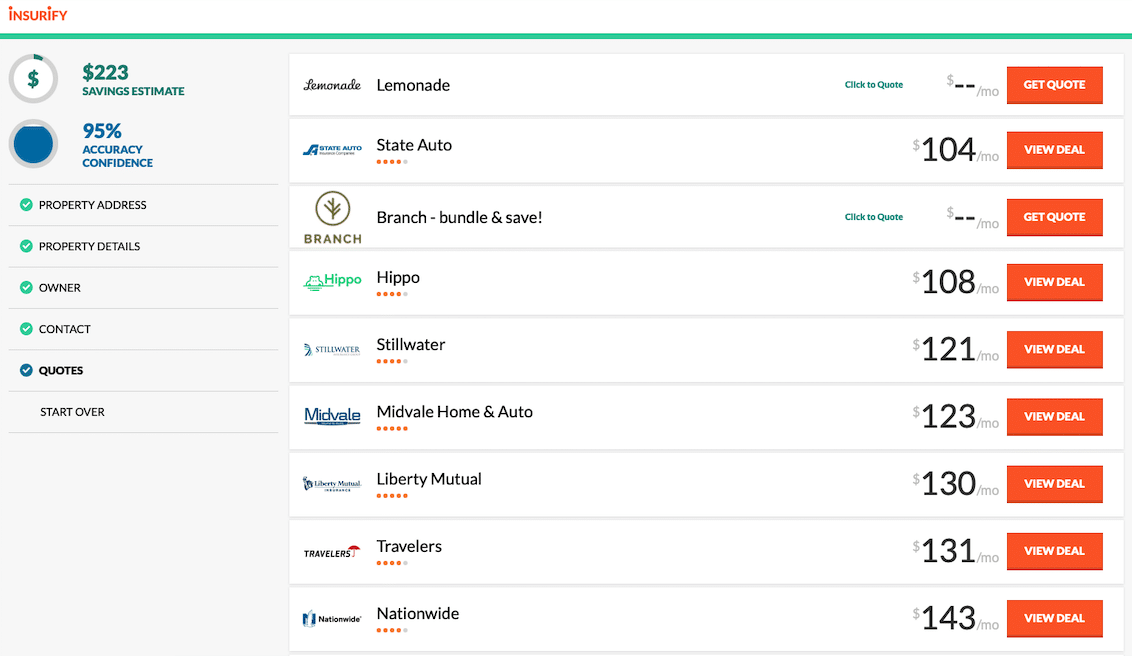 Compare Car Insurance Quotes Instantly
Personalized quotes in 5 minutes or less
No signup required
Data scientists at Insurify analyzed over 40 million auto insurance rates across the United States to compile the car insurance quotes, statistics, and data visualizations displayed on this page. The car insurance data includes coverage analysis and details on drivers' vehicles, driving records, and demographic information. With these insights, Insurify is able to offer drivers insight into how their car insurance premiums are priced by companies.