Need some help navigating flood insurance in Georgia?
Here's a solid guide on the functions, the costs, and what you can expect from flood insurance coverage.
The state of Georgia is full of natural beauty to explore, including numerous rivers, marshes, coasts, and lowlands. While these things might make for great locations to visit or live near, they can also create quite a bit of flood risk for homeowners. Add thousands of privately owned dams that exist across the state, and it may start to look like a good idea to incorporate flood protection into your homeowners insurance plan.
Looking to update or obtain insurance for your home? Check out Insurify to compare policies and find the right one for you. It could help you save money or get the crucial coverage you need to fully protect your home.
Do I Need Flood Insurance in Georgia?
As mentioned previously, whether you think you need it or not, flood insurance is a crucial part of protecting your home from potentially catastrophic physical and financial damage. According to the Federal Emergency Management Agency ( FEMA ), just one inch of water can cause tens of thousands of dollars in flood damage. What's more, roughly 20 percent of flood insurance claims come from areas deemed to be moderate-risk or low-risk. Of course, if you live in a high-risk flood zone, you're definitely going to want to enroll in flood insurance that properly covers your property as a homeowner or business owner.
Given Georgia 's vulnerability to hurricanes from the Gulf of Mexico and the Atlantic Ocean—as well as numerous rivers, dams, marshes, and coastlines—it would make sense to sign up for flood insurance. Generally speaking, certain mortgage lenders can require you to have flood insurance if your property sits in a high-risk area. This requirement will typically stay in place until you pay off your mortgage.
While you may not be held to the same requirement if you live in a low-risk area, don't take the risk of leaving your property uninsured and unprotected. Flooding as a result of heavy rain can affect anyone's home or business.
Georgia Flood Zones
Many counties and areas of Georgia carry different classifications in terms of their flood risk. If you would like to determine what kind of flood zone you live in, you can visit floodsmart.gov and navigate to the FEMA Flood Map Service Center (MSC). From there, you can search your property's address and see what kind of designation it carries. Here's a quick guide on how to properly determine whether you live in a high-risk flood area:
Special Flood Hazard Areas (SFHA): These types of flood zones indicate that the given area is part of a 100-year floodplain and has a chance of equaling or exceeding the base flood elevation. In addition, SFHAs have a 25 percent or higher risk of flooding at some point during a 30-year mortgage term. If your zone is demarcated as Zone A, Zone AO, Zone AH, Zones A1–A30, Zone AE, Zone A99, Zone AR, Zone V, Zone VE, Zones V1–V30, or a combination of these, then your property sits in an SFHA or high-risk flood zone.

Moderate Flood Hazard Areas: These types of flood zones indicate that the given area is part of a 500-year floodplain, meaning that the area has a lower risk of flooding than an SFHA. If your area appears as Zone B or as a shaded Zone X on a Flood Insurance Rate Map (FIRM), then your property is in a moderate- risk area.

Low Flood Hazard Areas: These types of flood zones sit at a higher elevation or have less of a chance of flooding than a Moderate Flood Hazard Area. If your area appears as Zone C or as an unshaded Zone X on a Flood Insurance Rate Map, then your property is in a low-risk area.
What's Covered with Georgia Flood Insurance?
While home insurance does generally cover some water damage caused by faulty systems, it absolutely does not cover damage from flooding caused by natural disasters. Fortunately, you can get flood insurance through the National Flood Insurance Program (NFIP).
NFIP policies provide both personal property and dwelling coverage. Generally speaking, flood insurance covers the following:
Dwelling/Building Coverage

- - Appliances, such as refrigerators, cooking stoves, and dishwashers

Permanently installed features, such as carpeting, cabinets, and paneling

Foundation walls, anchorage systems, and staircases

Electrical and plumbing systems

Furnaces and water heaters

Detached garages

Fuel tanks, well-water tanks and pumps, and solar energy equipment

Personal Property/Contents Coverage

Personal belongings such as clothing, furniture, and electronic equipment

Washers and dryers

Air conditioners

Microwave ovens

Carpets not included in building coverage

Valuable items, such as original artwork or other highly valued objects (up to $2,500)
While you can broadly rely on these things being covered in a given policy, make sure you read the fine print and policy details so that you have a very clear idea on what aspects of your home are covered.
Compare Car Insurance Quotes Instantly
Personalized quotes in 5 minutes or less
No signup required
What's Not Covered with Georgia Flood Insurance?
There are exceptions regarding coverage for flood insurance. First of all, anything that does not meet the definition of a flood (which is an inundation of water in a normally dry place, affecting at least two acres of land or two properties) is not covered by flood insurance. In addition, you can expect the following things to not fall under flood insurance coverage:
Temporary living expenses incurred if your home becomes uninhabitable due to a flood

Any property features outside of the insured property (such as swimming pools, landscaping, decks, fencing, etc.)

Financial losses resulting from the disruption of your business operations

Any personal belongings kept in basements

Any precious metals or papers, such as physical currency or stock certificates

Automobiles or other self-propelled vehicles
How Much Does Flood Insurance Cost in Georgia?
Flood insurance can be a bit pricey, but it's definitely cheaper than a standard homeowners insurance policy. And what's more, it's much less expensive than the cost of repairing any damages to your uninsured property. According to the NFIP, the average flood insurance policy in Georgia costs roughly $661 per year or about $55 per month.
Given how flood insurance can come from a number of sources, the sources of costs—such as flood insurance premiums, deductibles, and coverage limits —can vary depending on the insurance company providing the policy.
How to Get a Flood Insurance Policy in Georgia
While you may have already been clued into one source of flood insurance in Georgia, there are two surefire ways to find a policy to protect your home or business. The first of these, of course, is through the National Flood Insurance Program. The second is to get private flood insurance.
National Flood Insurance Program ( NFIP )
As mentioned previously, NFIP flood insurance provides essential coverage to insured properties. NFIP policyholders can get up to $100,000 in personal property coverage and $250,000 in dwelling coverage. The federal government itself does not directly provide the insurance coverage you would be looking for but rather operates through approved private insurers, such as Allstate or Farmers. This way, you may not have to do much searching if you already have a home insurance policy with one of these companies, and in some cases, these companies can bundle multiple policies. You can contact your insurance agent or visit floodsmart.gov for more information.
Private Flood Insurance
In the same vein as NFIP policies, there are many other stand-alone flood insurance providers in Georgia that you can utilize. These providers can offer much more variety in terms of coverage options, limits, and benefits. However, these private sources tend to be more expensive than your standard NFIP policies. Given the variability of policies like these, make sure that you do your due diligence and know what you're signing up for before committing to a plan.
Frequently Asked Questions
The concept of a "100-year flood" does not indicate a flood that lasts for 100 years but instead is a type of flood that can cause such a level of inundation that there's only a one percent chance that it can occur in a given year (or once in 100 years). The concept of the Base Flood Elevation (or BFE) follows this idea and indicates the minimum elevation of this hypothetical flood. The same follows for the concept of the "500-year flood," which represents a type of flood that only has a 0.2 percent chance of occurring in a given year. Any area with less than a 0.2 percent chance of having this type of flooding is a low-risk flooding area.

While this may not be the case for some private flood insurance policies, the vast majority of flood insurance policies have a 30-day waiting period before you can file claims. Unless you have some sort of crystal ball, there's no real way to anticipate a flood a month before it hits and sign up for insurance before it lands. The best thing you can do is to sign up for flood insurance as soon as you can, regardless of whether you live in a high-risk area or whether you are in a rainy season.

Luckily, flood insurance coverage does not only apply to home and business owners. If you're a renter, you can sign up for flood insurance to properly protect your personal property. The main distinction to note is that you won't have to purchase a dwelling coverage policy because that is already covered by the landlord.
Georgia Flood Insurance: The Bottom Line
Whether you're living in an urban center like Atlanta or in a small coastal community, you'll do well to sign up for flood insurance to properly protect your property. While the state does not mandate the purchase of flood insurance, lenders may require you to do so.
With flood insurance in your back pocket, you can rest assured that your home, business, and wallet are safe from flood damage, whether you live in a high-risk area or not.
Eager to get your flood insurance search started? Check out Insurify! It's a free and easy-to-use resource that can help you find the right plan.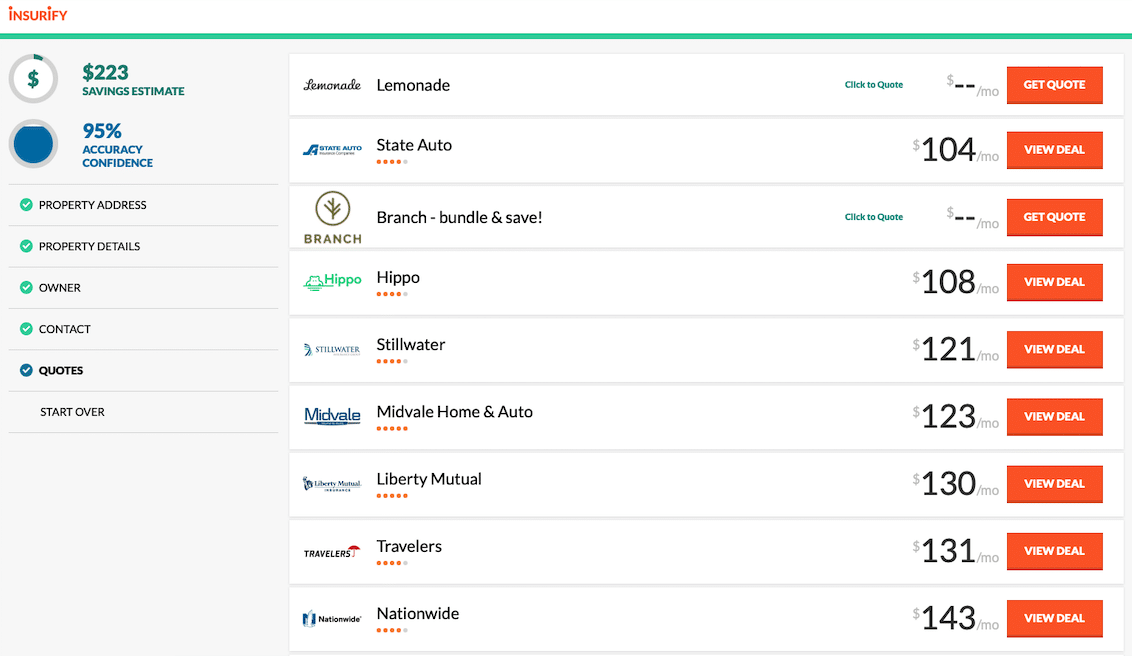 Compare Car Insurance Quotes Instantly
Personalized quotes in 5 minutes or less
No signup required
Data scientists at Insurify analyzed over 40 million auto insurance rates across the United States to compile the car insurance quotes, statistics, and data visualizations displayed on this page. The car insurance data includes coverage analysis and details on drivers' vehicles, driving records, and demographic information. With these insights, Insurify is able to offer drivers insight into how their car insurance premiums are priced by companies.